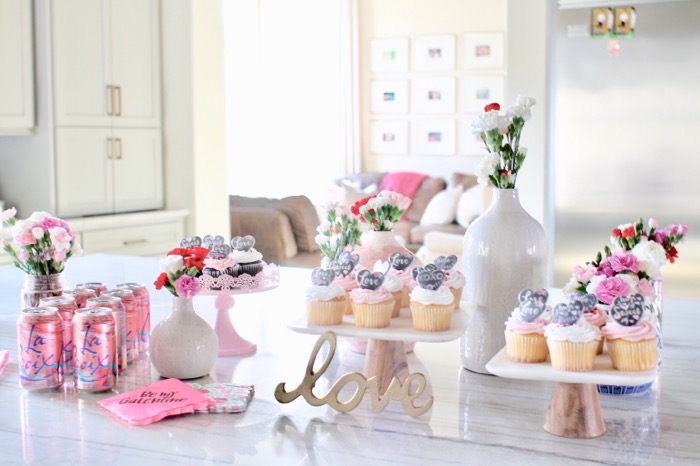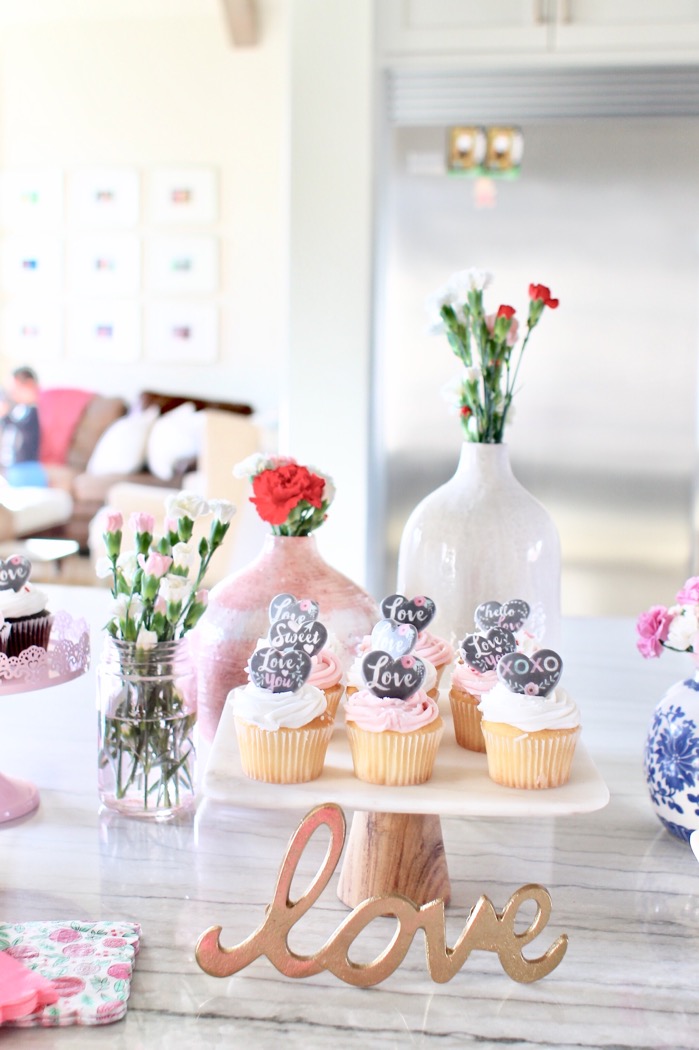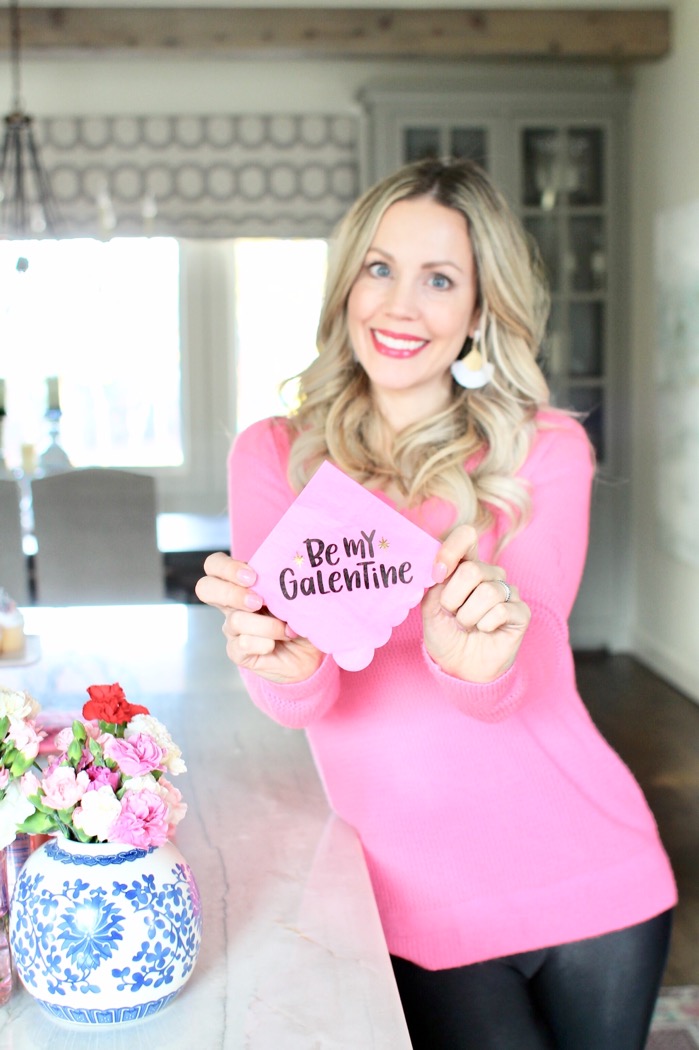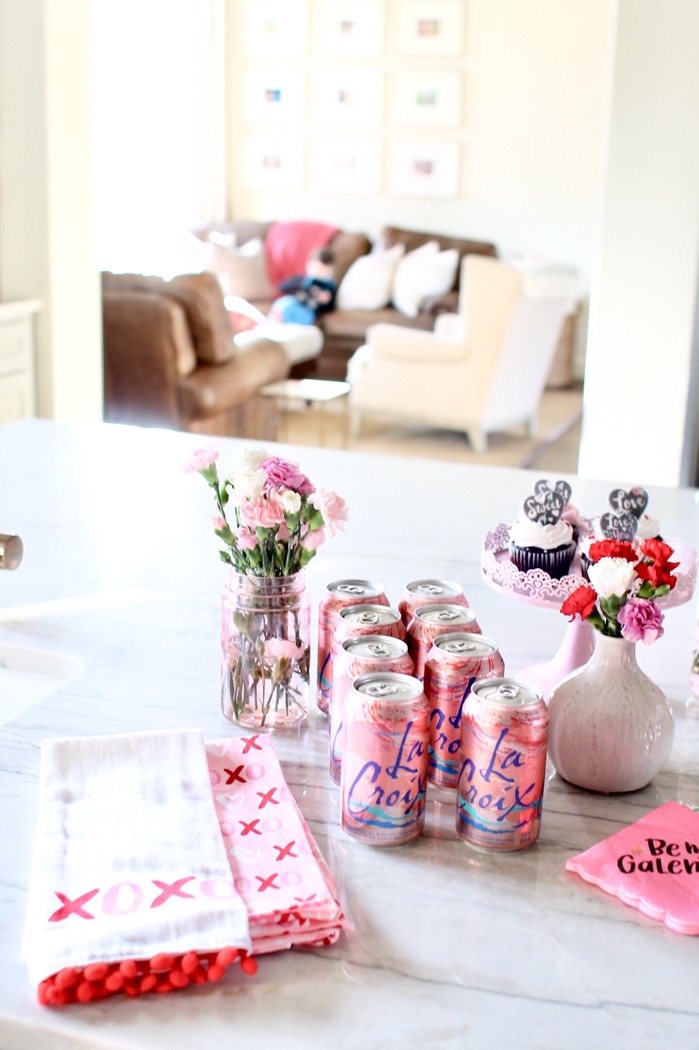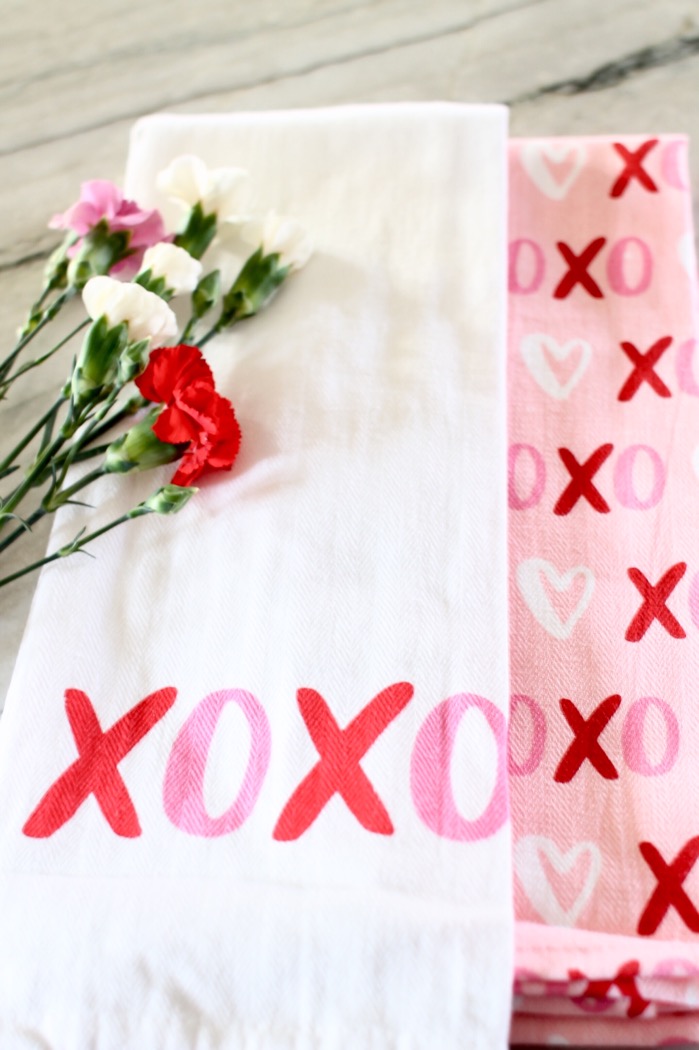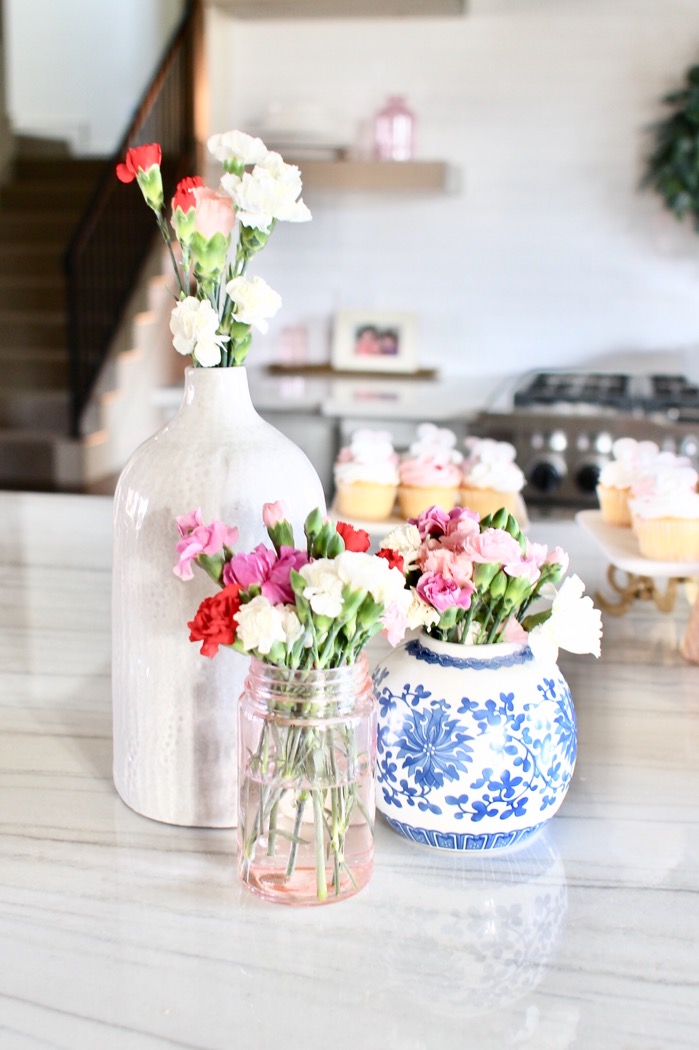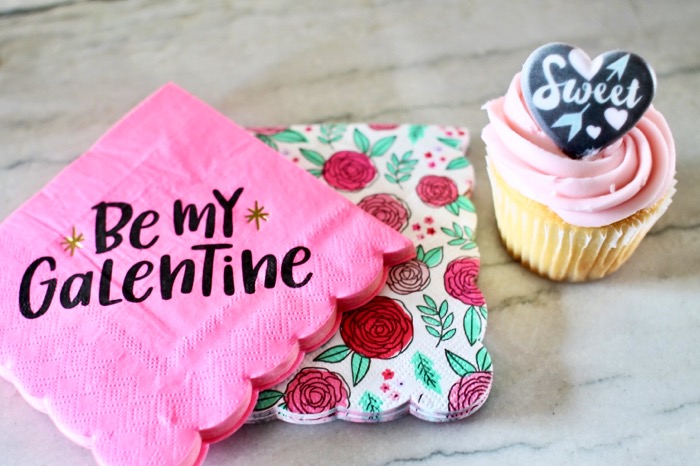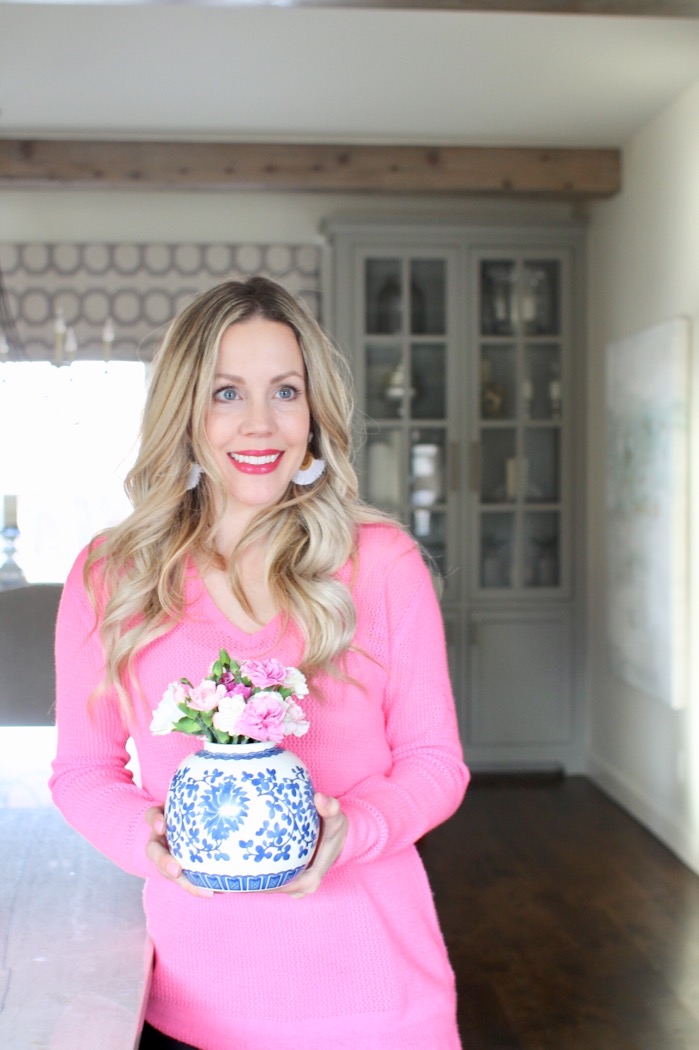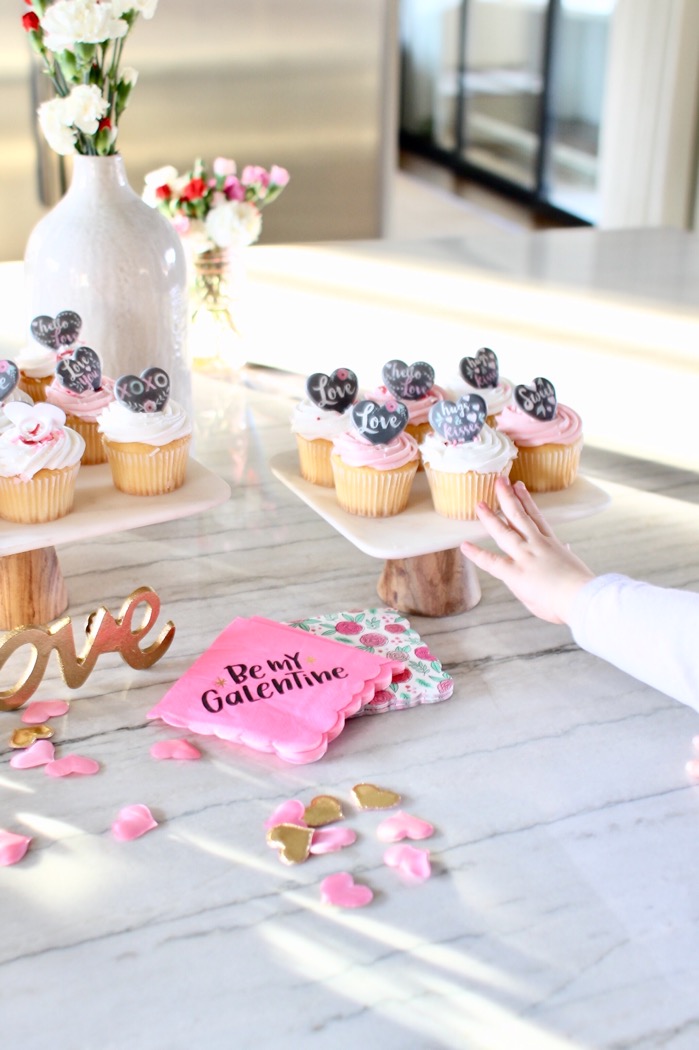 Hi friends! So if you follow me on my Instagram feed and story @curlsandcashmere, you saw that I hosted a Valentine's themed bunco party for my girlfriends. Since my husband had oral surgery the day before the party, I didn't have much time to plan for the party. I found several cute and easy Valentine Party Ideas on a Budget, so I decided to share my simple finds with you. These ideas can be used for anyone in your life including your special someone, your kids, your girlfriends and more. I have seen so many cute Valentine party ideas ranging from a cookie decorating party for kids, a Galentine's brunch for your girlfriends or for your teenage daughter's friends, a festive tea party for kids, a Valentine's craft party for kids and so on. Or maybe you just want a romantic night in with your partner and want to make it extra special. Let's get started with my helpful tips to help you save money and throw a great party…

First things first, come up with a theme.
I am a sucker for pink anything and everything, so that was easy for me! I have a lot of pink decor in my home already and it goes perfectly with the Valentine's holiday too.  Maybe you don't love pink, so you could easily add red or deeper colors to come up with whatever color scheme you prefer (red and black, red and white, or red and pink). Maybe your theme is all things hearts or all things kisses! When deciding on your theme, keep in mind what you already have around the house that could be used for the party.  I try to do this for every single party or get-together I host. I already had my pink mason jar vases from a previous baby shower, so I grabbed those immediately. The pink mason jars actually came from the dollar aisle at Target. Speaking of baby showers, Valentine's is also the perfect time to host a baby shower assuming the new baby is a girl and you want to use pink everything. Shower the Mom and baby with lots of love and celebrate the holiday at the same time! Party Tip: The 1st place I look when hosting a party or shower is the Target dollar section.  Sometimes I will go ahead and get the item even if I am not sure what I need it for yet, because if it's cute, it will sell out SO quickly!!  I have gotten kid's bday party favors, baby shower decor items, and etc. all from the dollar aisle. It's my affordable secret weapon. For the pink theme, I went and looked in my daughter's bedrooms as well. Little girls usually have lots of pink, so borrowed my daughter's pink cake stand and her gold "Love" quote that she leaves on her nightstand. You get the idea….Make it easy on yourself and your wallet by using items you already have!
Think about food and the sweets.
I ended up not having time to cook, but I was thinking about doing pasta with a pink sauce. You know when you mix alfredo and marinara sauce, it turns into somewhat of a pink color? Or at least I think it does! Haha! And pasta is affordable for a big group. Ever since Lady and the Tramp, I feel like pasta is a romantic dish that would be perfect for a Valentine's themed party. I did pizza instead, and picked up several yummy salad kits from Sam's Club. Like Target, Sam's Club is also a must for me when party planning. You can buy items in bulk and save money. This is not sponsored in anyway by either Sam's or Target, this is just truly where I go to save $$$. My fave thing to get at Sam's for parties are their cupcakes! I don't know what kind of secret sauce they put into their cupcakes, but they are the BEST! My friends and I agree and so many of us use them when hosting kid's bday parties. These adorable Valentine themed cupcakes were so cute with the little chalkboard hearts on top. They went perfectly with my theme and were SOOOO affordable. I am not the type to sit around and bake all day, so I don't hesitate one bit buying store-bought sweets. Party TIP: I did add shimmering sugar and some light sprinkles to the cupcakes to make them a little but fancier for the party. I also usually add some sort of patterned cupcake wrapper or holder to dress up a store-bought goodies, but didn't have a chance. I love placing cupcakes on various cake stands as well.. My 2 marble and wood square cake stands are used for every party I host.  And set out on my open shelving at all times! I found this cheaper and very similar version and would snatch these up in a second if I didn't already have mine.
For the drinks, I knew I could easily find a cute pink colored beverage. I chose La Croix because a lot of the girls are health conscious and because they went with my theme. I try to do this for every party I host. For kids, I get flavored sodas or juice that match my decor. For adults, I will try to come up with a festive beverage that matches the decor. I had some pink wine for this Bunco party, but forgot to photograph it. You are going to need food and beverage items anyways, so why not have them go nicely with your theme and decor.
Flowers are a must for any Valentine's Party.
I LOVE having fresh flowers around the house and especially for a party. Flowers and Valentine's Day just go together, so that is a must. Flowers make everything seem more festive. Sometimes flowers can get pricey and I hate spending too much money on something that will wilt and die after the party is over. What I have been doing recently is choosing carnations! I think they are the cutest little flower. I know carnations can be frowned upon, but I think they are a great economical choice. They remind me of the smaller garden roses that are so popular these days, but at a much lesser price point. Can you guess where these pretty carnations came from?  Sam's Club! I always browse their flower section when I am in the store, and more times than not, I find something to take home with me at a great price. Trader Joe's is another great affordable option, but I don't live close to one, so Sam's Club it is! Besides using the pink mason jars as vases, I also went around my home and grabbed a few other vases to mix things up a bit. You want various heights and colors for your theme, so it doesn't all look too uniform and boring. I am in love with all of the blue and white vases and jars that are so on trend right now and they pair so well with pink flowers too. Party TIP: If you don't want fresh flowers, I have been known to make tissue paper flowers or pom poms for several parties over the years. You can use them as a backdrop, you can hang them from the ceiling or lighting with ribbon or fishing line too. They add lots of color for a small price and I save them. Yes they can get smashed, but if you have room in your attic or etc, keep them and reuse them for a future date.
Festive Paper goods & Decor
Paper goods are a simple way to add more to your party theme and decor. If you are using disposable items, don't go out and buy just white plates or etc. Get something a little more festive. I found these adorable "Galentine" scalloped napkins at Target in you guessed it…the dollar aisle! They are too cute. I also picked up the pink and gold hearts from the dollar section. They are a simple touch to add to any table or countertop.  I sometimes use the clear plastic wine glasses or cups and print cute little labels to add to them. I also found these Valentine themed tea towels in the dollar section at Target. I told you it is a one stop shop for my inexpensive party needs! Party Tip: If you are using table cloths, I like to add a table runner to it by finding a roll of wrapping paper that matches my theme. I cut the paper to make it shaped like a typical narrow table runner would be. It then sits down the middle of a simple white (or any color) table-cloth and adds the perfect pop of pattern for cheap! It is the easiest way to add a more custom touch to your party decor or tablescape.
I truly hope you have enjoyed my easy Valentine party ideas on a budget. With any budget, you can create the perfect party for your friends and loved ones. Please remember to follow me on Instagram@curlsandcashmere and Pinterest. You can also subscribe here to this blog, so you are the first to get notified when I publish a new post. Thank you SO much!