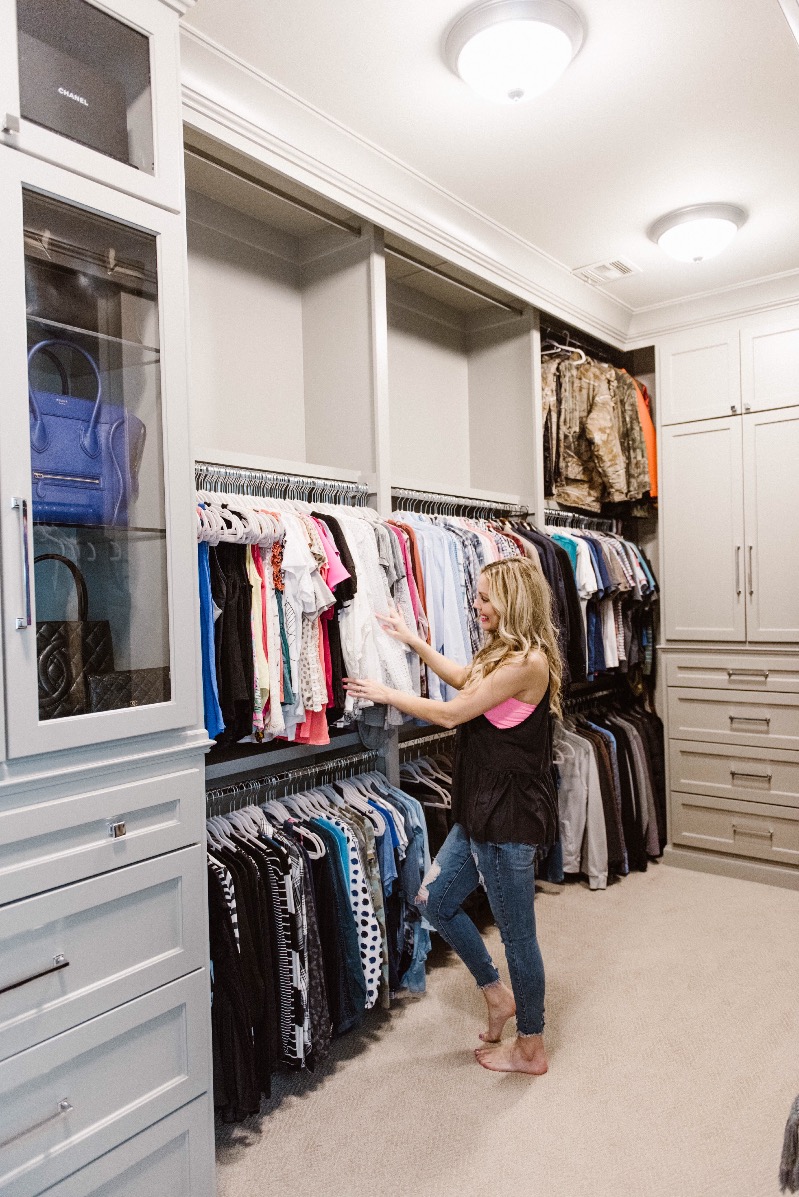 Hello all. This post has been in the making for several months now. I have never really shared my master closet before mainly because it is very dark and hard to photograph well. When designing our home, I customized our master closet myself and our trim carpenter made it all come to life.  I am so excited to share it now thanks to the help of Becky with BeeNeat..a professional organizer out of Edmond, OK. Becky had first helped with our playroom a couple of years ago after we moved into our home and the toys were taking over. She was a natural fit when I needed some organizing ideas for our master closet. She provided some very helpful master closet organization ideas that I will share with you today. Spring cleaning is still in effect so why not use these tips and get any closet in your home looking nice and organized. I promise you will feel so much better after it is done!
The first step is PURGE. I know everyone says this, but it really does make so much sense. I did a major purge before the organizing ever began. I donated a ton of outdated clothing, shoes and jewelry items from my side. My husband did the same (thanks babe). A good tip from Becky…Items that you have not worn in a year or don't fit you properly anymore, should go. I will admit, it's hard for me to let go of so many items, but I forced myself to do it and have never looked back. Why let it take up space when it could benefit someone else? Anything that was still in-style or very nice quality, I took to a local consignment store (Consigning Sisters). Purging beforehand made such a difference and made organizing everything so much easier from the beginning.  I highly recommend doing this before you begin. I did save some items for my 2 daughters if they need costumes for school or etc. I put those in the attic so they weren't taking up space in my daily wardrobe.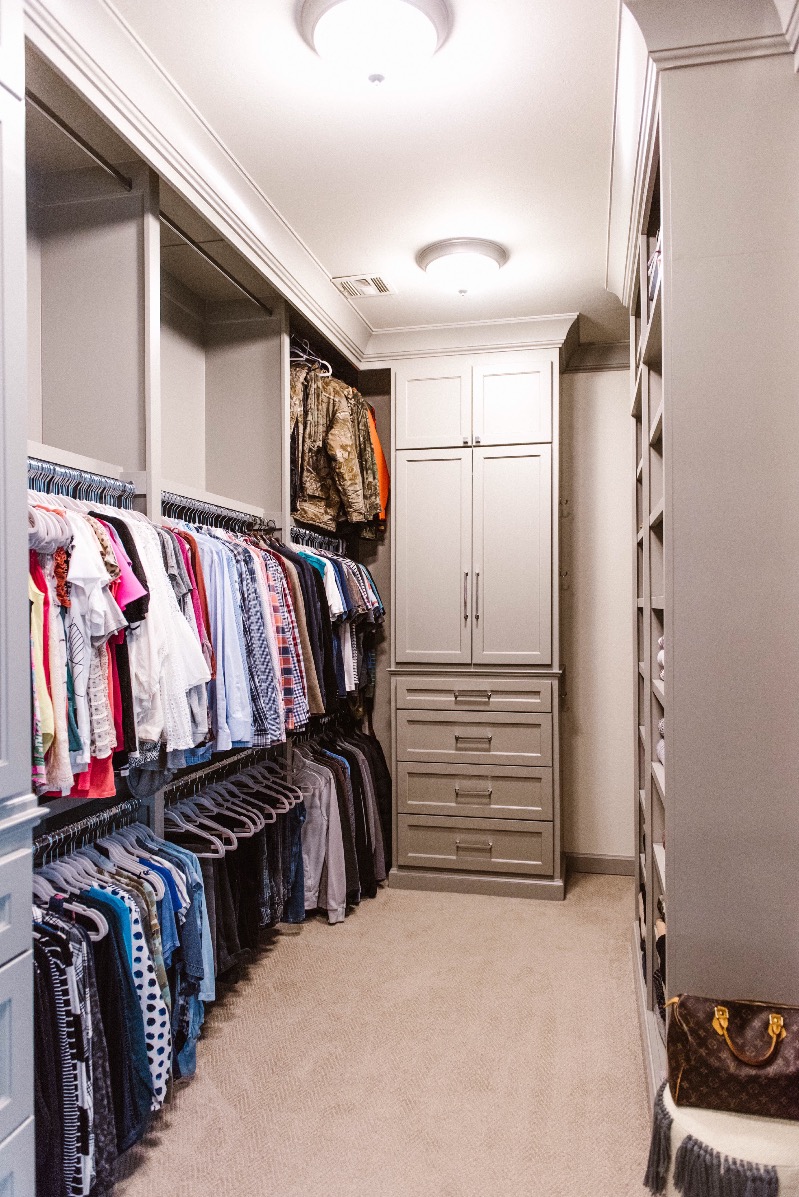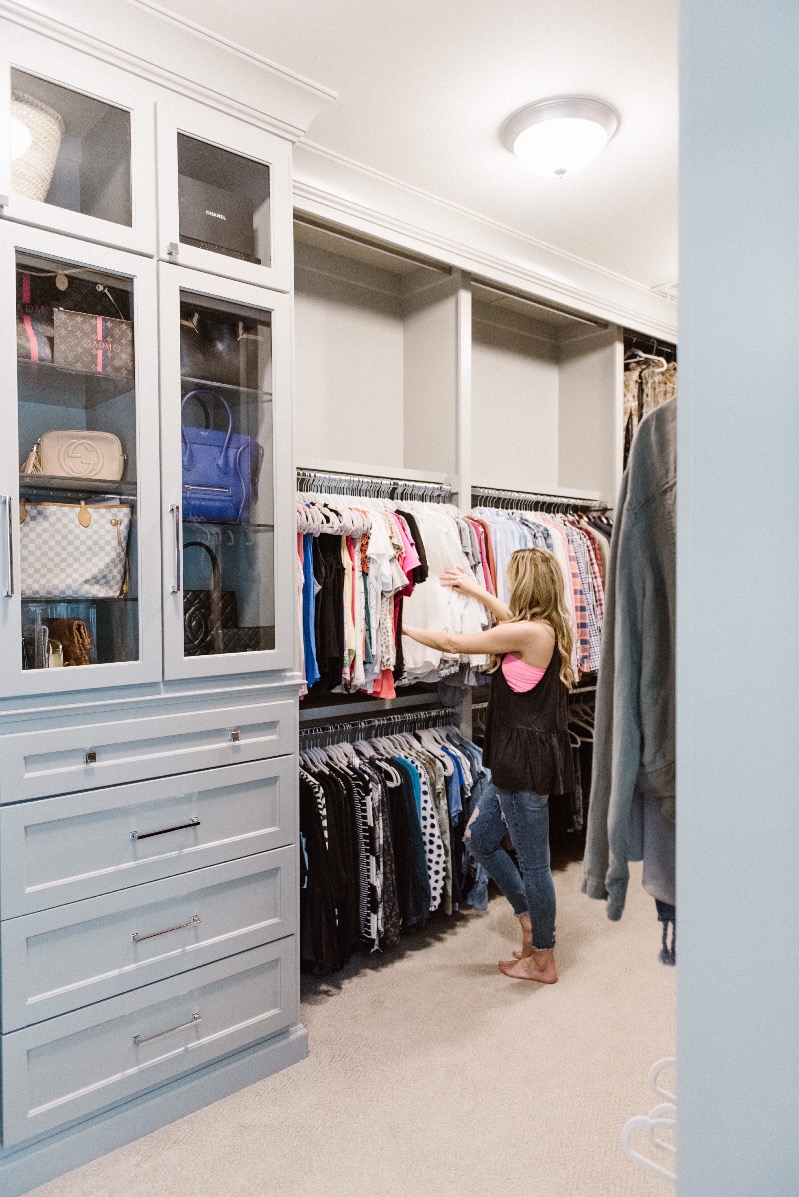 After purging, we started with the largest section of the closet…the hanging clothes for myself and my husband. Before Becky came over for the first time, I ordered these new velvet hangers for our closet. I ordered several velvet hangers to try out before choosing these. I was looking for heavy-duty and wanted the color to match our closet cabinets and carpeting. These have been wonderful and the price is very reasonable. Just having all uniform hangers made such a difference when entering the closet.  All the mismatched or plastic hangers went to the recycle bin. Becky then started her organizing magic and sorted the clothes, first by style, then by color. All clothes are arranged sleeveless to long-sleeved, left to right if that makes sense. So for instance, all tank tops are sorted by colors and they begin at the left side and then it goes to short-sleeved tops sorted by color, and then long-sleeved tops sorted by color on the right side. This master closet organization idea has made mornings SO much nicer. I know where everything is and know if I am looking for a grey tank top for example, I know just where to go. She did the same thing to my husband's side of the closet as well, organizing his button up shirts and blazers just the same way. (Please just ignore all of his camo!)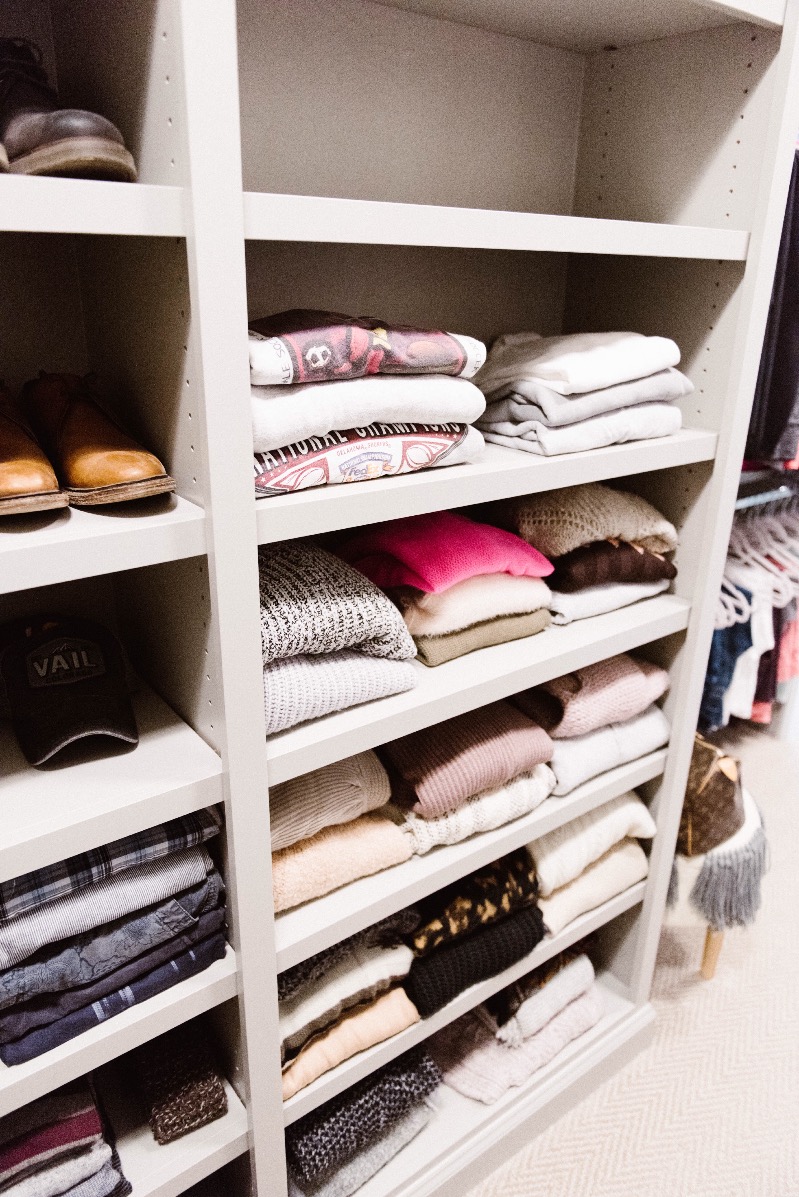 On the opposite side of our hanging area, we have a large section of built-in open shelving that is adjustable. When designing the closet, I knew from our last home that I liked having plenty of open shelving for sweaters and heavier type clothing that doesn't do well on a hanger. I love that it's adjustable so I played around with the openings until I got a height that was just right. Becky then folded everything just as you would see in a retail store, which I LOVE! This makes every sweater or top visible, but also neatly stacked and compact. One of the best tips from Becky was to use these affordable shelving dividers to help keep your clothes in their place, but unfortunately they did not fit my open shelving. I would definitely recommend  trying one before ordering 25 like I did! We tried to make them work, but they wouldn't fit on my shelving…my shelves were too thick. Love the idea though.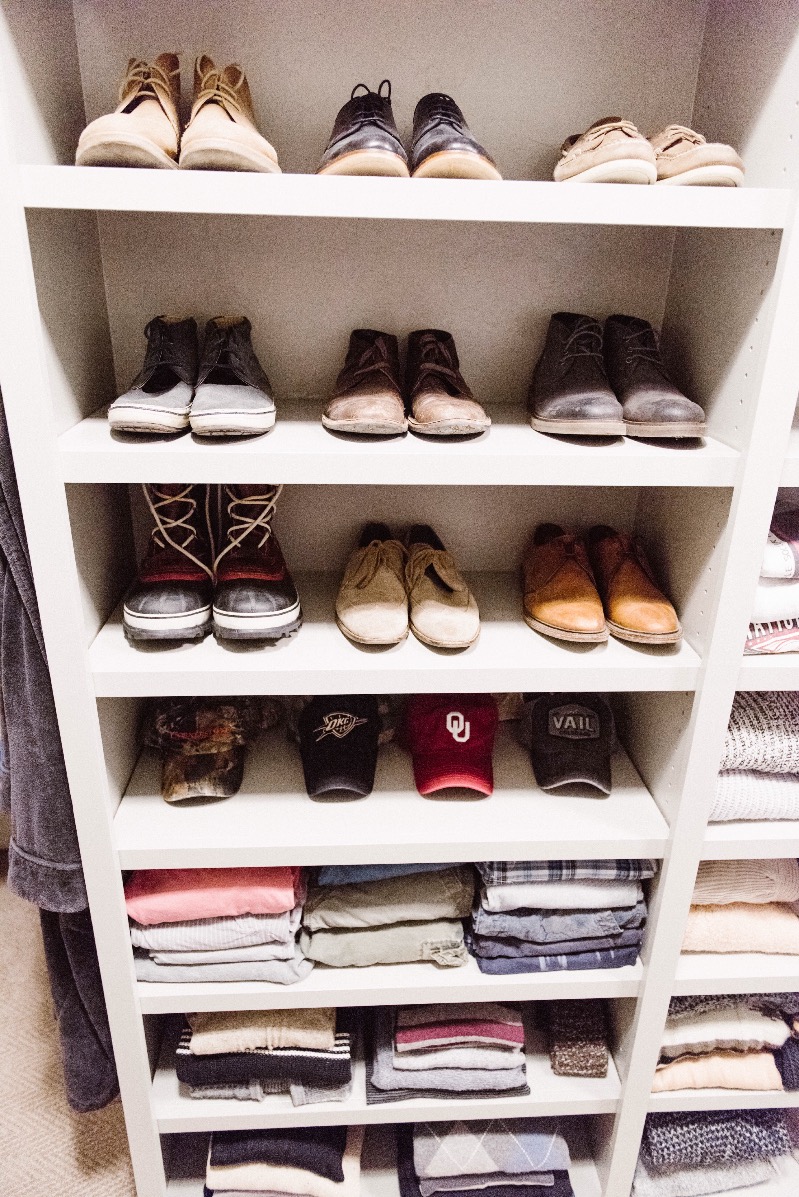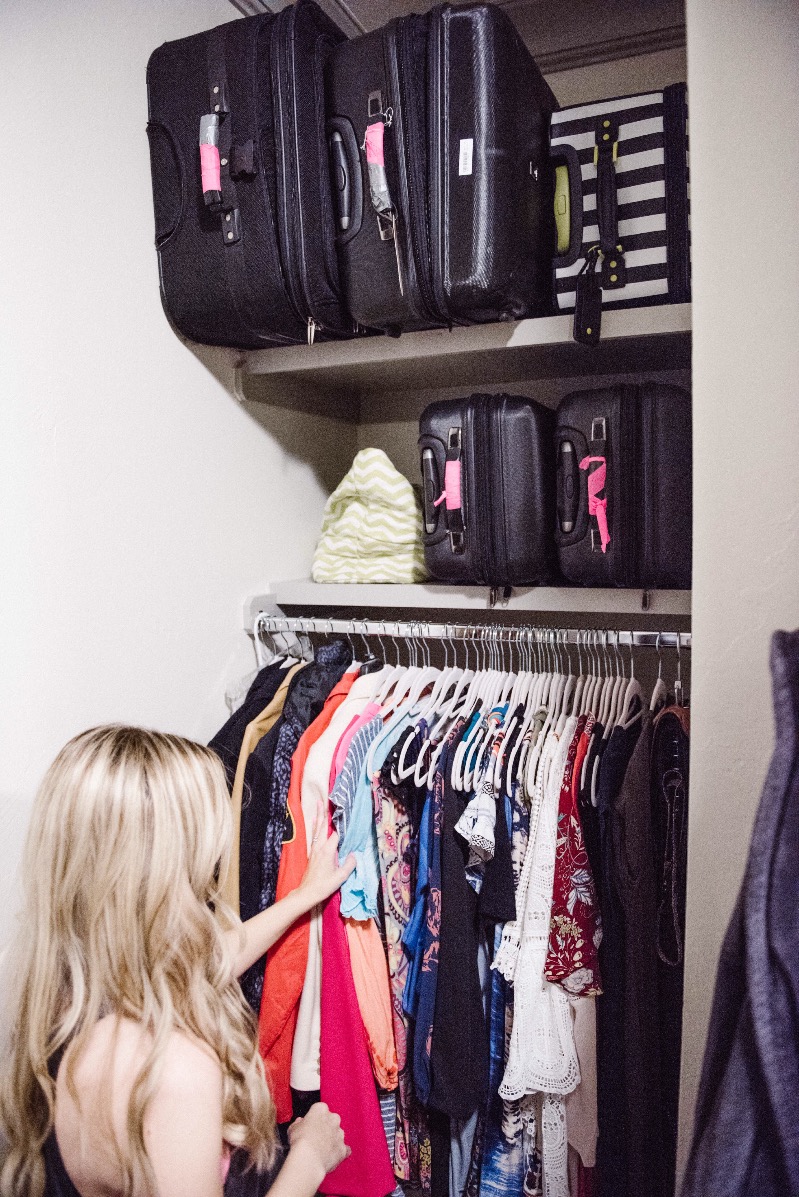 On my husband's side of the open shelving, she arranged his shoes and hats, so they were not intermingled with mine and right in his area with everything else of his. I love that we have our own spaces (if you have been married a long time, I know you can appreciate that!) The arguing helped to make our open shelving so much more spacious and less chaotic. Underneath his hats, are his shorts and sweaters. To the left of his open shelving is our long hanging area. I've got some coats and long dresses and my wedding dress in this area. That is the only area where my stuff is over on his side (sorry honey). I made this area extra deep so we can easily keep all of our luggage there, but not visible to anyone who walks in. I also keep travel bags on these shelves too.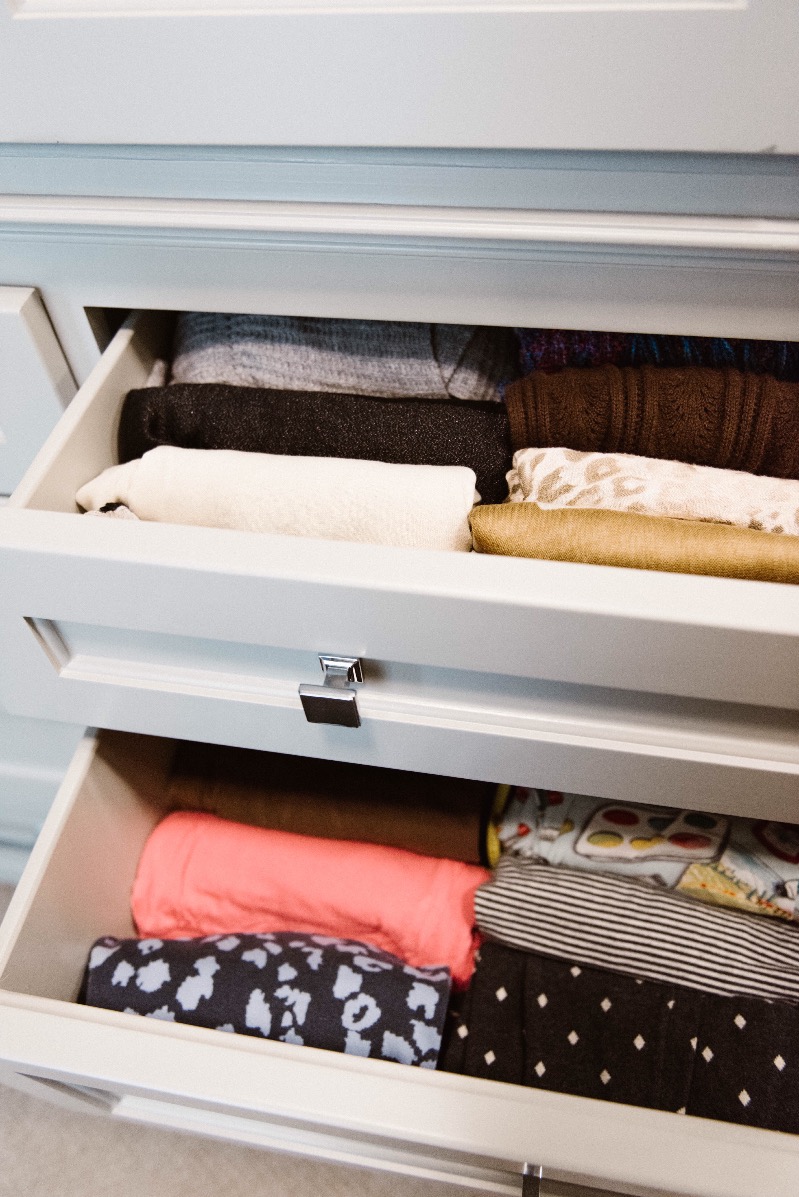 Next, we moved over to my drawers and glass cabinet display area. Becky likes to roll clothing in drawers. Any PJ sets are rolled together so you can unroll it and don't have to search for the other piece. Brilliant tip! She also suggested these clear dividers for drawers. In my drawers, I keep bras in one drawer, panties in one and socks in another. I have workout leggings and shorts in one drawer. I have pajamas in one drawer. I have swimsuits and cover ups in a small drawer and the other small drawer holds my scarves which she neatly rolled so I can see all of them at once. I have tried my best to roll everything when putting it back in the drawer after its been washed because it really is so helpful. One of the most helpful master closet organization ideas from Becky was this.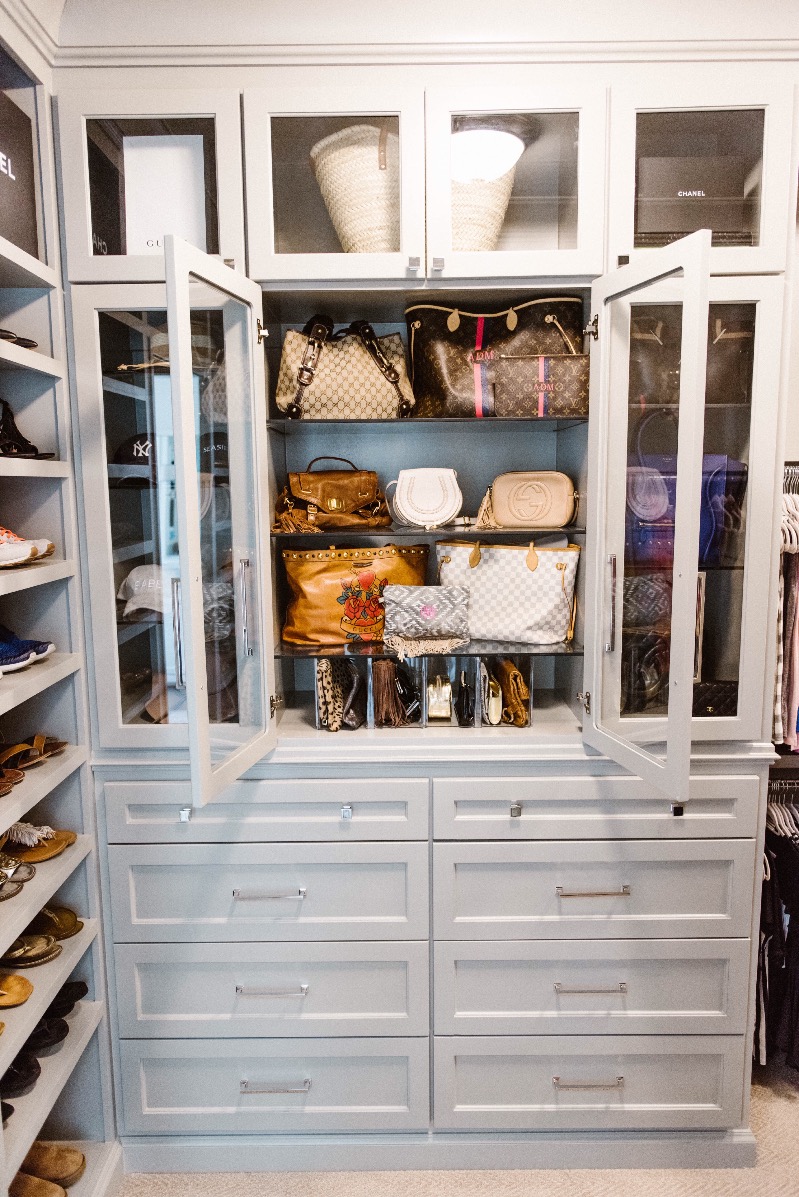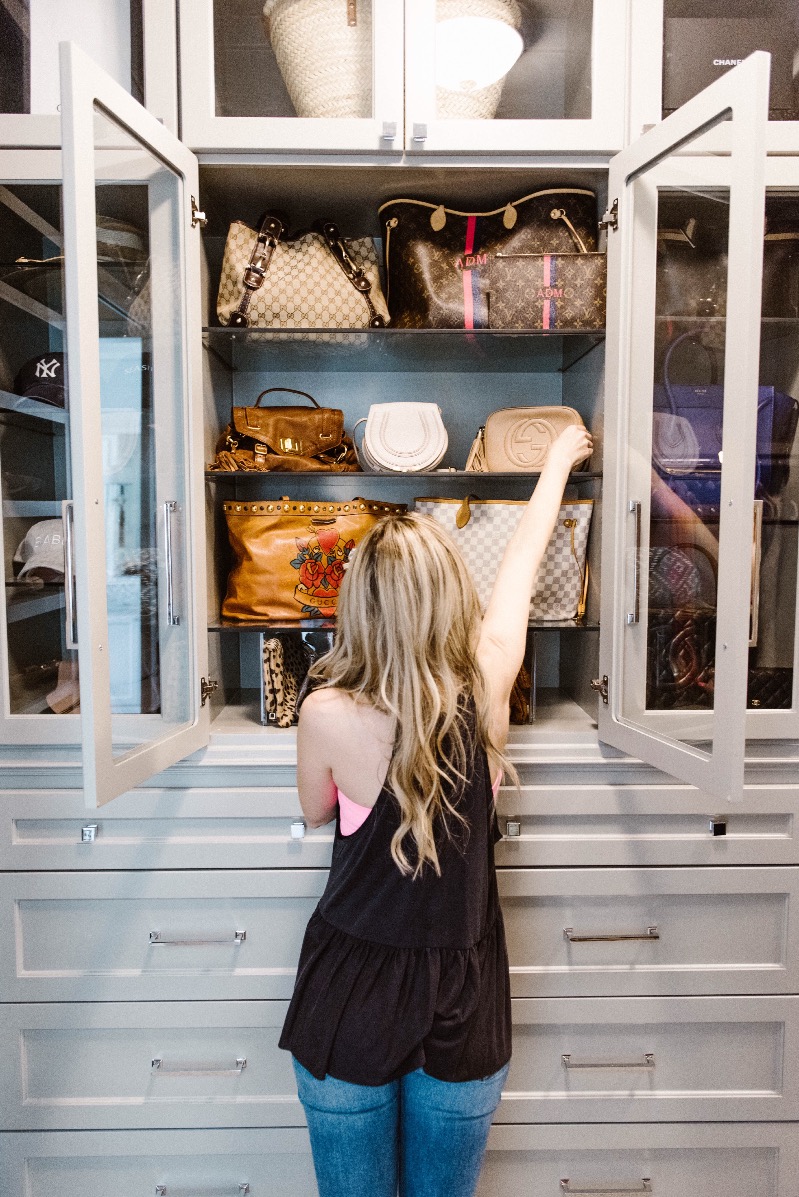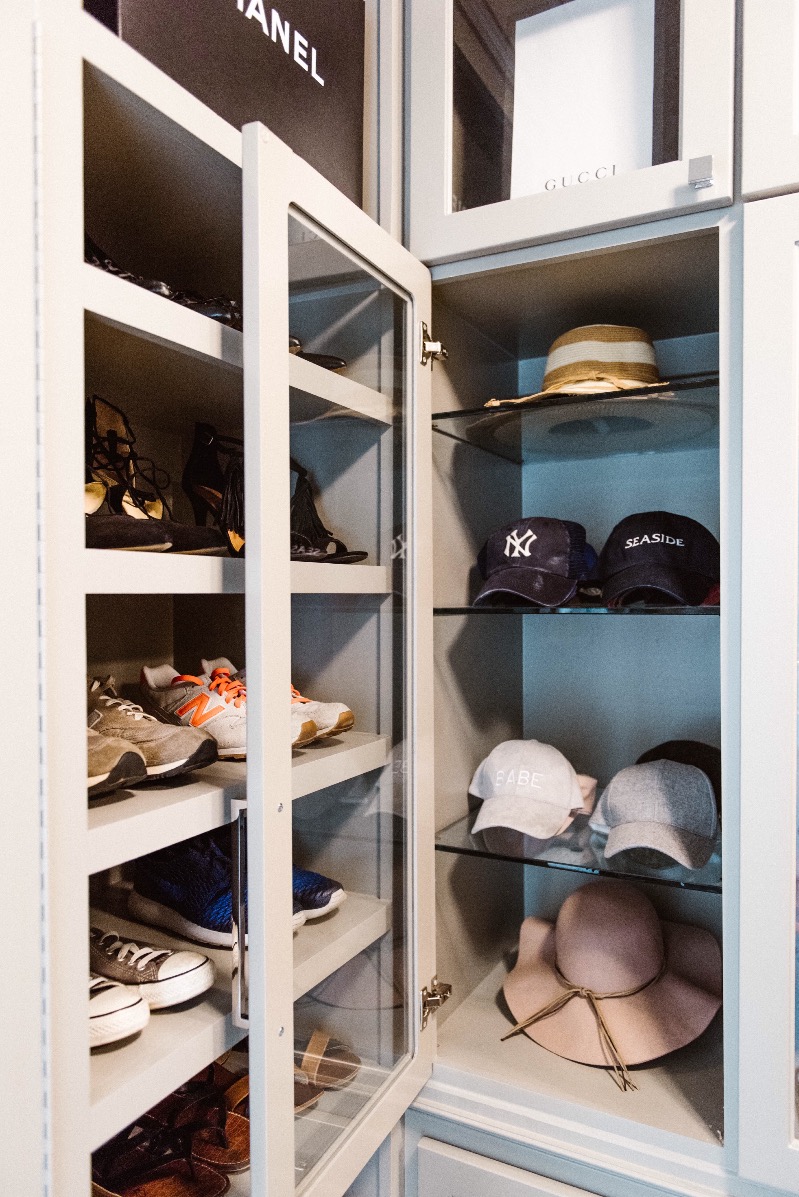 Above my drawers is my glass display area. I knew when building, I wanted an area to keep all of my handbags, totes and clutches easily accessible and on display! I have been collecting handbags since college, so they are near and dear to me! Becky recommended these purse shapers and I am very pleased with how they keep the shape of my bags without getting creases or dents in them. We put glass shelving in this area and they are adjustable so I can adjust the shelving depending on how tall some of my bags are. I love this acrylic bin (I did not order the lid) I used to organize all of my clutches. It's hard to keep small clutches upright, so using this keeps them all standing up and looking neat. To the left, I keep all of my hats. These hat stands are what I ordered for this area, but they didn't make it in before these images were taken.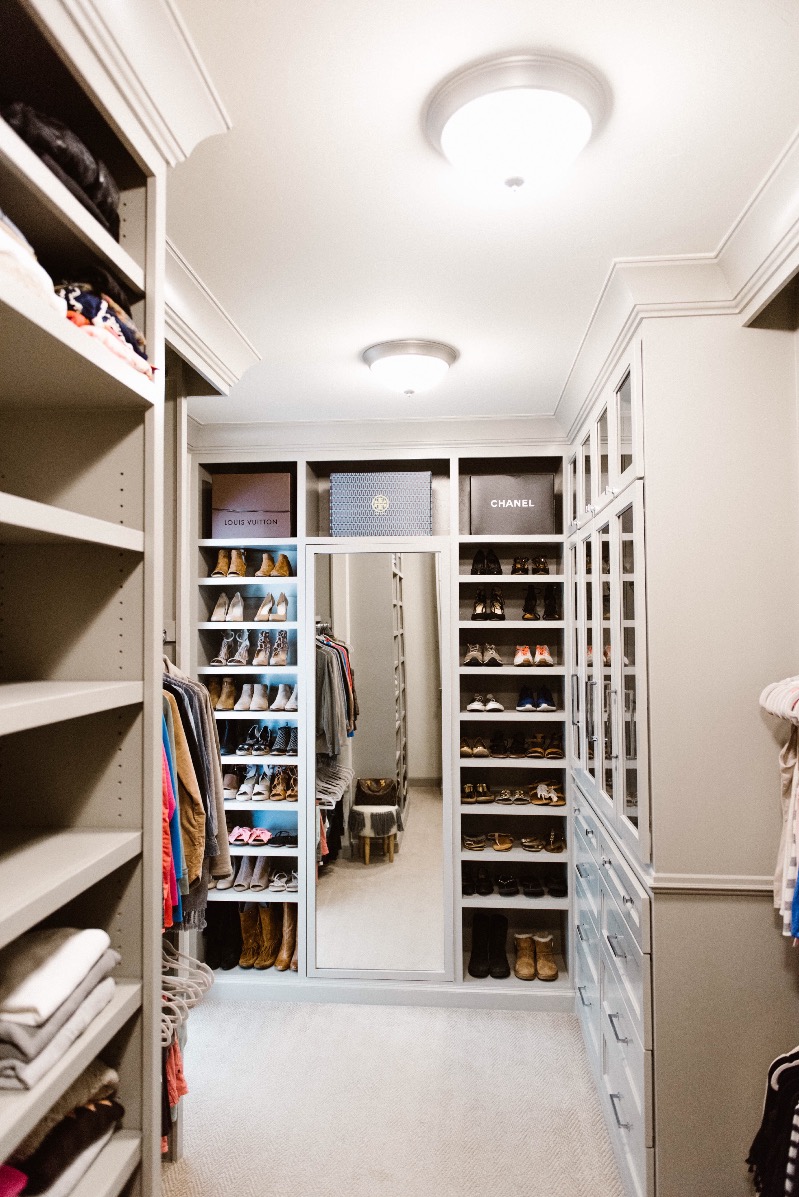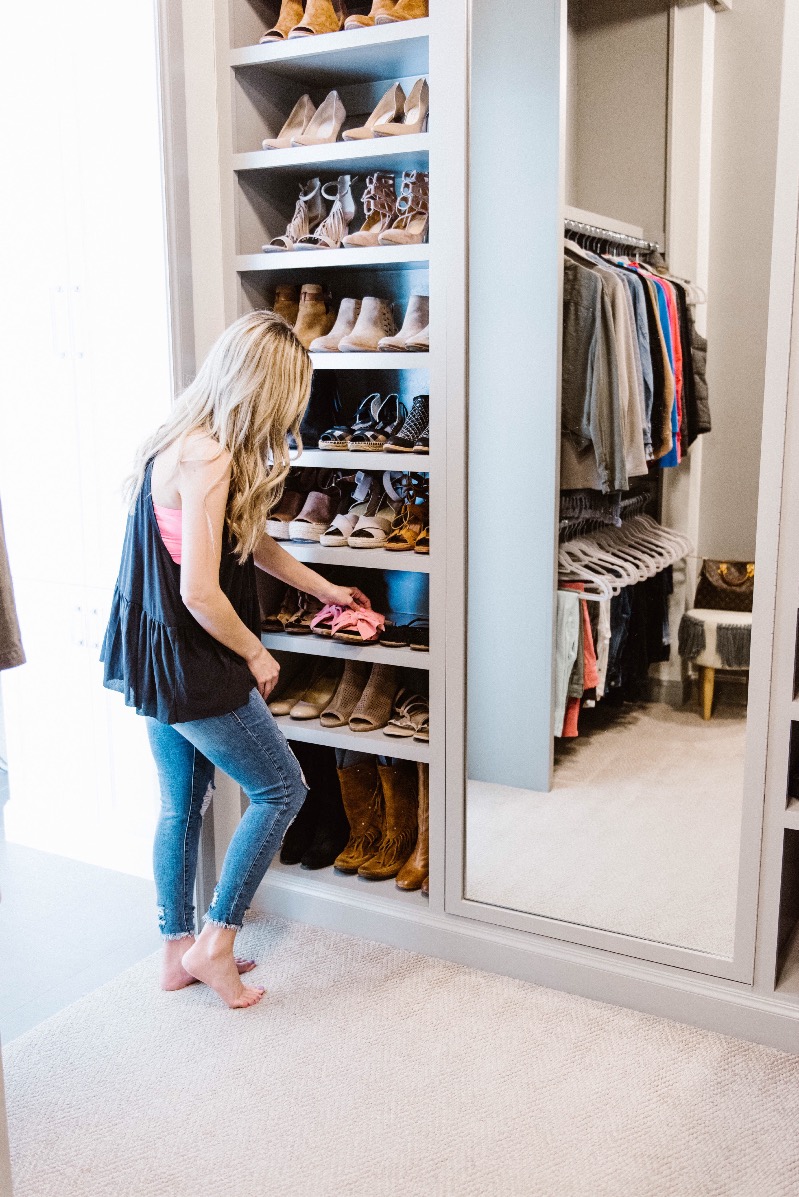 Now to my shoe shelving. I did the shoe shelving for my area along the back wall of the closet and added a full size mirror to the middle of the shelves. Our last home had inclined shoe shelving and I could not stand it because my shoes constantly fell down onto the ground. So when I met with the trim carpenter, I made sure to tell him I wanted them flat so nothing would be falling off. I would recommend if building anytime soon, to make sure they are level and not on an incline. I used these boot shapers for my tall boots to keep them standing nice and tall. We kept everything color coordinated for the most part and similar styles next to each other.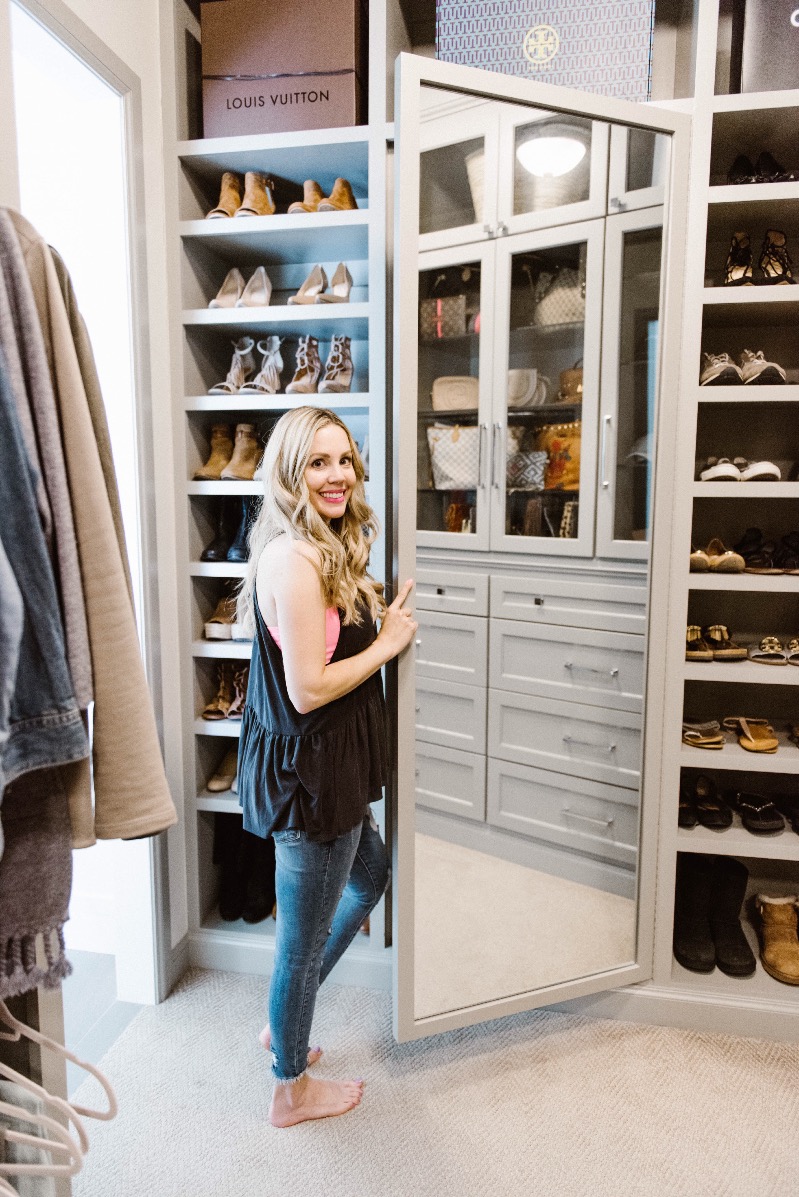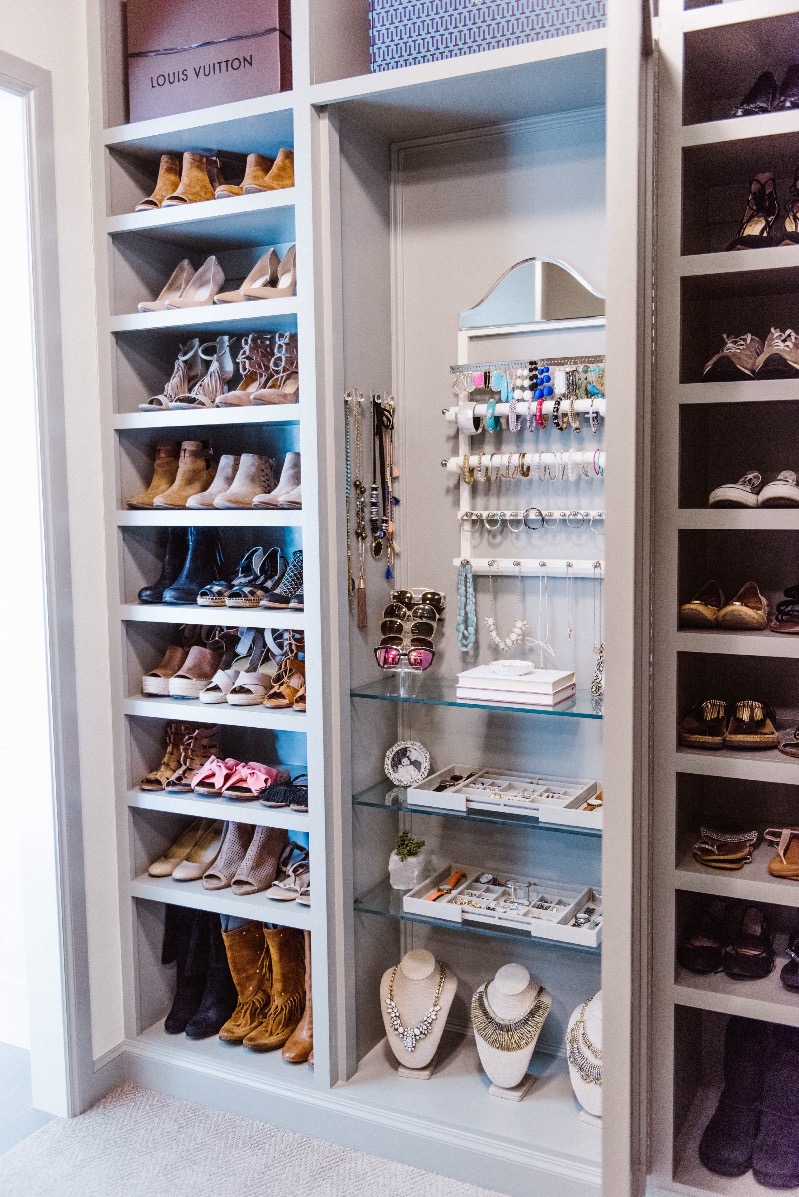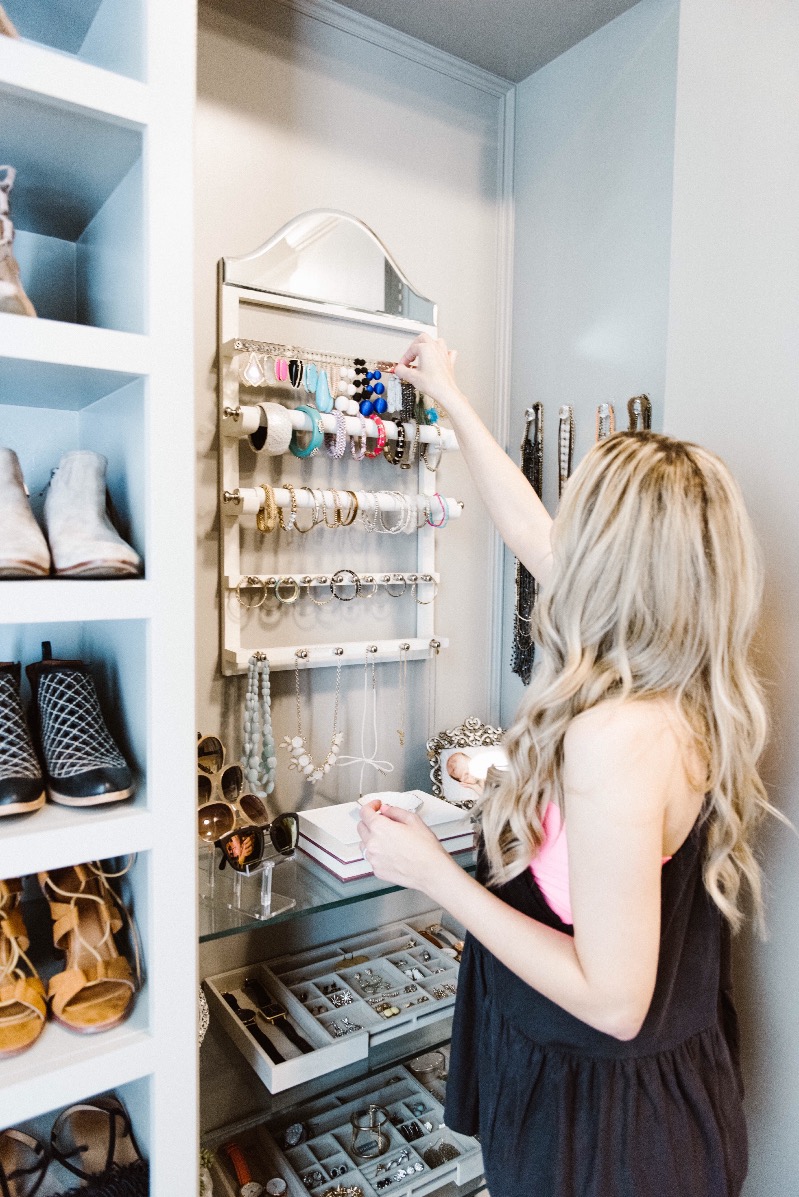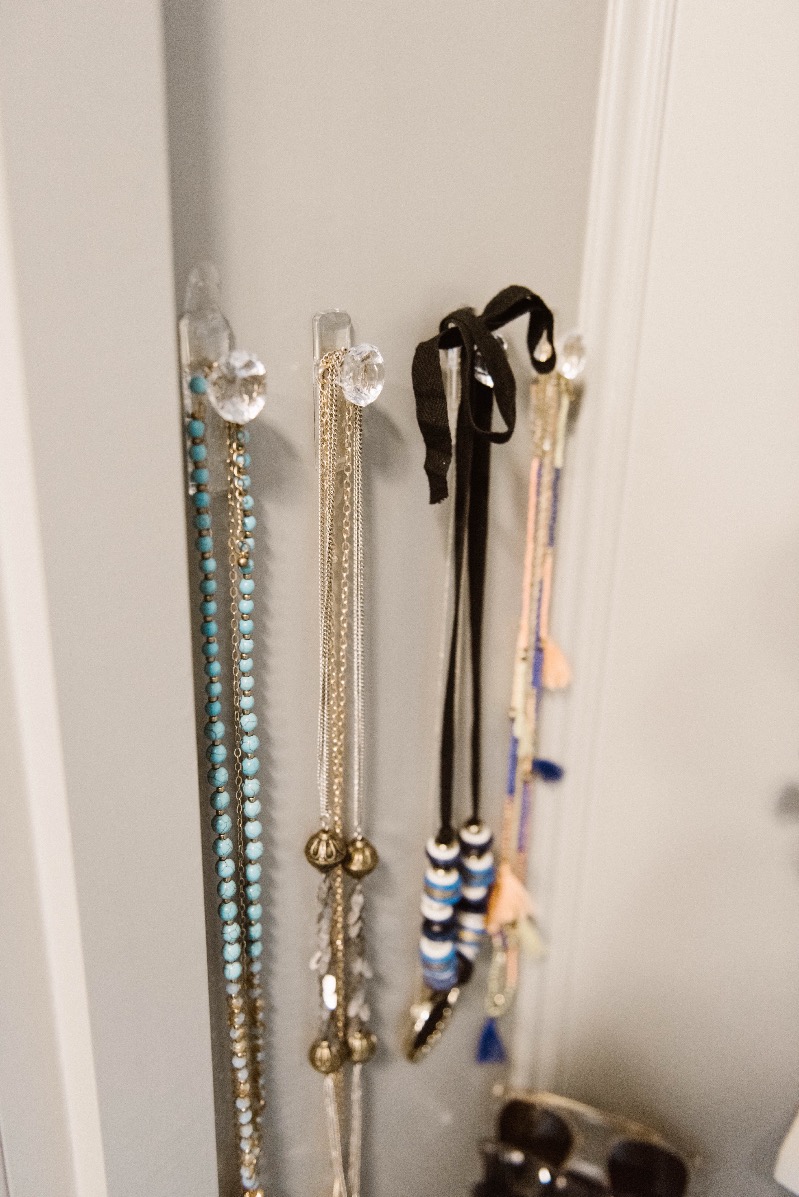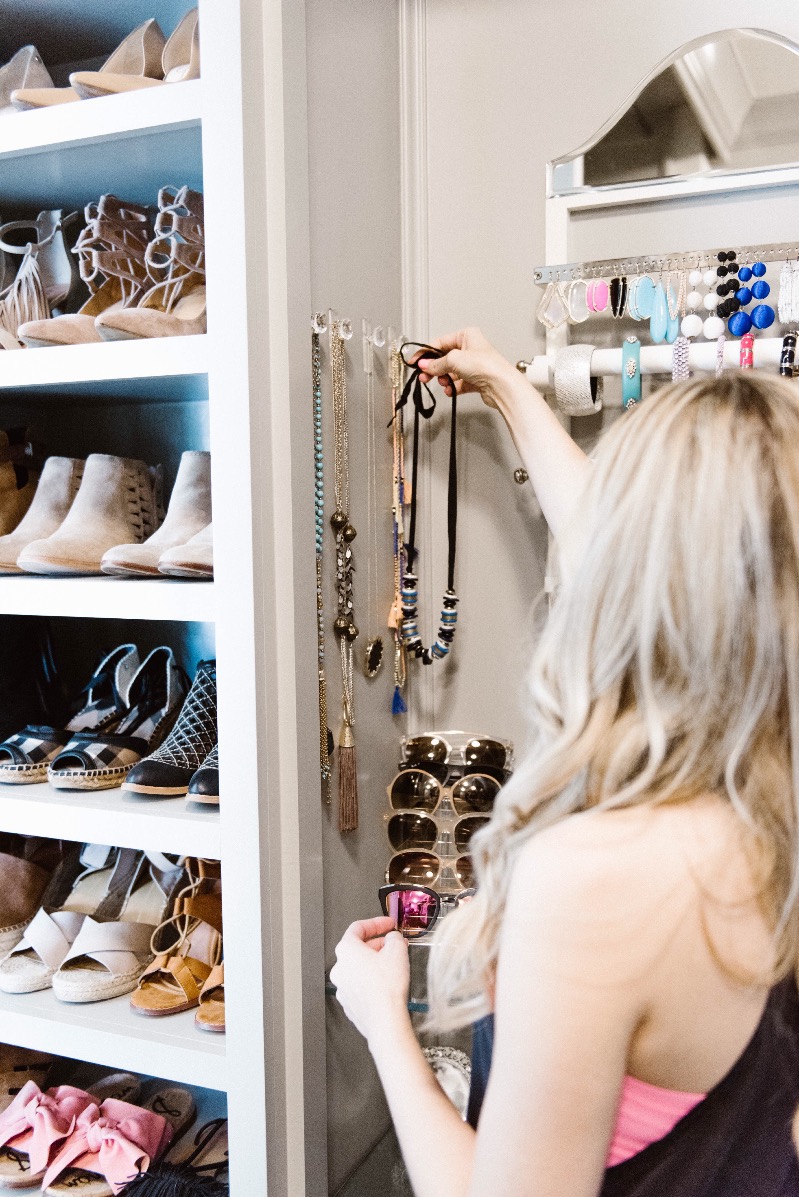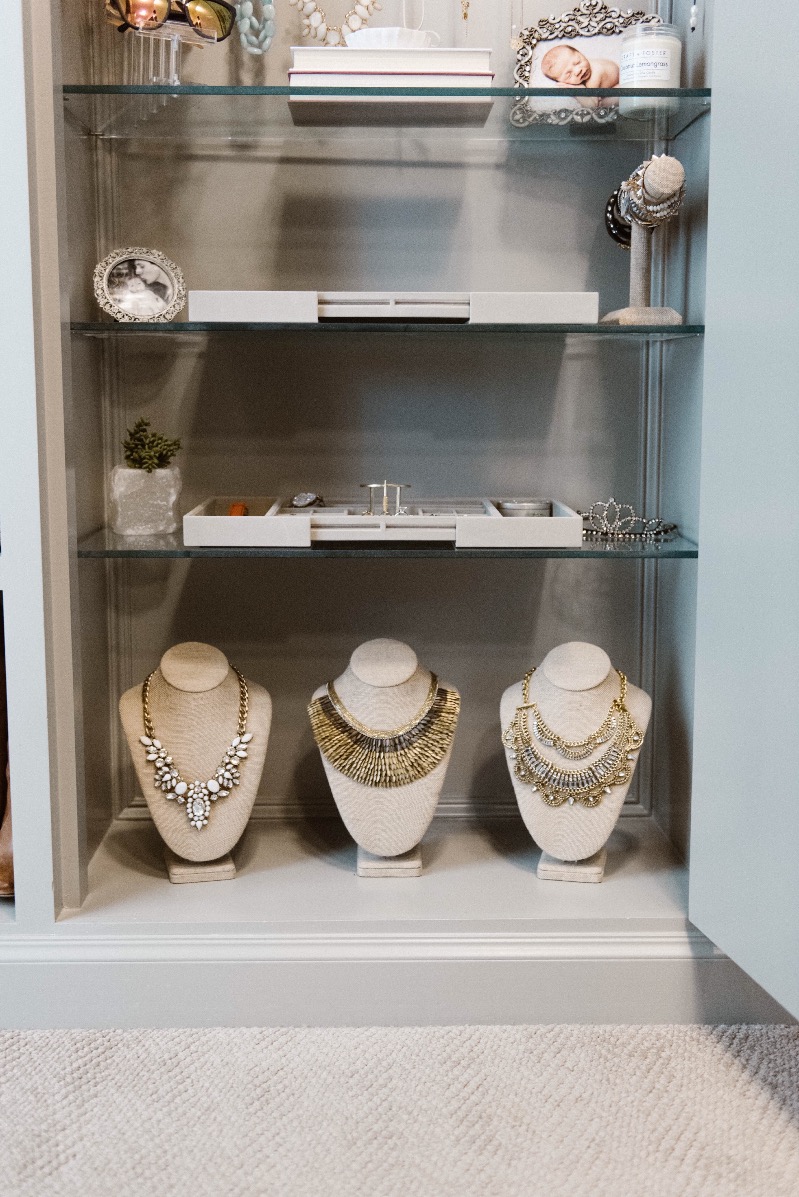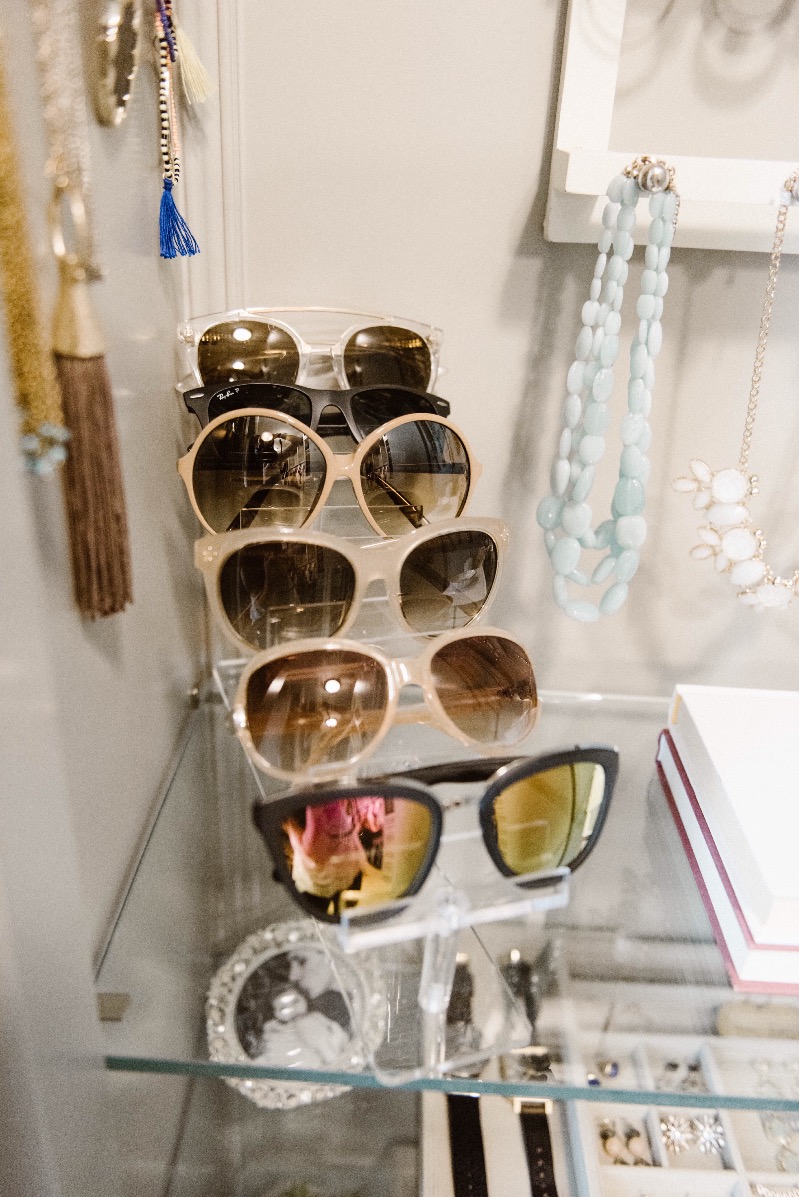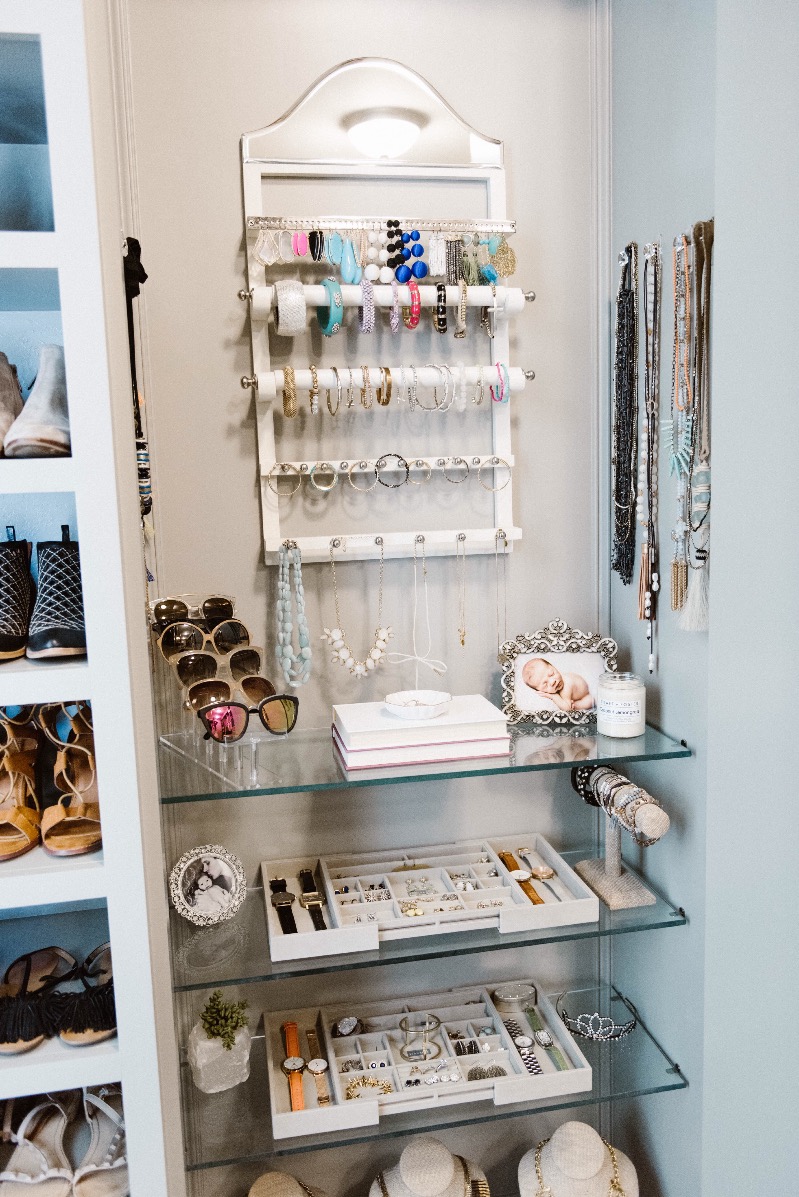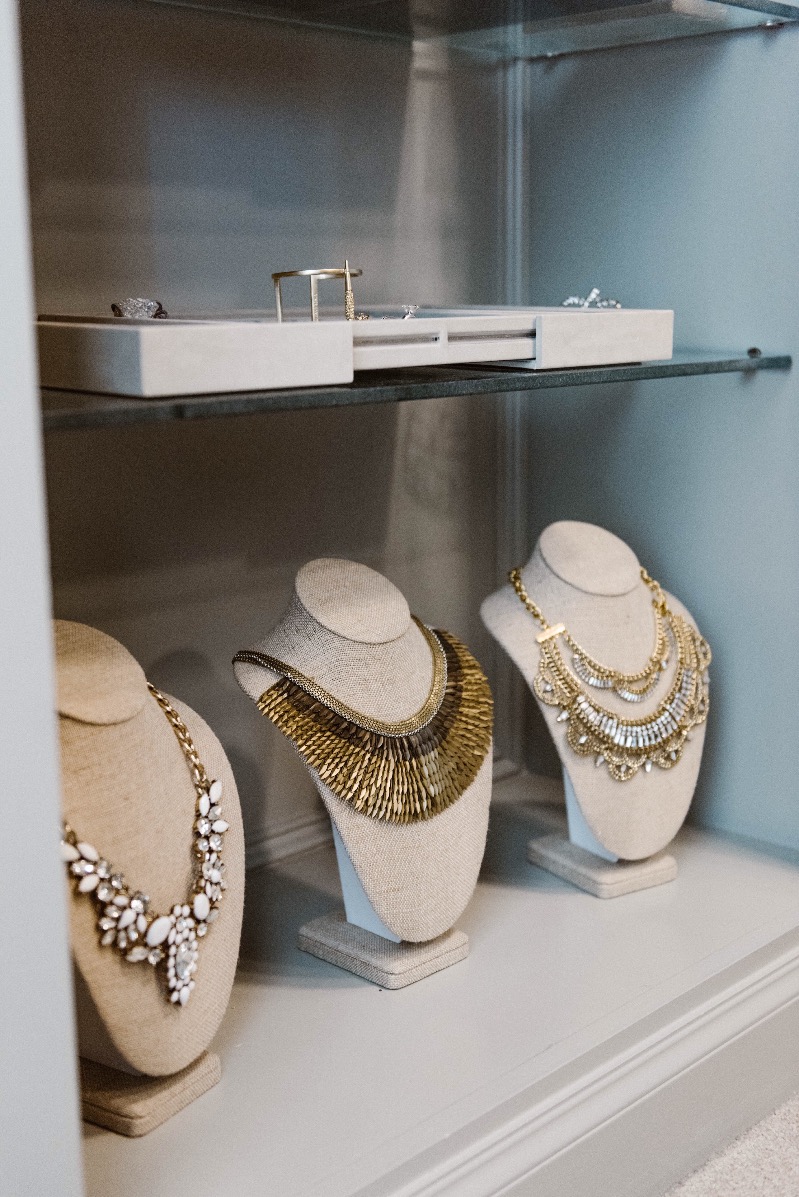 And lastly is my most favorite area of the closet…My hidden jewelry cabinet! I wanted this hidden because my jewelry can get so messy, so quickly and did not want the mess to be visible. We had a full length mirror built and the trim carpenter put in on a hinge so I can open it, and voila…all of my jewelry is there! We had glass shelving built for this cabinet as well. My actual hanging jewelry organizer is not for sale anymore, but this one and this one are very similar. Having a hanging organizer helps to keep everything visible so I really like that. But, I had so many long hanging necklaces that were getting tangled even with the jewelry organizer. So are you ready for the BEST TIP FROM BECKY…Use these jewelry command hooks for long necklaces without the need for screws or holes in your cabinets/walls! I absolutely loved this idea and ordered 8 ASAP. My husband did too because he hates for me to mess up the wood in our home with holes. I played around with the heights inside my cabinet before placing them. I have 2 on each crystal hook and am so pleased with how they have held up. Highly recommend using these. They have crystals on them, so they look a little nicer than a typical command hook. And they can be removed anytime without any damage. This necklace display is highly rated as well and lots of bloggers use it, but you do need screws.
For the glass shelving, I ordered several more genius organization tools. These jewelry trays are pretty and expandable, so you can customize the width that fits your space. They would also work well in a drawer. I am so pleased with how these linen necklace display busts look. They display my statement necklaces so well and are a great price too. This matching linen bracelet organizer is perfect for all of my chunky bracelets and watches. What do you think about the acrylic sunglasses display? I love seeing them all in one place! This sunglass display box is really pretty too. I love how this area looks merchandized like I am shopping at a store and these organizing and display products have a lot to do with that!
I am 100% confident you can implement some or all of these master closet organization ideas into your own home. Most of these tips are affordable and easily doable, it just takes a weekend and some motivation. Imagine your closet if you purged it, color coded everything and then how de-stressed your mornings would be as a result. Becky from Beeneat's tips and ideas were so helpful…if you are in need of some professional organizing help, I would recommend using her. She also has flown out to clients in other states as well on occasion.  You can follow her on Instagram here as well to see her daily organizing tips. Please don't forget to subscribe to my blog so you always get posts first from me. I never spam. Thank you and have a great week!

Recent Posts: Affordable Summer Dresses   How to Style Kitchen Countertops like a Pro   Skincare Routine in your 30's
Thanks to Becky of Beeneat for collaborating with me on this project. All opinions are my own.*Affiliate links are used in all posts. If purchases are made, a small commission is paid to Curls & Cashmere, which helps to keep this blog in business. Kaylen Gregory Photography.