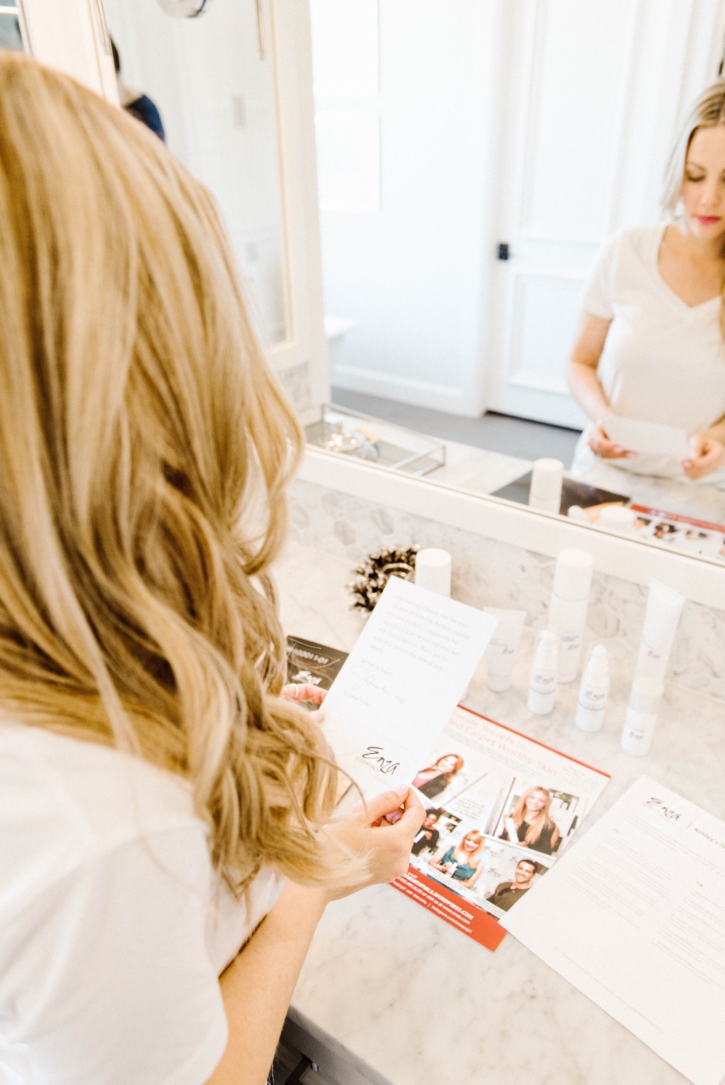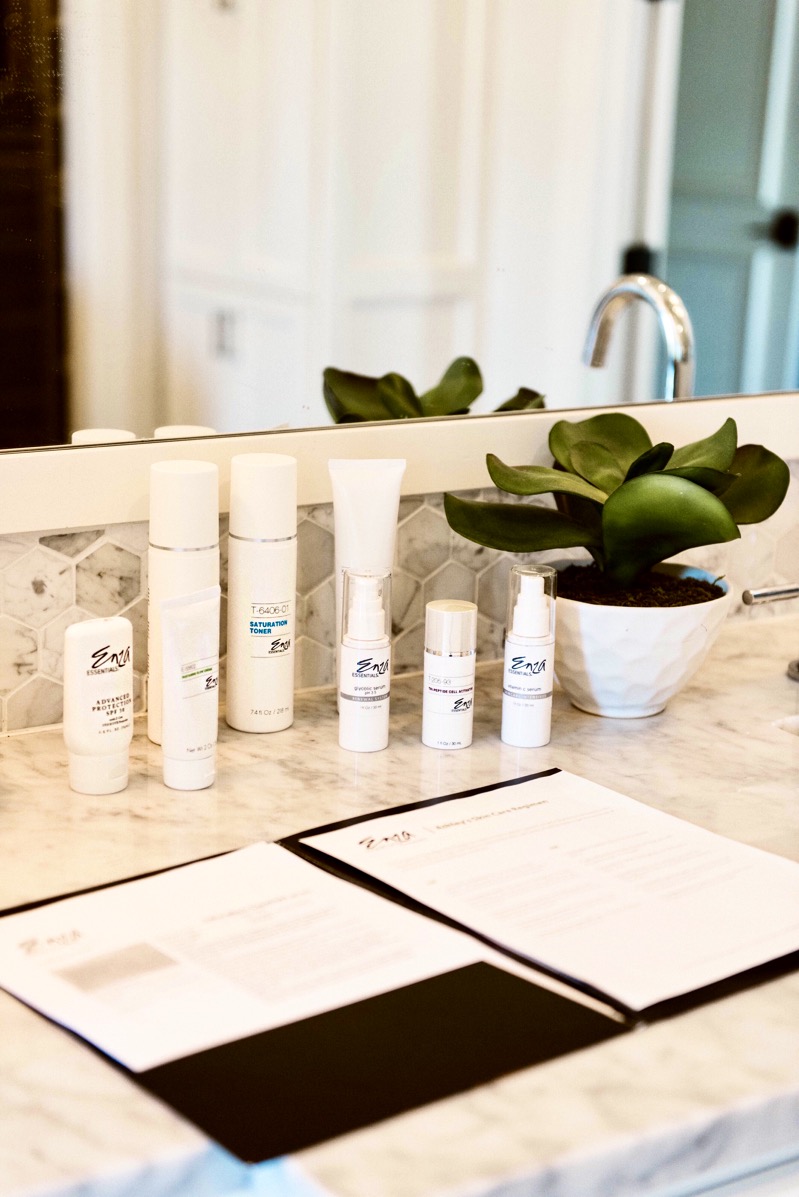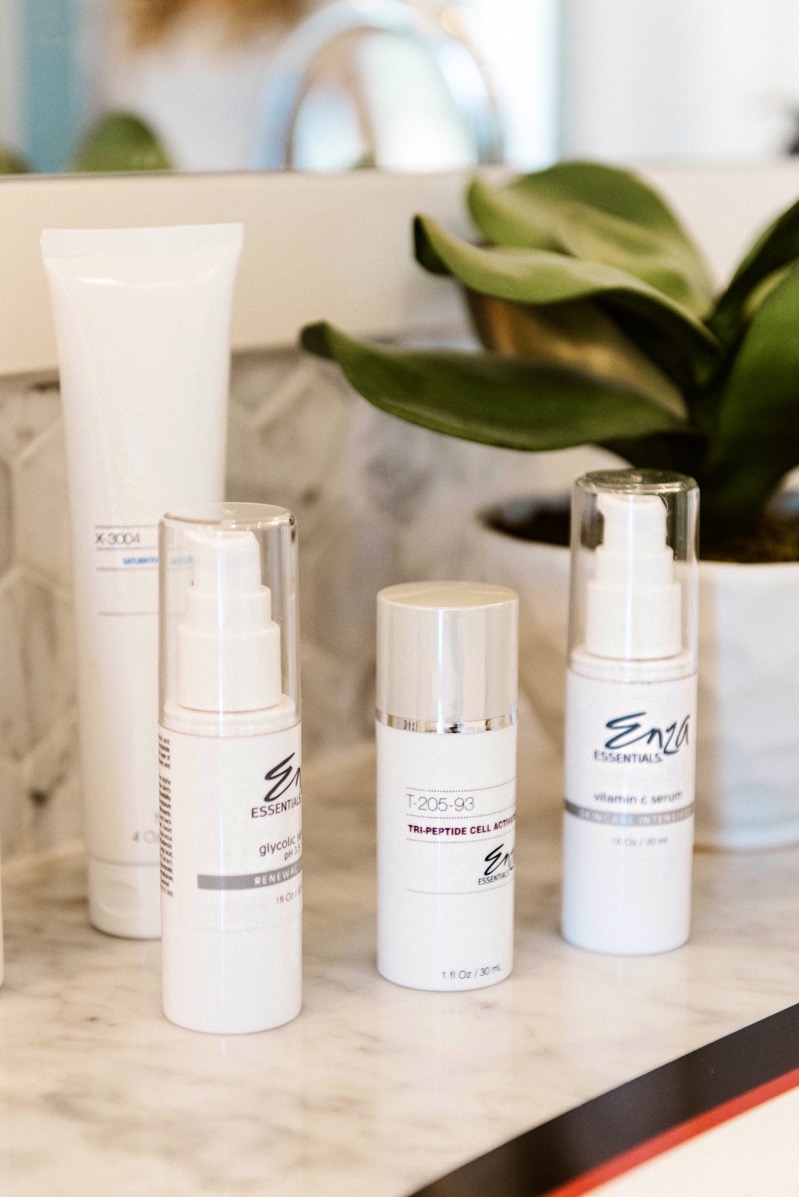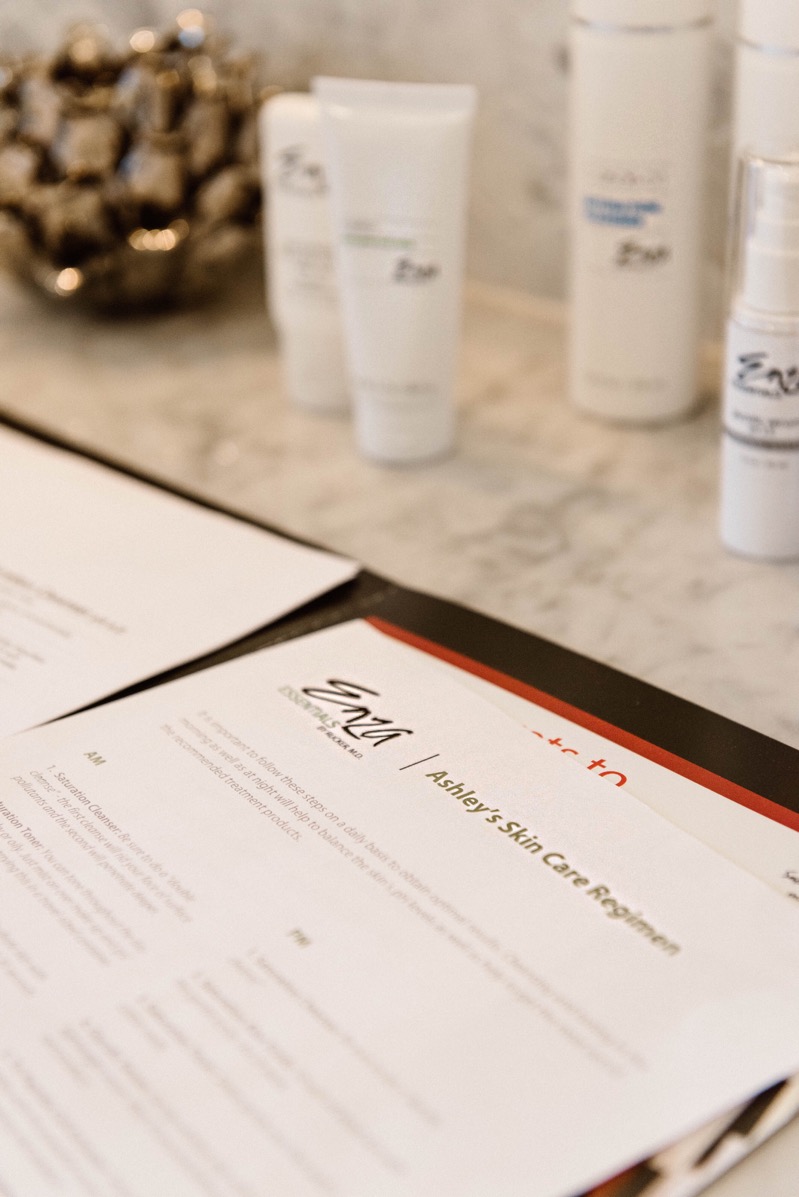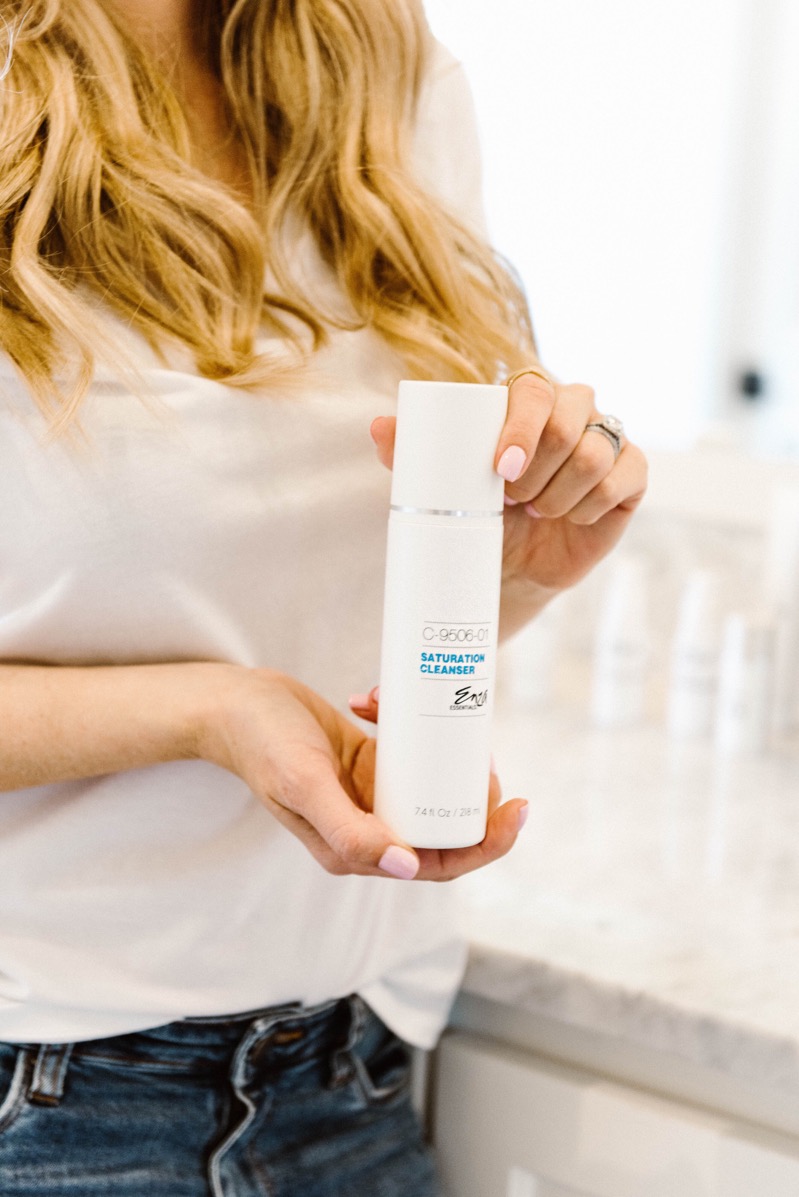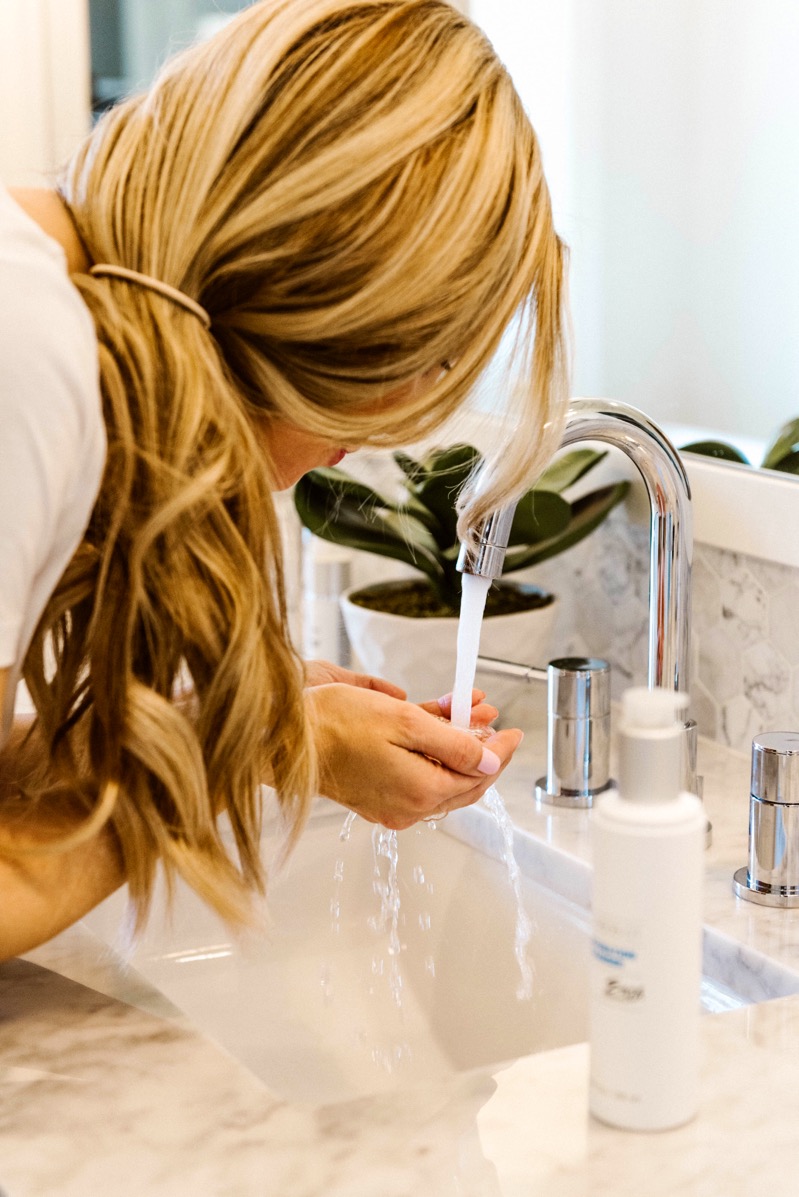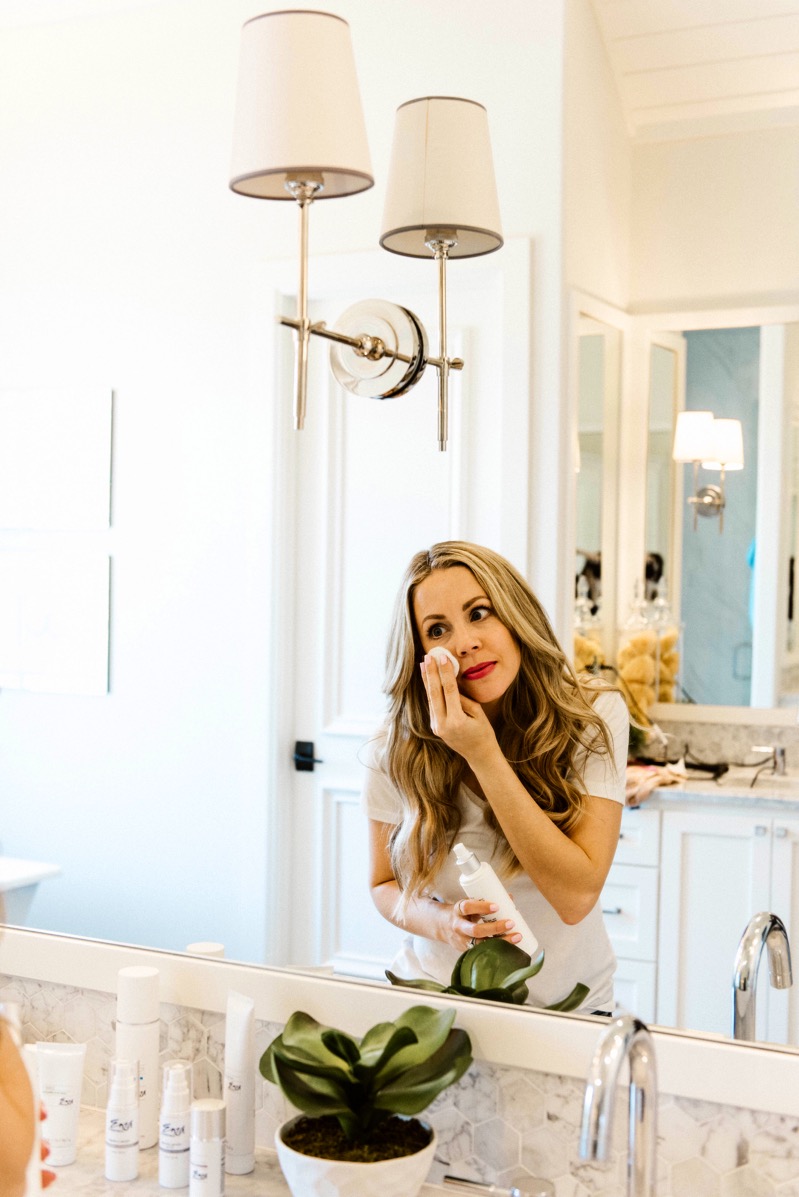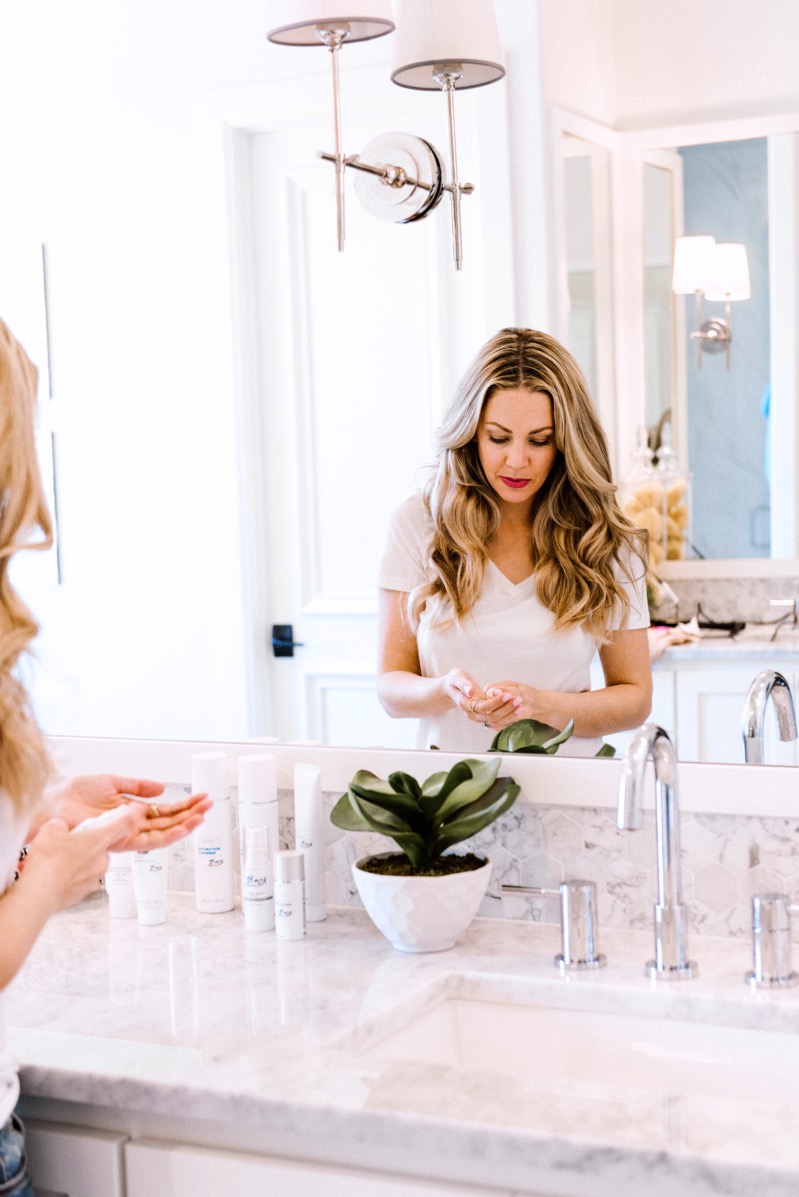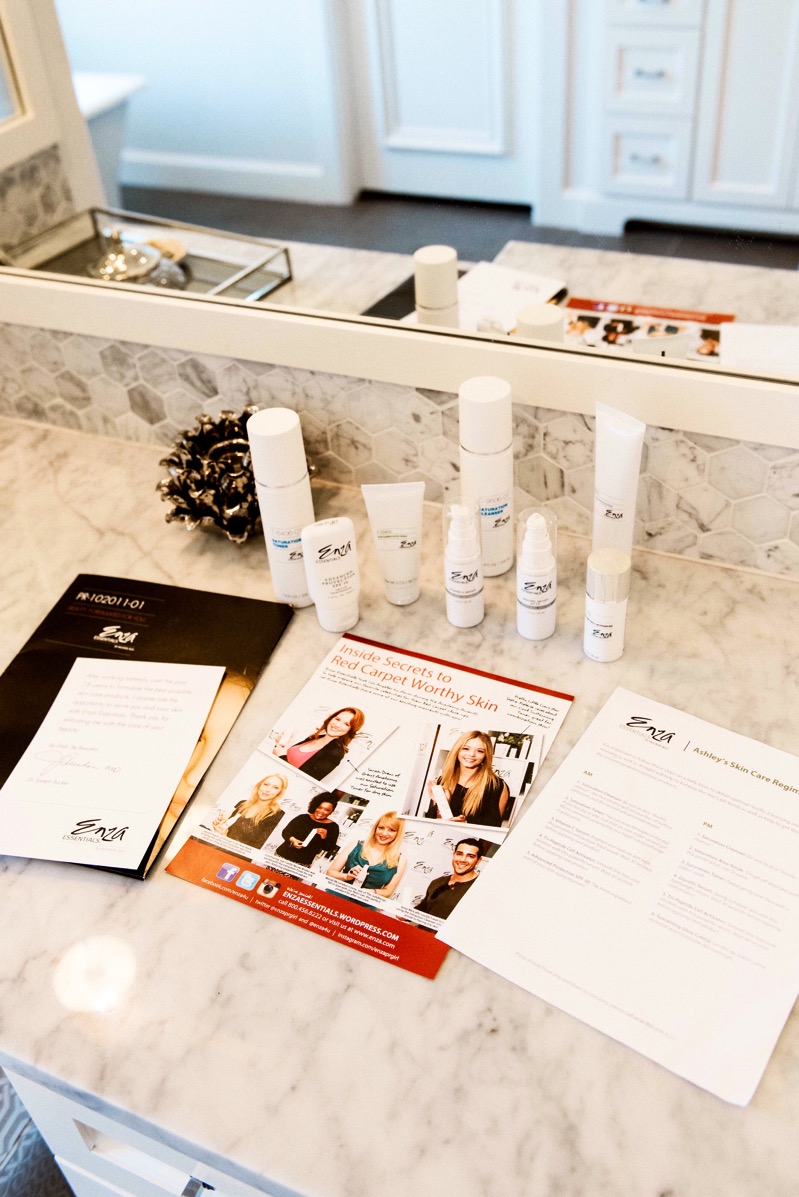 Good morning! If you have been following me for a while, you know I am very big into caring for my skin, especially once I entered my 30's. I used tanning beds in high school and some of college (GASP!), and have been burned more than I would like to admit being blonde and blue-eyed. I decided sometime during my college years that I would stop using tanning beds and start protecting my skin better with a daily SPF and I began using anti-aging products. I'm so thankful I did, because now that I am beginning to show signs of aging, an effective skincare routine in your 30's has never been more important to me.  Today I am going to share the customizable skincare routine that Enza Essentials created for me and my results thus far.
To share some info about Enza Essentials, it was created by Dr. Joseph Rucker, a board certified plastic surgeon. Dr. Rucker has worked on beautifying skin for over 30 years, has appeared in New Beauty magazine, Lifetime's The Balancing Act, The Doctors TV, Arizona Sports and Lifestyle magazine, and has acted as celebrity skin consultant at the Academy Awards in Los Angeles. This is what he recommends to his patients as well so I was very excited to try it out when they contacted me.
First I filled out the customized skin care questionnaire they send to all of their clients. Then their esthetician personally reviews and studies your answers and creates a regimen complete with a morning and nighttime routine. I loved receiving the product regimen in the mail along with the hand outs that explain everything in detail about your specific routine, what to use when, and more. I appreciated the fact that Enza believes everyone is one of a kind and every individual needs customized Enza skin care products to be tailored to their specific skin type. Enza takes pride in customizing each indivudual's regimen.
So let's get into my routine…30 something with combination and sensitive skin. I am prone to redness and dark spots with my fair complexion. We do go to the pool and lake a lot in the summer months, so that was something else I added to my questionnaire. This is my exact skin care routine they made for me:
Morning Routine:
Use the Saturation Cleanser: Be sure and do a double cleanse–the first will rid your face of surface pollutants and the second will penetrate deeper. This cleanser was very gentle.
Use Saturation Toner: You can tone throughout the day if you feel dry or oily. I am always scared of toners for fear that it will dry out my skin or make it feel tight. This one is very soothing and skin balancing.
Vitamin C Serum: This has stabilized Vitamin C which offers potent antioxidant functions. This is a must to help protect from environmental stress and sun damage. Wait 30 seconds, then apply the next product.
Tri-Peptide Cell Activator: Smooths fine lines and wrinkles with no irritation. Love this, it has several powerhouse ingredients and is one of Enza's best sellers. No burning or peeling from this either.
Advanced Protection SPF 30: The most important part of your anti-aging regimen. I cannot STRESS this enough. You have to wear a daily SPF even if it is cloudy or you are in your car most of the day. This product offers full spectrum coverage along with vitamins and antioxidants to help further protect. I love how light and non-greasy this SPF is. It doesn't leave my face white either. I use a little on my hands and arms for daily use because I don't want them getting sun spots as I get older.
Nighttime Routine:
Use the Saturation Cleanser just like morning.
Use Saturation Aloe Scrub up to 2x per week. This is very gentle and sloughs off dead skin. My skin feels so soft and smooth after using this.
Use Saturation Toner. Wait 30 seconds before next step just like the morning.
Use Glycolic Serum: This serum gently exfoliates skin. Wait 30 seconds, then go to next step.
Use Tri-Peptide Cell Activator: Smooths fine lines and wrinkles with no irritation.
Use the Sustaining Glow Creme: This literally makes my skin glow. I like to use a lot on my face and neck which allows my skin to get super hydrated overnight.
I have been faithfully following this regimen for over a month now. You know I like to try every product for some time before I am going to recommend anything. Let me be your guinea pig instead of wasting money! I have to say I am very impressed. I have been getting lots of sweet comments on my IG Story from followers that have noticed my skin is glowing lately. Thank you to all who message me on IG. I love hearing from all of you! It is so nice to get to know everyone better. I feel very confident going into the harsh summer months using these products to help protect my skin all summer long.  No irritation or redness has occurred either and that is a big deal to me because I cannot stand being red and having flaky skin. I love that they make the routine so easy with step by step instructions too. It doesn't seem overwhelming to take good care of my skin now, even in the morning when I am rushing with my little ones. I hope this skincare routine for your 30's has been helpful. Enza would like to offer my readers 30% OFF your own customized skin care routine. Just click this link to fill out the questionnaire regarding your skin type and when they reply back with your product recommendations, your 30% off code will be sent to you as well. Let me know what questions you have for me! Please click here to subscribe to my blog site. I want you to be the first to hear everything new going on with me. Blog posts, room reveals, outfits, you name it!  Have a great week ladies!
RECENT POSTS:
How to Style Kitchen Countertops like a Pro
All Photography by Kaylen Gregory.
Thank you to Enza for sending me the skincare products. All opinions are my own, as always!