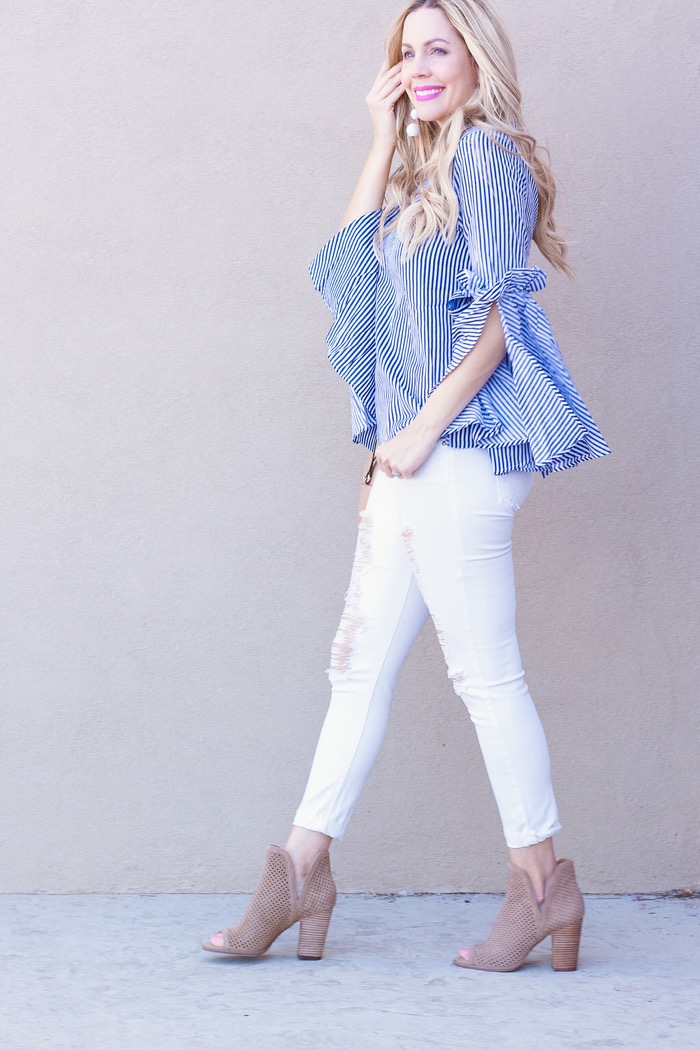 Good morning! How was your weekend? I hosted a baby shower for my little sister who is having her 3rd baby! She has 2 boys and this one will be a girl named Elle! We can't wait to meet her soon. I hope you followed along on Instagram to see all of the shower details on my IG Story…Instagram is a great way to keep up with me daily and get lots of behind the scenes looks into my busy life. Today I wanted to share 3 affordable spring outfits! If you missed my spring home decor ideas post from last week, you know I am getting my home spring ready and now it is time to get my wardrobe spring ready as well. I have been pulling out all of my warm weather clothes and creating fresh looks with some new pieces and mixing in my older pieces as well. Chicwish has quickly become one of my go-to online shopping sites for affordable fashion. It seems every time I post one of their looks on Instagram, everyone cannot get enough of their on trend clothing and their affordable prices. I am not kidding! Check out these 3 affordable Spring outfits I put together while offering some ideas and tips so you can do it too…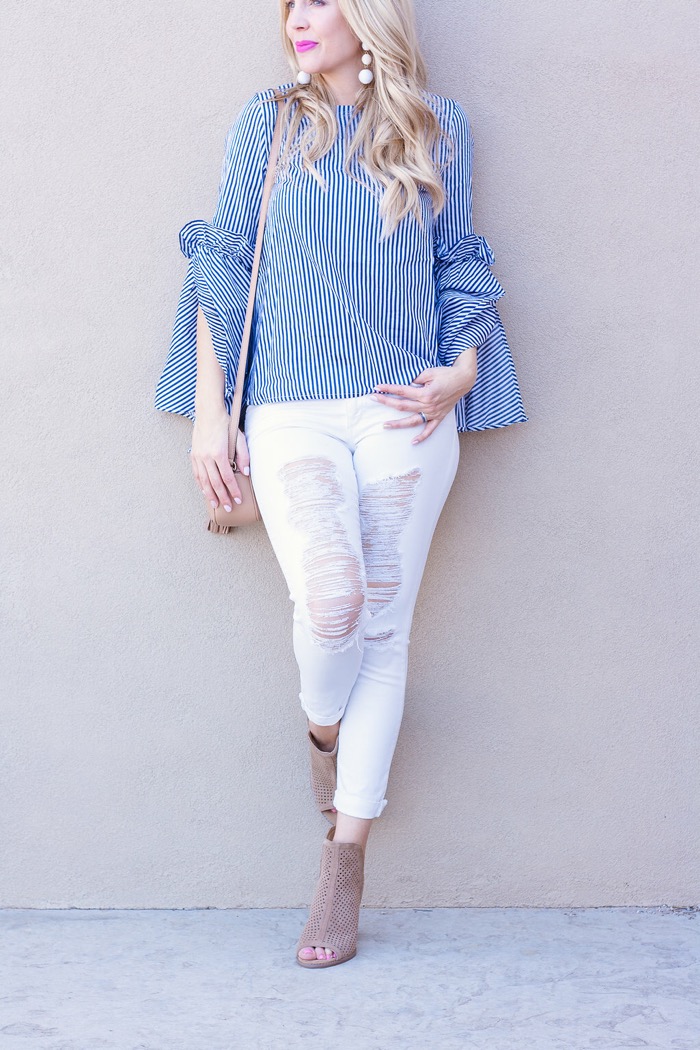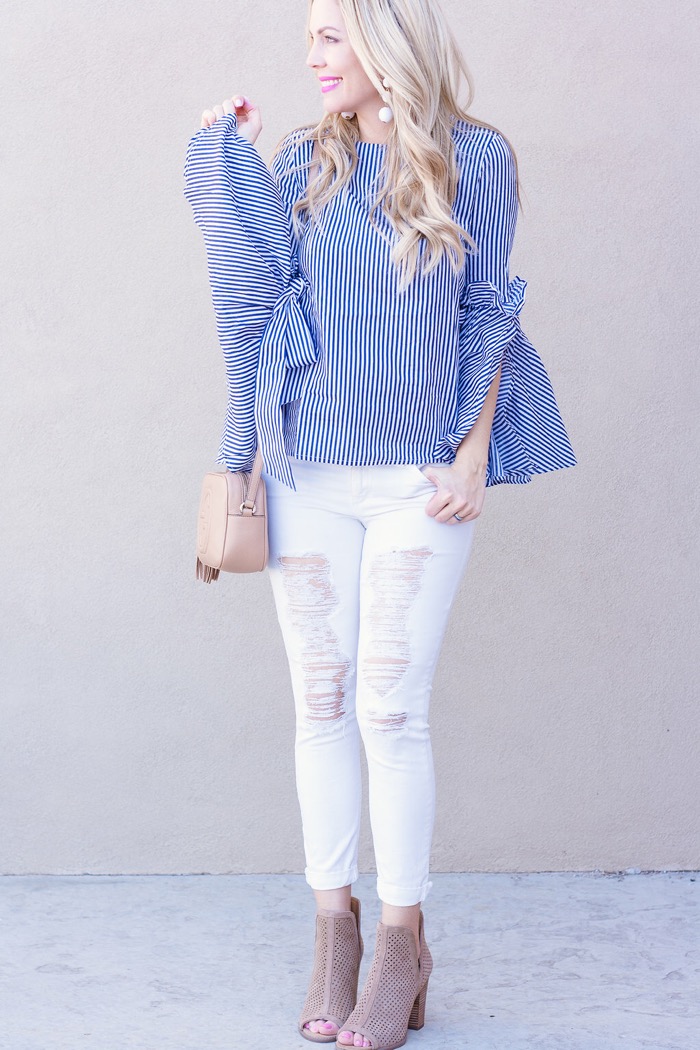 1st Look//Blue & White Striped Bell Sleeved Top: You guys, this top cannot get any cuter! I am a sucker for blue and white anything in my home or closet, and the feminine details make this a must have top for Spring and its under $40 with code SUN20 . The sleeves have big bows and slits on the bell sleeves that add just enough drama without being too sweet. I personally like just a little bit of edginess to my looks and this top has it. Of course you know I wear white distressed denim with everything in the spring and summer, and I have paired them with my fave open toe mesh booties that are under $80!  I also added these white statement earrings that are on repeat lately (white are currently sold out for the moment, but lots of other awesome colors in this shape). TIP: This top runs small across the bust, so if you are blessed with a big bust, I would order the M/L size and front tuck it so its not too baggy in the tummy area.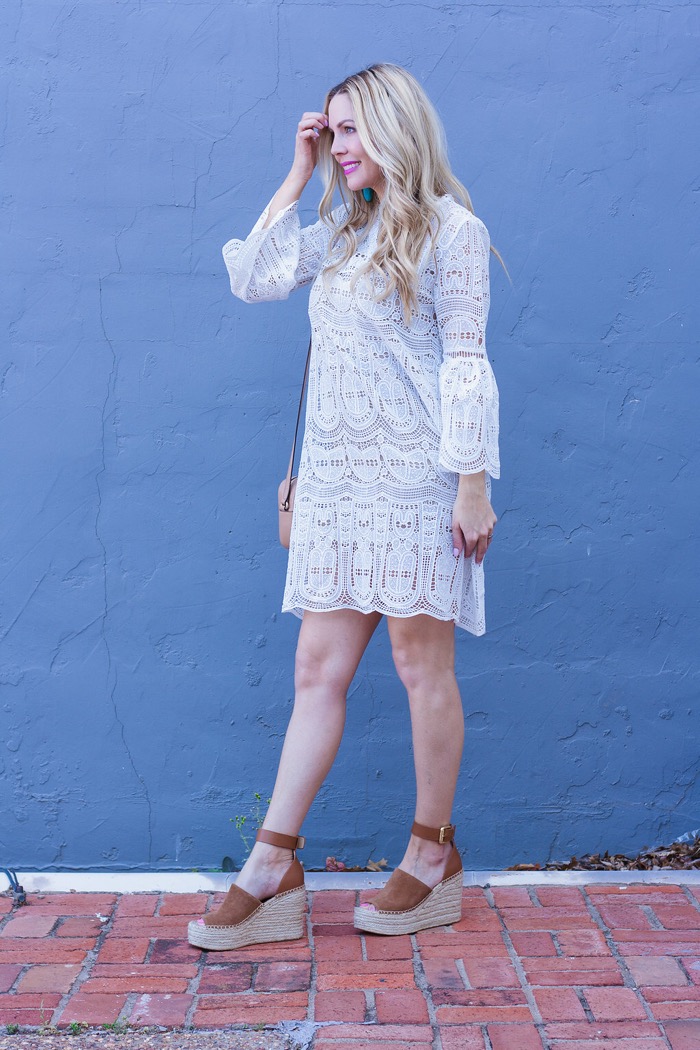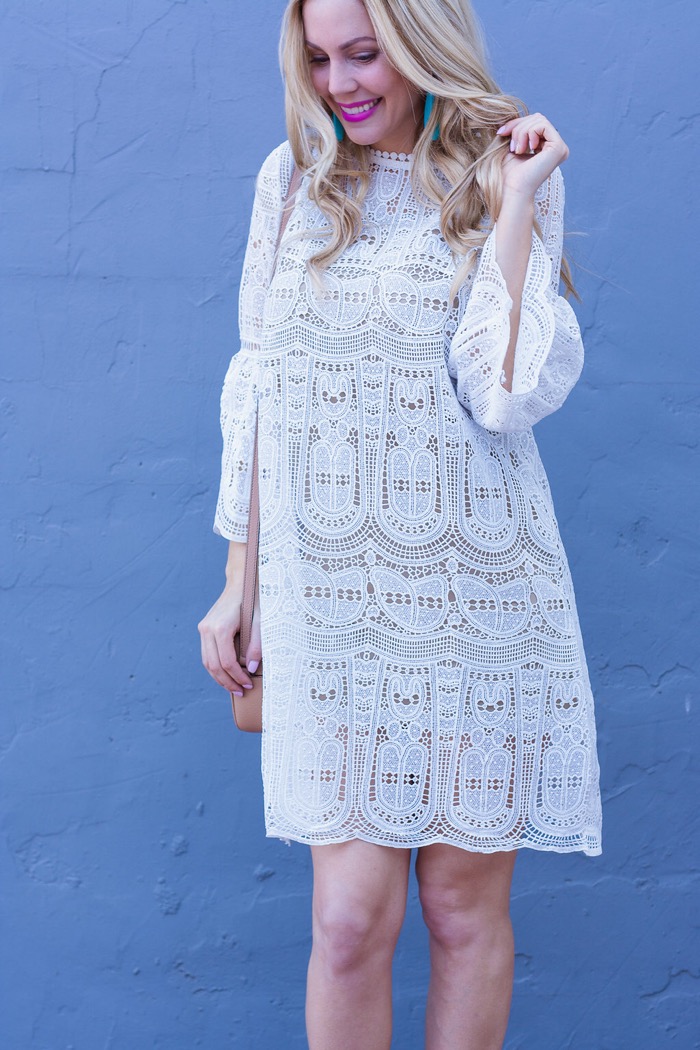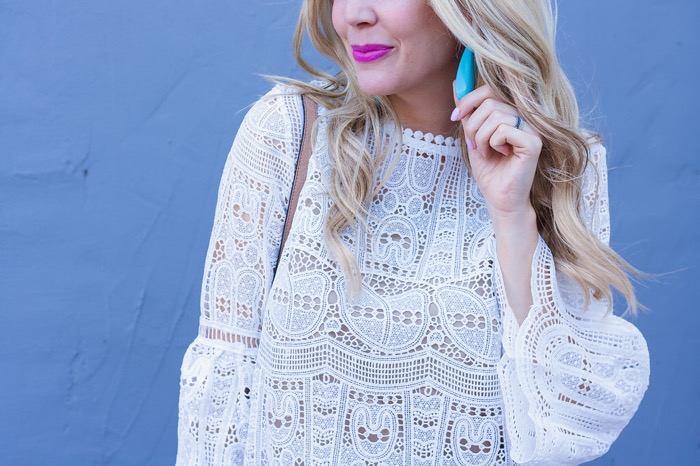 2nd Look//White Crochet Dress: I have been dying for this dress ever since I laid eyes on it. I wear so much white crochet in the spring/summer and the one thing I did not have in my closet this season was a white crochet dress that is under $50 with code SUN20 ! Again, these sleeves are darling and I like that the dress is a little longer, its not too short. I am 5'7″ FYI and am wearing the S/M size (it runs loose). This could be worn to a wedding or on vacation to the beach, as well as graduation parties, showers, etc. It will FOR SURE be coming with me to Jamaica this summer. I like a pop of turquoise with white and so I added some turquoise and gold statement earrings  like these and then my other must-have wedges for warm weather. Here are some dupes to my tan wedges that are under $60 as well.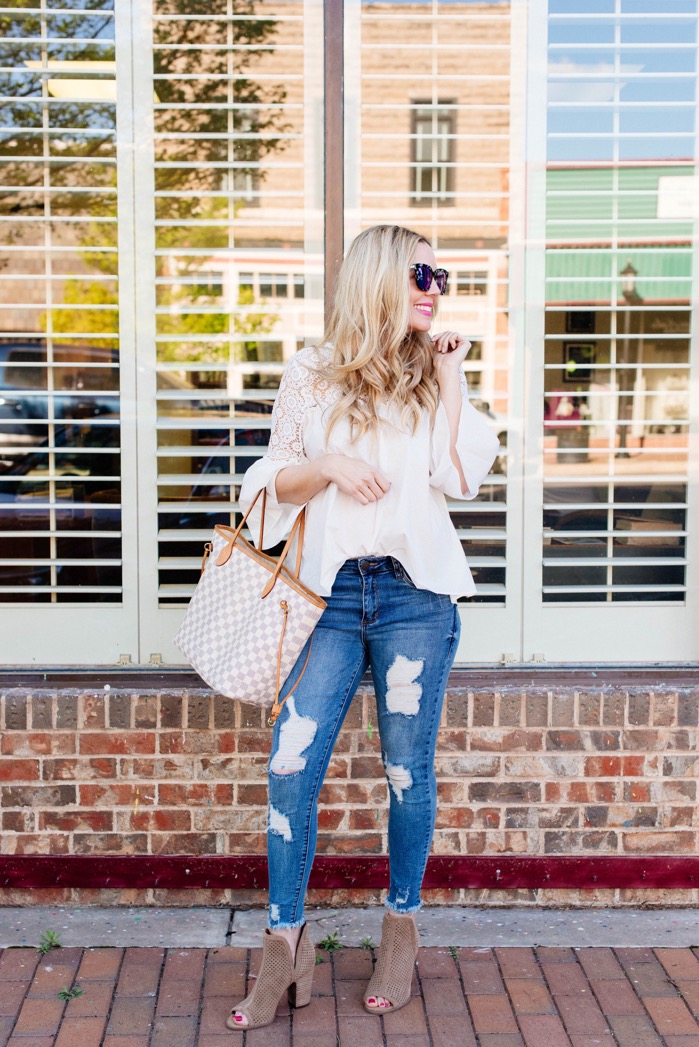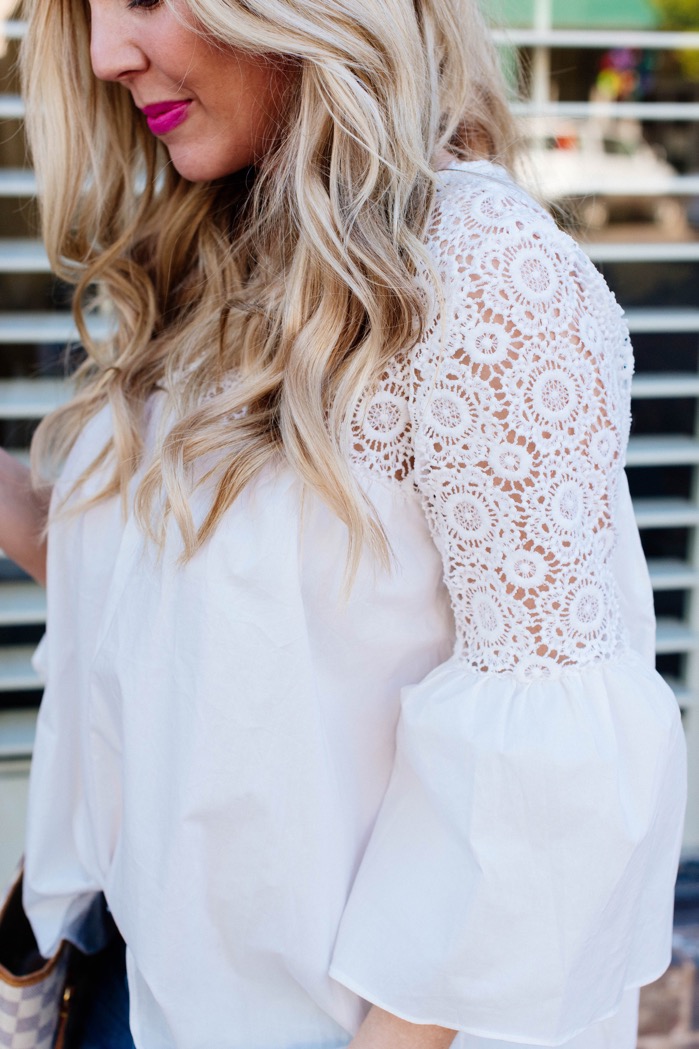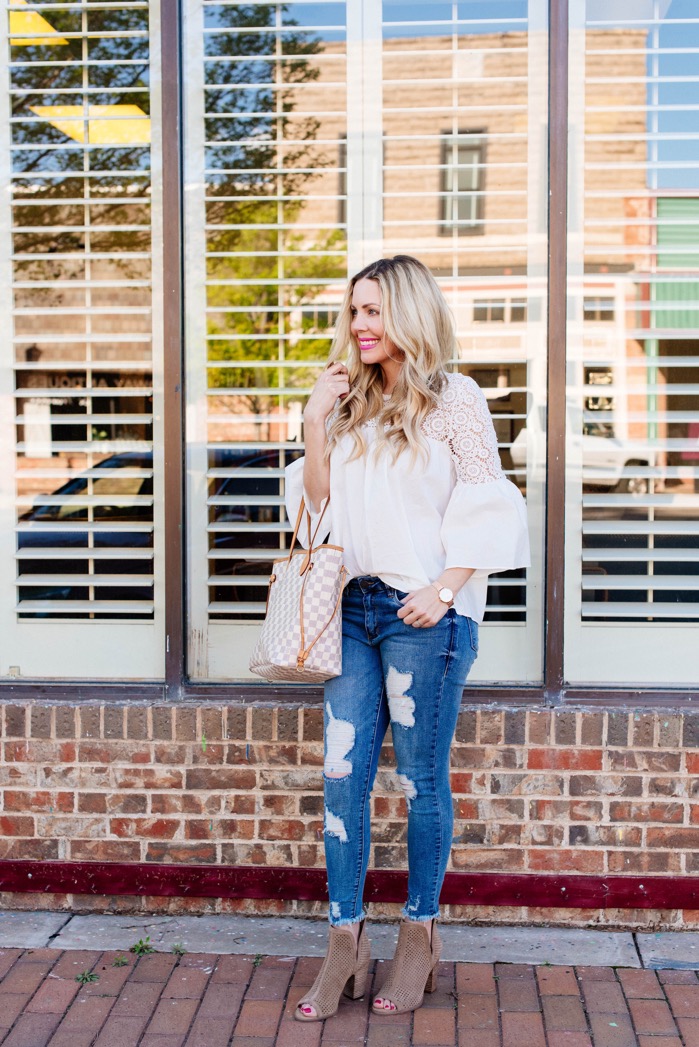 3rd Look//White Floral Crochet Top: What else can I say, except I have been wearing this crochet top nonstop with just about everything in my closet and its under $40. I paired it with my newest distressed denim (they fit to true to size) that are only $58! I love these jeans because they are high waisted which is awesome since mama has had 3 kids. I will also wear this top with white denim (these are under $40 and fit great) or my new fringe cut offs that are under $40.(I like these cut offs because they are a little longer than most I have found. I did size up as they run small and so they would sit lower on my hips.) Again wearing my mesh open toe booties. The great thing about my accessories is that I can mix and match and wear them with multiple things in my closet that way I get my moneys worth but yet have so many looks in my closet that don't all look the same.
I hope these 3 affordable spring outfits have inspired you to get in your closet and see what existing pieces you have and some you may need or want! If you need more styling inspiration for spring outfits, check out my recent post where I styled 3 spring looks with white denim. Have a great week and don't forget to subscribe to my blog in the side bar of my home page. Thank you!

All Photography by Katelynn Aleese and Kaylen Gregory.
Thank you to Chicwish for providing the tops and dress for this post. All opinions are my own.