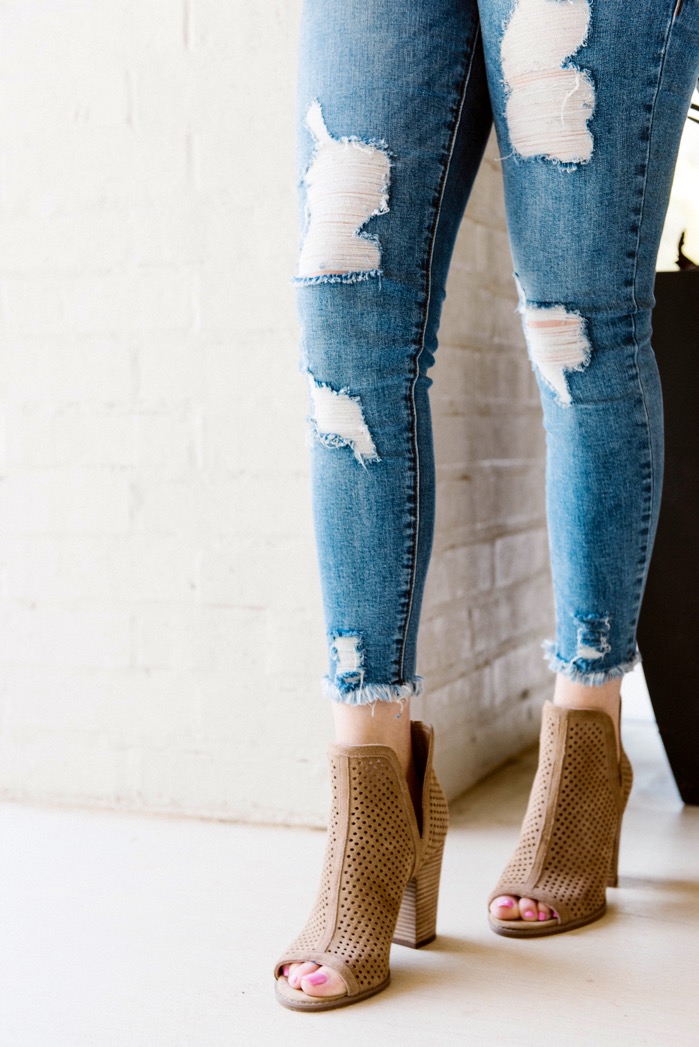 Hi! How is everyone doing this week? My husband and I had a little getaway to Tulsa this past weekend. So nice to be kid free for a few days and focus on us. I am so glad everyone enjoyed my recent post about
How to Style Kitchen Countertops like a Pro!
 If you aren't following me on
Pinterest yet,
do so. It's been a hit there. I hope you found my tips super helpful in decorating your own kitchen.
If you follow me day to day on Instagram, you know I wear distressed denim all of the time. The other day I was looking in my closet for some non-distressed jeans to wear to church, and I realized I only had maybe 2 pairs! I have a new distressed pair in particular that I have been wearing non-stop and I especially love them because of the price ($58) and fit. Today I am sharing a few distressed jeans outfits for Spring that I have been LOVING to help inspire you in your own closet.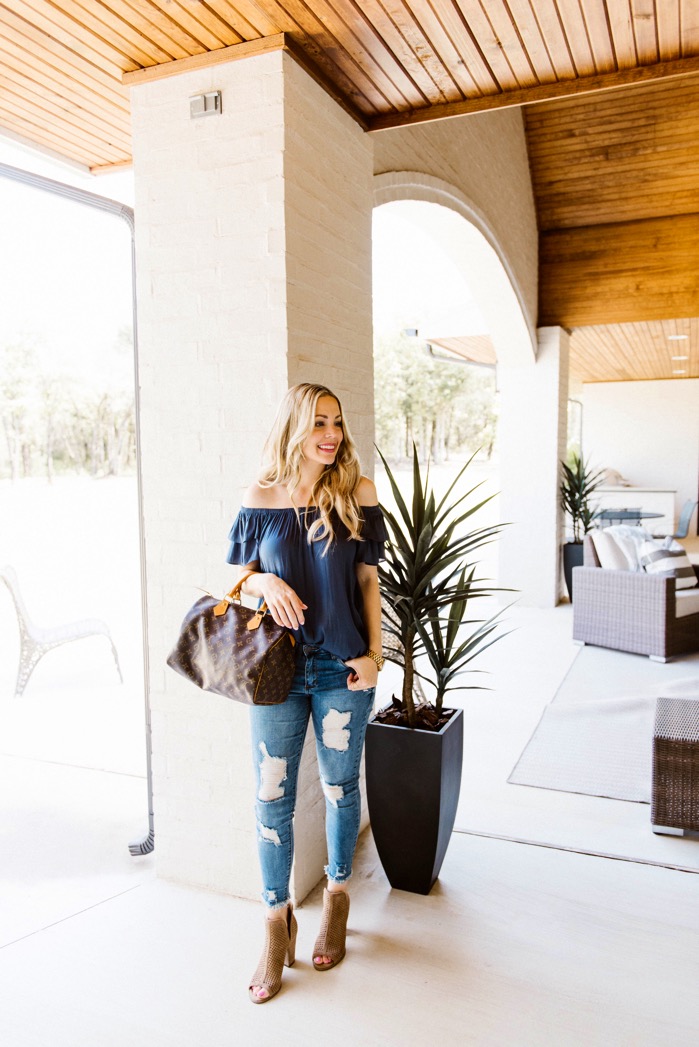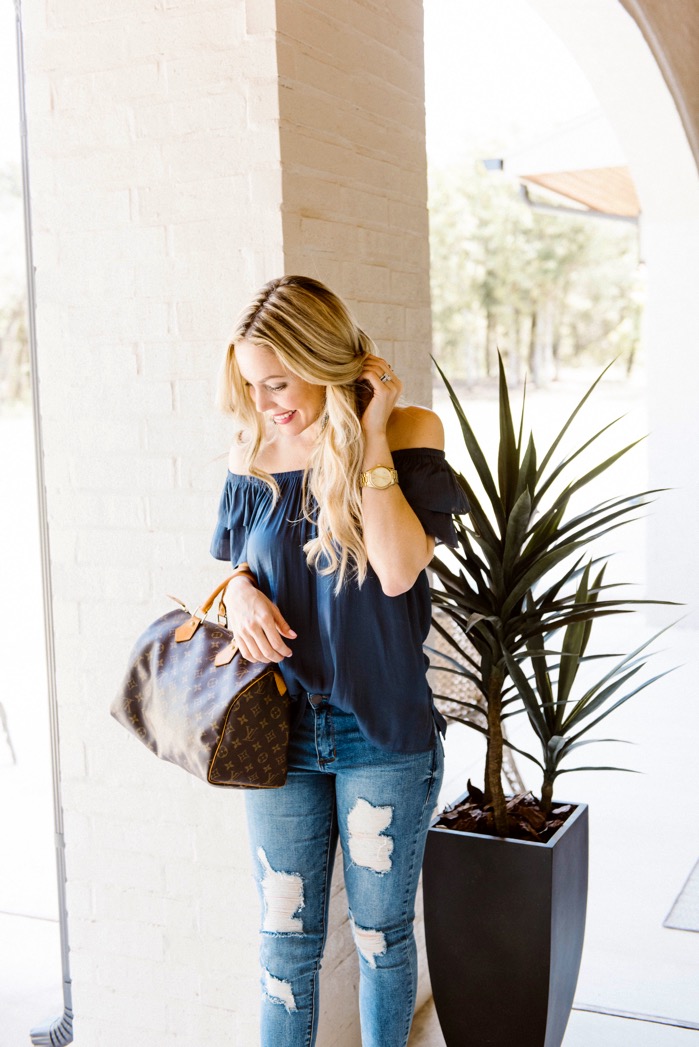 1st Look//Navy Off the Shoulder Top & Distressed Denim: This navy off the shoulder top is so easy to wear with anything. I love the flutter sleeves and the material is uber-soft, almost like a cozy t-shirt. Paired it with these mesh peep toe booties that are really so comfy and cute. I highly recommend them. And of course the jeans! I am wearing my normal size in these jeans and I love the major distressing on these. They don't stretch out and they are ankle length, which I think is perfect for spring and summer. They are very fitted through out the calf area and I love that tight look. And of course, the frayed hem.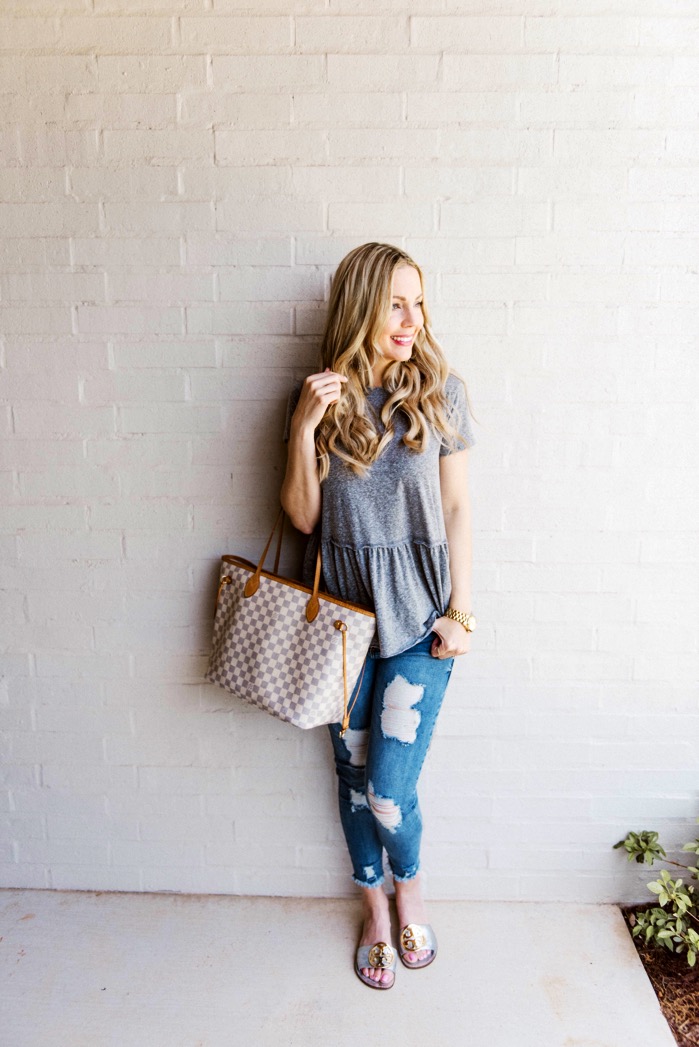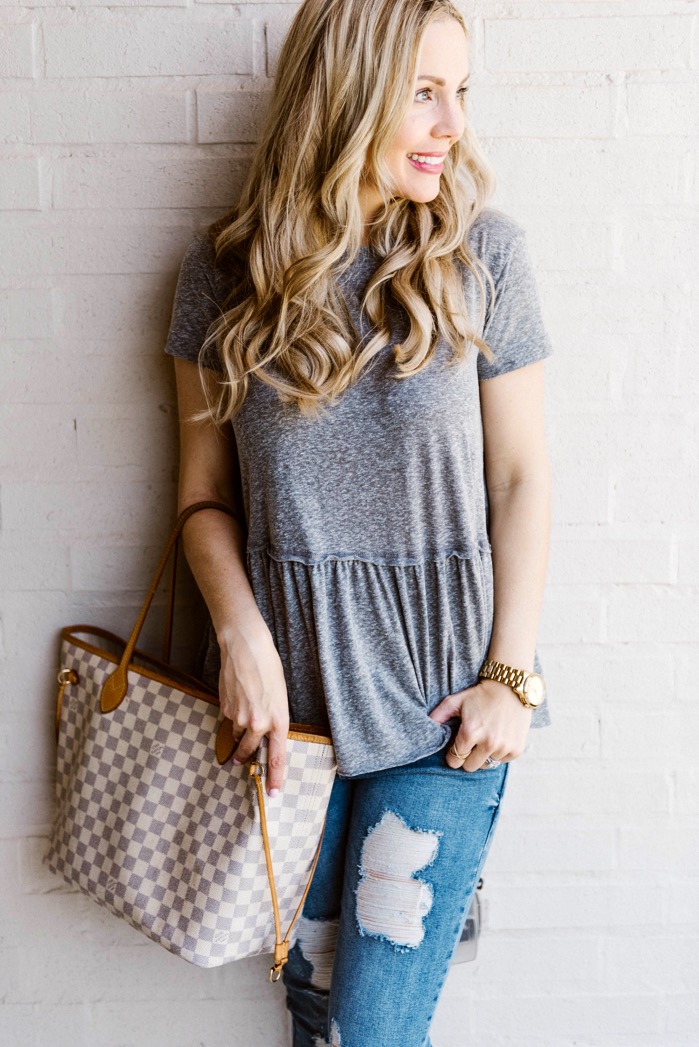 2nd Look//Grey Peplum Tee & Distressed Denim: I am obsessed with all things peplum currently. This $24 tee is so effortless and can be dressed up or down. I love how comfy it is and of course, looks so good with these distressed jeans. I went on a bit of a buying spree with peplum tops recently and bought this black peplum tank and this lavender tank as well for summer at the pool or beach. I wore the top and jeans with my older metallic Tory Burch slides. They are SO cute and I was super excited when I saw she came out with these slides that are so similar to mine.  I get compliments on them every summer.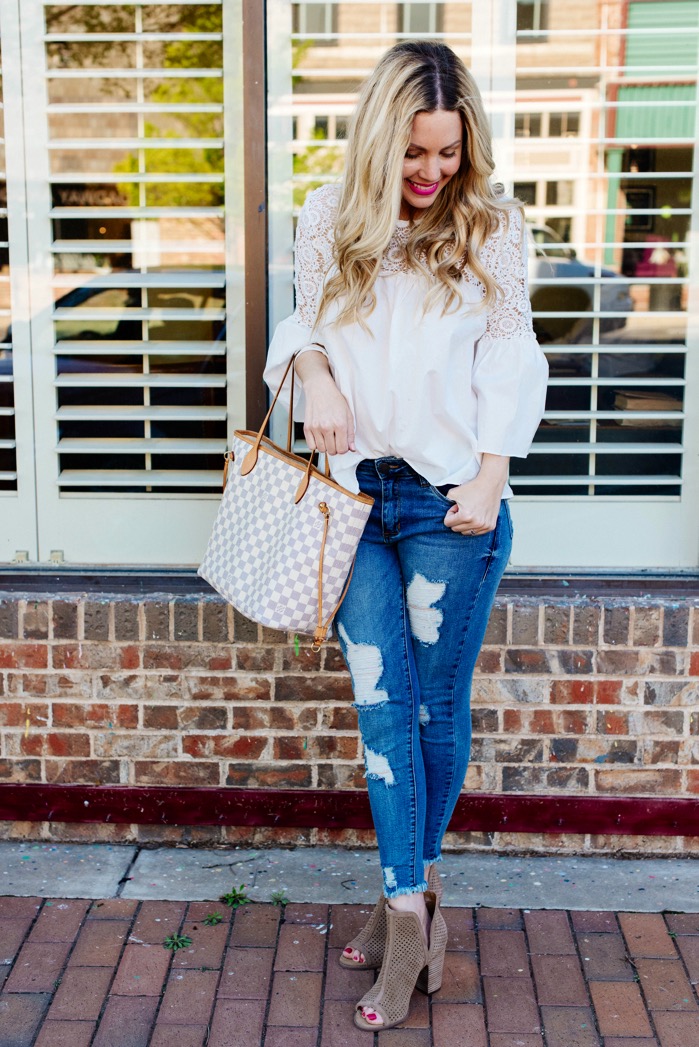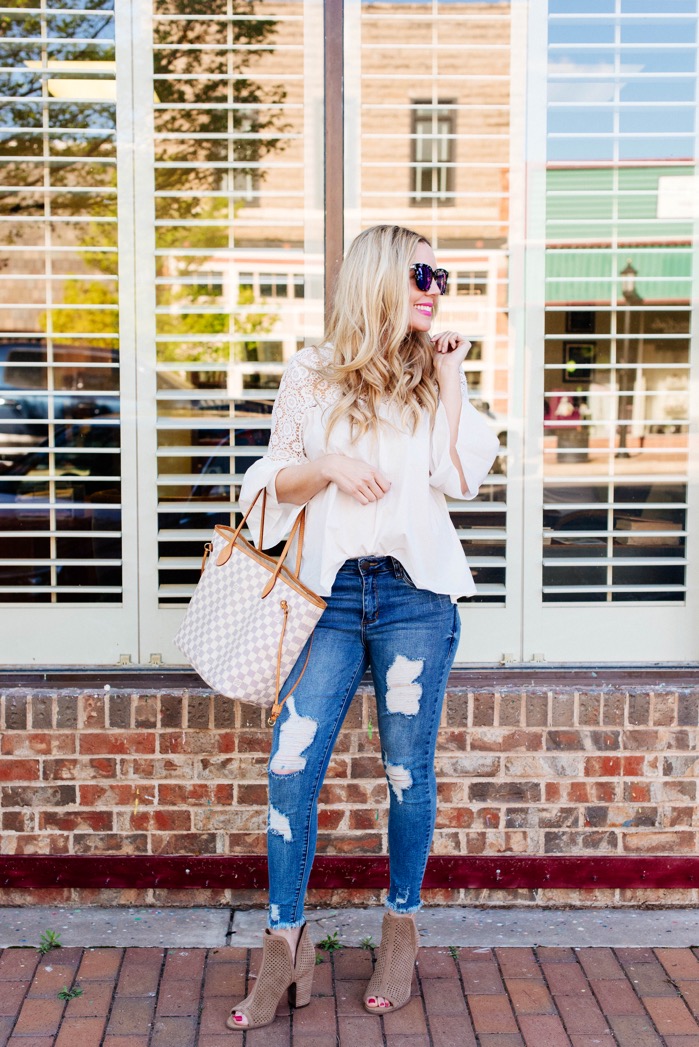 3rd Look//White Babydoll Top & Distressed Denim: This top has been on repeat lately. It's the perfect spring and summer top and I love it with ripped up jeans and cute wedges. Pair it with these white earrings(that are selling out everywhere so hurry if you have been thinking about them) and you are spring ready! With the white top and earrings, I love to wear this MAC lipstick in Candy Yum Yum for a pop of pink. I also added these blue mirrored sunnies. They are a warm weather must-have!
I hope this post has helped you know how to wear distressed denim for spring and please tag me with your own distressed jeans outfits on Instagram. I will post my faves on my IG Story! I want to see how you all style them! Have a great week.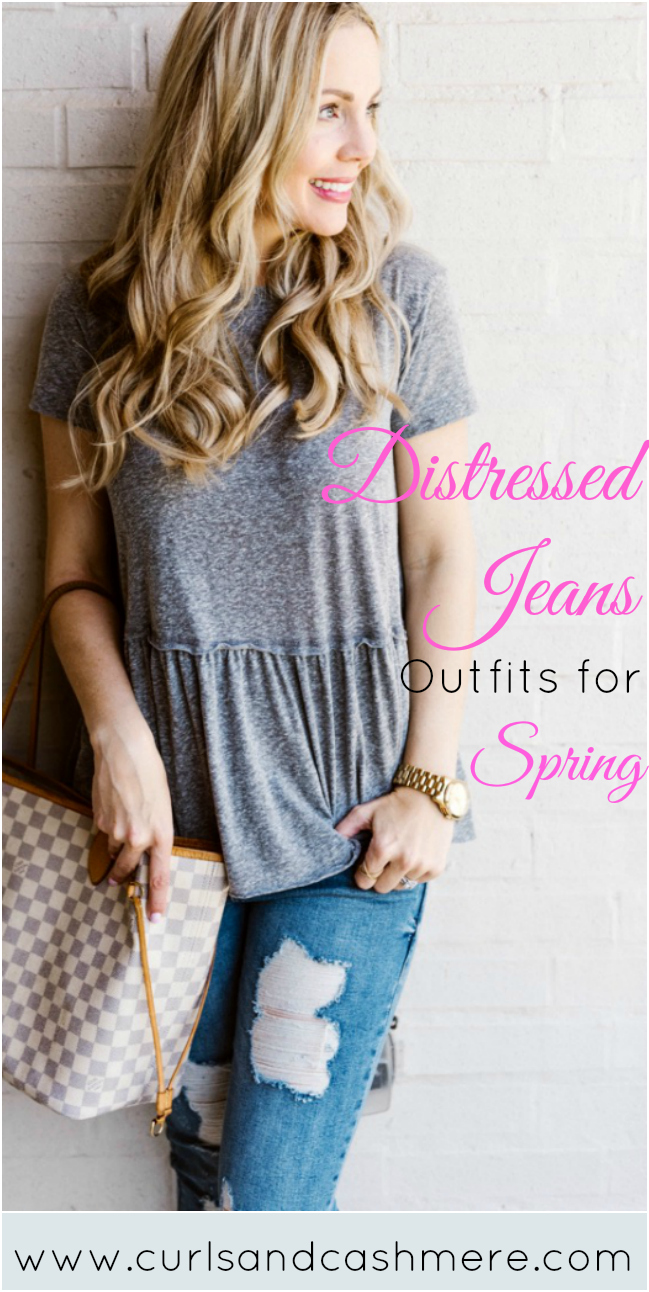 Distressed denim are my own.
Affiliate links are used in this post and these help make this blog possible.
Photography: Kaylen Gregory