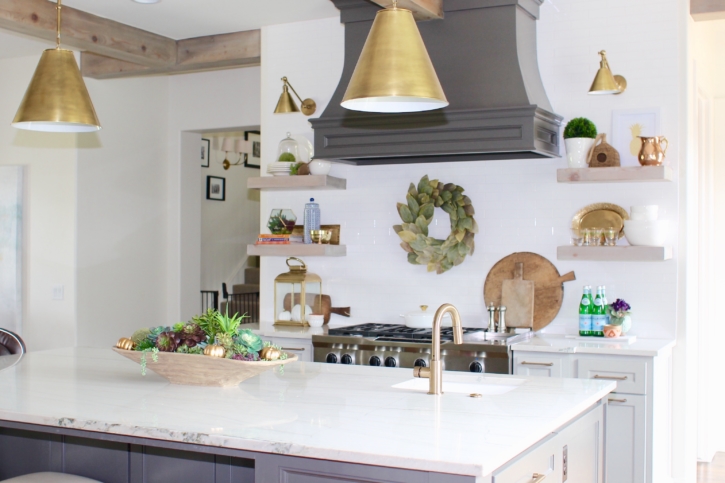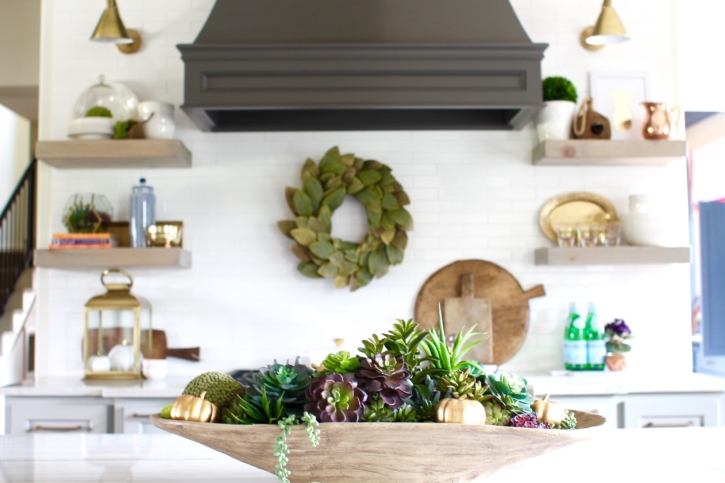 Hello all! So we've had a long weekend of strep throat, soccer games, and birthday parties (for the kids who were healthy enough to attend). Ready to get back into our normal schedule this week, although I have to admit, it was kind of nice lying low all week.
So, lets cut to the chase… I am not a DIY girl. You will not find me being crafty with my kids on the weekends or tackling DIY projects in my spare time. It is just not something I enjoy, and if anything it stresses the perfectionist in me out, as I would rather buy something and it look perfect instead of spending hours doing something and then for it to look just okay.  But, this little project anyone can do and it will look better than if you bought it from a retailer or etc, in my opinion.
Succulents are all the rage right now in home decor and I can see why. They give a modern touch to floral arrangements and give a fresh feel to any space. Today I am going to share with you how I made my own super simple, easy and quick succulent arrangement.
Ok, lets get started on the materials needed:
 You need a holder for your succulents. I personally like this large dough bowl that I used. And the best part is, this isn't permanent. If you get tired of the succulents or want to change out the decor in your dough bowl or container, that is easy to do. Or you can always choose a terrarium or something you have on hand if you don't want a large arrangement like mine. I personally have a few different arrangements around my home, both large and small.
You need some floral 

foam bricks

  like these. This is what you will use to keep the succulents in place and secure. I used 3 bricks in my large dough bowl.
You need a variety of succulents! I used about 8 different varieties in my arrangement for a total of about 15 flowers. You can shop the succulents I used below as well as a few other options in case you want something a tad different from mine.
I like to add in some moss and filler to give it a nice texture and a pop of color. It is also nice because you can use it to hide bare spots or fill in where necessary.
I also added some moss balls. My exact type I could not find online, but linked is a similar option. The balls give a different shape to the arrangement and I like that. Of course if you choose to do a smaller arrangement, you probably will not need the balls.

Now let's get started on putting it all together. There isn't much to this, so..here it goes.
 I put the foam bricks on the bottom of my dough bowl.
Then I started grouping some of the bigger flowers together randomly in the bricks.
Then I added in the smaller flowers in bare spots through out, some are grouped in bunches and some are not.
I made sure to vary the colors so I got a good mix of colors throughout.
I added some flowers almost underneath the bigger flowers, so they would almost poke through and trail out of the bottom. I also had a few of my trailing flowers hang over the side as well to look more natural.
I wanted a little height, so I barely poked in my agave succulent so that it was higher than the rest and made a pretty variation looking at the side profile of my arrangement.
Finally, I got out the moss and started randomly placing it all over and in between the flowers and any bare spots. I grouped some of it together more in places so it gave it a nice pop of color.
Lastly, I placed a couple of moss balls around the bowl. When decorating or styling for seasons or holidays, I have also been adding in some seasonal decor as well. Right now I have gold mini pumpkins placed around the bowl. For Christmas, I will add in some pinecones and glass ornaments to give it a festive touch. For summer, some magnolias placed around a few spots would be a super cute option.
Have fun! Remember there is no rhyme or reason to your arrangement. Any combination you do is going to look good and you also get to bask in the fact that you created this all by yourself!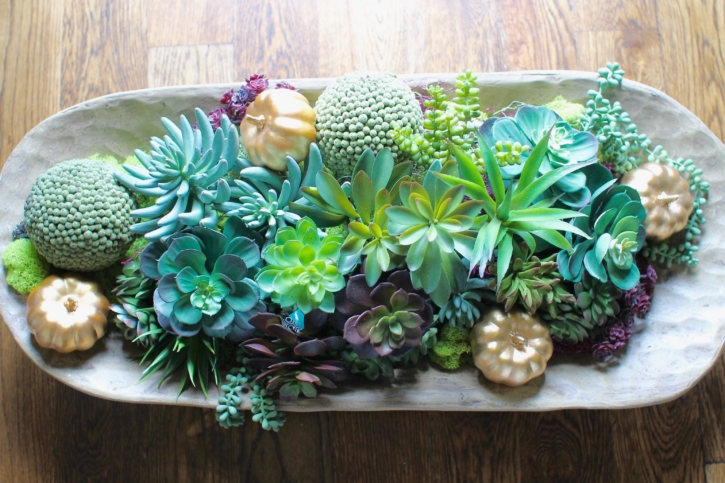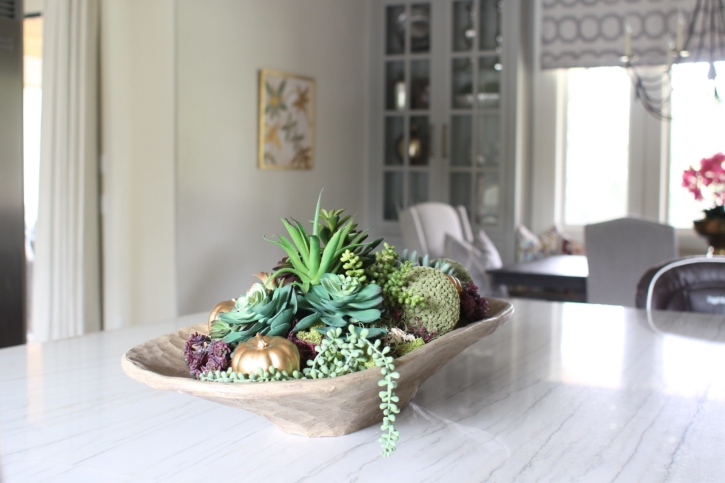 Ok, there it is folks.  I hope you enjoyed my tutorial and hope you thought it was as easy as I did. Now, if you have no interest in making your own, don't you worry! I have some awesome arrangement options linked for you too!  And please please please send me some pics of your arrangements! I would love to see everyone's take on this! Have a great week! Please remember to subscribe to my email list so you will be the first to know when I publish a new post! Thank you so much!