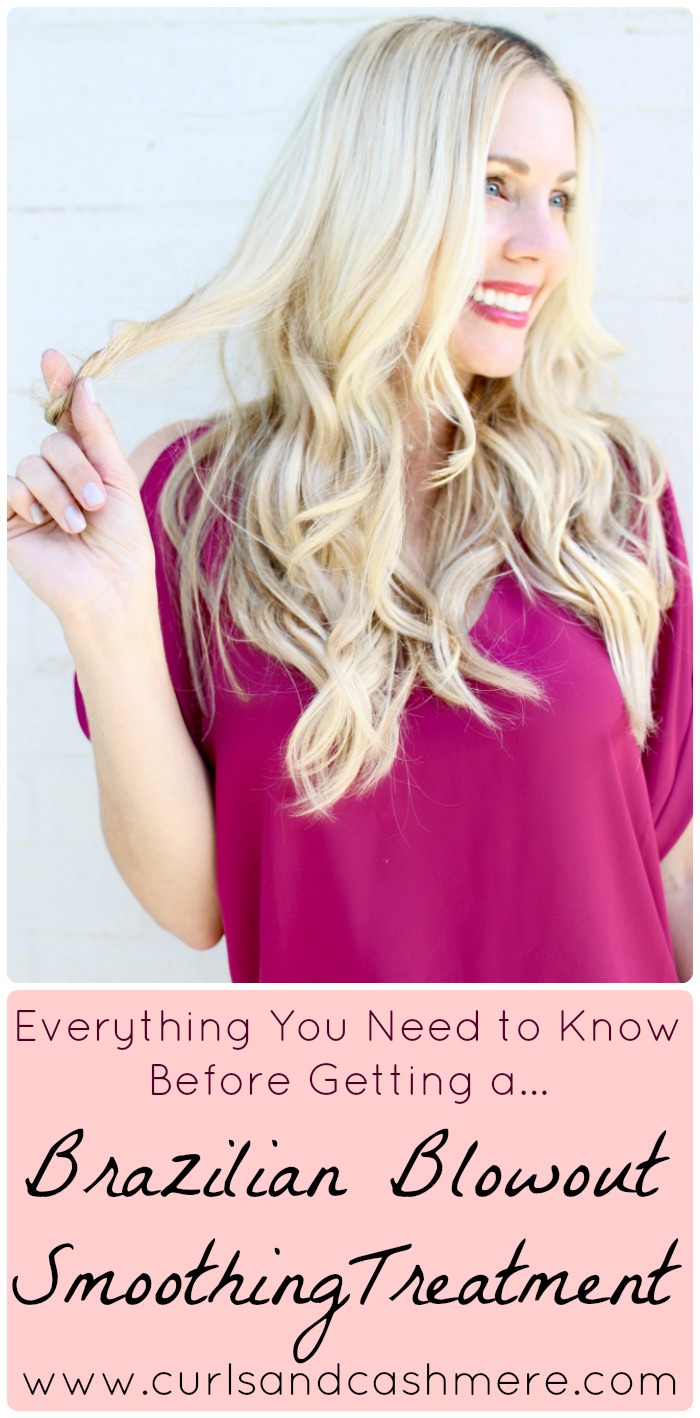 Hello! I hope everyone's week is going well. I hope some of you got the urge to create a gorgeous succulent arrangement from Monday's post.  Today I wanted to share one of my fave things I do to my hair. It's called the Brazilian Blowout smoothing treatment and it is the BOMB.com! This is my 2nd time getting this smoothing treatment done to my hair. This honestly was a life changer for me in regards to my hair, styling time and etc. It leaves my hair smooth, frizz free, so soft and SO much more manageable. And did I mention that my hair is very naturally curly and fine? Which equals a frizzy, tangled mess before I tried this treatment. It can work with all hair types and basically its purpose is to create a protective protein layer around the hair which smooths it and helps to eliminate frizz. It is different from other smoothing treatments as it uses an amino acid complex with small amounts of keratin, which makes the hair softer and shinier as opposed to treatments with full keratin complex.
Many different stylists will tell you varying times of how long it will last, but most often I hear 4-6 months if you are using the Brazilian blowout shampoo and conditioner and don't wash your hair that often and have no salt in your water or styling products. I have to admit, once I became hooked with this dry shampoo, I do not wash my hair but every 3-4 days max! I know that sounds crazy, but it's really not good for your hair or hair color to wash it more than that. My other must have product I use to extend the life of my treatment is their hair masque. I use this maybe once a week, and my hair stylist recommends I sleep in it if I can and then wake up and rinse out the next morning and style as usual. Even before I had this treatment, I used this deep conditioning masque it worked so well. I use it on my daughter too!
*So I have to preface this part of the post and let you know, these are not the best quality pictures. And I had on workout clothes and no makeup, so please excuse me and just notice the hair!
First, I came in and you can see my hair was a hot mess, but still not too frizzy or tangled. I had worked out and not washed it for a few days. I had my first treatment done about 5 months ago, so I would say this lasted just about as long as I expected. I was anal with the hair products I used and even traveled with the shampoo and conditioner on all of our vacations this past summer. I could have pushed it another month, but with the holidays coming, I went ahead and got it taken care of.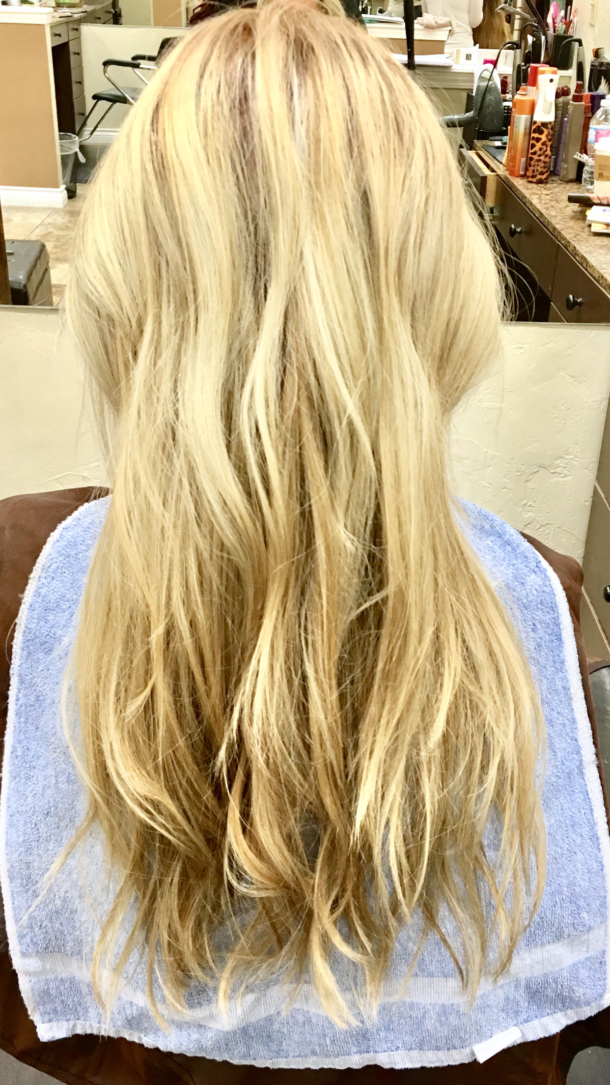 Next, my hair stylist is washing my hair with a special clarifying shampoo to get rid of any residue on the hair. Yucky stuff like pollutants, hair product build up, etc. She does this twice so that my hair is extra clean and ready to absorb the smoothing agent.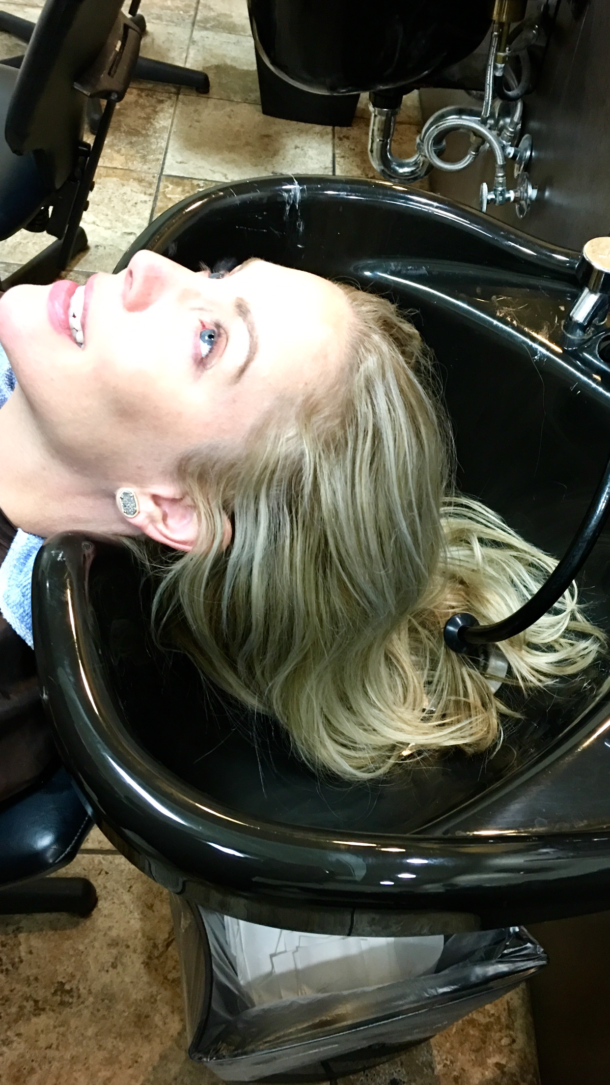 Now begins the combing of hair and working the smoothing product throughout every single strand of hair. Safety first! That's why I am wearing these glasses. You don't want any of this to get into your eyes by accident. It would burn I am sure!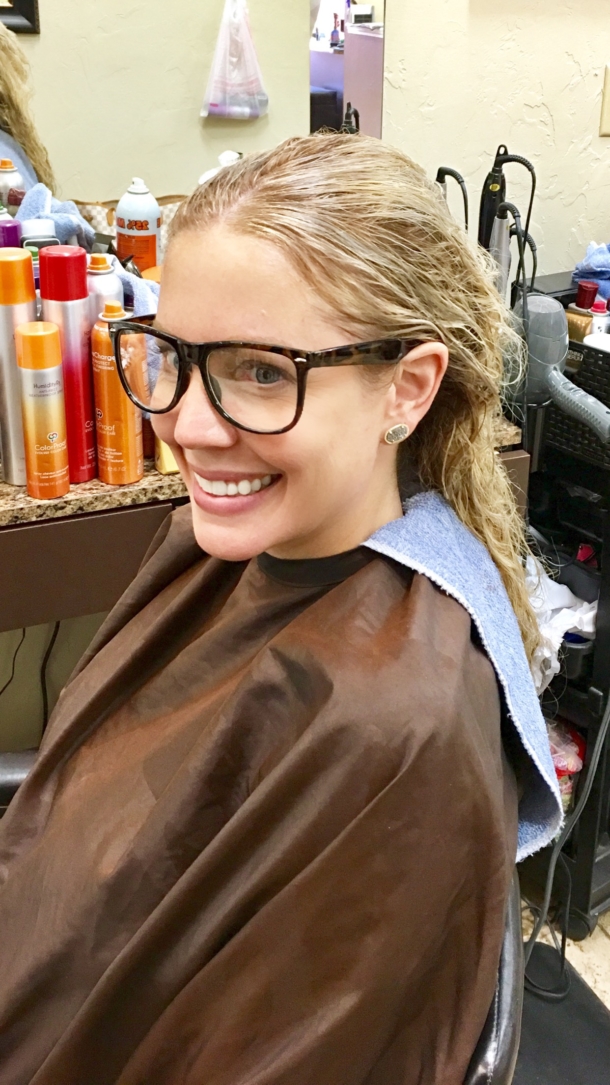 Now you can see my hair has been combed through and the product is all over my head. She did a little extra around my face because my curly hair really wants to be curly and frizzy around my face and is the first thing to frizz during a humid day before I had this treatment done. We went to Seattle this summer and got stuck in rain showers a few times outdoors and I could not believe my hair stayed smooth and frizz free! That was not a possibility before!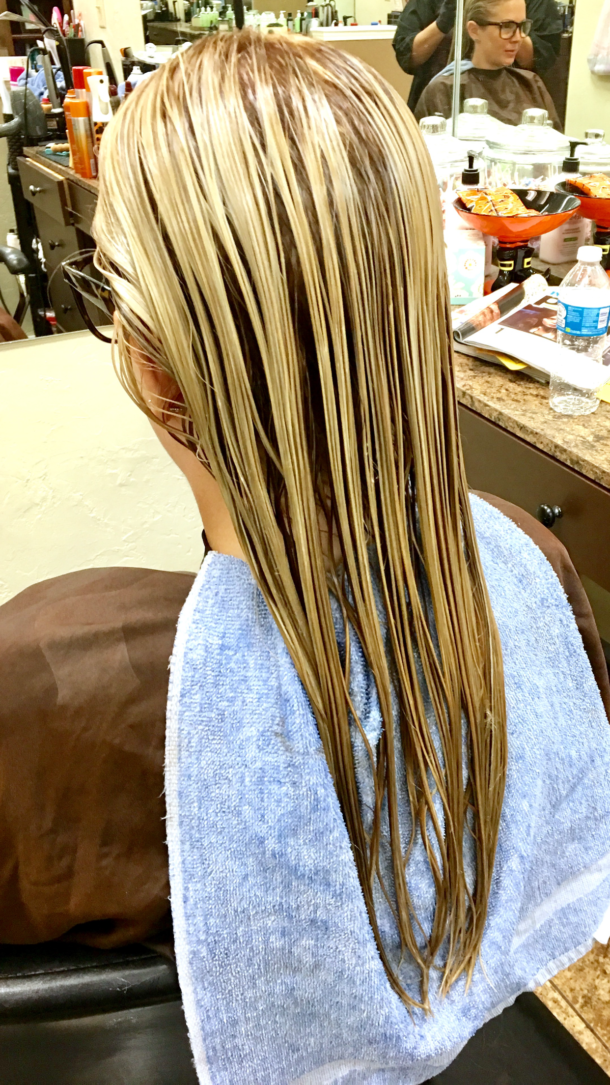 Now my hair stylist blow dried the product into my hair with a boar bristle brush on half of my head. The other half was rough dried just for demonstration purposes. She then finished drying with the boar bristle brush. This helps to evenly distribute the solution before it is set by the flat-iron. As you can see, there really is no frizz.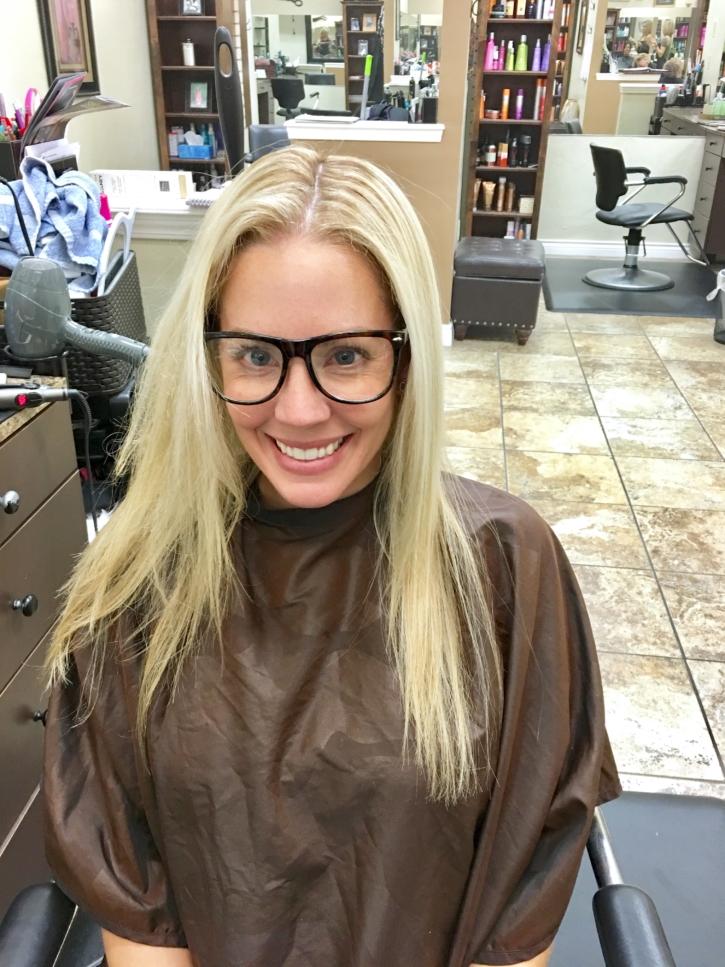 Next, she flat irons it in with the Brazilian blow out flat-iron. This activates the smoother and seals it into your hair. She makes several passes on each section of hair, really baking  it into your hair as much as possible. (I apologize, I don't have an image of that step)
Once that was done, we went back to the shampoo bowl and she rinsed out my hair and applied the hair masque. I then went under the dryer for about 15 minutes. My stylist feels this is the final piece to make your blowout look as good as possible.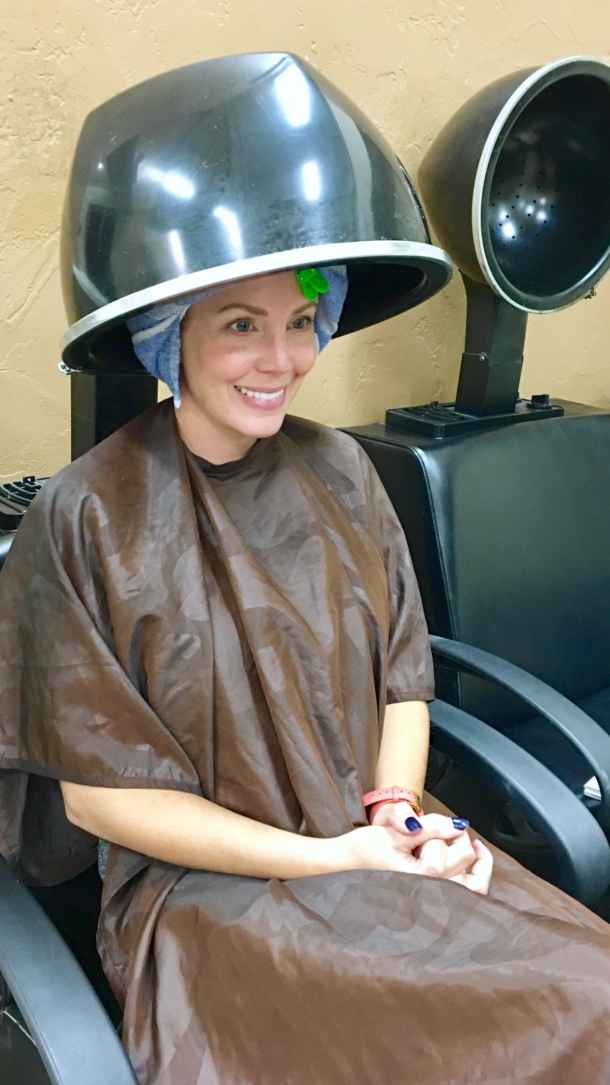 Lastly, we rinse again and she dries it and flat irons it one last time and I am done! Smooth and frizz free goodness! And you will not believe how soft it feels! I do not curl it for several days as I want to remain as smooth as possible directly after the treatment. I am sure you could, but I do not wash it either. I just let it be for a few days and enjoy it!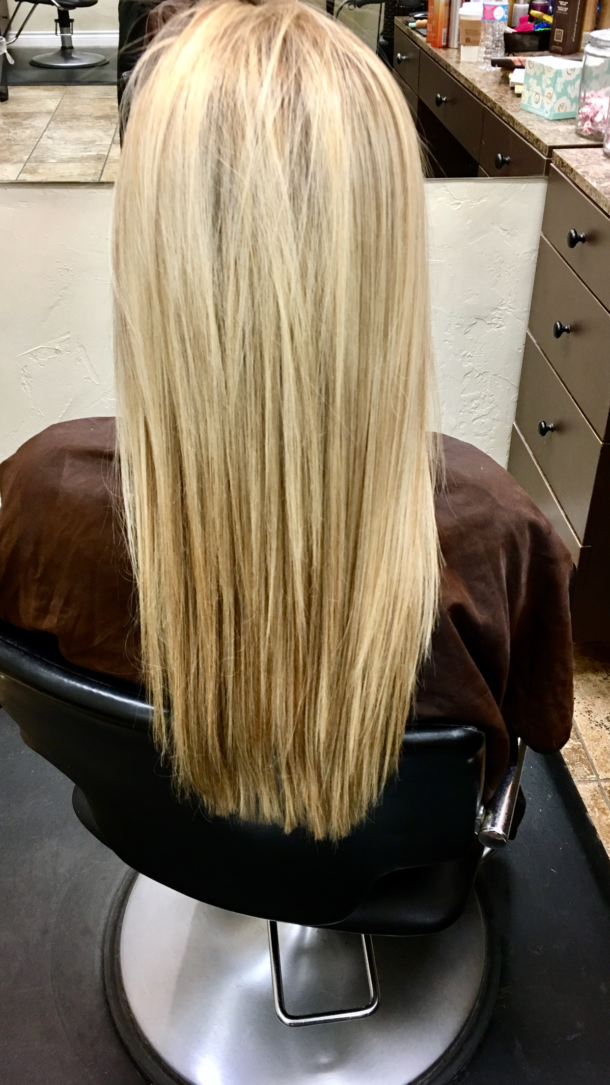 The Brazilian blowout smoothing treatment took about 2 hours. But keep in mind I have long hair, so that takes a little more time. The cost varies from salon to salon, but on average runs around $250. And also be aware that your stylist has to be trained and certified to administer these treatments. It could really damage your hair if someone untrained was attempting to do this. If you go to www.brazilianblowout.com, you can search for a certified stylist in your area.
I hope you loved getting to hear about my experience with the product. Below are all of my favorite Brazilian Blowout smoothing treatment products that I use on a regular basis. Please let me know if you have ever had one of these treatments before and your experience with it. I would love to hear about it! Finally, please be sure and subscribe to my email list so you are the first to know when new posts are live! Have a wonderful week!

*This was not a sponsored post. I just love the treatment so much and what its done for my hair, I had to let y'all know! Ask a certified stylist if this is right for you.