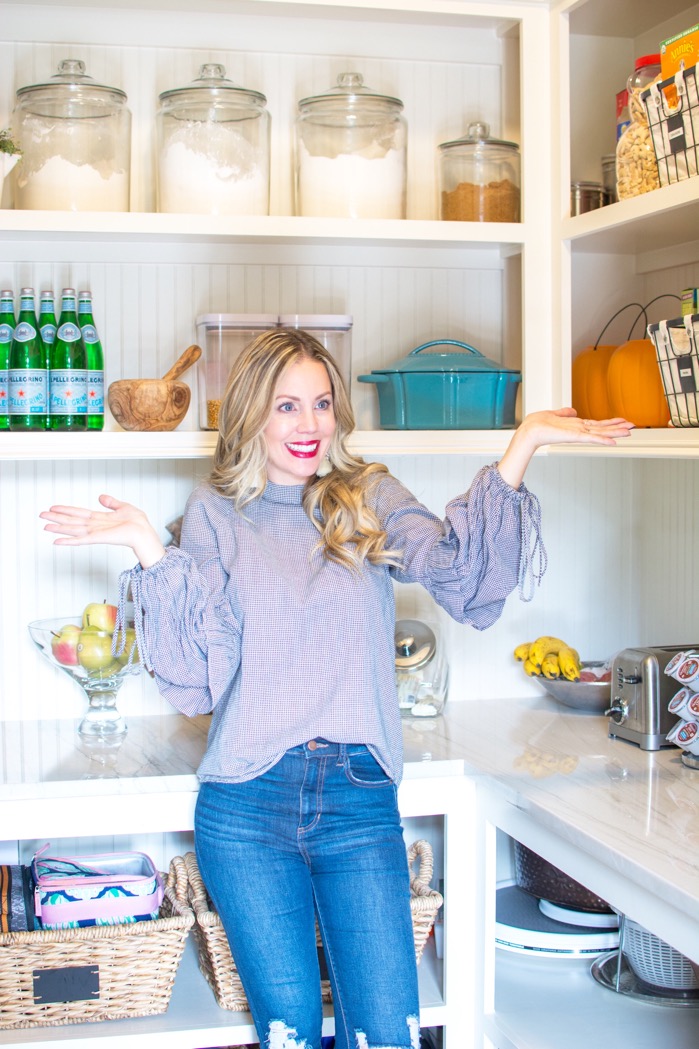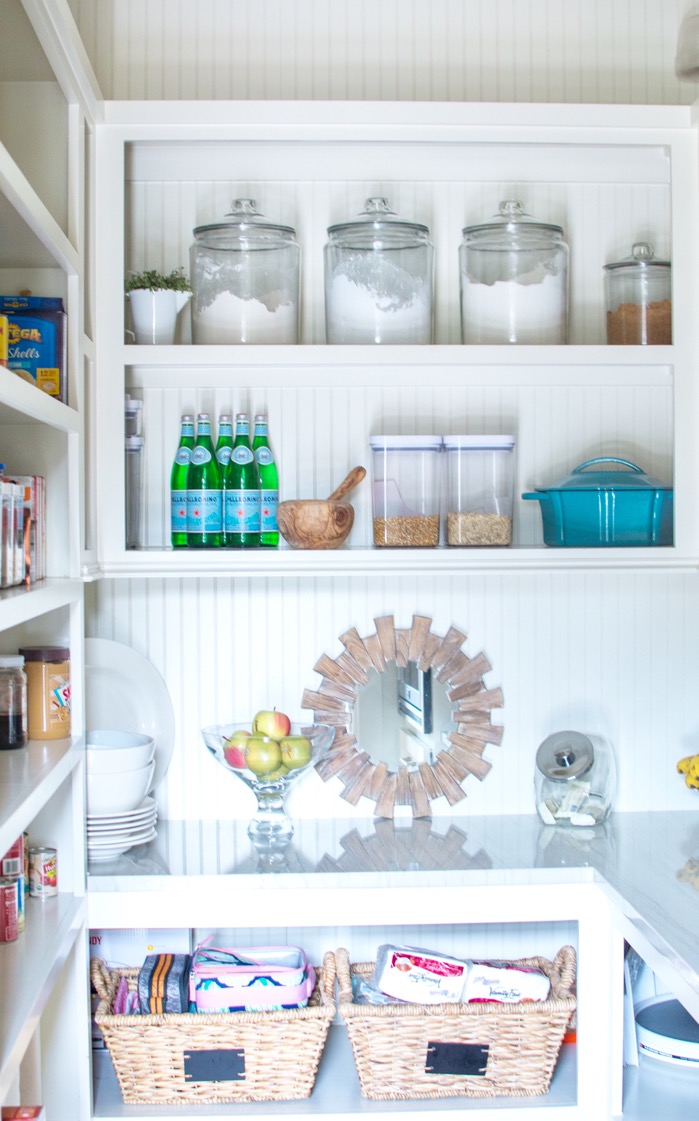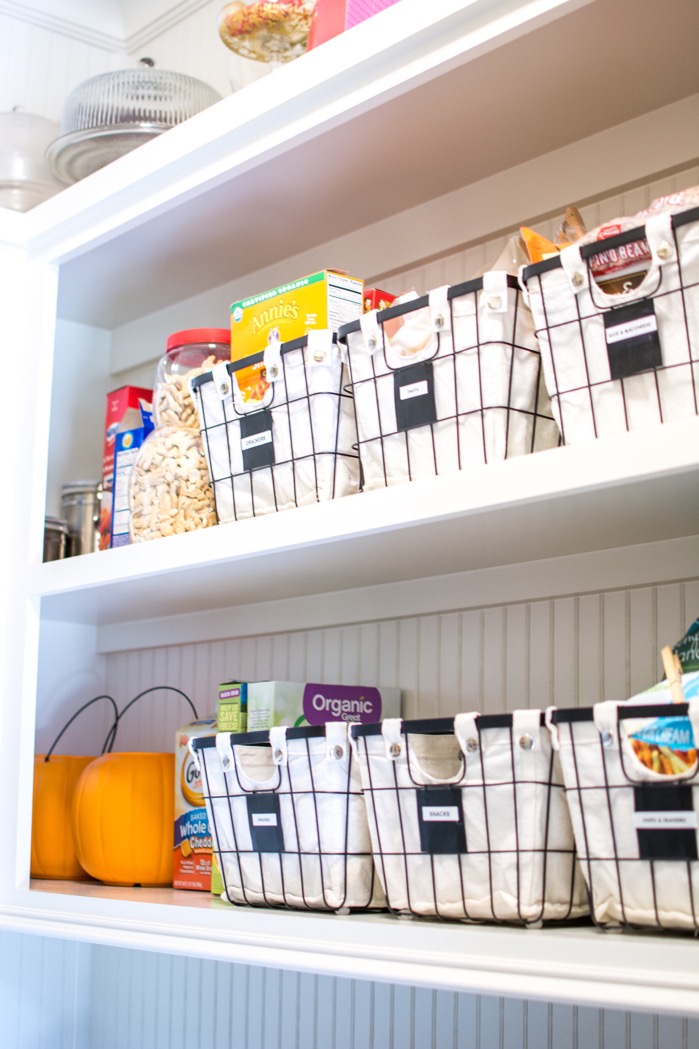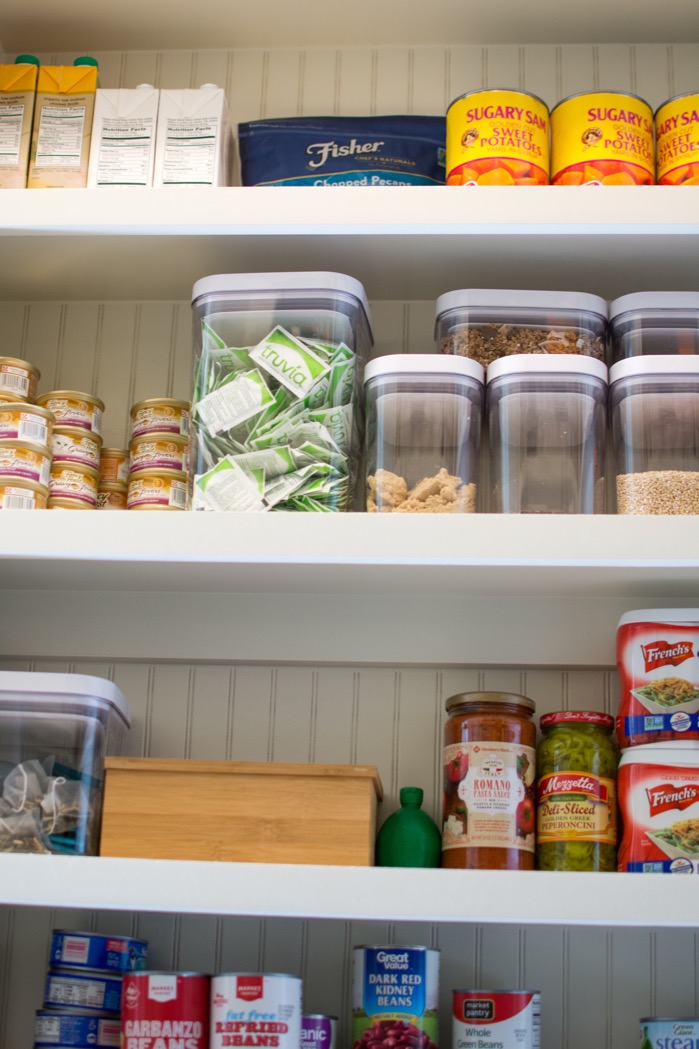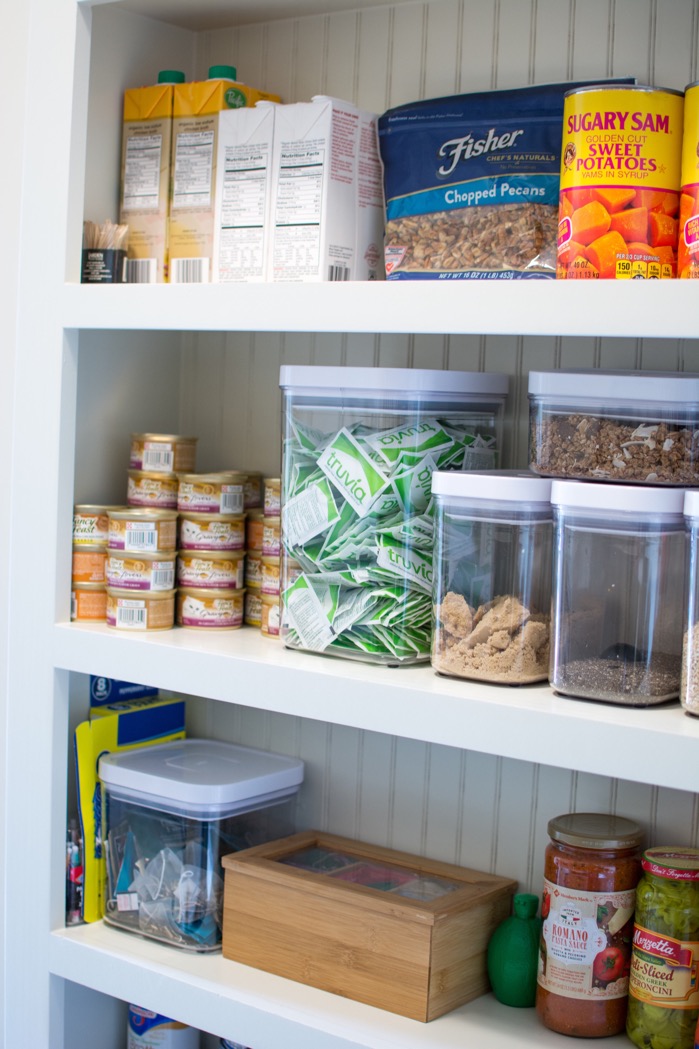 OXO Good Grips 10-Piece Airtight Food Storage//1-Gallon Heritage Hill Jar//
Small Wire Basket with Chalkboard//DYMO LabelMaker//Seagrass Wicker Basket
There is almost nothing more I love than having an organized home. It brings me great peace in knowing that everything has a home and a place. If my home gets too cluttered or messy, I cannot stand it! A few weeks I was feeling very overwhelmed and stressed and realized some of that was because I had let some of our most-used areas in our house get overloaded with piles of cluttered mess. Enter Lifesquire of Edmond. They provide personal assistant services such as running errands, bill paying, meal preparation, child care, pet care, and orgainzing around Edmond and the OKC metro area. I spoke with the owner, Carrie Hill, and she came up with a simple plan of some organization ideas for the home that could be done on a budget. I told her I wasn't looking to spend much on supplies and she had some great ideas that were easily implemented.
First, she tackled my pantry. Now I will tell you, I organized my pantry myself about 2 years ago. I took every single item in the pantry and started with an empty room. I donated several small appliances and such that I hadn't used in years. Just by doing that, it can make a big impact. I added the labeled wire bins and seagrass baskets below. The wire bins with chalkboards are the best deal ever. You cannot beat $7 for the smaller size or $12 for the larger size. Since I designed my pantry to be mostly all open shelving, I realized I needed some sort of baskets and storage containers, because otherwise, it became very cluttered and out of control quickly. I also placed my sugar, flour and powdered sugar in these pretty glass storage jars for functionality and for looks, bahaha!  I also bought these OXO air tight containers and still use them today for items like pasta, oats, cereal and etc. I had just not kept up with it in awhile and it was a big mess. Carrie came in and threw out the expired food and other items we had not used in a long time, and relabeled my baskets to what they currently hold. So for instance in the wire bins, they are labeled Snacks, Sweets, Crackers, Rice/Pasta, Chips, etc. She put all lunch boxes in one basket, all paper supplies in one basket and so on. Our canned food shelving just needed a simple tune up. It is funny, after you create these organization systems, it is so much easier to get it whipped into shape much quicker when everything has a place. We also keep our medicine in our pantry in a cabinet above our microwave. She added some simple white bins from the dollar tree and labeled them with cough/cold, pain, stomach and first aid labels depending on which category they fall into. So much nicer than the big basket of half empty medicine bottles I had piled in there! I have this label maker that I use all the time all over the house and it comes in handy when I get in an organizing mood!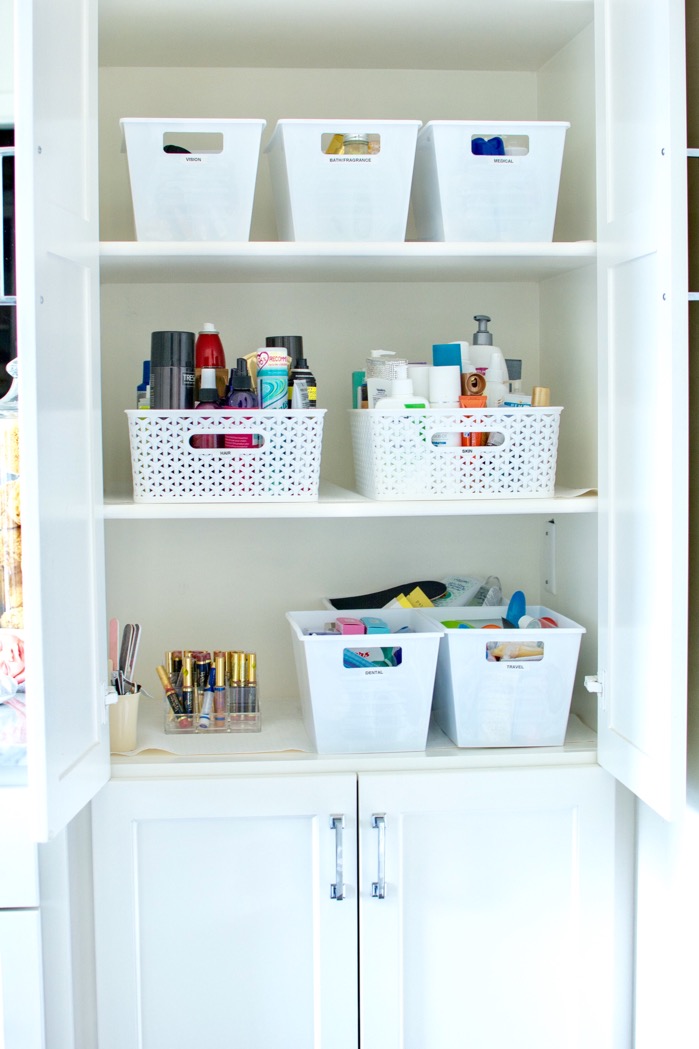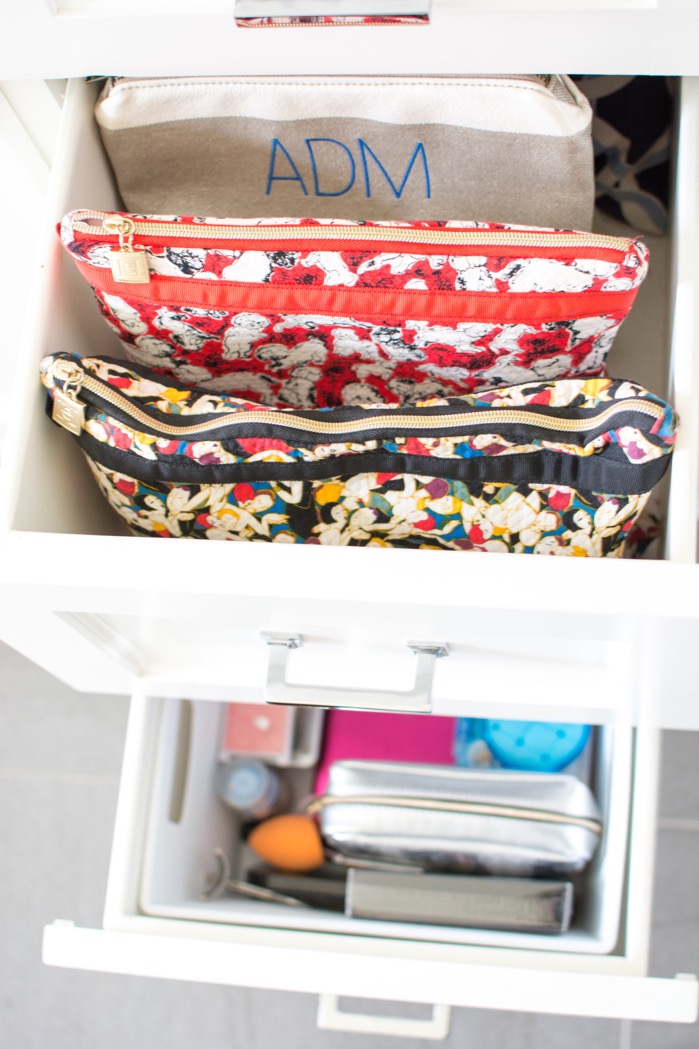 White Decorative basket //Y Weave Medium Storage Bin White//DYMO LabelMaker
Next she tackled my bathroom cabinets. If you could have seen these before, you would have laughed! I have so many beauty products and hair products, it was taking me 5 minutes in the morning to find one thing it was so messy and cluttered. I also had so many out of date products that needed to go. Carrie bought white bins like these and sorted all items out and labeled the bins for hair, skin, dental, vision, skin, fragrance, travel, etc. I actually have the larger size of this same white bin in my kids' playroom and they have held up really well and are very affordable. The other white bins are from the Dollar Store. So handy and inexpensive! She added drawer organizers to my drawers for toothpaste, toothbrushes, hair brushes and other small items that can get easily lost in a drawer. She also cleaned out underneath my sink cabinet and made a bin for all of my hair dryers, curling irons and other hair appliances. Drawer organizers sound silly but are very practical. Last year around this time, I bought kitchen drawer organizers I randomly found at Sam's one day and they have been the best buy ever. My drawers still look great in my kitchen without much effort by me.

I can't thank Carrie enough for all of her organization ideas for the home. It has got 2018 started off on the right foot. Now it's up to me to keep it this way! If you are local and need reasonably priced help with any tasks such as organizing, bill pay, errands and more, I would definitely check out Carrie and her team at LifeSquire of Edmond.  Thanks for reading!
Recent Posts: Holiday Recipe you Must-Try// How to Decorate your Christmas Tree //Christmas Home Tour 2017