Hello and Happy Fall! Welcome to my Fall decor tour. My name is Ashley for all of you that are new here. If you are joining me from Shelia with Maison De Cinq's home tour, thanks for stopping by! I just loved her tour, didn't you? If you would like, please take a second and subscribe to my blog here so you will always be the first to view my future home tours and blog posts.
Grab a fresh cup of coffee as I share my fall decor ideas for the home. Can you believe it's October? It has still been so warm in Oklahoma, I haven't had the heart to start fall decorating, until it was October 1st and then I knew I could not wait any longer. I decided to go very subtle and neutral this fall. I love white anything and everything year round, so as you will notice white pumpkins are sprinkled throughout most of my fall decor. White pumpkins are a very inexpensive way to add in a little fall, without looking like you went overboard. Let's get started with the tour…
First up on the tour is our entry way. I went very simple in here and added a dried eucalyptus wreath above the console table. It smells so nice and adds some coziness to this space as soon as you enter the front door. The console table is very dramatic with the silver fish scale pattern (table is discontinued), so I don't ever like to get too busy in this space. On top of some decorating books is one of my favorite mercury glass pumpkins (similar linked) that I found last year at HomeGoods. The shape of it is too cute and pairs so nicely with the brass mirror and the acrylic lamps. The brass mirror is on sale currently and adds such an upscale, chic element to the entryway.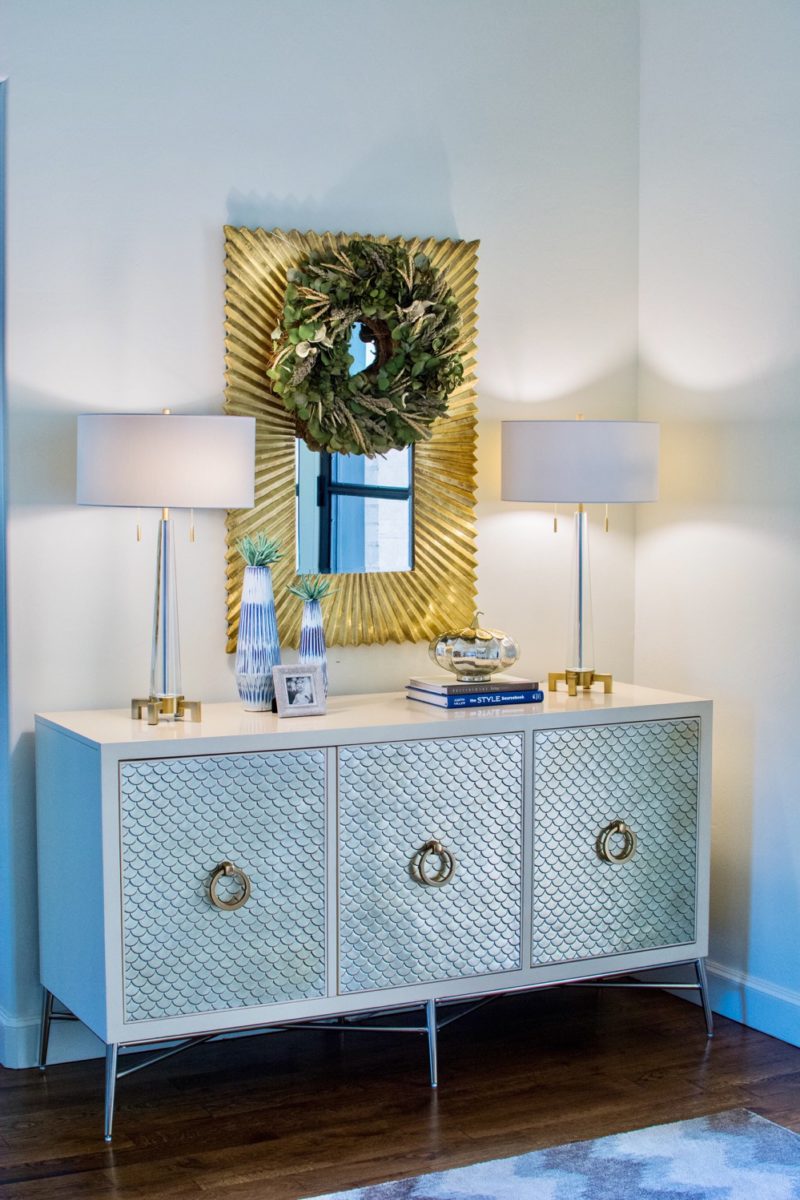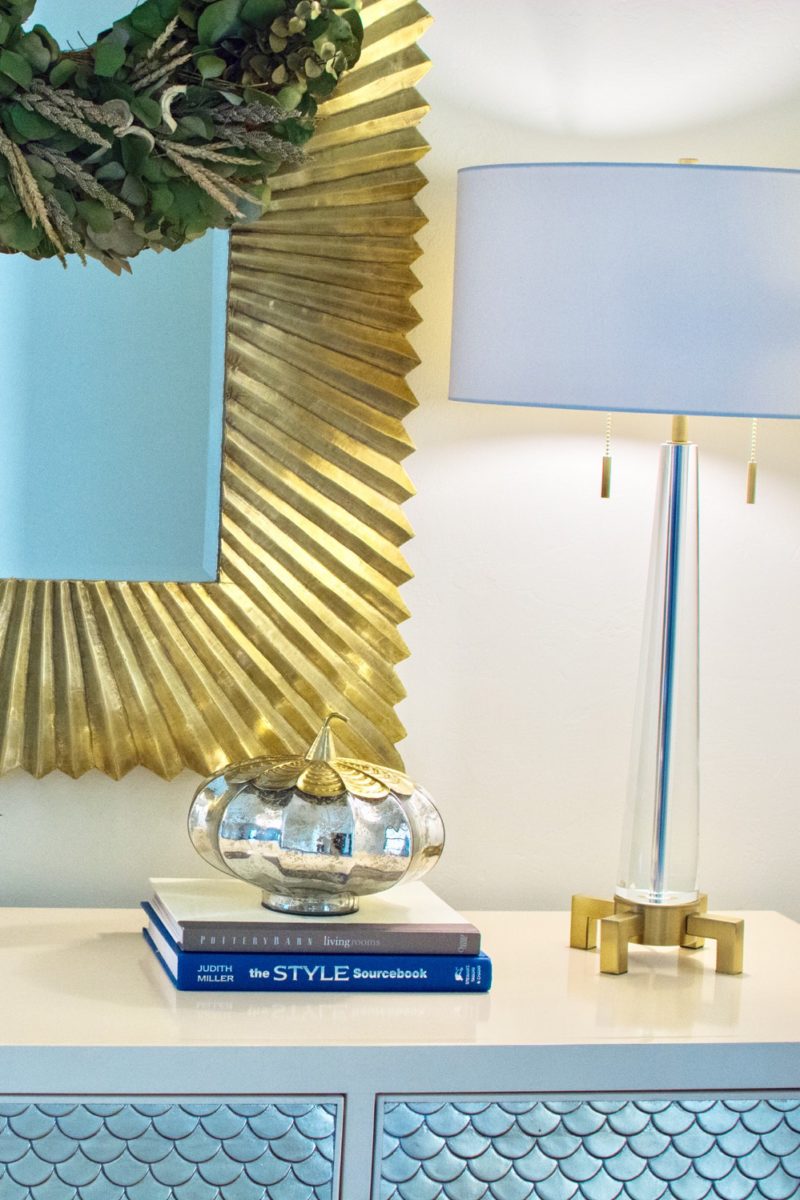 Shop the Look-Entry

Next is my living room. This is our main family room and our 3 kids love to lounge on the sofas with cozy blankets and watch cartoons. I love to lounge in the morning with my coffee in here. The tall windows are my fave as they let in so much light and I wanted to keep my decor in line with that and have it very airy and light this fall. My sister in law made me a variety of velvet pumpkins like these last year and I wanted to use them again. I'm all about fall decor ideas for the home that can be used year after year. It doesn't have to look the same, you can restyle it and get a fresh new feel each and every season. The velvet pumpkins are in shades of cream, platinum, grey and plum. I added those to my cast stone mantle along with some ceramic and mercury glass pumpkins. If I would have had time, I would have gotten a bundle of fresh eucatplus and weaved that into the pumpkins as well. Oh well, maybe next year. On the hearth, I added a few large ghost pumpkins and my trusty brass lantern filled with lots of mini pumpkins. I decorate with the brass lantern all year long..it's so versatile and I love it. If we didn't already have white birch logs, I would  have incorporated a bundle of those on the hearth as well. I found great bundles last year at Hobby Lobby in the floral dept.  On my leather sofas, I kept the pillows very neutral and light with a chunky, cream fringed throw on one sofa. The coffee table tray is something I restyle constantly, so I added some white mums to a mercury glass lantern and of course lots of coffee table books and beads. Please just ignore my husband's giant speaker that lays on our mantle! I beg him to remove it constantly and he won't. Gotta love him though.:)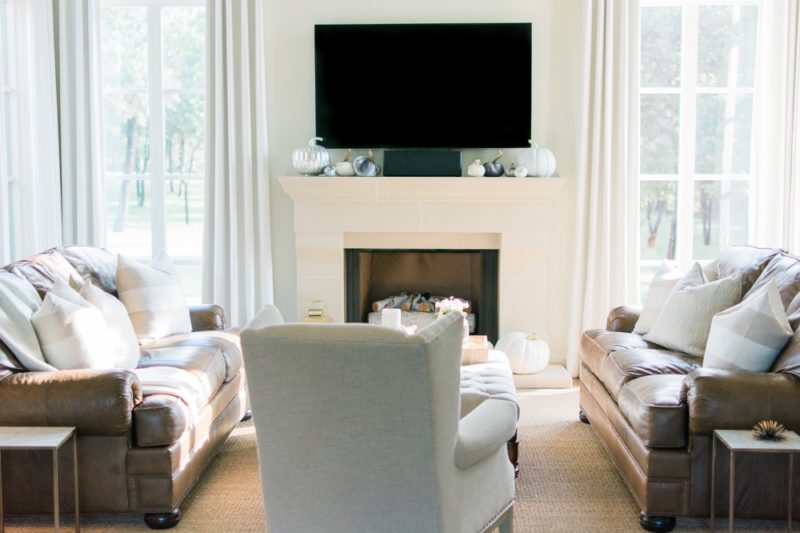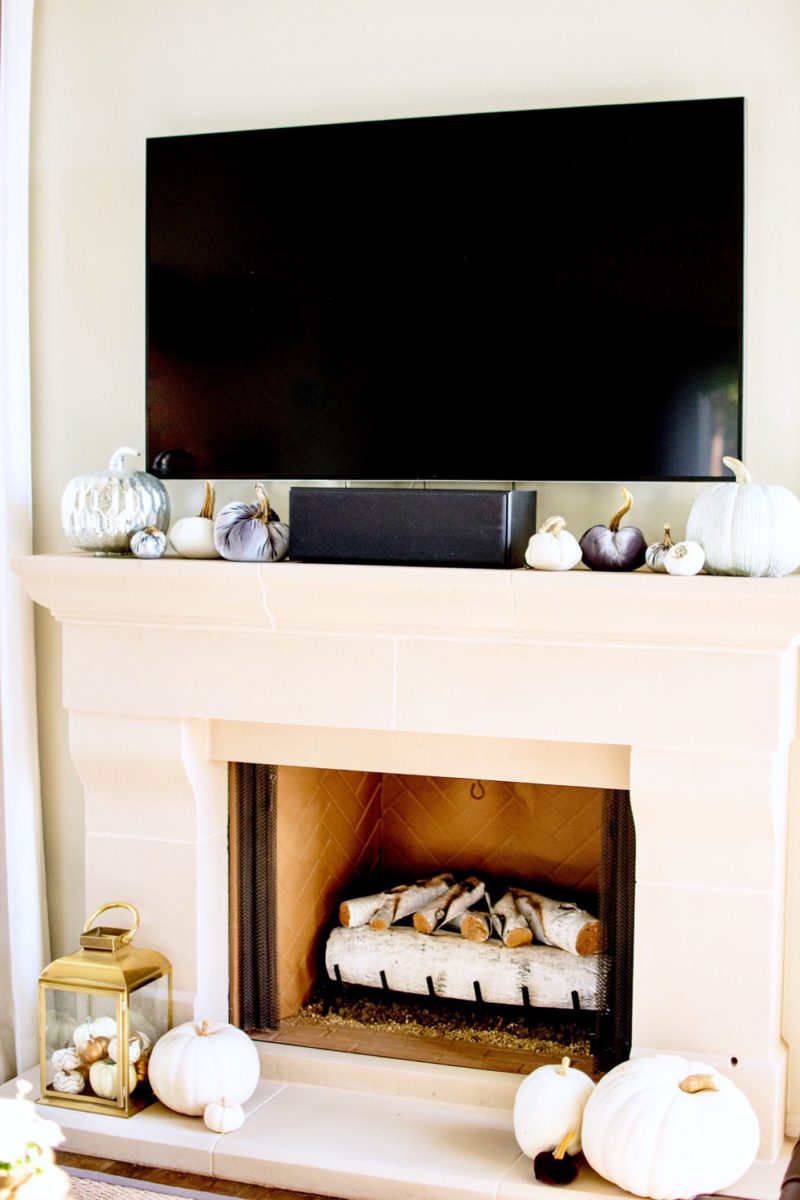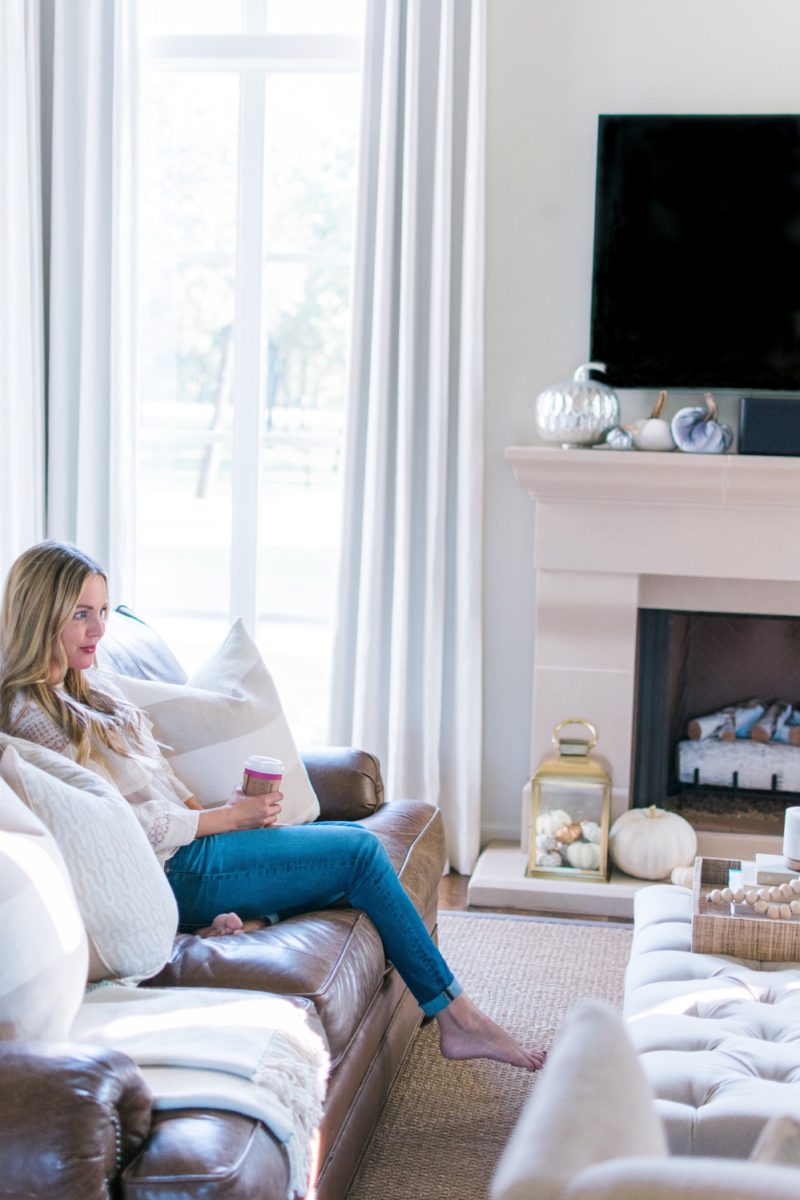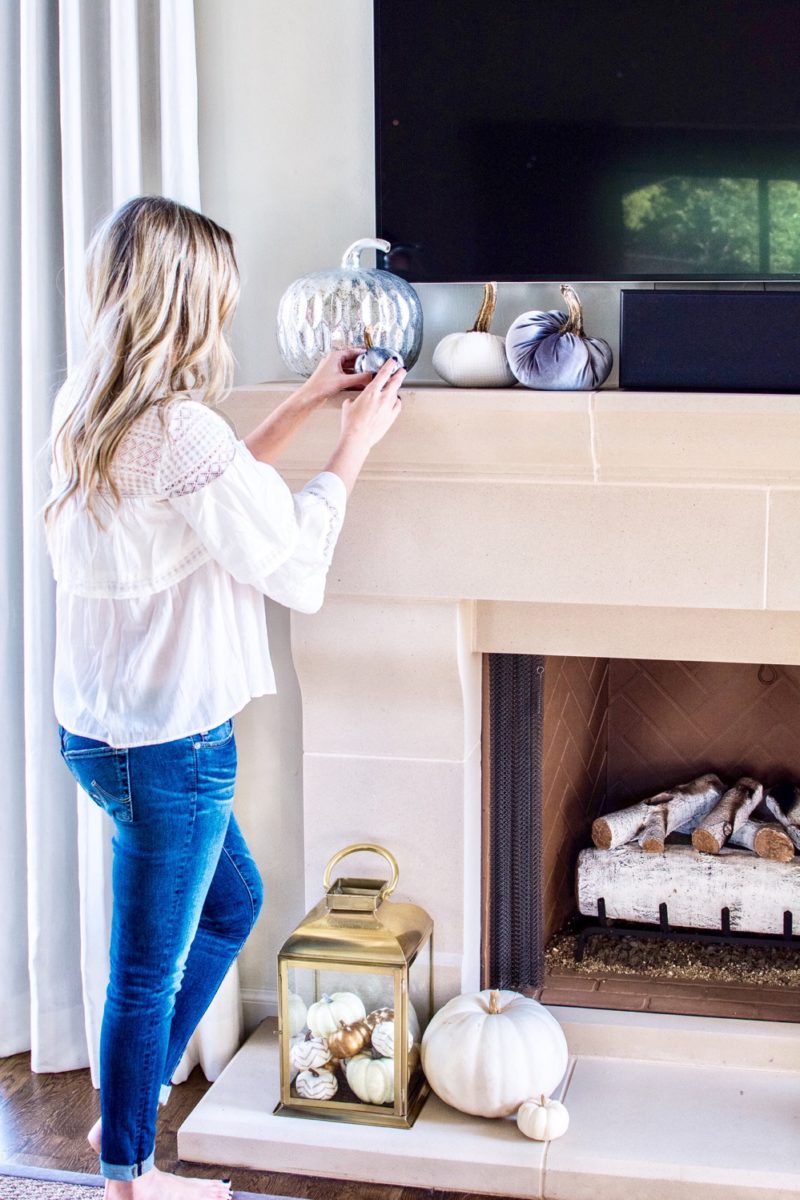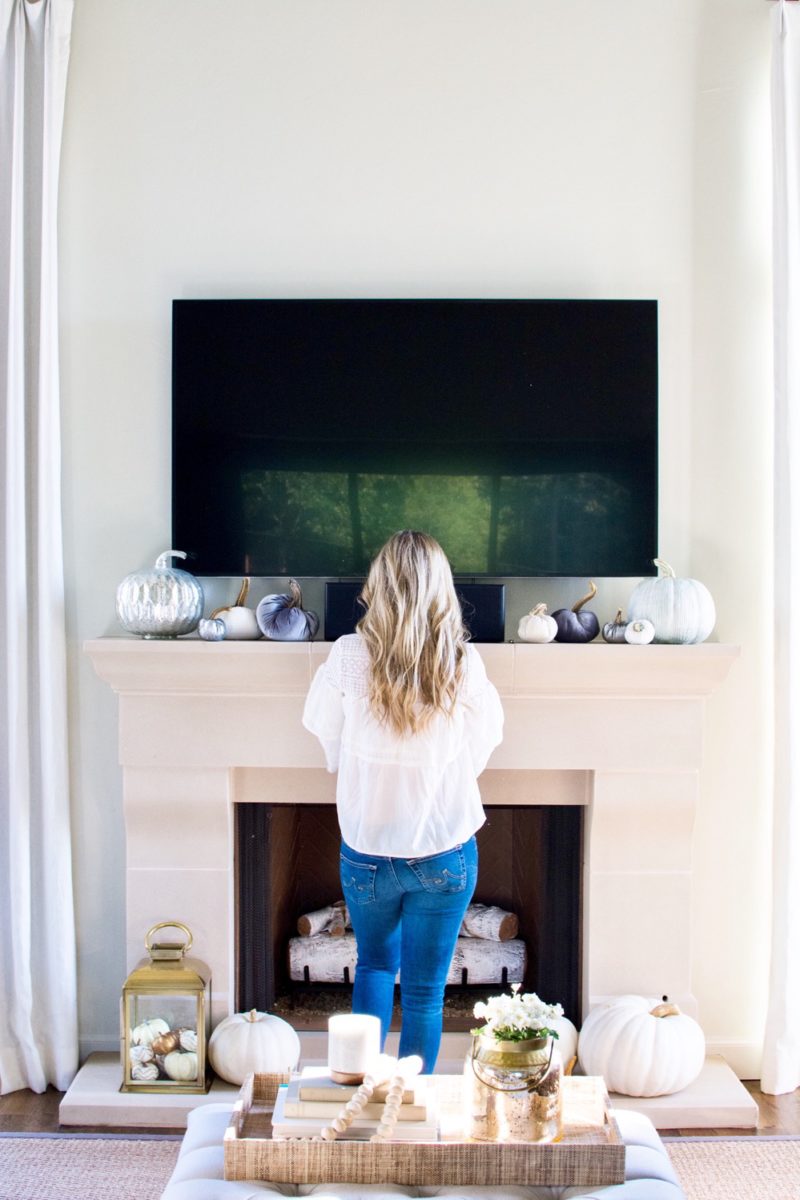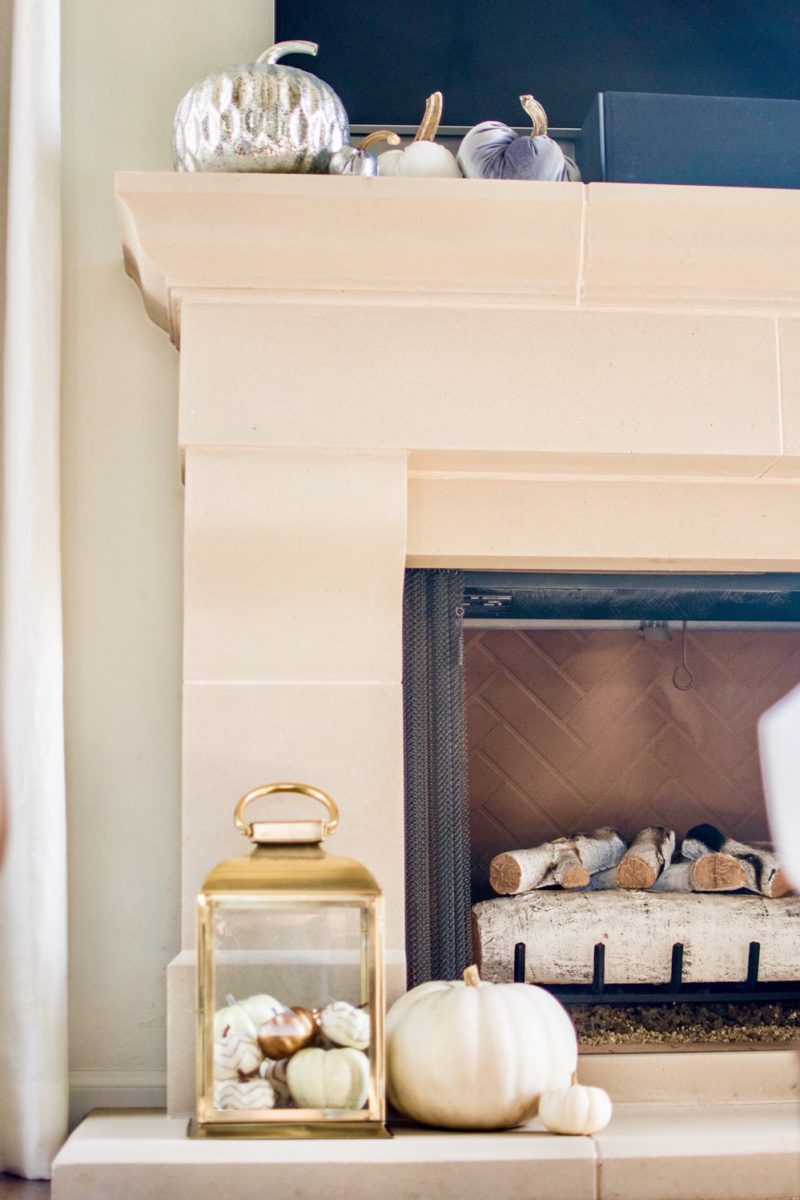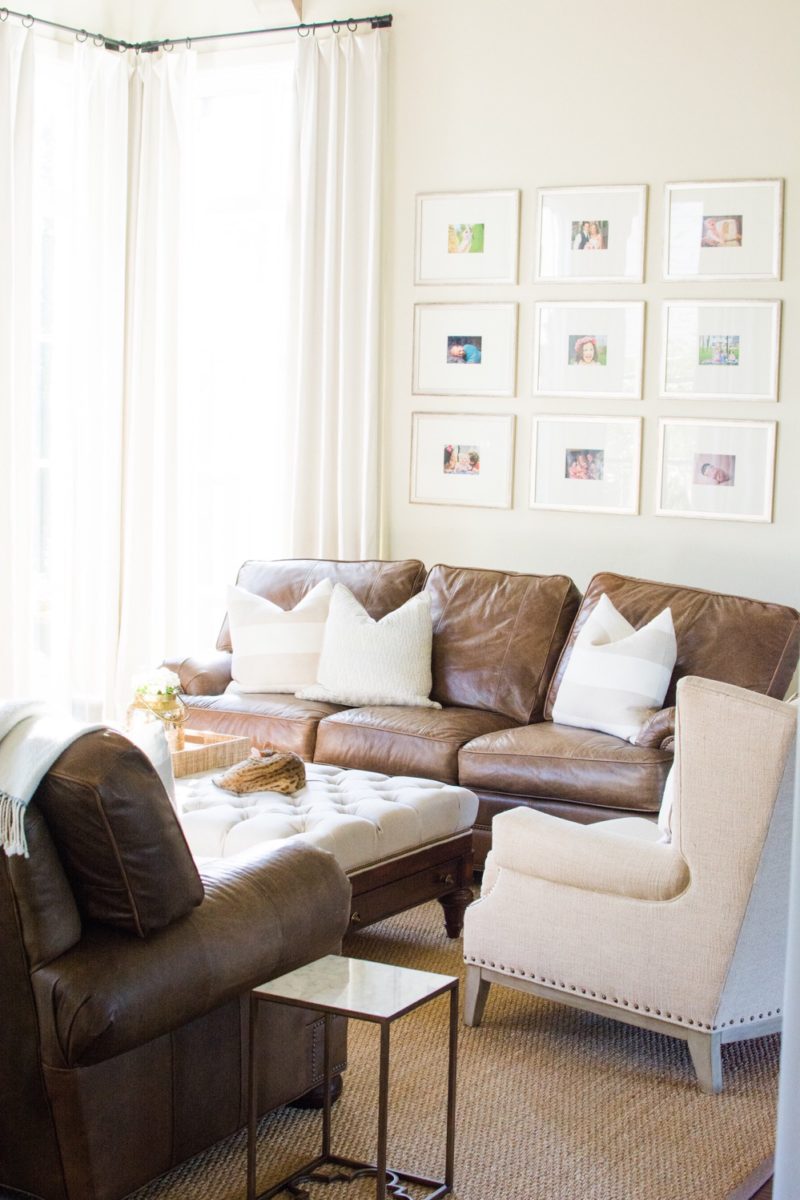 Shop the Look-Living

Next is the kitchen. It is so easy for me to change the look in here. With my open shelving, I change the decor on them very frequently depending on the season or holiday. Of course, I stayed pretty neutral on the shelves except for a few pops of plum. I also hung my fave fall inspired tea towels  and it began to feel like fall. I have several wooden and velvet pumpkins throughout the kitchen and real white pumpkins on the shelving. I added in some plum florals for a nice contrast to all of the white. The wooden pumpkin on my stove was such a cute find at HomeGoods and adds a great texture. I usually have large wooden cutting boards in that spot and this pumpkin shape was such the perfect touch, I had to have it. On my island, I made this succulent arrangement myself (read post here) and keep it out all year, but I add seasonal pieces into the arrangement like the mini white pumpkins to keep it relevant all year long(I used this dough bowl for my arrangement). The mini pumpkins instantly transitioned the arrangement from summer to fall…I love easy decor pieces like this. Details like fresh red apples are another fall element that is easy to add anywhere in a bowl, tray or etc. I did that over near my farmsink along with a simple wooden sign and burlap pumpkin. On the other side of my sink, I added another wooden pumpkin and a cute faux pumpkin succulent I found in the Target dollar aisle! Also, if you want to shop my flowy white top…I am in love with it for fall. Click here to take a look (wearing XS for reference.)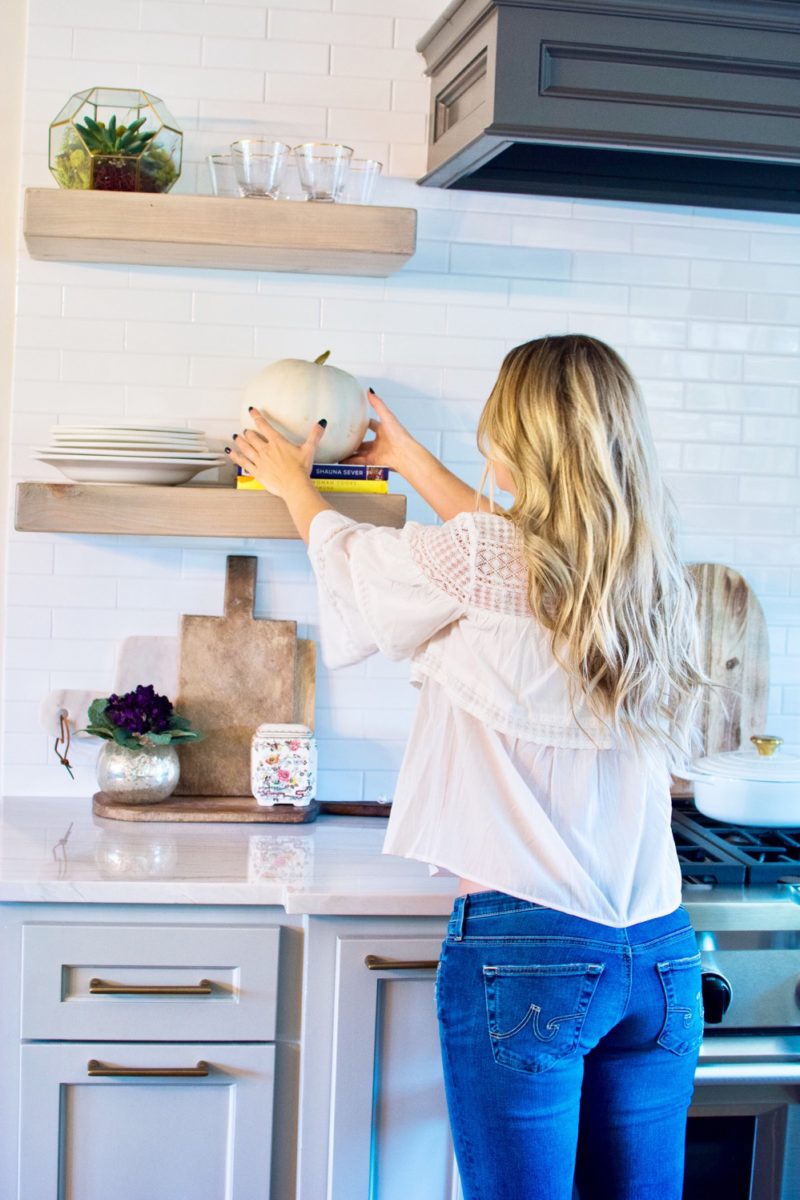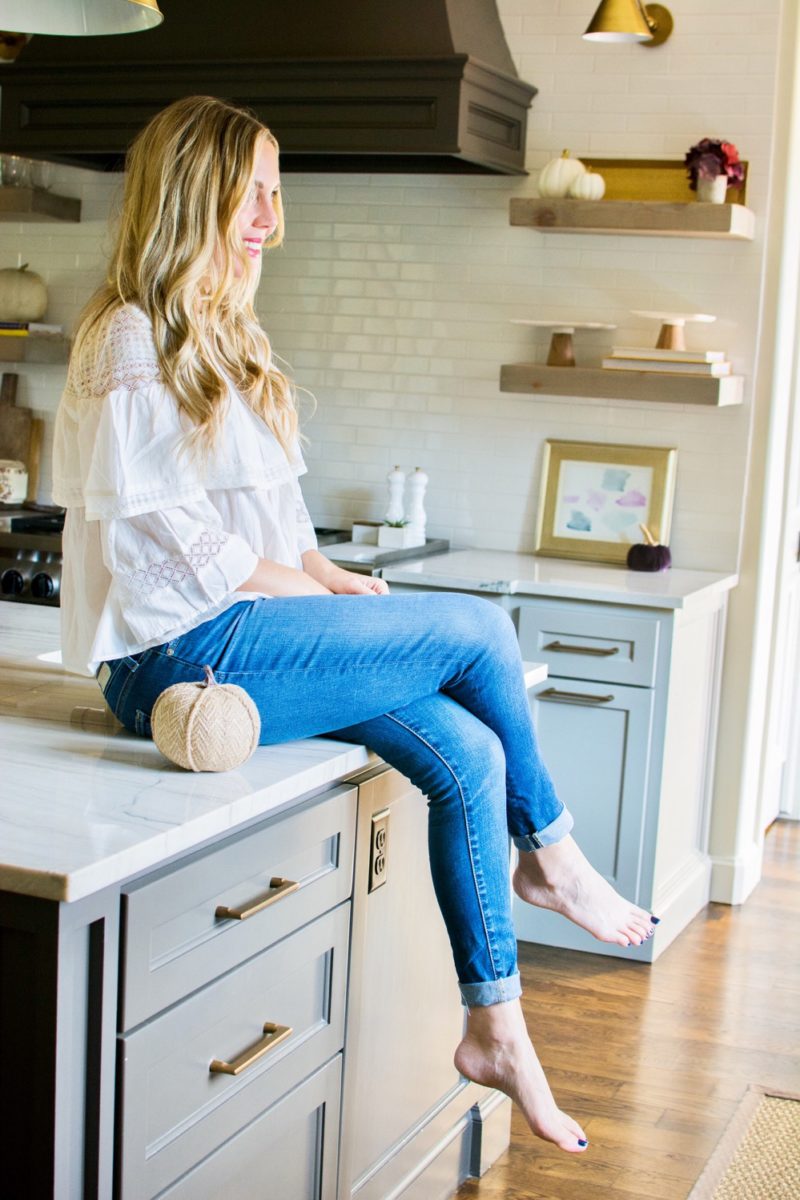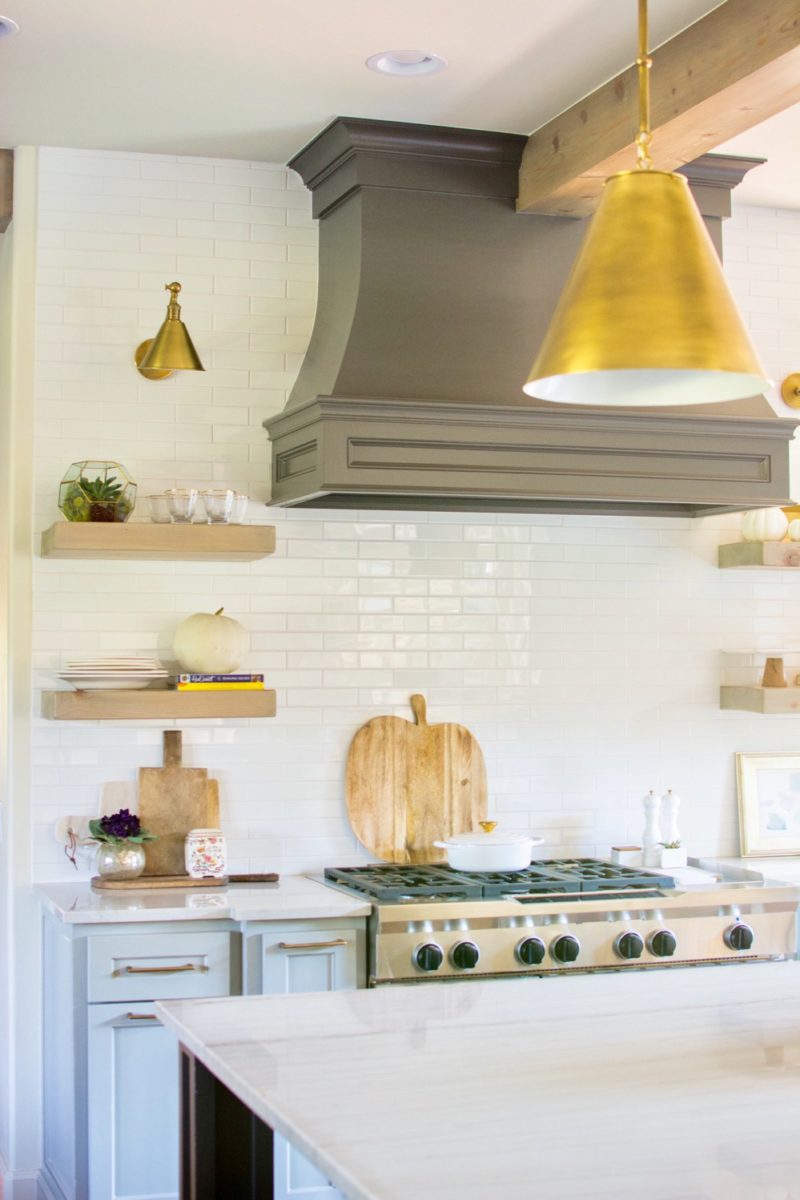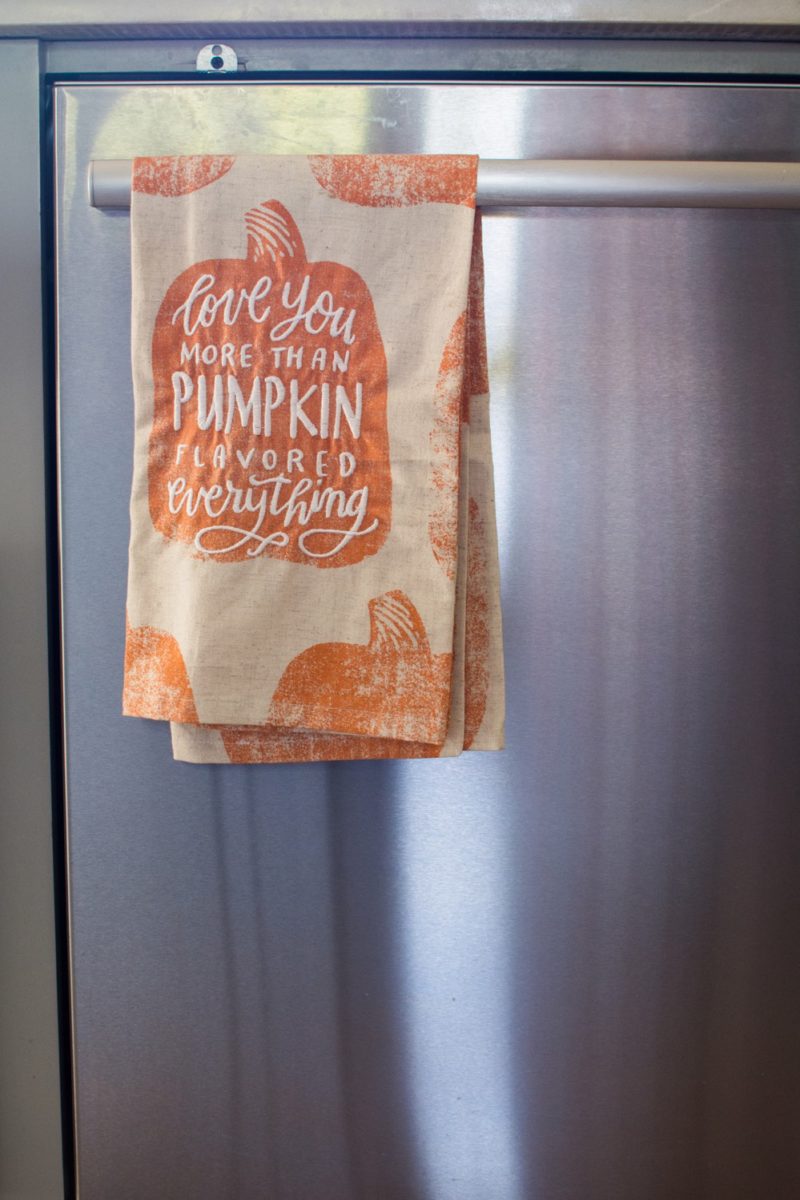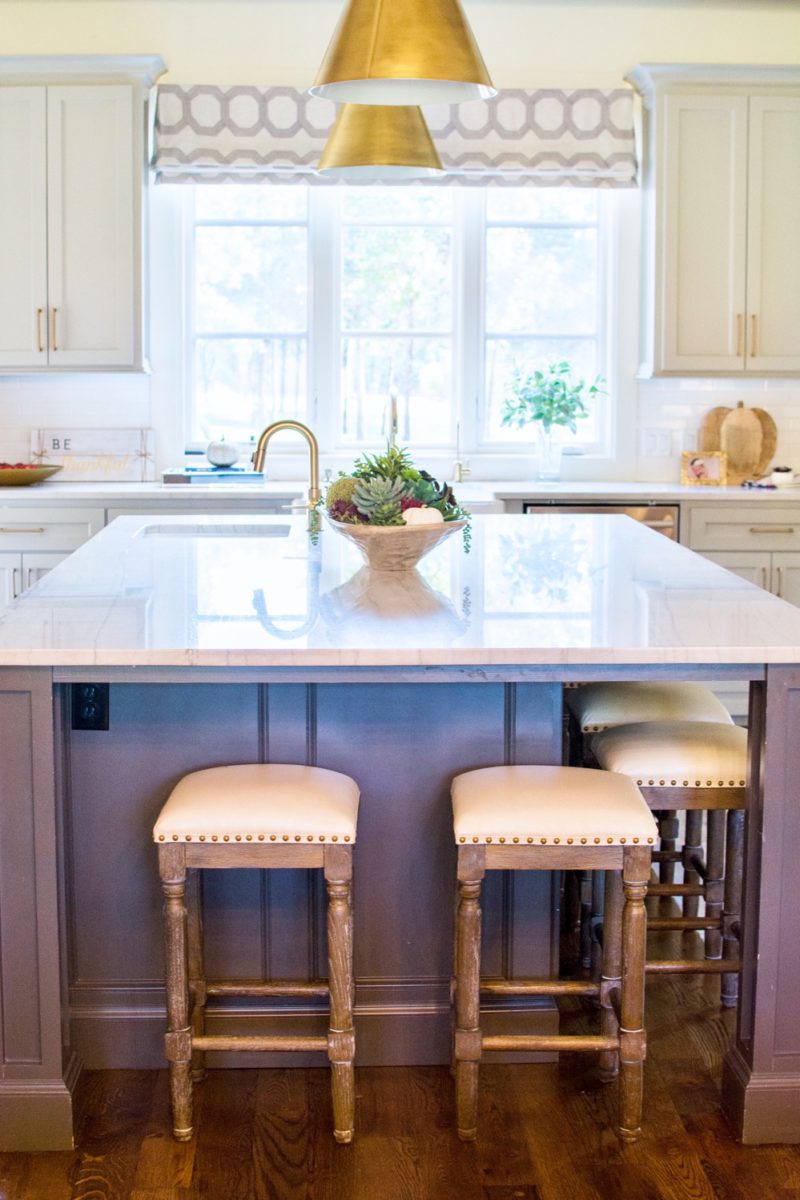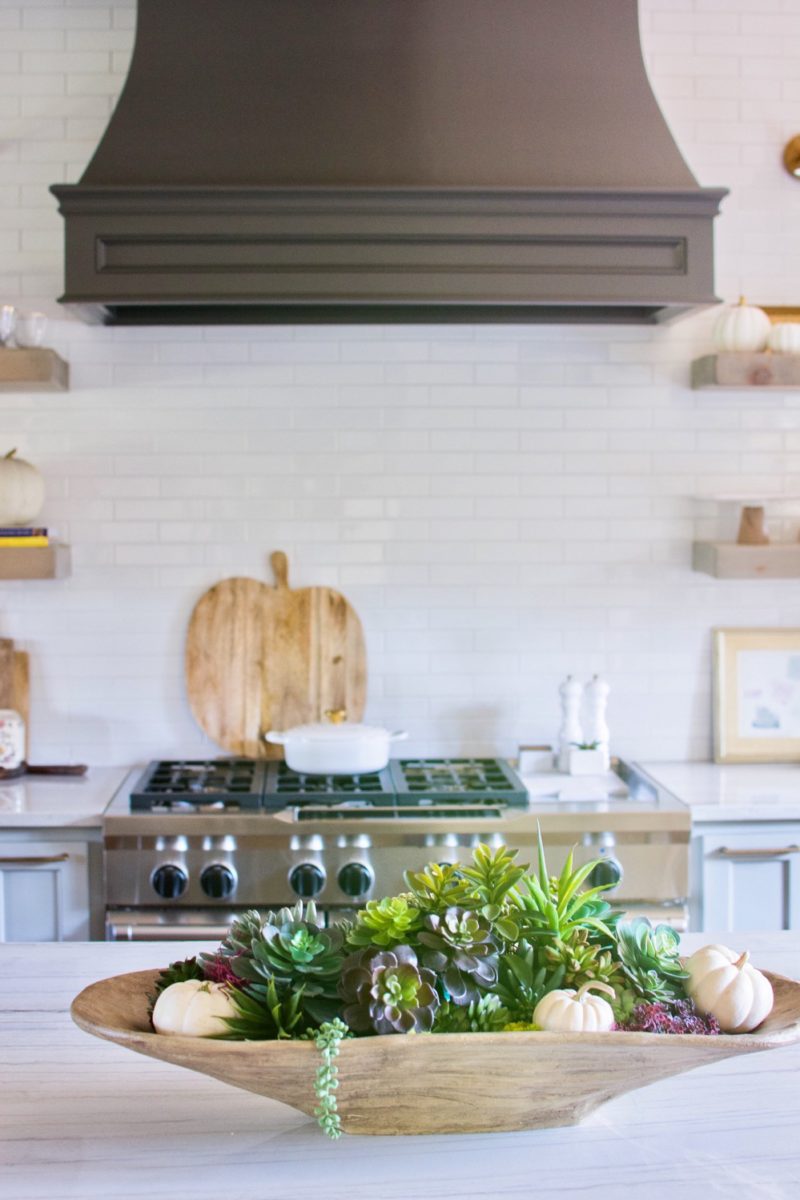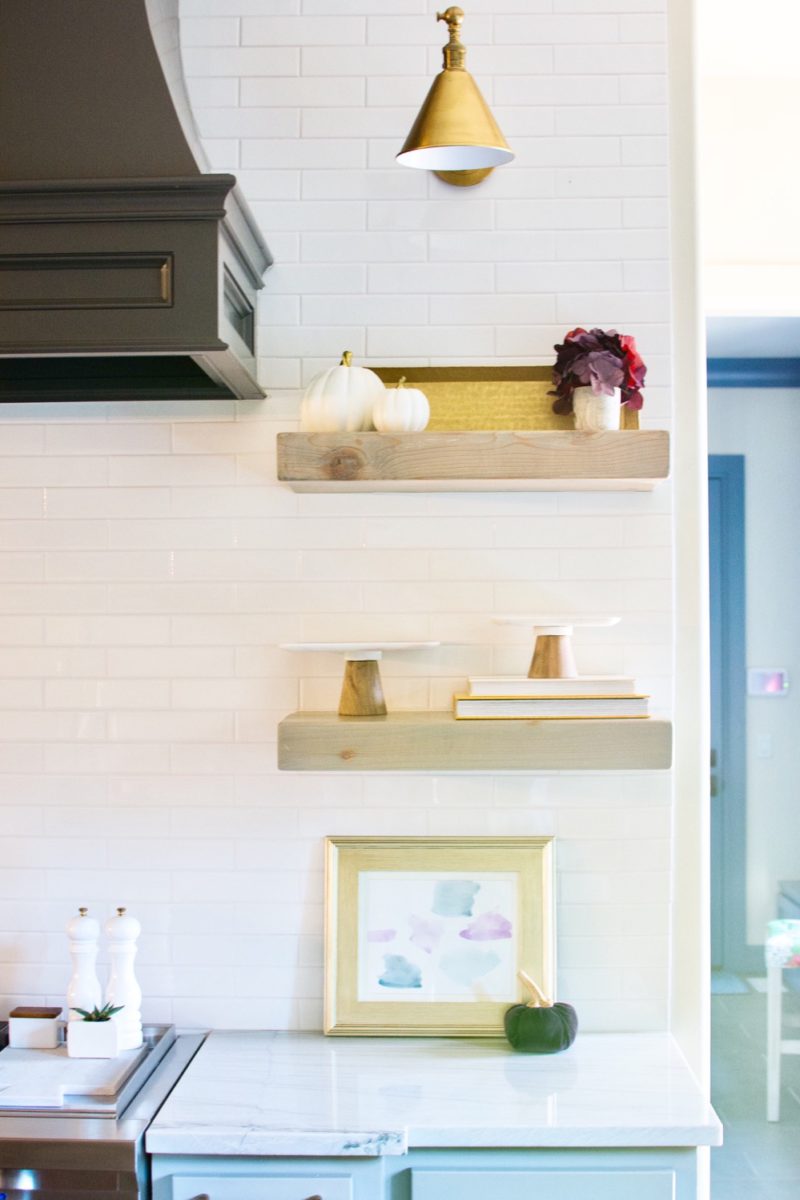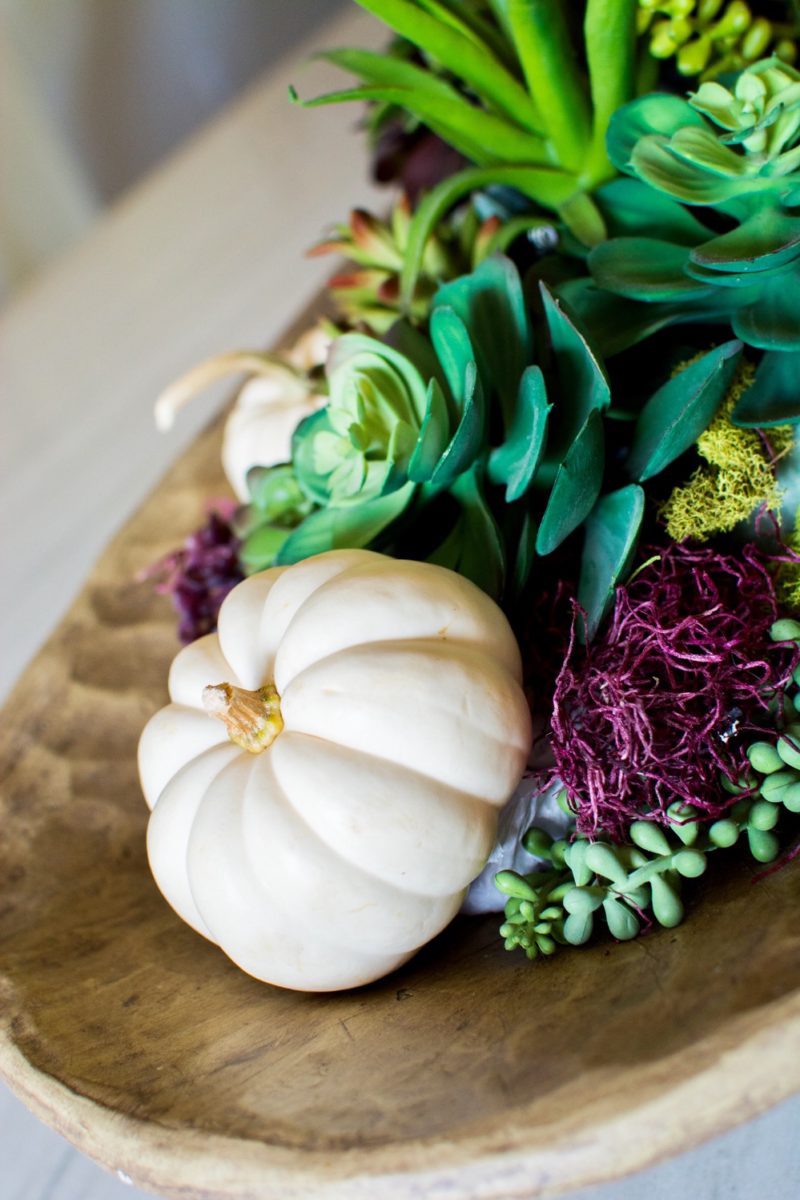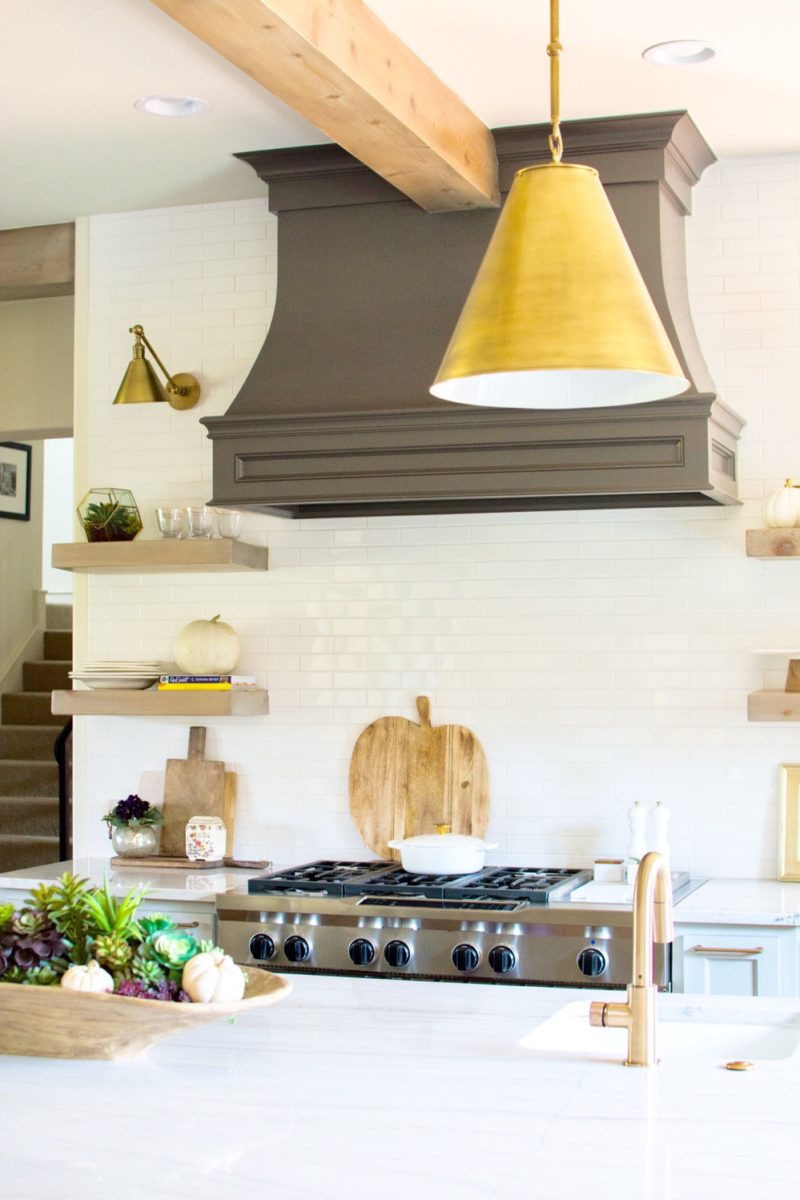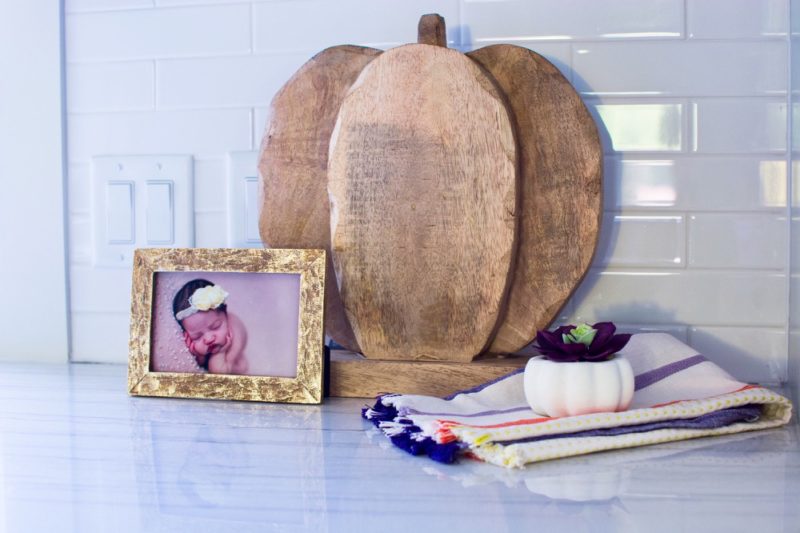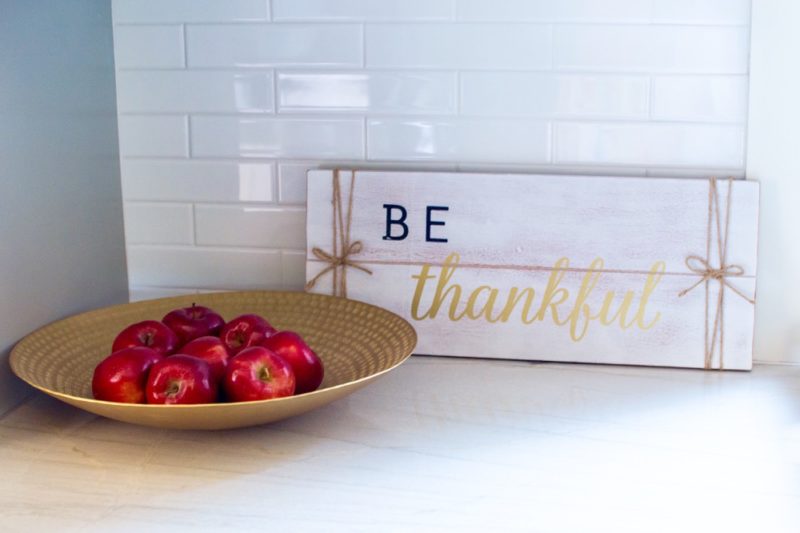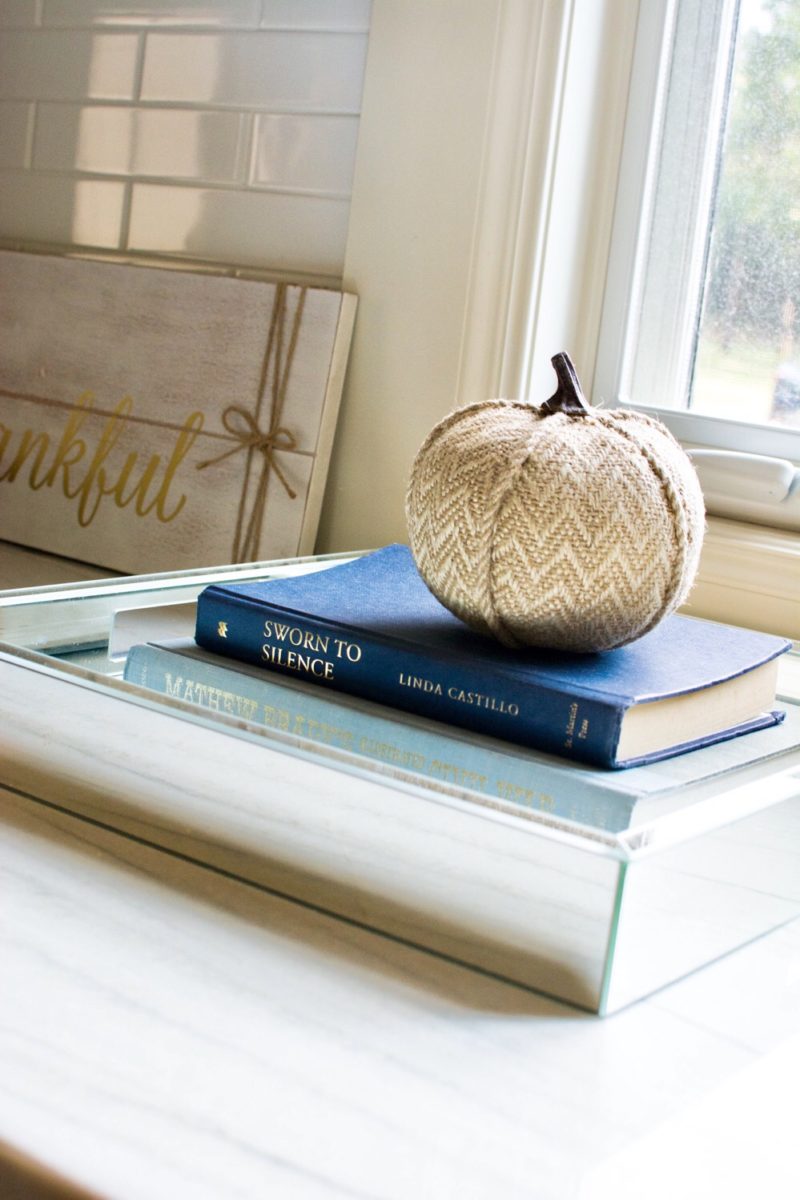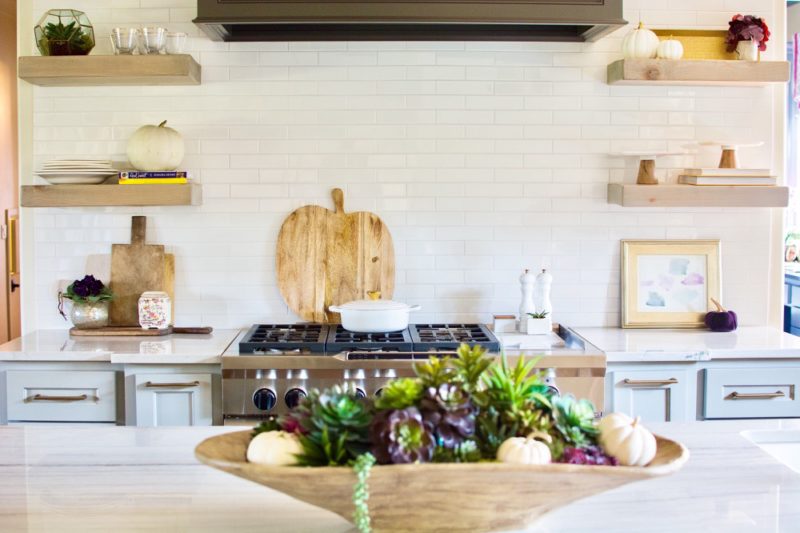 Shop the Look-Kitchen

That concludes my fall decor tour this year. Like I mentioned early, I kept it sweet and simple this year. I can't wait for hot cocoa and cozy nights in as the weather gets cooler. I hope you have enjoyed my fall decor ideas for the home and will continue on to Janine of Happy Happy Nester. She is such a talented lady. Here is a list of all the home bloggers today that are included in the hop today. Go check them out…you will be majorly inspired. Please reach out to me with questions anytime and please follow me on Instagram to stay up to date with me on a daily basis and a sneak peek into our everyday life. Thank you so much for stopping by!
Mysha – Remington Avenue
Sheila – Maison de Cinq
Ashley – Curls and Cashmere
Janine – Happy Happy Nester
Judy – Life is Better at Home
Martha – Simple Cozy Charm
Olivia – Reinvented Collection
Jodie and Julie – The Design Twins
Jackie – Finding Lovely
Joan – 2 Ladies and a Chair
Ashley – Modern Glam
Kim and Lacey – Styled with Lace