Hello and welcome to my blog! If you are coming over from Tamara with Citrine Living, I welcome you!  Her home and interiors are just stunning, aren't they? The day of my Christmas home tour has finally arrived! I have been thinking and planning for this day for what seems like ever, as this is my first tour and I did not want to disappoint. I want to thank everyone who helped me pull this together and for Summer from She Leaves a Little Sparkle for inviting me to join in. Decorating for Christmas takes a lot of time and effort and I hope you leave here feeling inspired to go add some glam to your Christmas decor.  Now that my home is decorated, I am ready to sit back and enjoy it for the next month until it all has to come back down. Grab a hot cup of coffee and enjoy the tour. I hope you love what you see and will make sure to follow me on Instagram @curlsandcashmere so we can keep in touch on a daily basis!
*PLEASE FEEL FREE TO PIN THESE IMAGES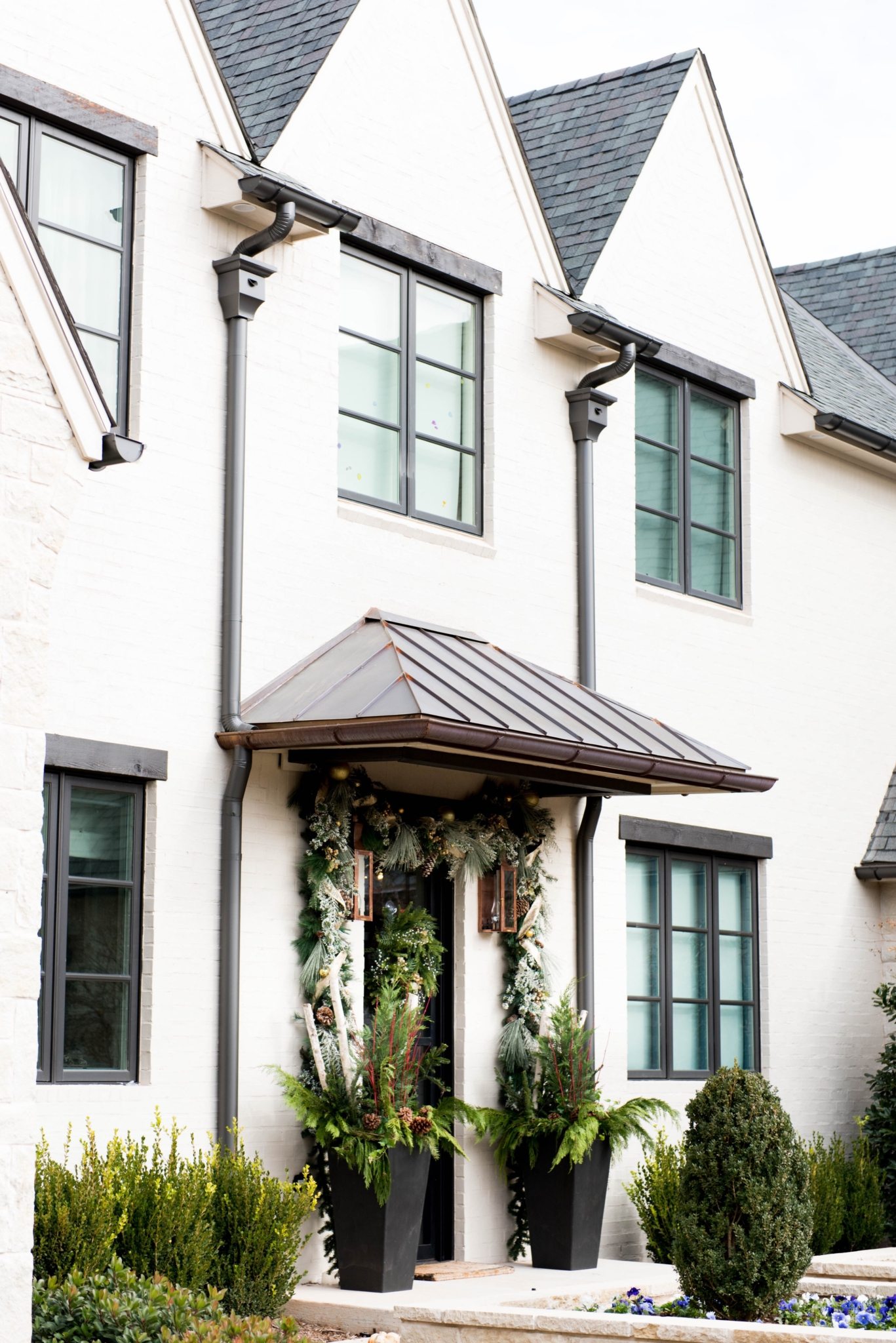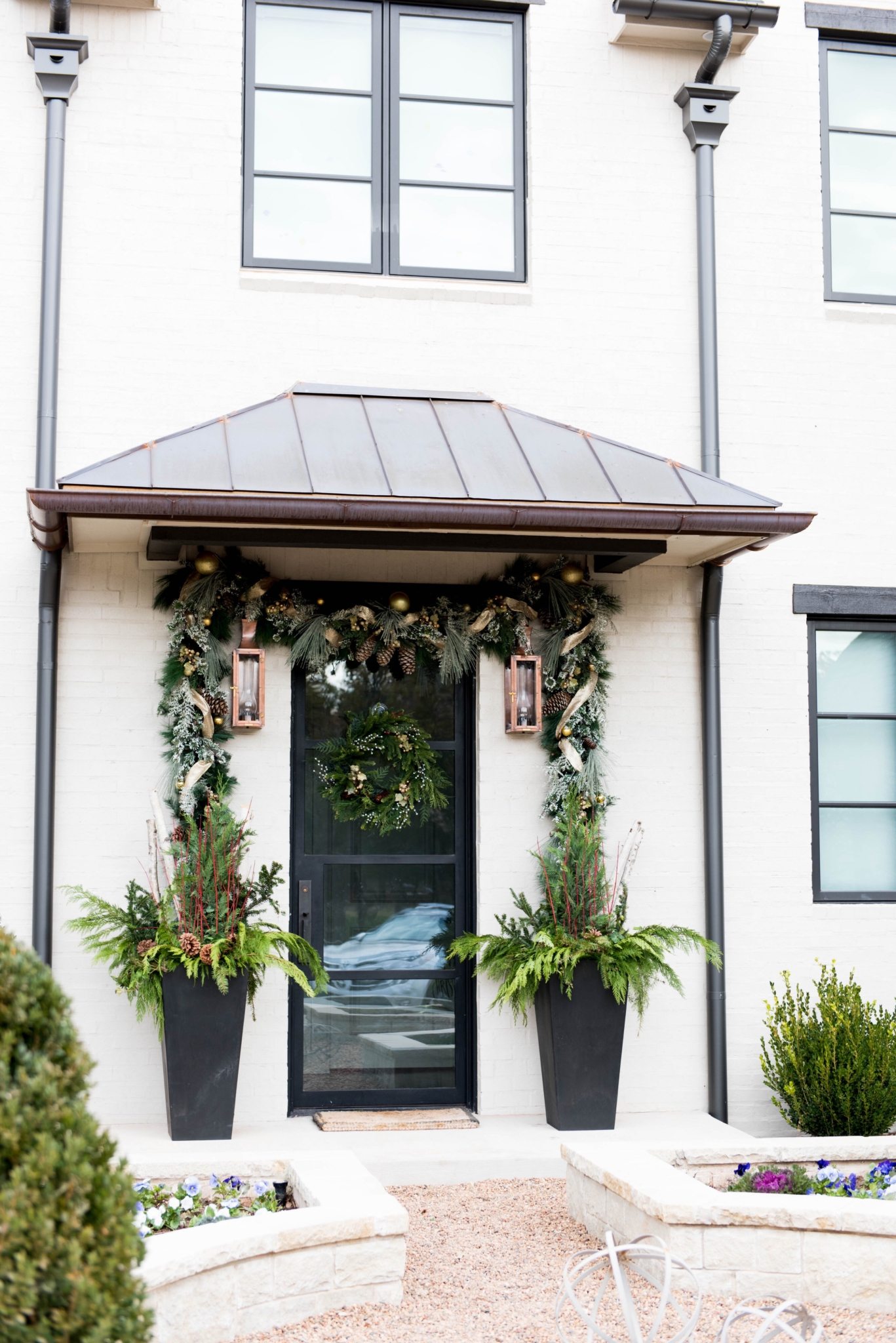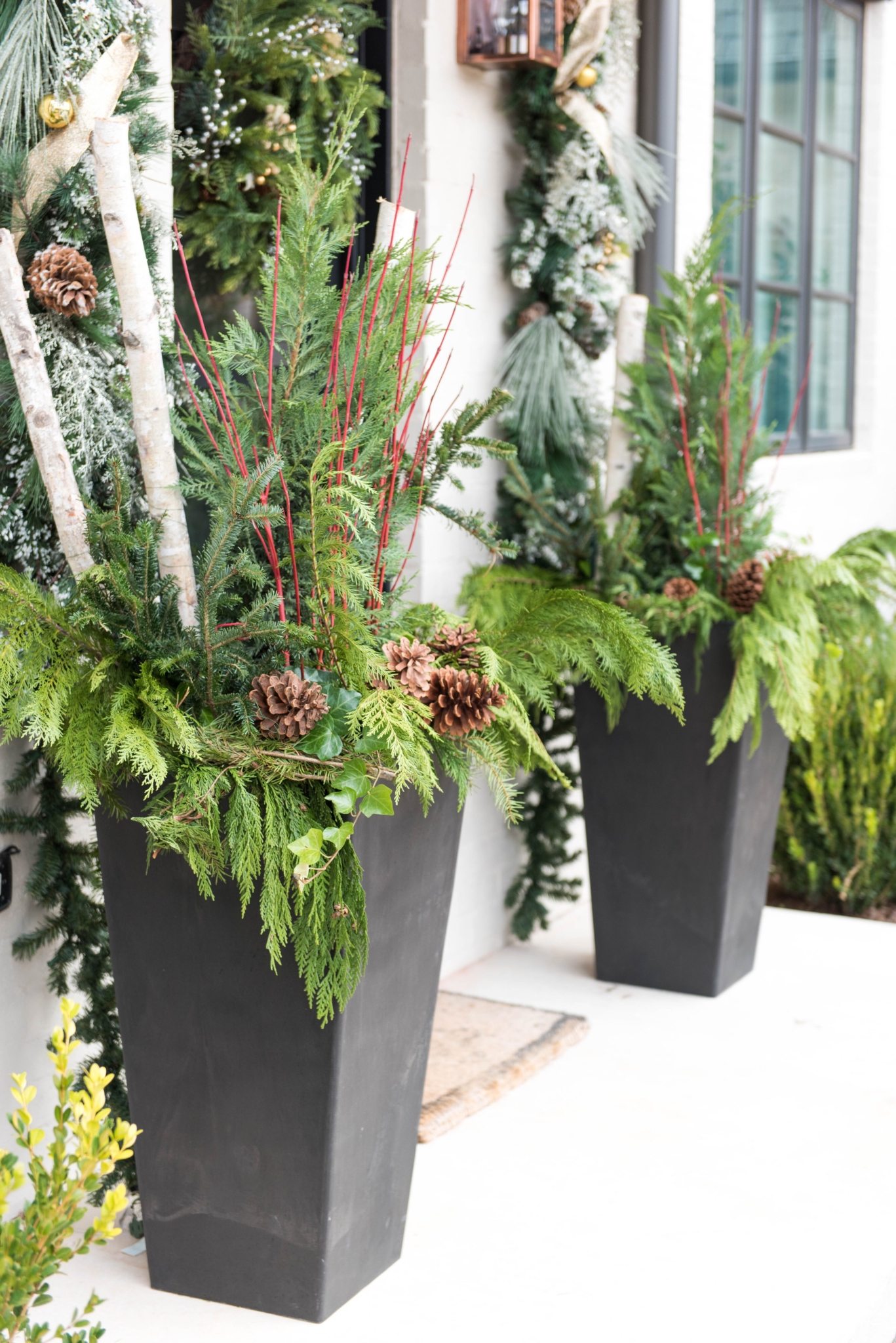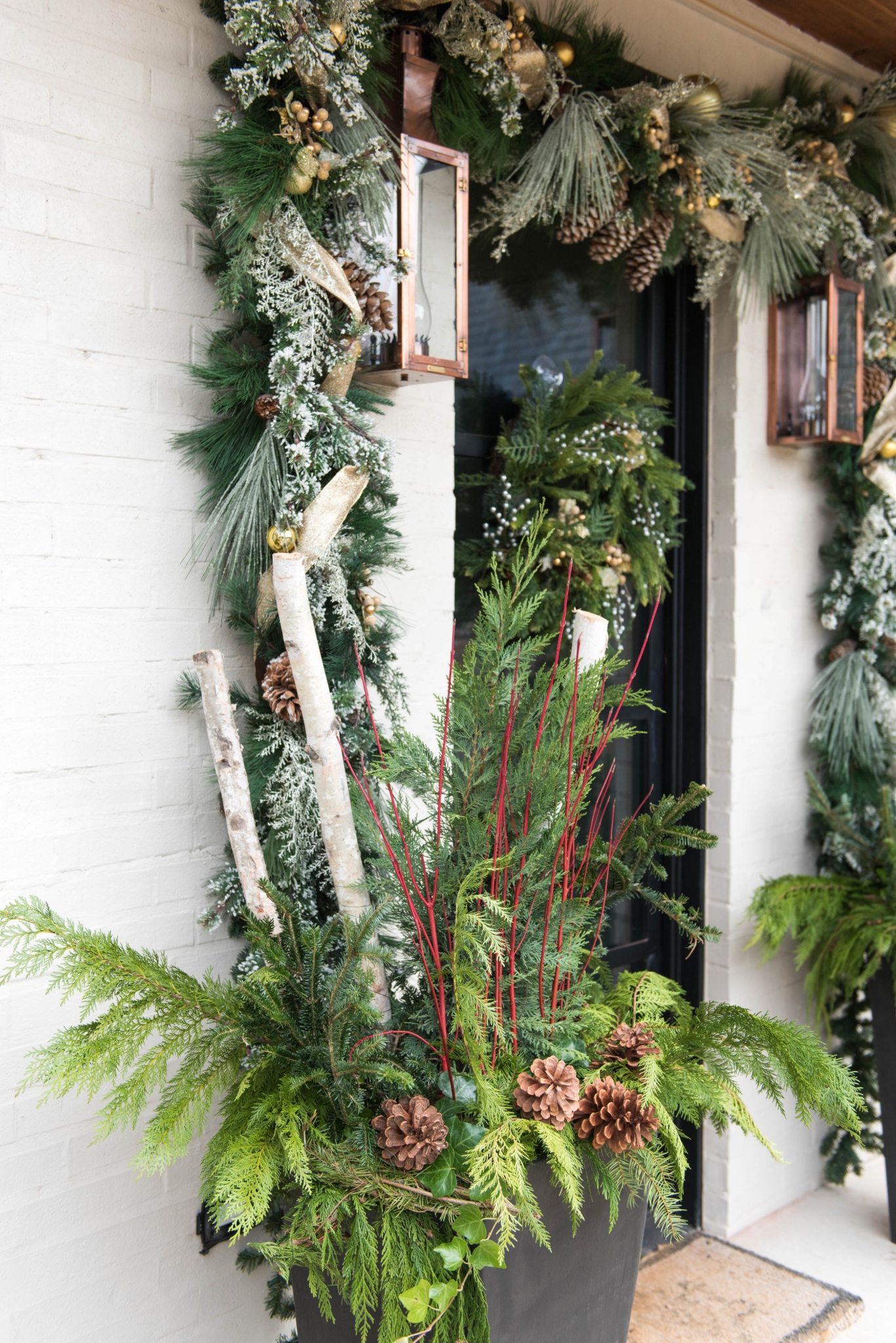 Let's get this party started! The first space you are seeing is my kitchen porch/courtyard area. This is the first thing you see when you pull up to our home. I did garland for the first time on my two porches and I couldn't have done it without the help of my friend, Sarah. She is a pro when it comes to creating custom garlands. We started with the plain green pre-lit garlands, and then added a TON of other trimmings to make them look thick and gorgeous. Everything is zip tied together so I can reuse next year. Winning!
The holiday pots turned out amazing thanks to Adorn OKC. If you are in the area, she took my inspiration image and made it come to life. I bought the white birch poles and sawed them down to 30″ each, and placed 3 poles in each pot. I love the texture they add to all of the fresh-cut greenery. My black pots are such a bargain (I have the 32″ size). I was going to order some from Restoration Hardware, but was having a hard time spending $300-$500 per pot. I found these and have never looked back. The size is great and I love the contrast against our cream brick and stone.
And I cannot fail to mention my Christmas gift from my husband…new Bevolo Governor Copper lanterns. I wanted these so much when we were building, but our budget was waaaay over so I didn't get them. We loved our old lanterns and have a cute new spot to use them, they were just a little too small for our front elevation. The ordering experience with Bevolo was awesome. Great customer service and they truly take into account your space and measurements to fine tune exactly what we needed. They didn't even mind my million questions I asked to make sure these size lanterns were going to look perfect. Since we live in the country, we are on propane and couldn't do Bevolo's gas lanterns. Our electric option we chose is the next best thing and I love the copper. If you are looking for large-scale outdoor lighting, Bevolo is what I would recommend (we chose the 30″ size for our main porch and 24″ for our kitchen porch). They have so many styles to choose from, you can't go wrong.
Now on to our main porch. We mirrored the same look as the courtyard and did the same garland, same pots and same lanterns, only larger scale. I am all about symmetry and wanted these to be very cohesive with the courtyard since you can see both from our front yard. On my porch, I have 4 ft pre-lit outdoor trees and my favorite lanterns filled with ornaments. Adds such a festive touch. Also have this antique sled..just draped a swag over it and tied a mini birch log to it and its done.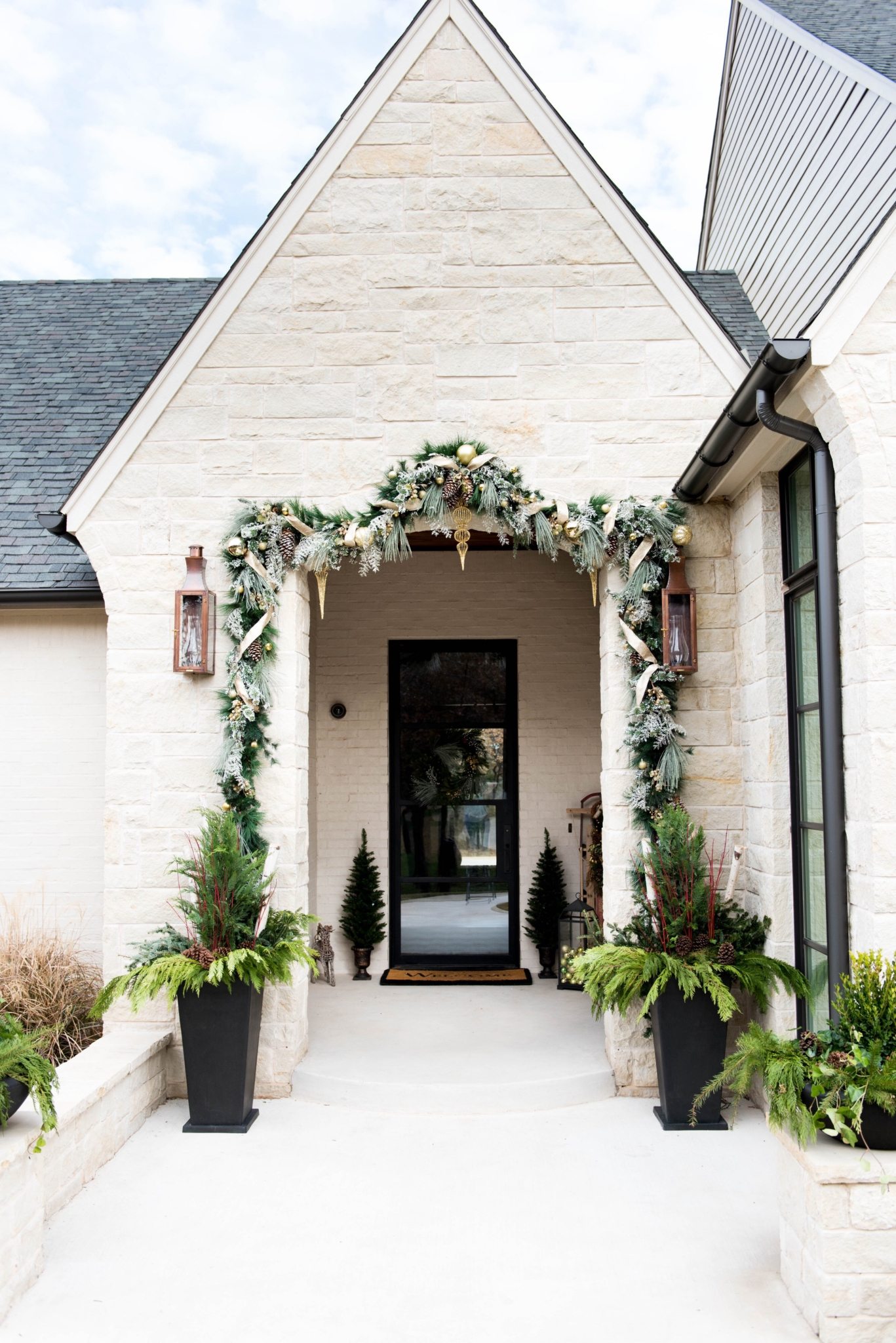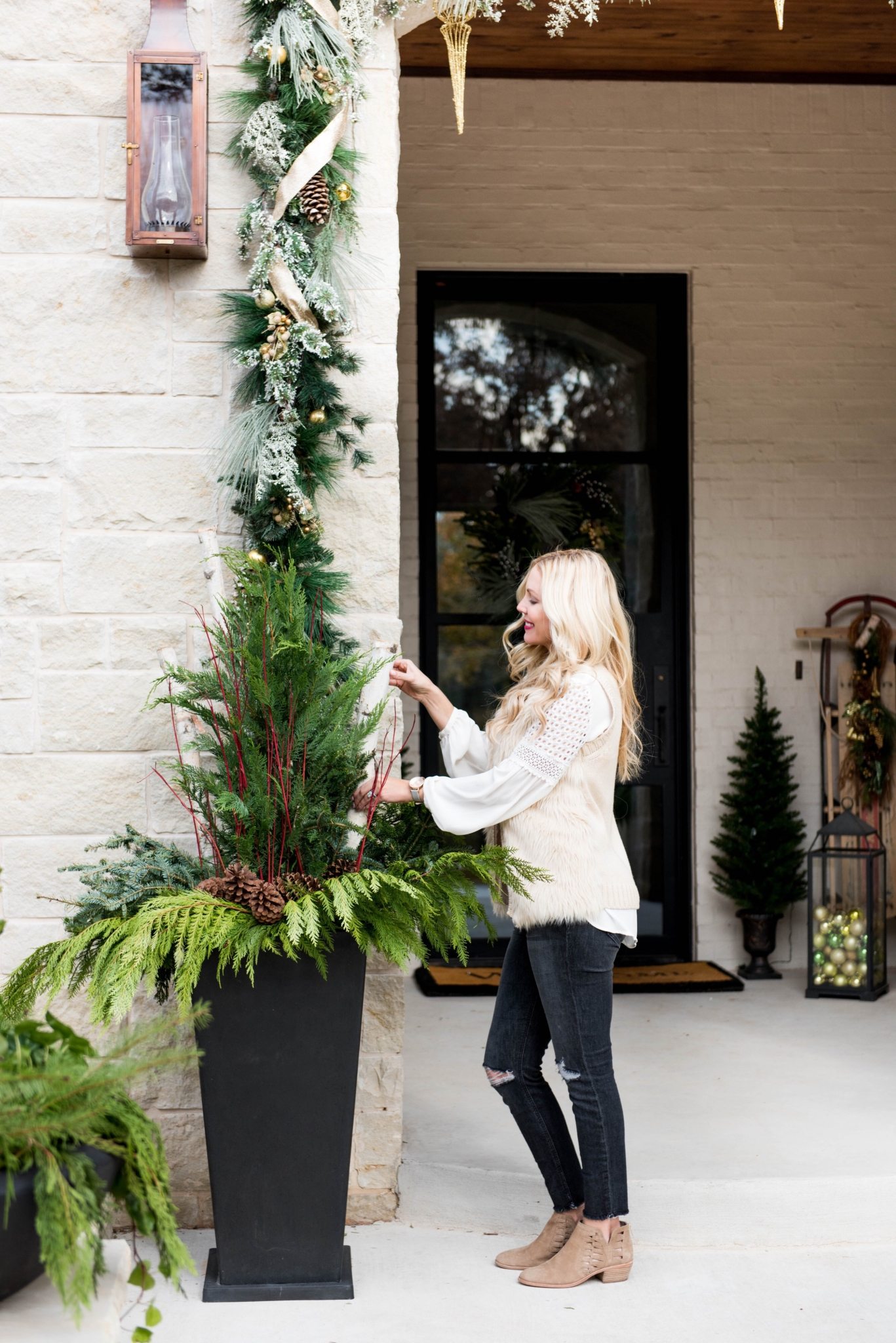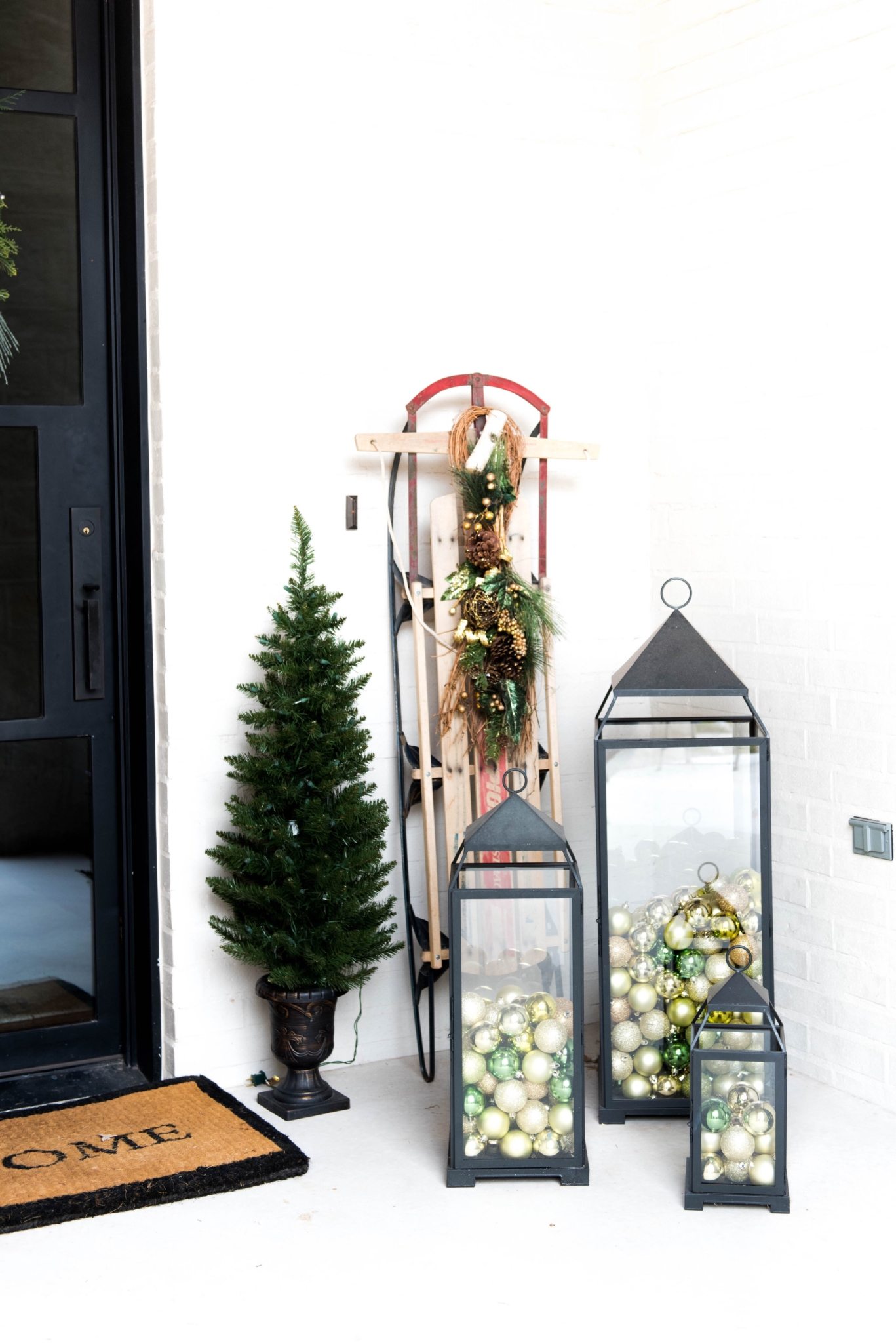 GET THE LOOK: OUTDOOR (some items are exact and some are very similar)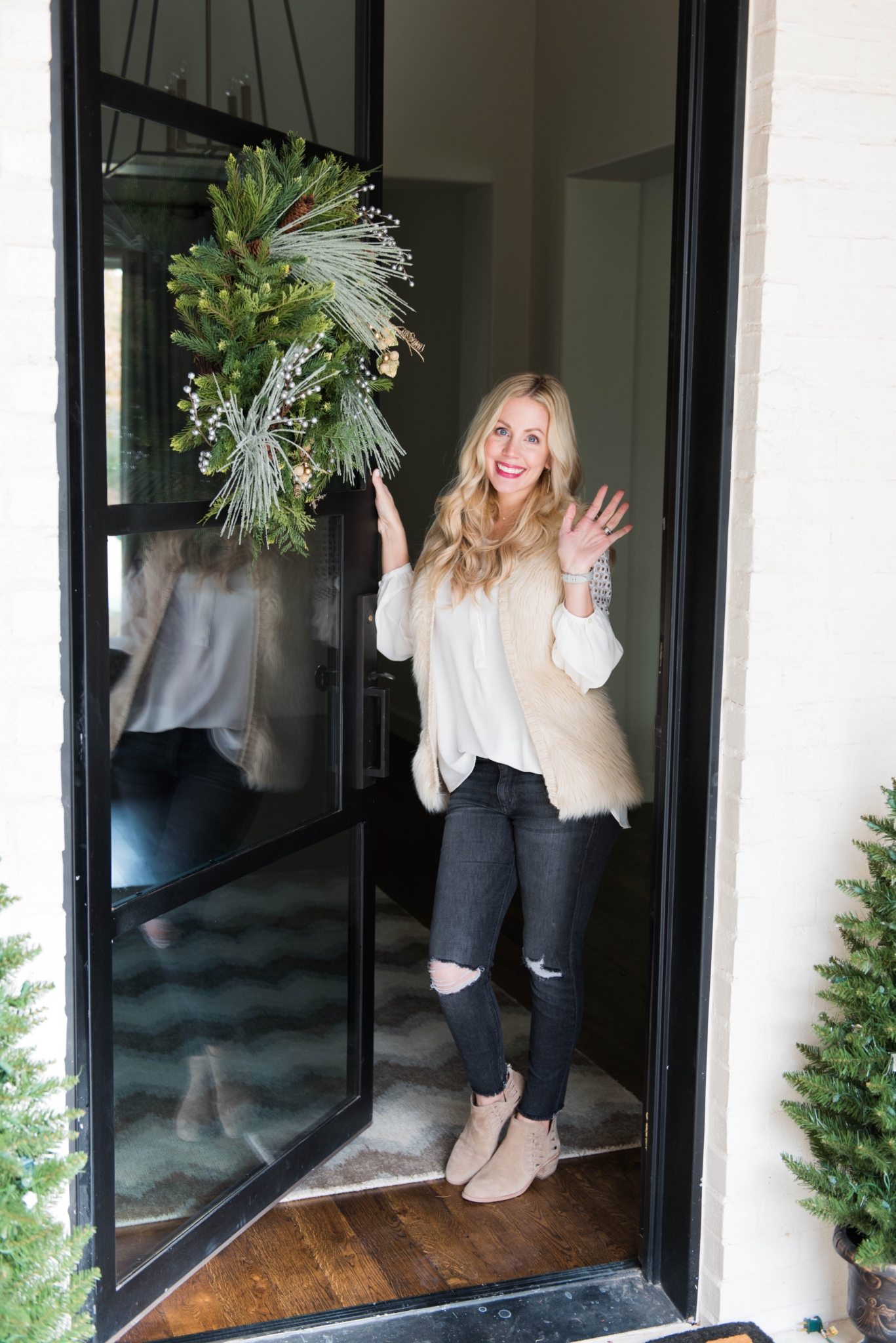 Let's go inside and check it out! Welcome and come on in! Right around the corner from my entry is my living room. First thing you see is the tree tucked in the corner. In keeping with the tones of my house, I did a white, gold and silver tree and Christmas decor for that matter. We have had this tree at least 10 years and I'm hoping to get a taller one before next year. But I just love it and its thickness. This tree can swallow some ornaments too! I couldn't even tell you how many hundred's of ornaments are on it. I do ornaments first(largest to smallest), then greenery/picks/sprays, and then ribbon and finally you'll notice the precious white paper that reads "Have a Very Merry Christmas". That was bought last year from Pottery Barn and I am sorry but I could not find a similar item anywhere to link for my readers. One tip I can offer that one of my oldest friends taught me a long time ago…do your tree topper just how you want it and wire and zip tie it all in and then just place it back up there each year. We keep it in a separate plastic tub and as soon as it goes down from the tree (my tree is in 3 sections), it goes into the tub by itself so it doesn't get smashed all year in the attic. Comes out looking nice and neat, and saves me a ton of time every year.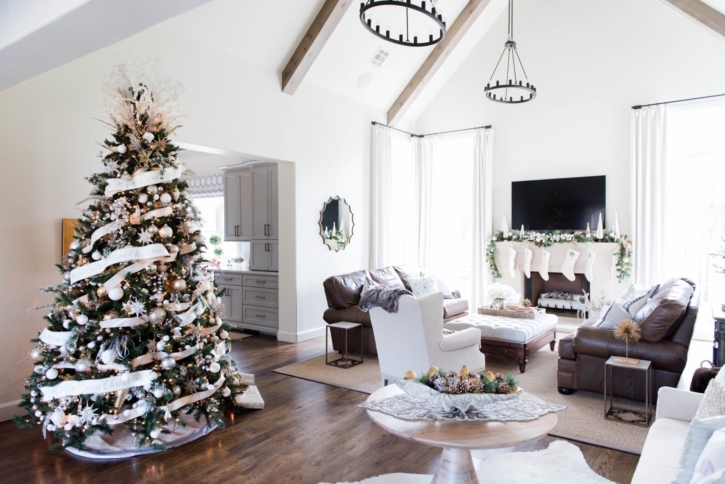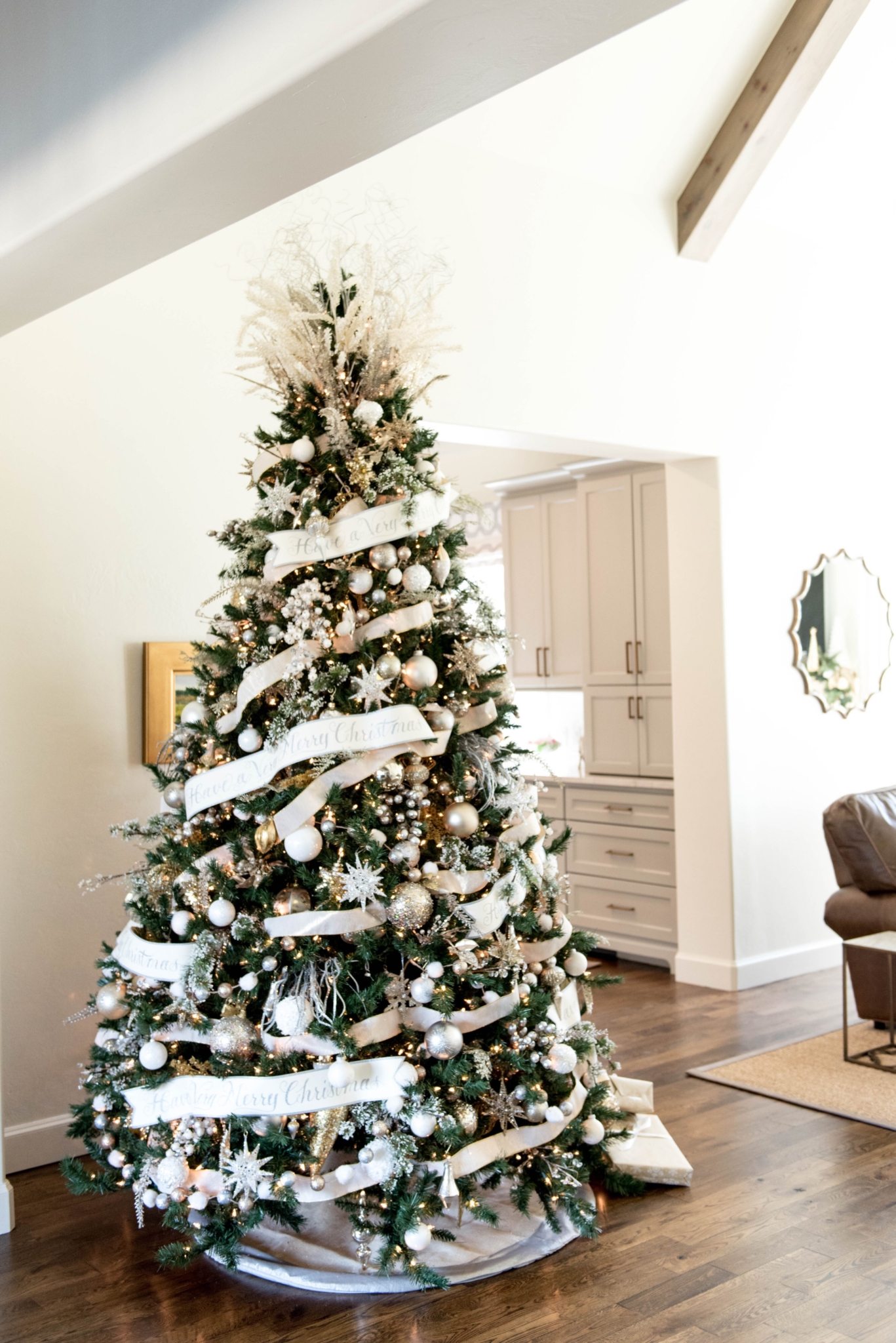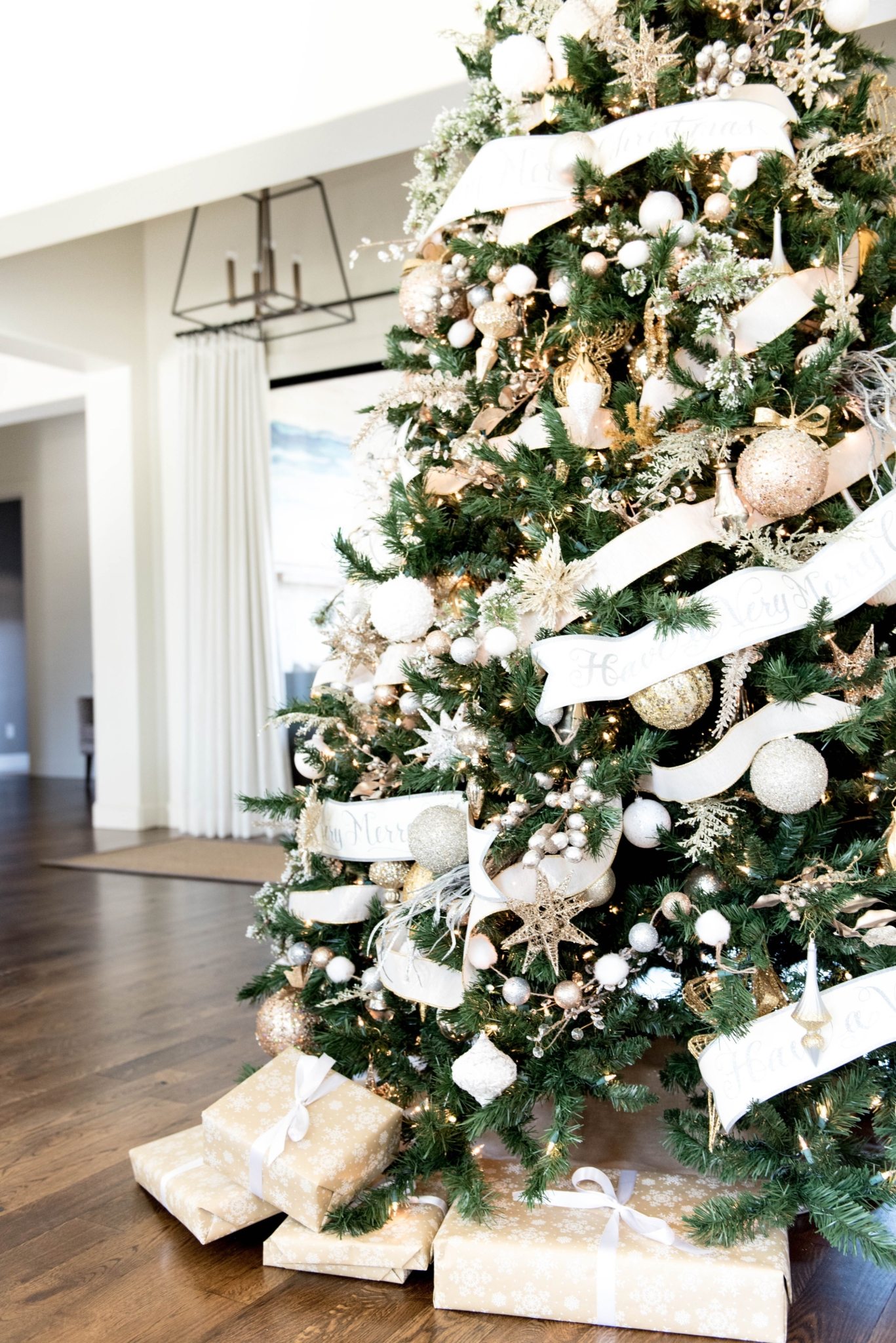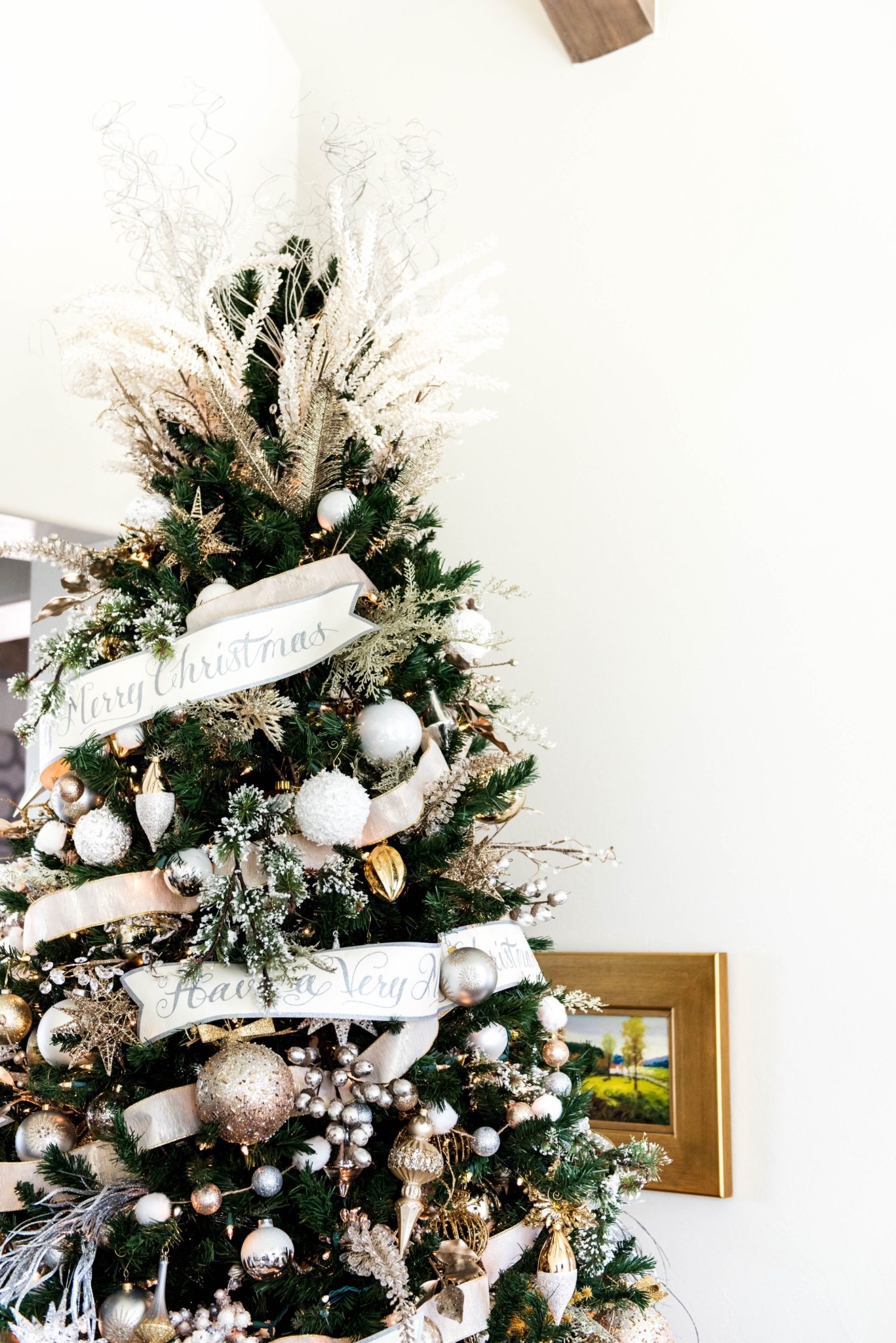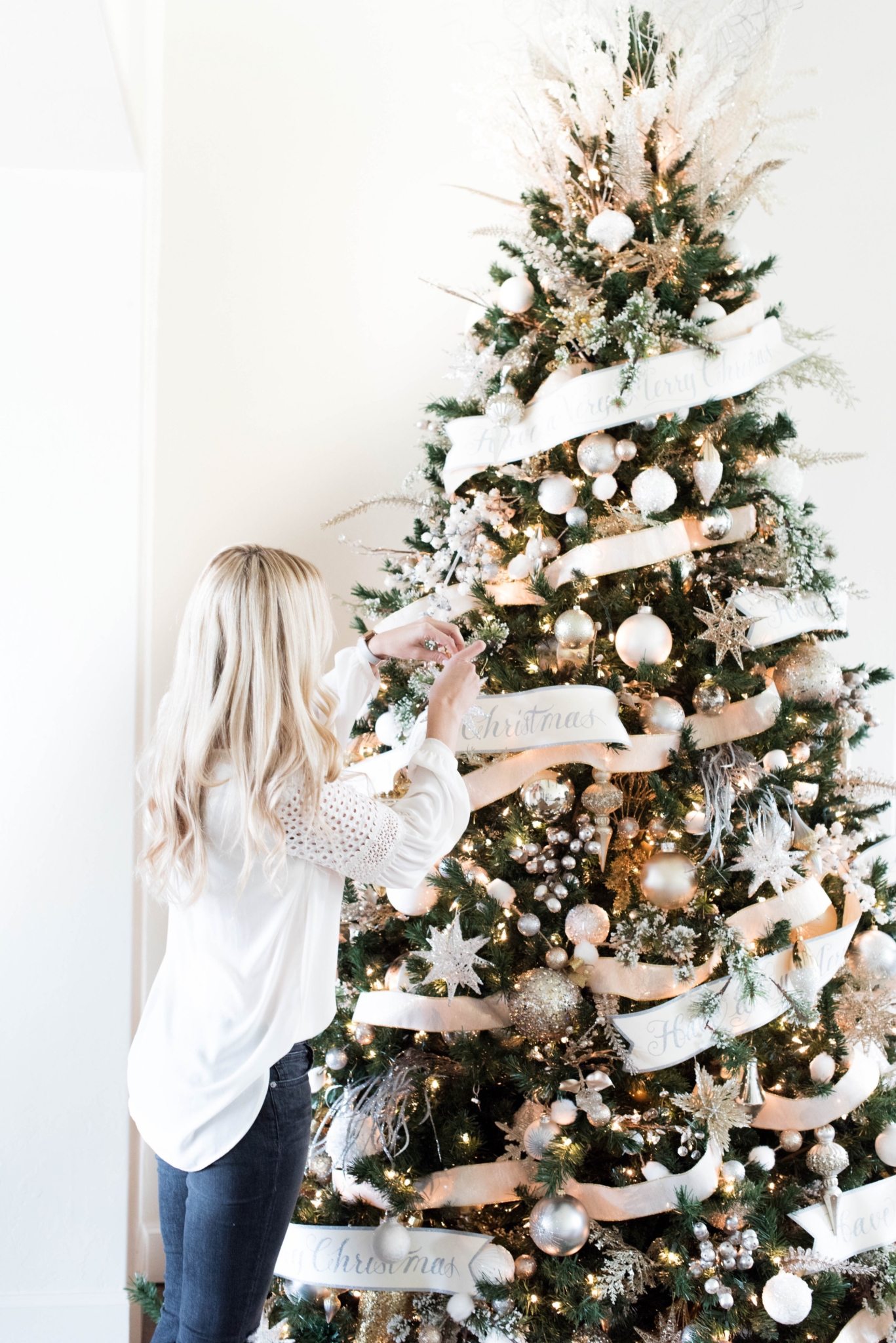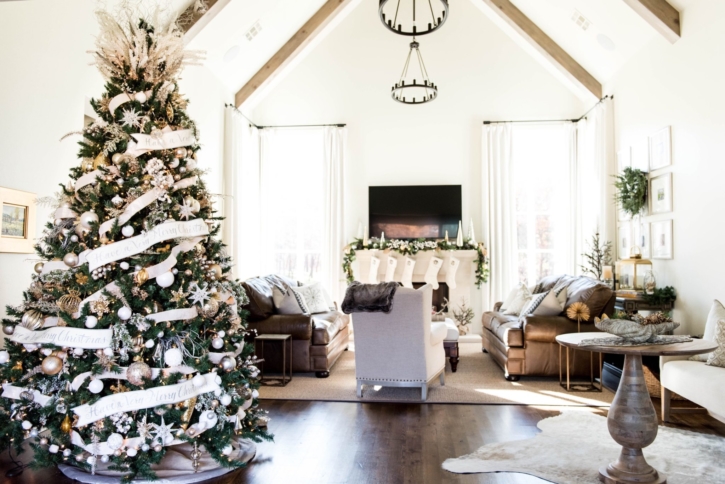 GET THE LOOK (CHRISTMAS TREE)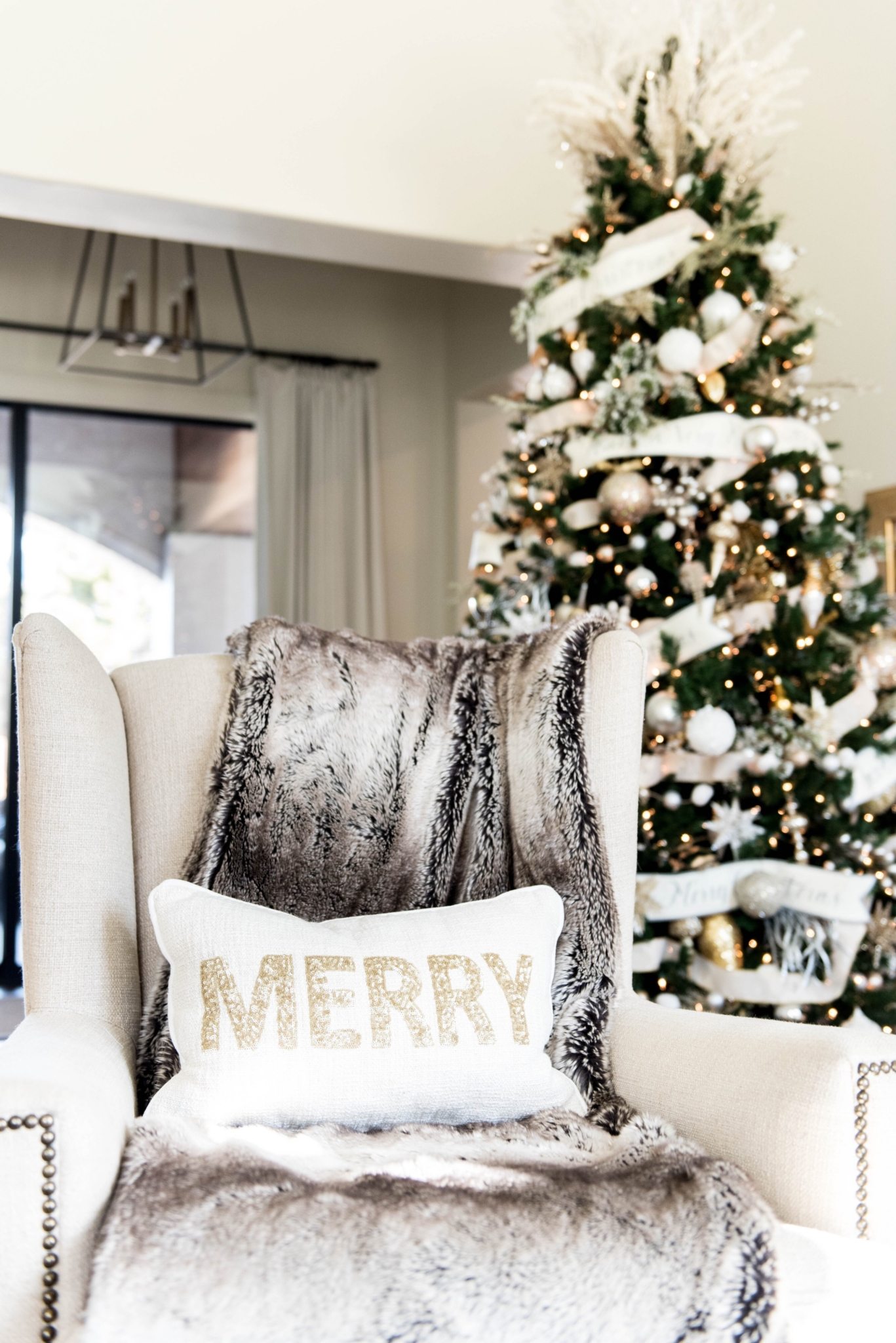 We have a few seating areas in our living room and this is one of them. The wreath over the gallery is one of my fave touches this year. Added some simple ribbon that is the same as my tree ribbon, and that was it. You'll notice we move furniture around during the holiday season. That is just to accommodate for the tree. Our console table is behind the sofa during this time, and I've got my go-to brass lantern filled with some simple ornamnents and a white candle. The faux lit spruce is so cute in person…I have 2 sizes and love them both. I added a few other subtle, yet festive touches and the table was done. On the sofas, glam pillows jazz up the space and you've got to have faux fur in there somewhere. This throw is so comfy, my kids use it all year long.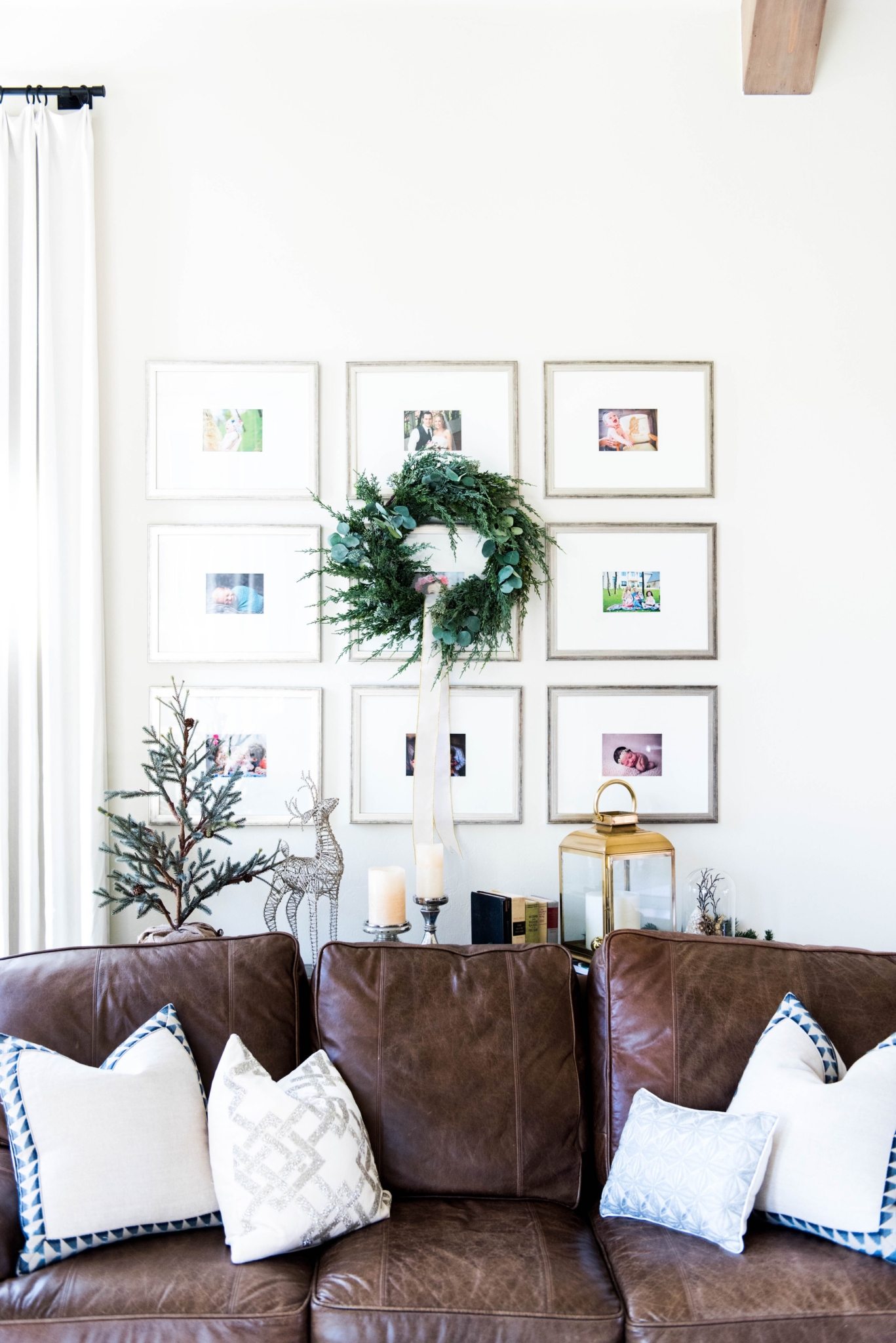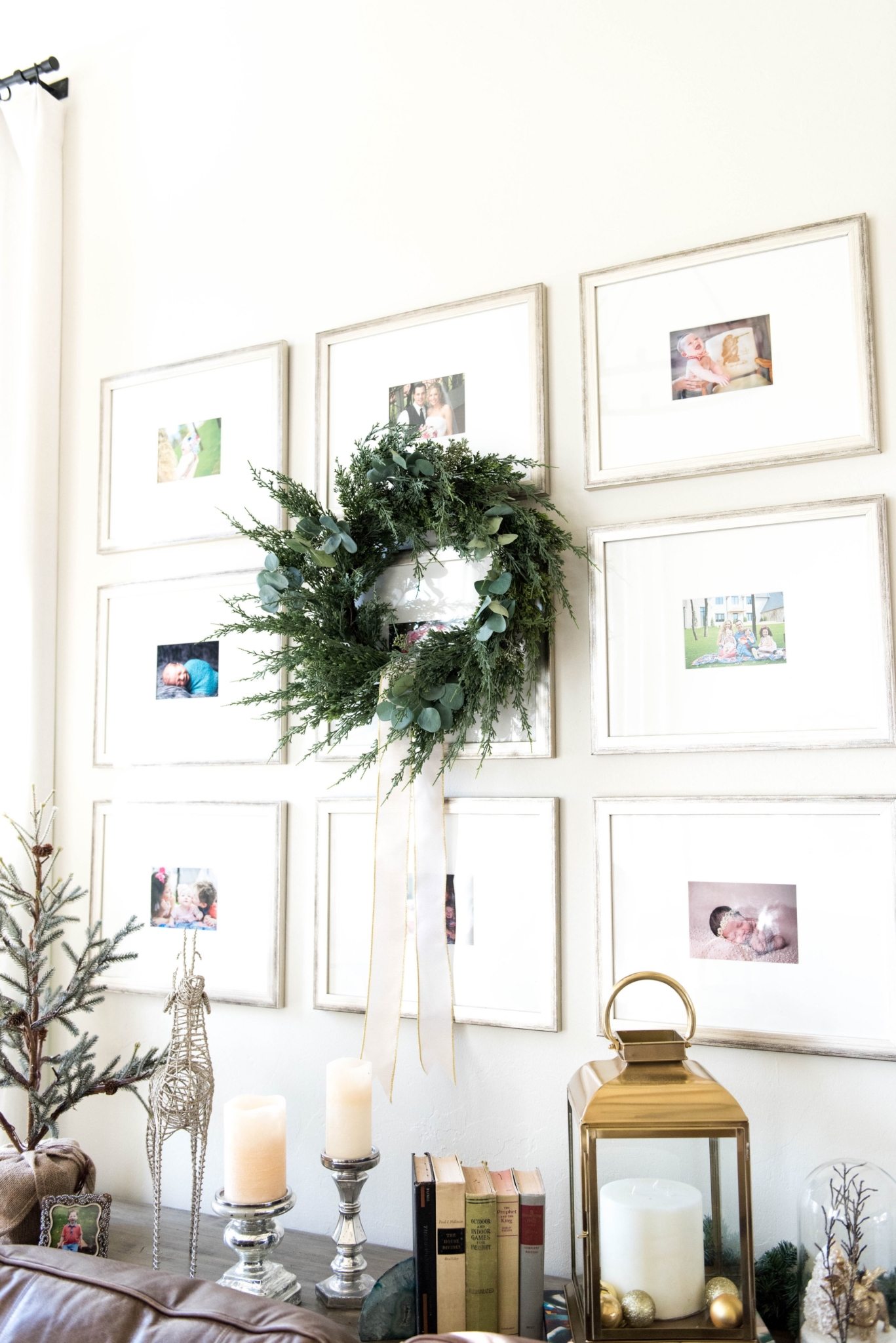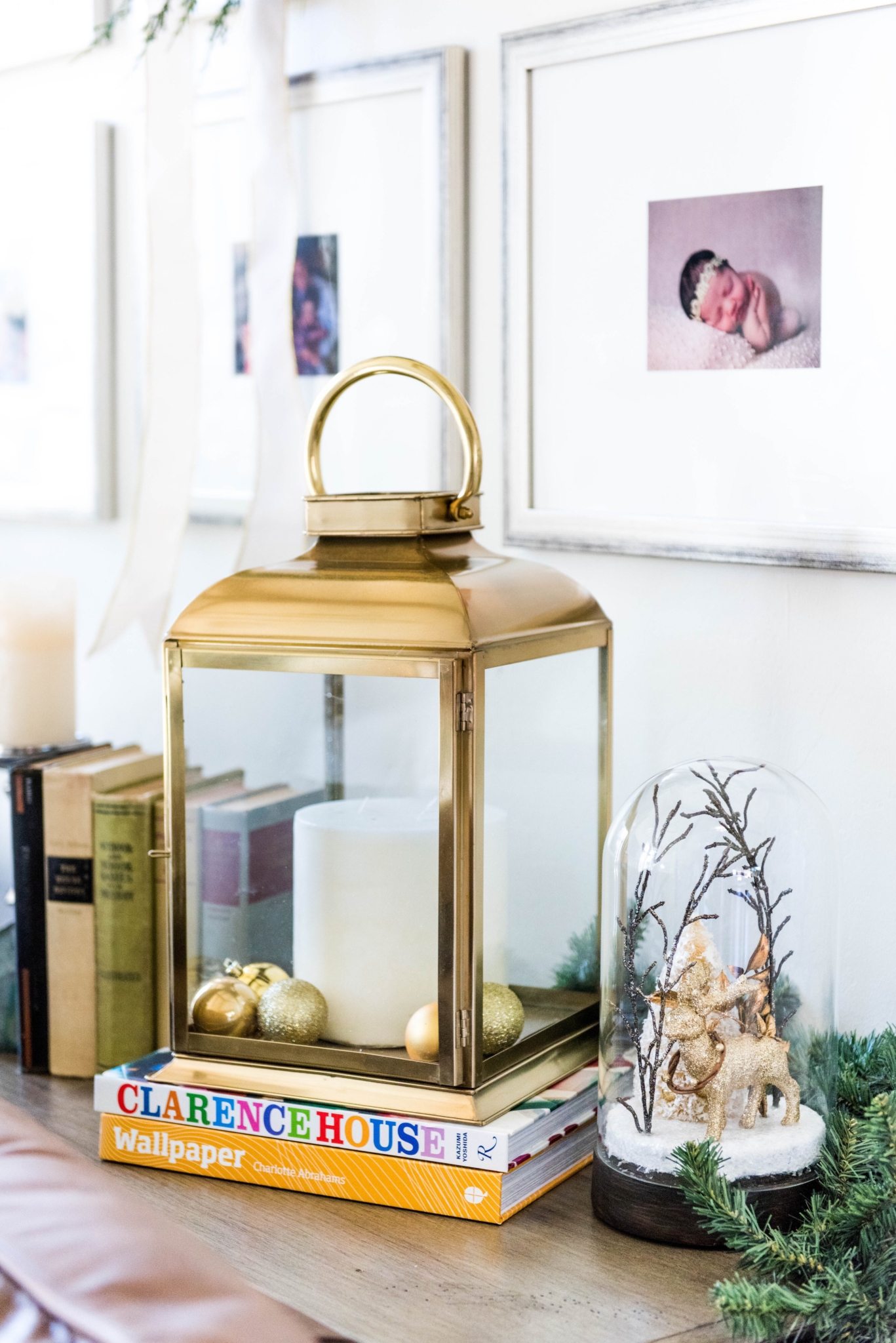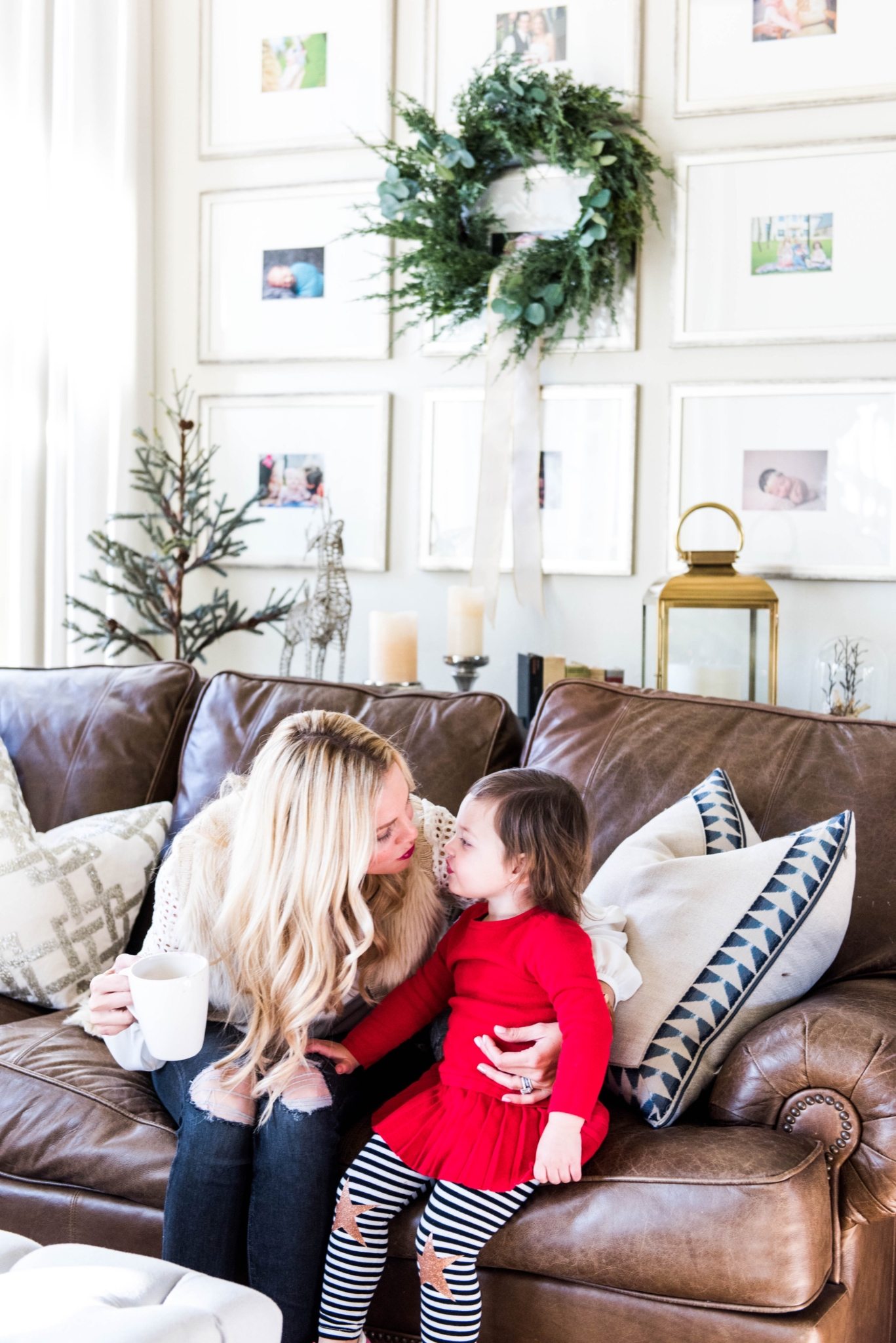 Another small seating area we have in the living is this cream banquette with cowhide rug vignette. I love the art hanging above the bench..its from a gallery in Austin, TX and the artist is Peggy Seiders. Notice the gorgeous sequined pillows…They are from Annie Selke and are called the Bolly Ivory Decorative Pillow. They add such a nice touch of glam to my seating area with the subtle gold shimmer of the sequins. I love all products from Annie Selke and these pillows are showstoppers and go well with my light, neutral decor.  I also have my gilded clam shell filled with golden pinecones and sprigs.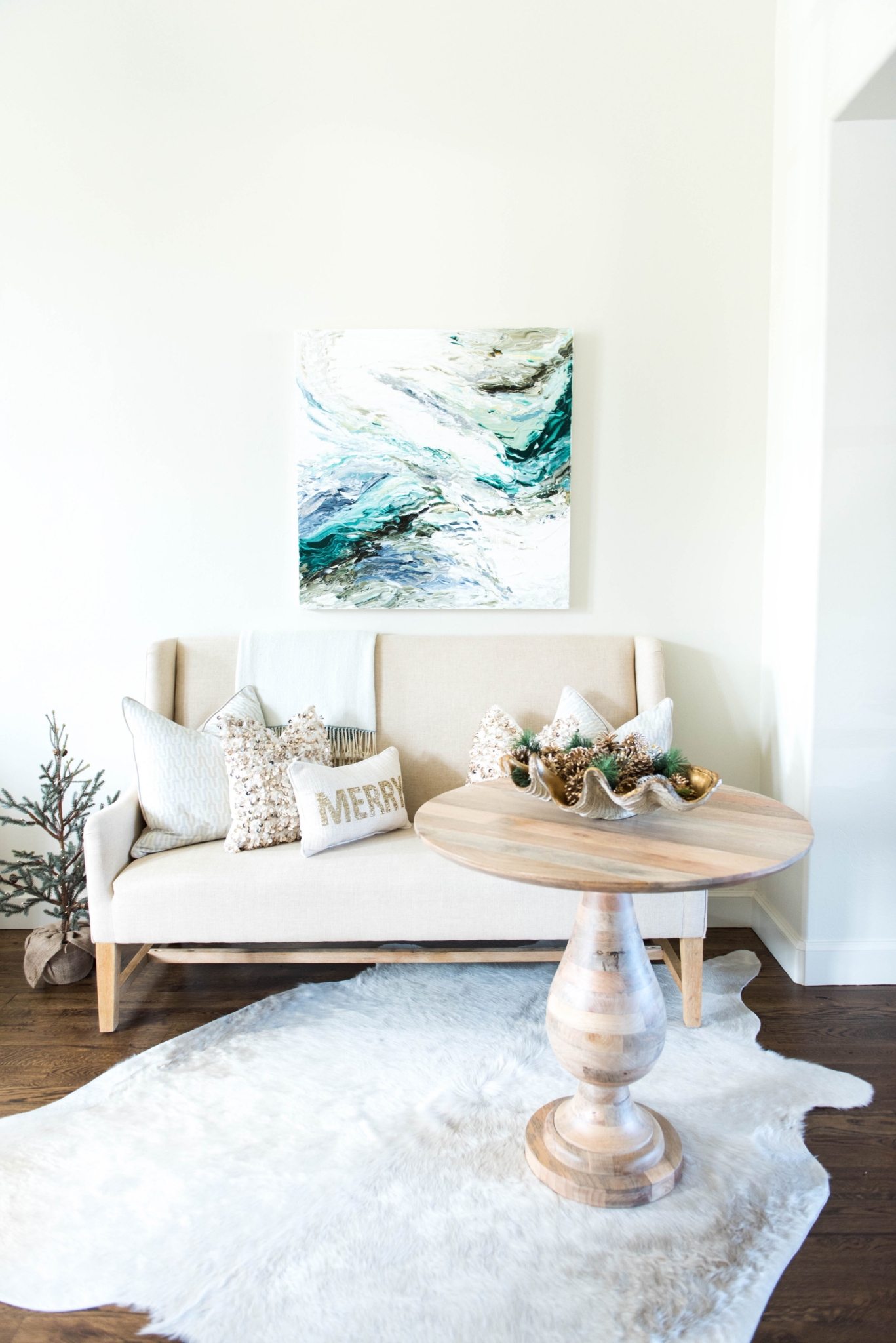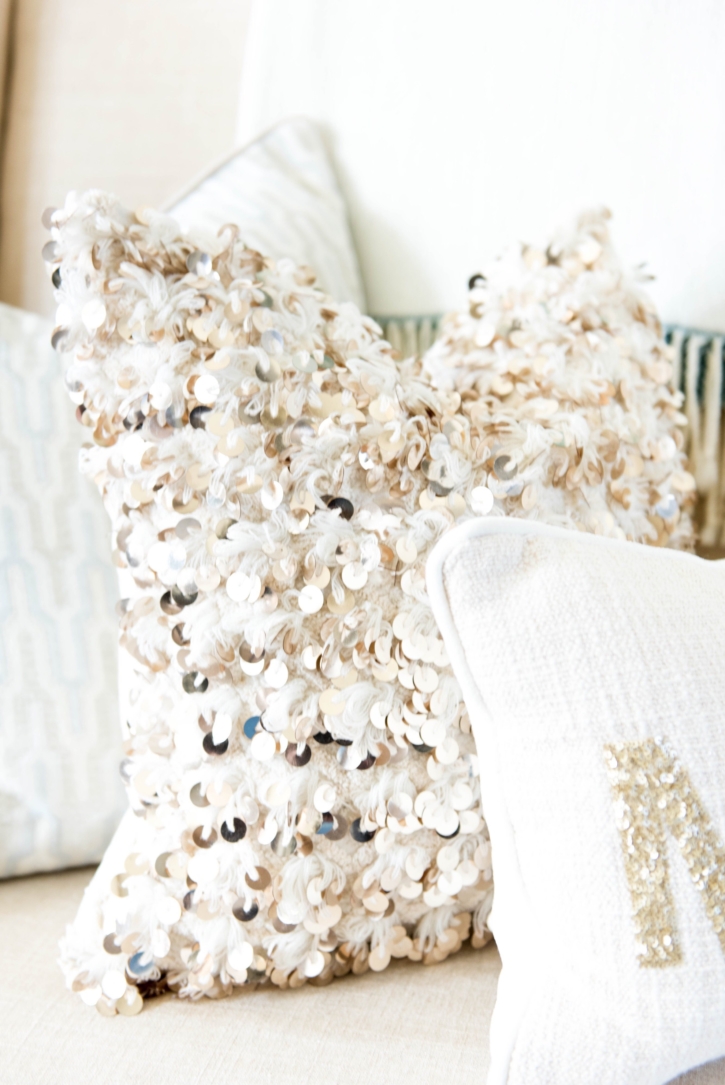 GET THE LOOK (LIVING AREA)


My mantle has varying glass and metal trees placed randomly around and 2 garlands rest on top of the cast stone. It was a pre-made garland, but I added some additional greenery and ornaments to it to give it a little more oomph. And the stockings turned out so well. Just simple linen stockings and had them monogrammed. On my ottoman, I have some of these faux stems and some decorative antlers and simple books. I always keep my wooden beads out year round. Love the shape they bring to any vignette.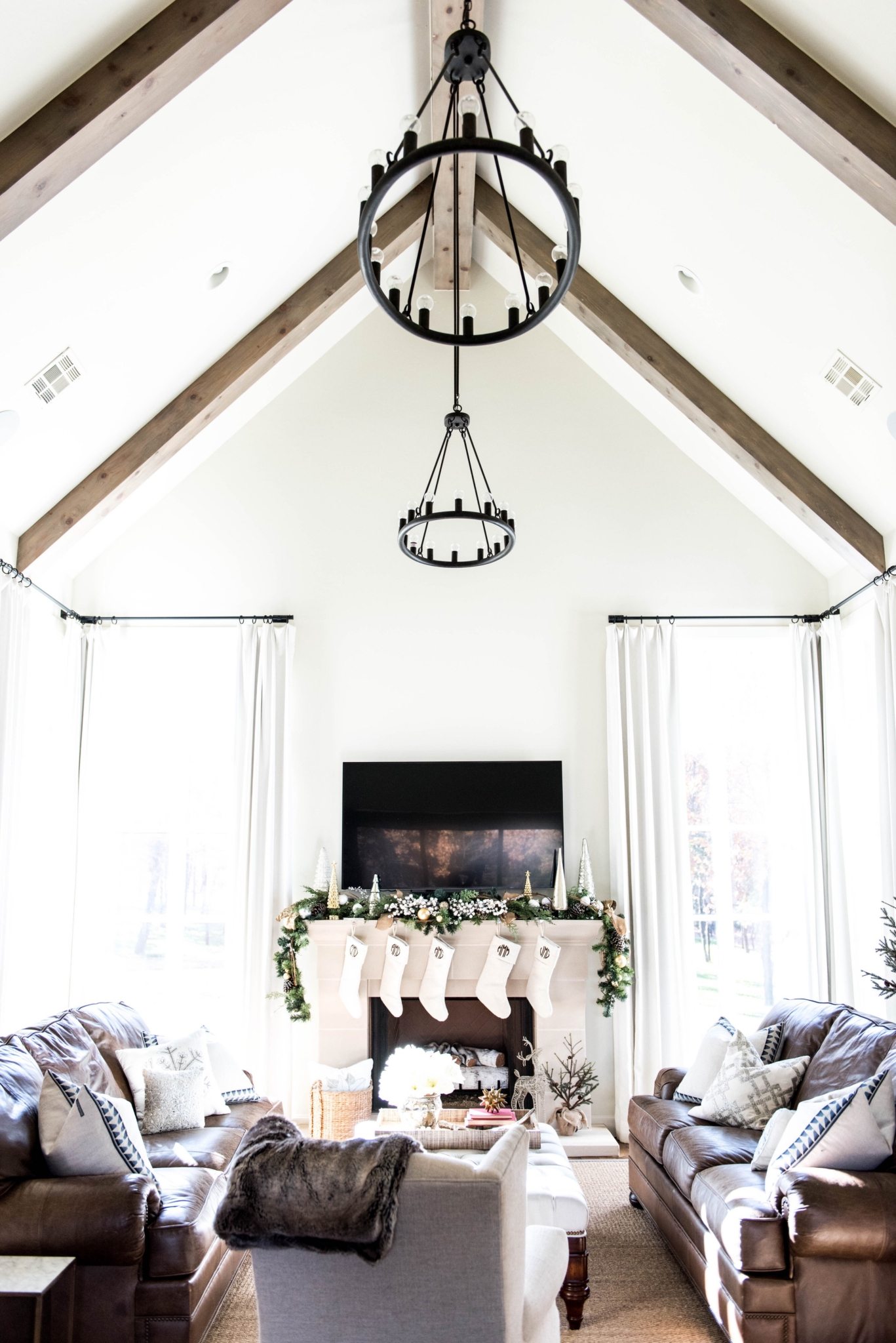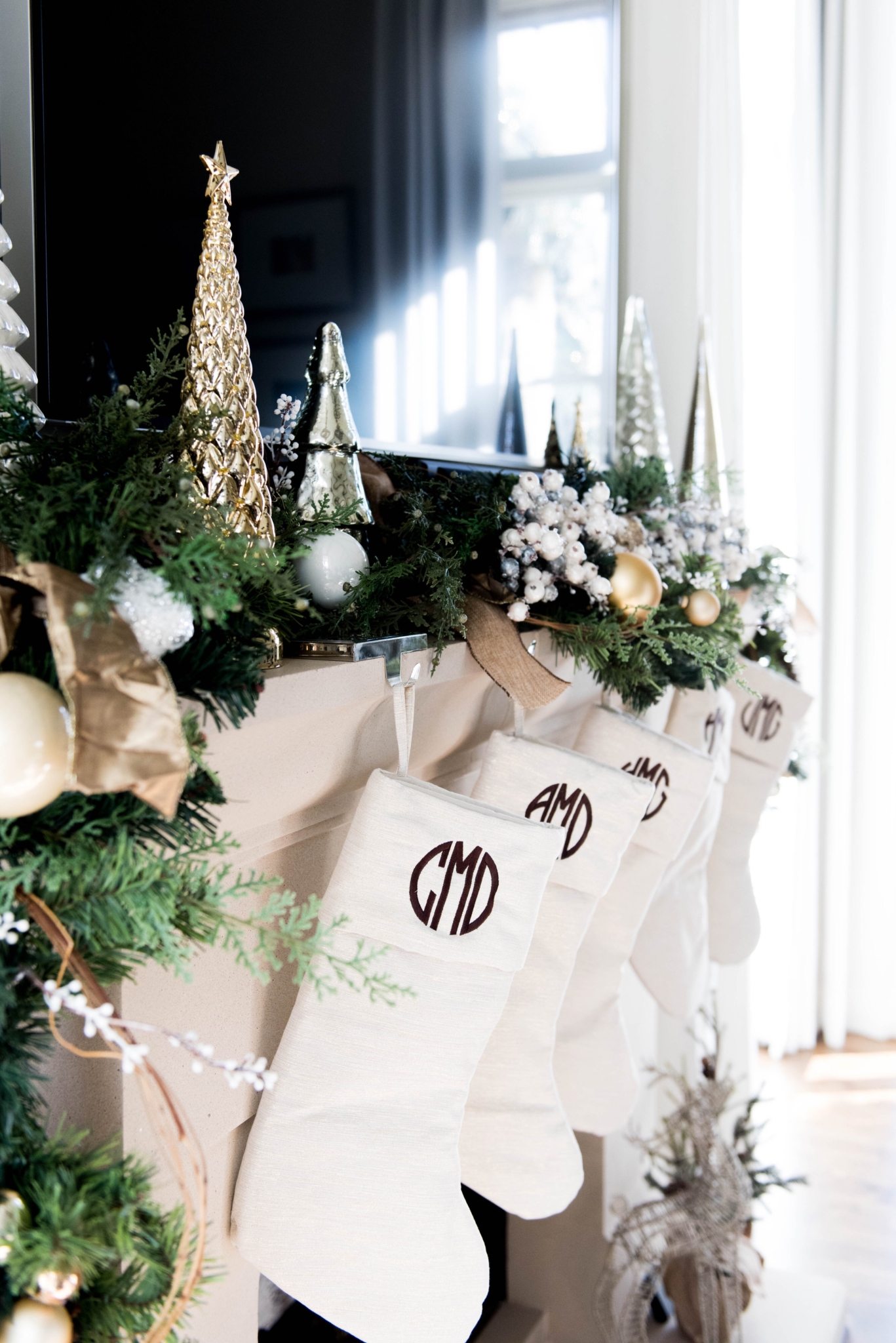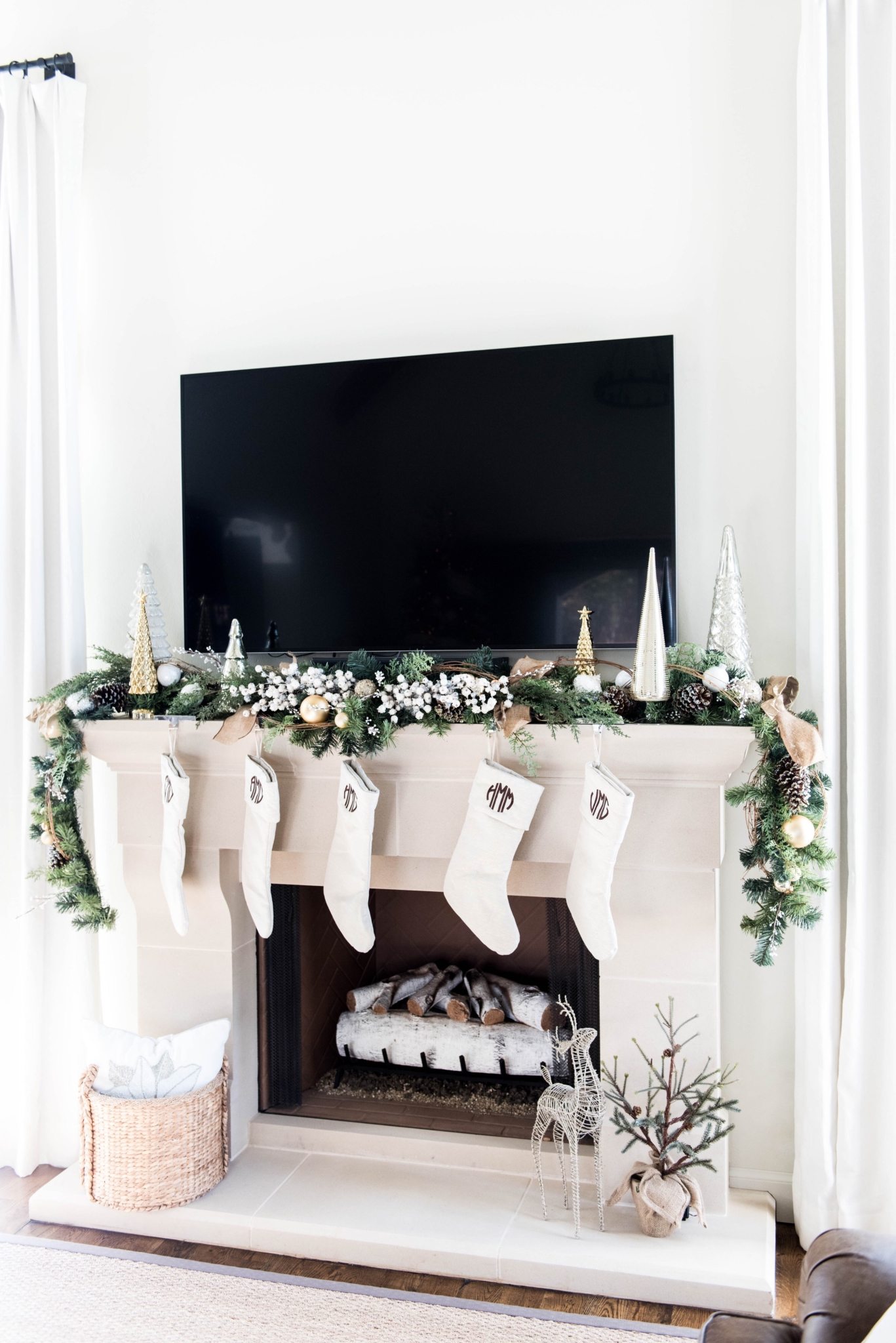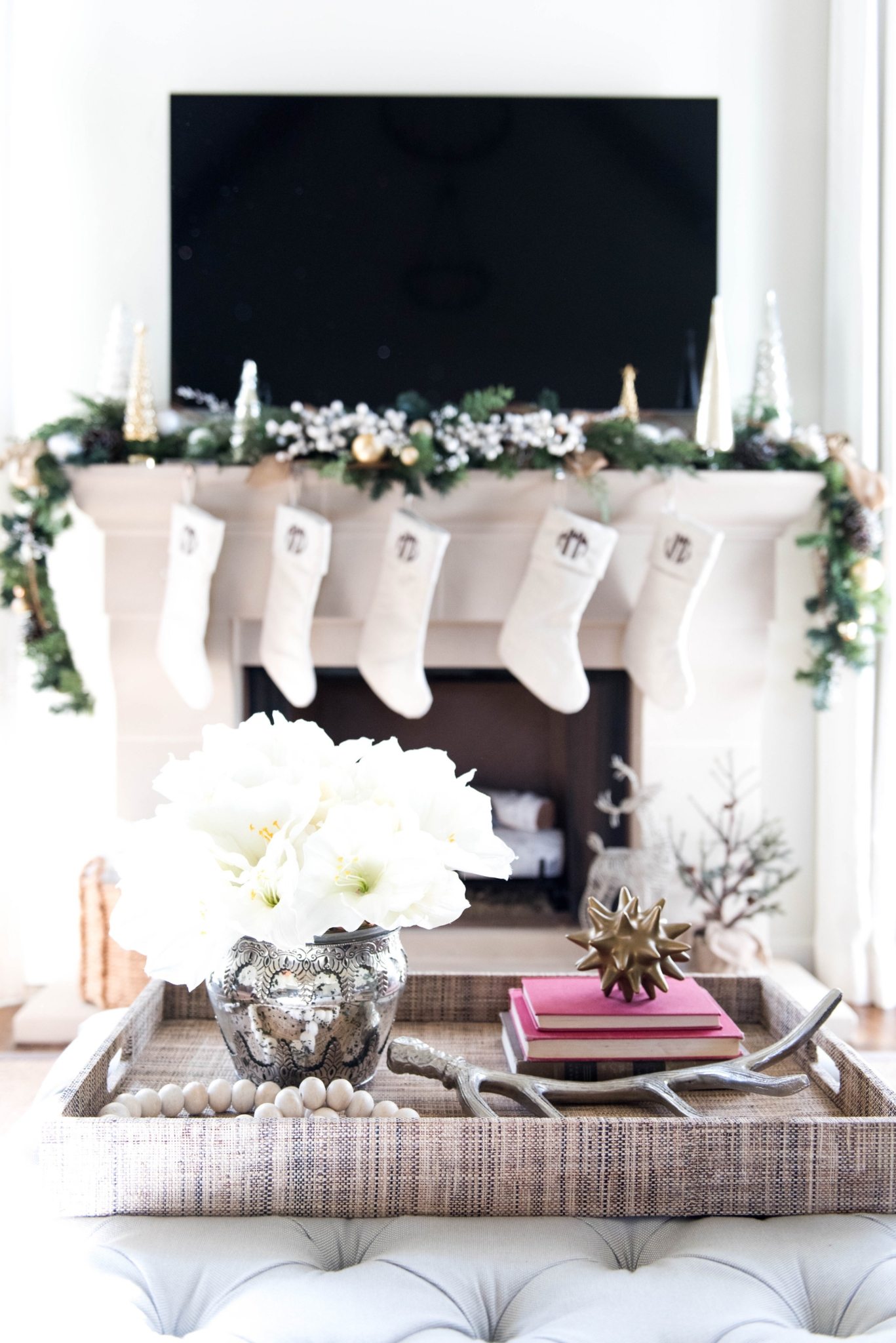 GET THE LOOK (MANTLE AND COFFEE TABLE)


Just next to my living space is the kitchen..or the heart of our home! We are always gathered in here around our island, with my oldest working on homework and me either cooking or cleaning up after a meal. We have a touch of red in here, which I think pairs nicely with all of the brass accents in this space. I've got detail shots of my open shelving that I restyle constantly and various decor on my countertops and the driftwood trees, which are over by my courtyard door.  On my island, I have the faux red stems in my antique brass vase. I placed some flocked pinecones around the tray. My newest purchase for my kitchen were the adorable marble and wood cake stands. I love them! TIP: I use a simple 3M command hook to mount my wreath on my backsplash.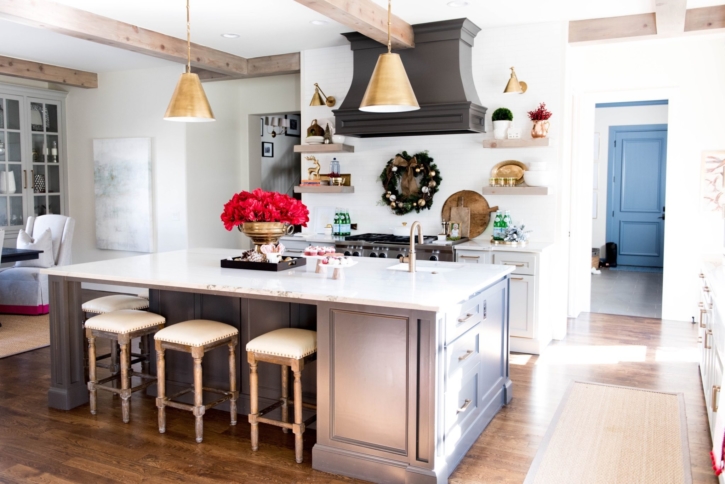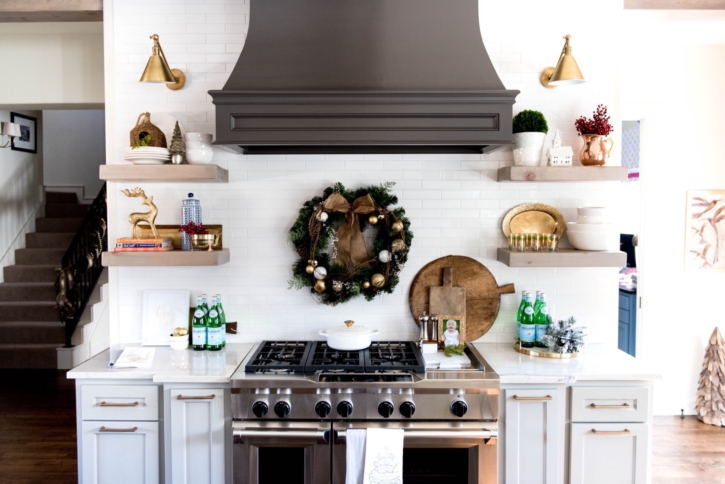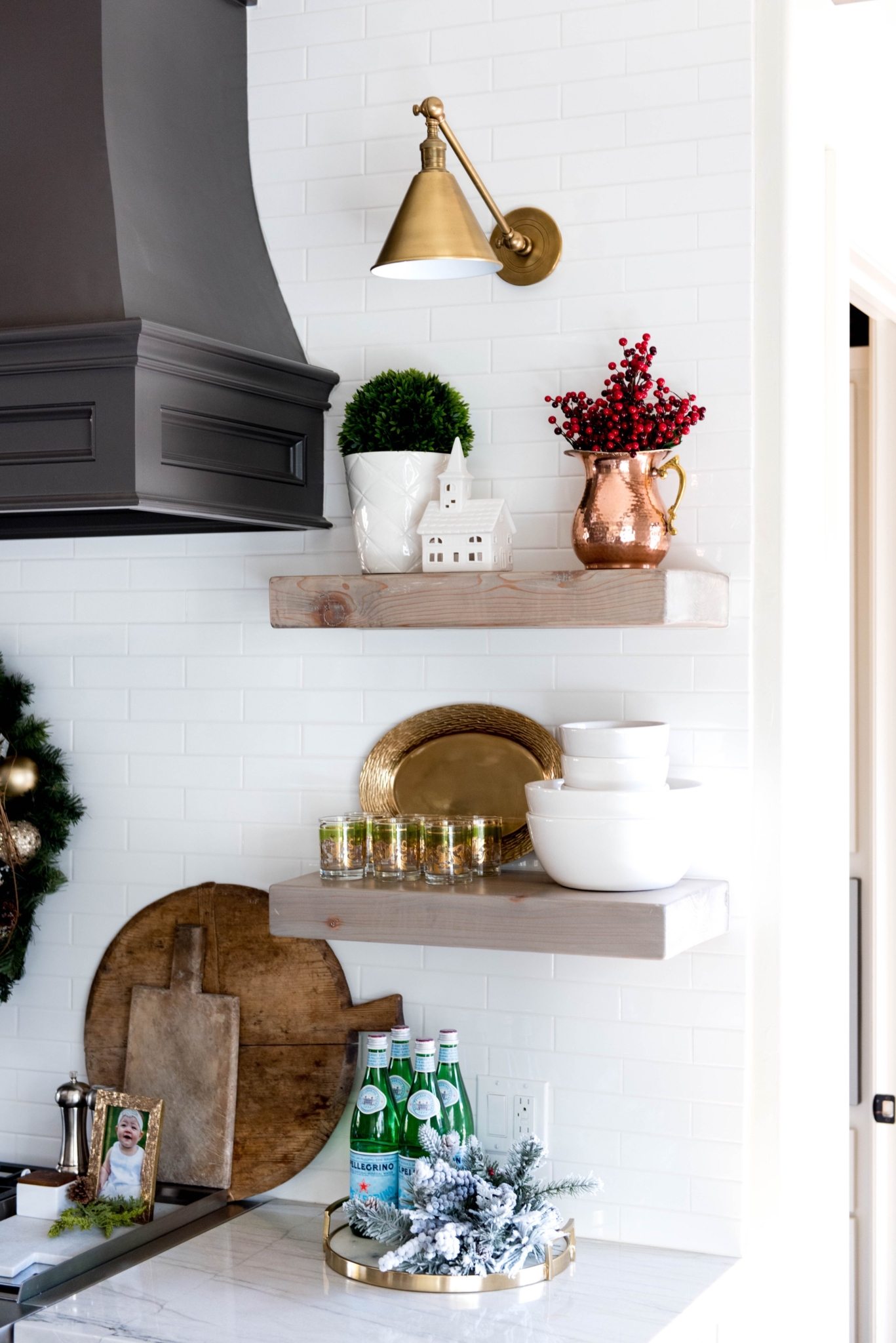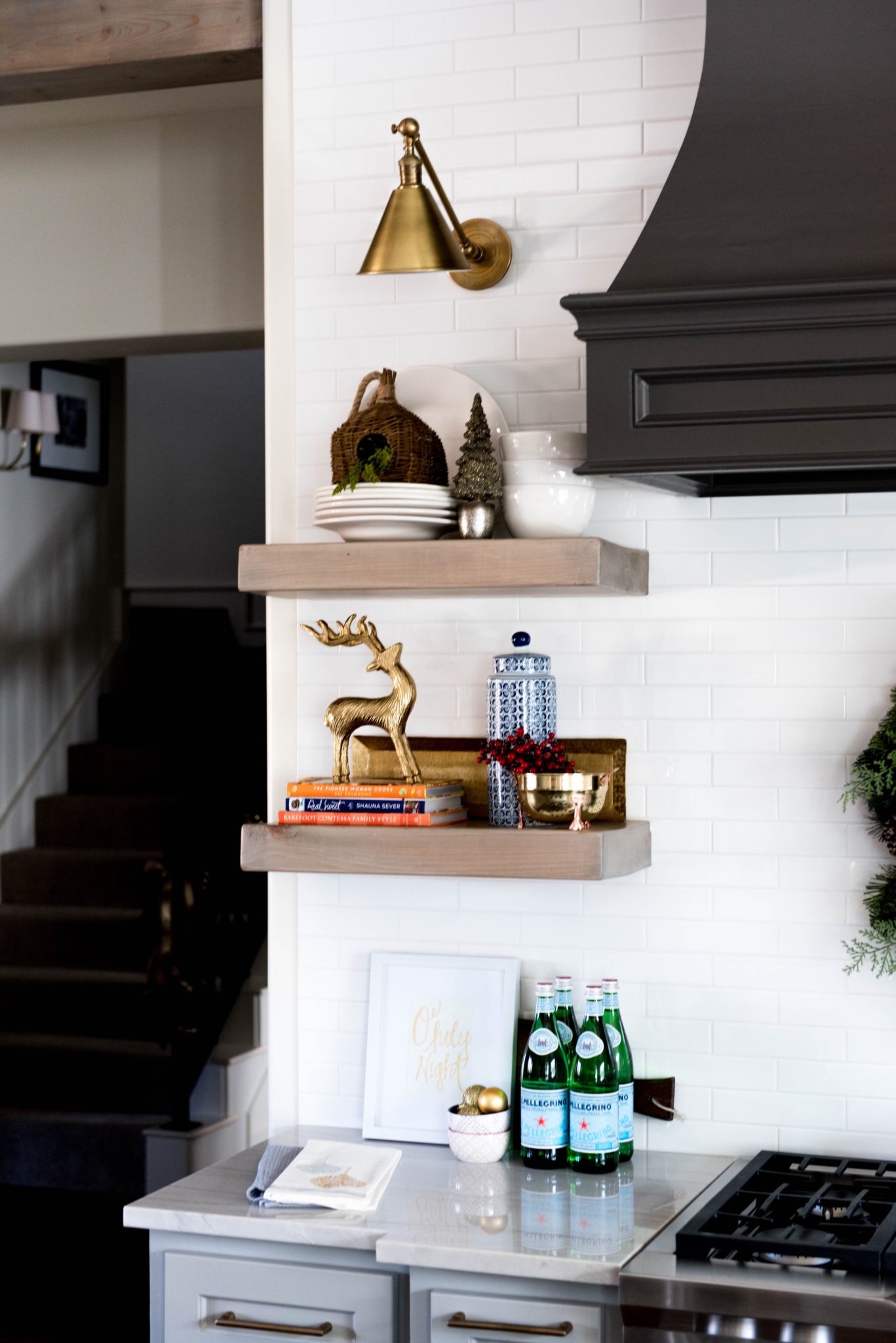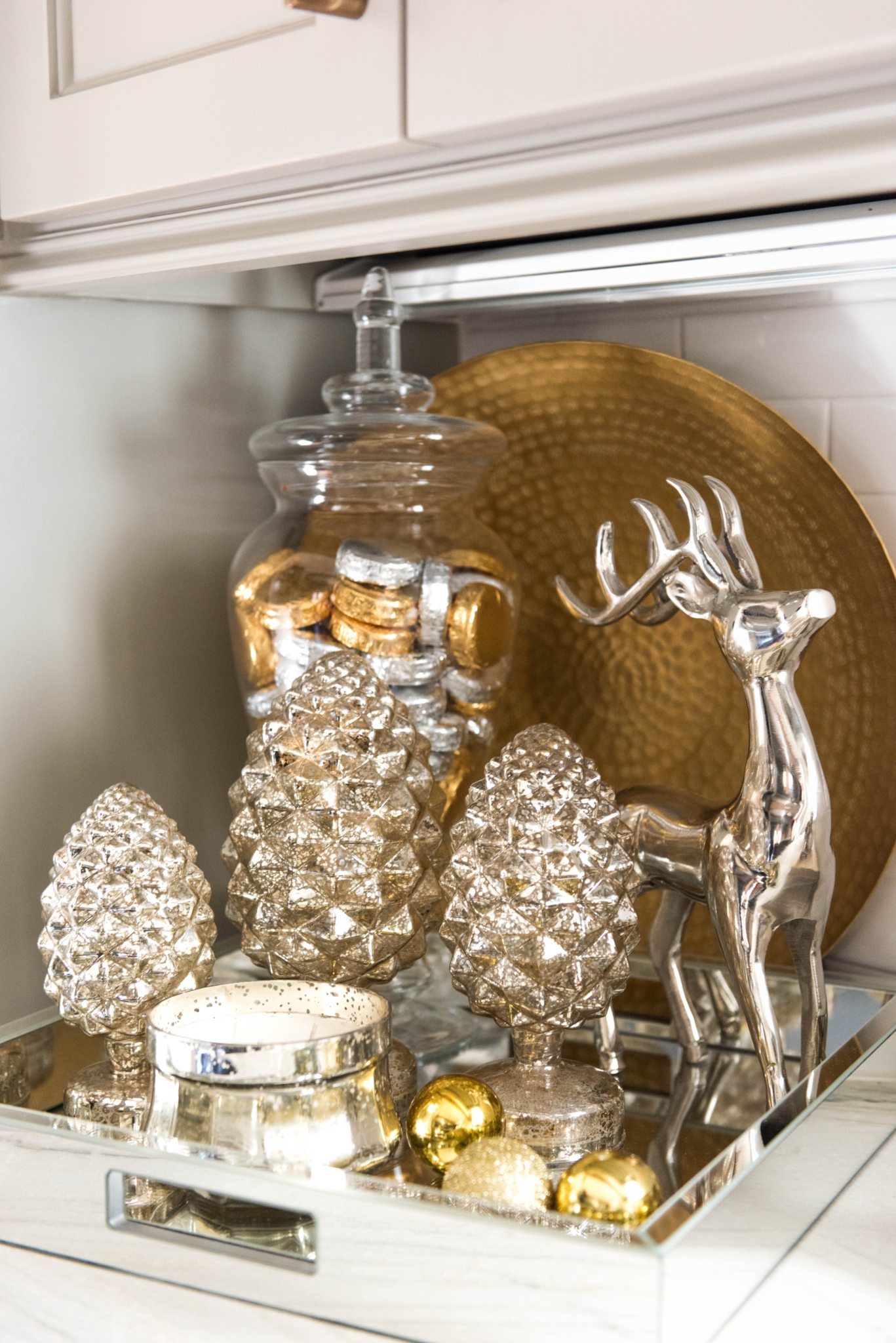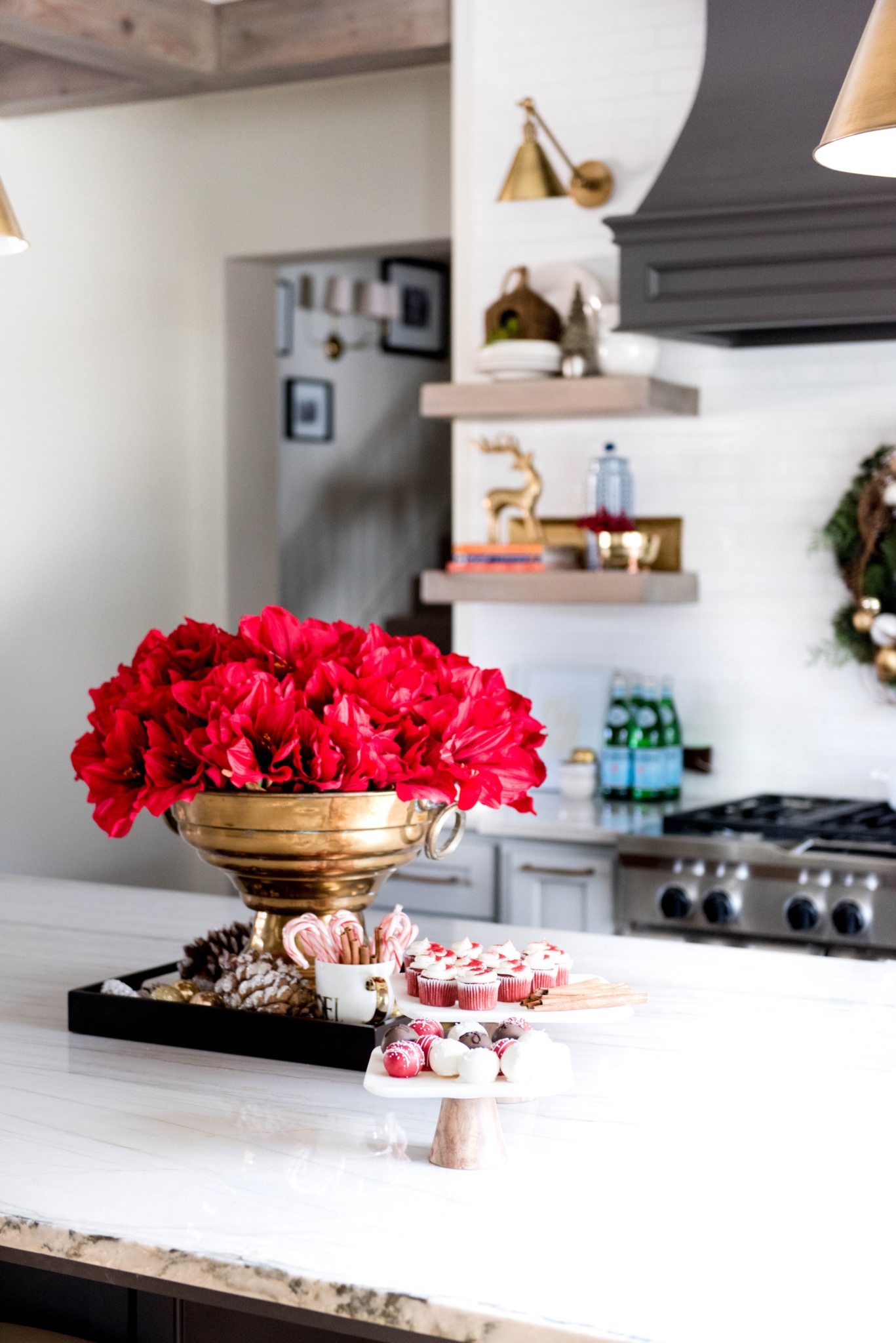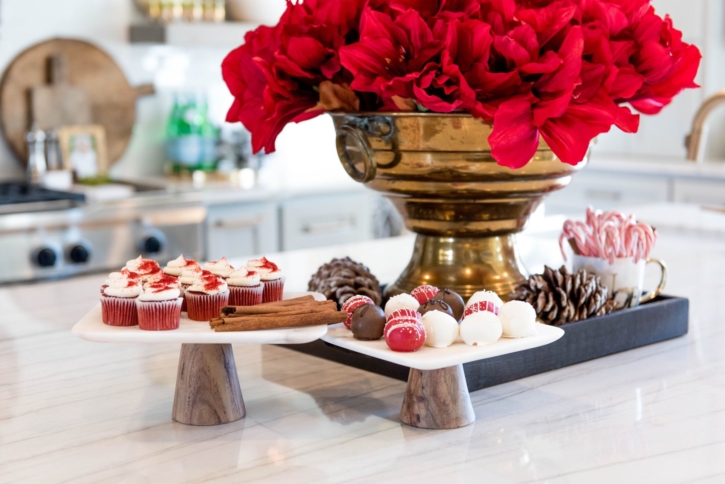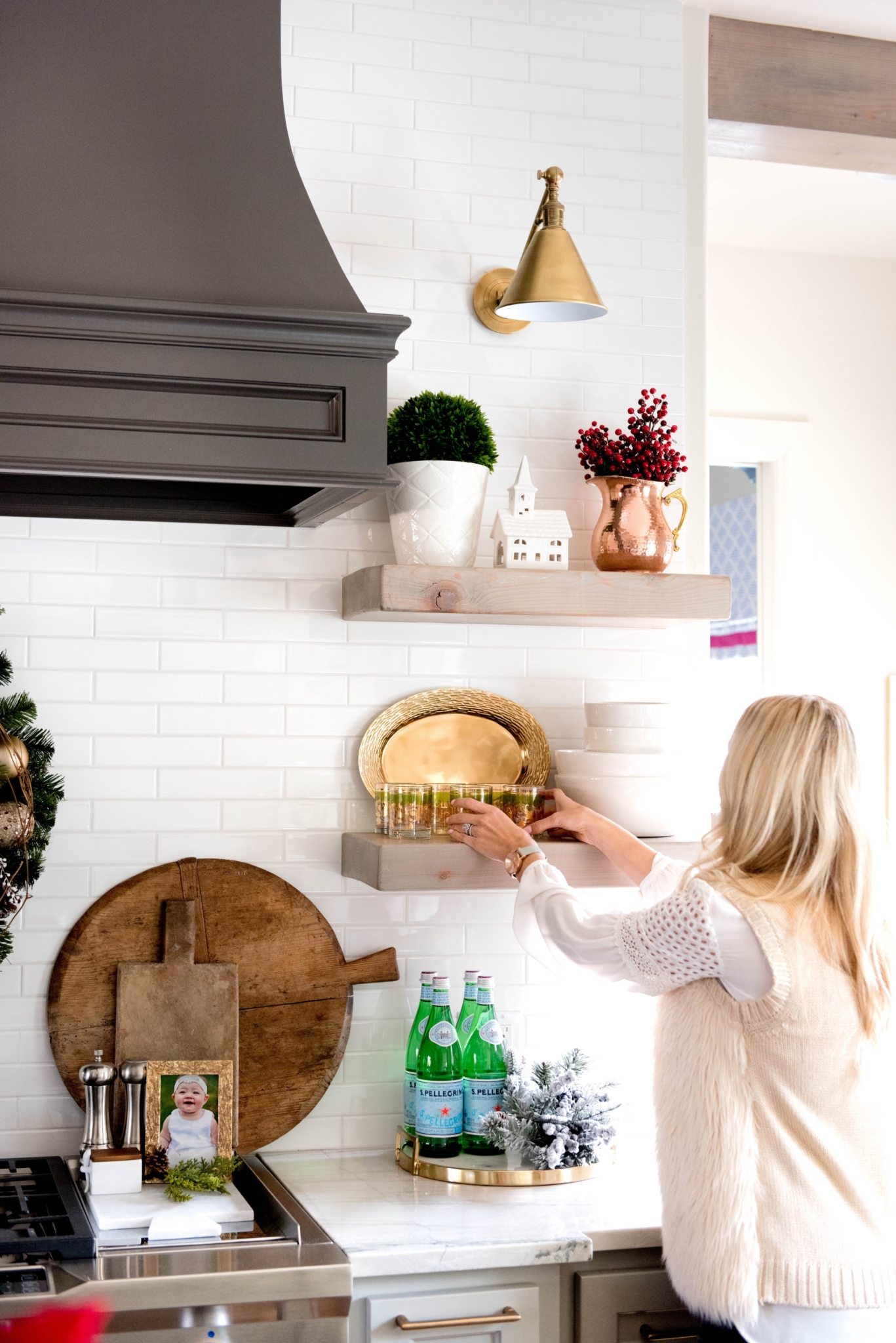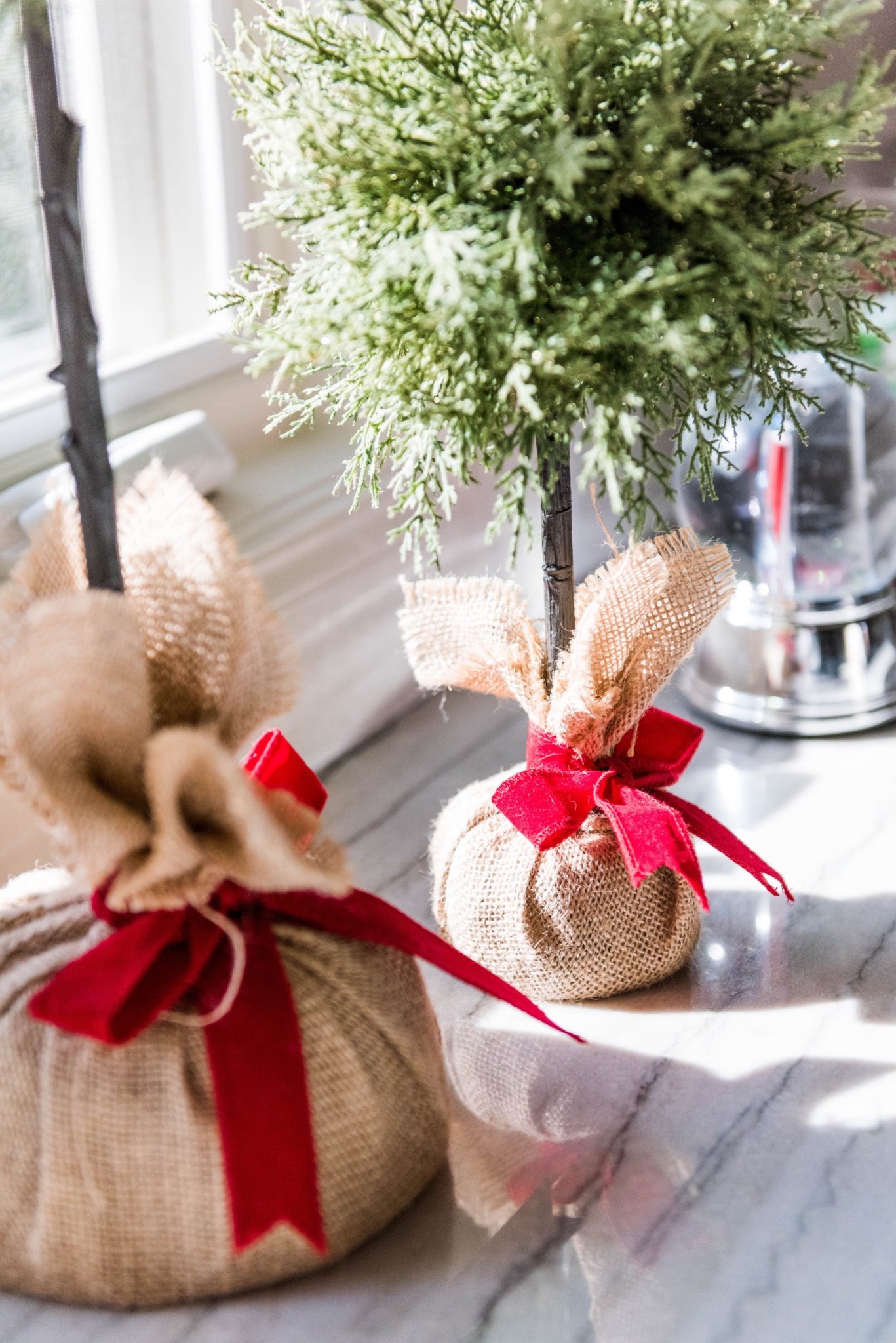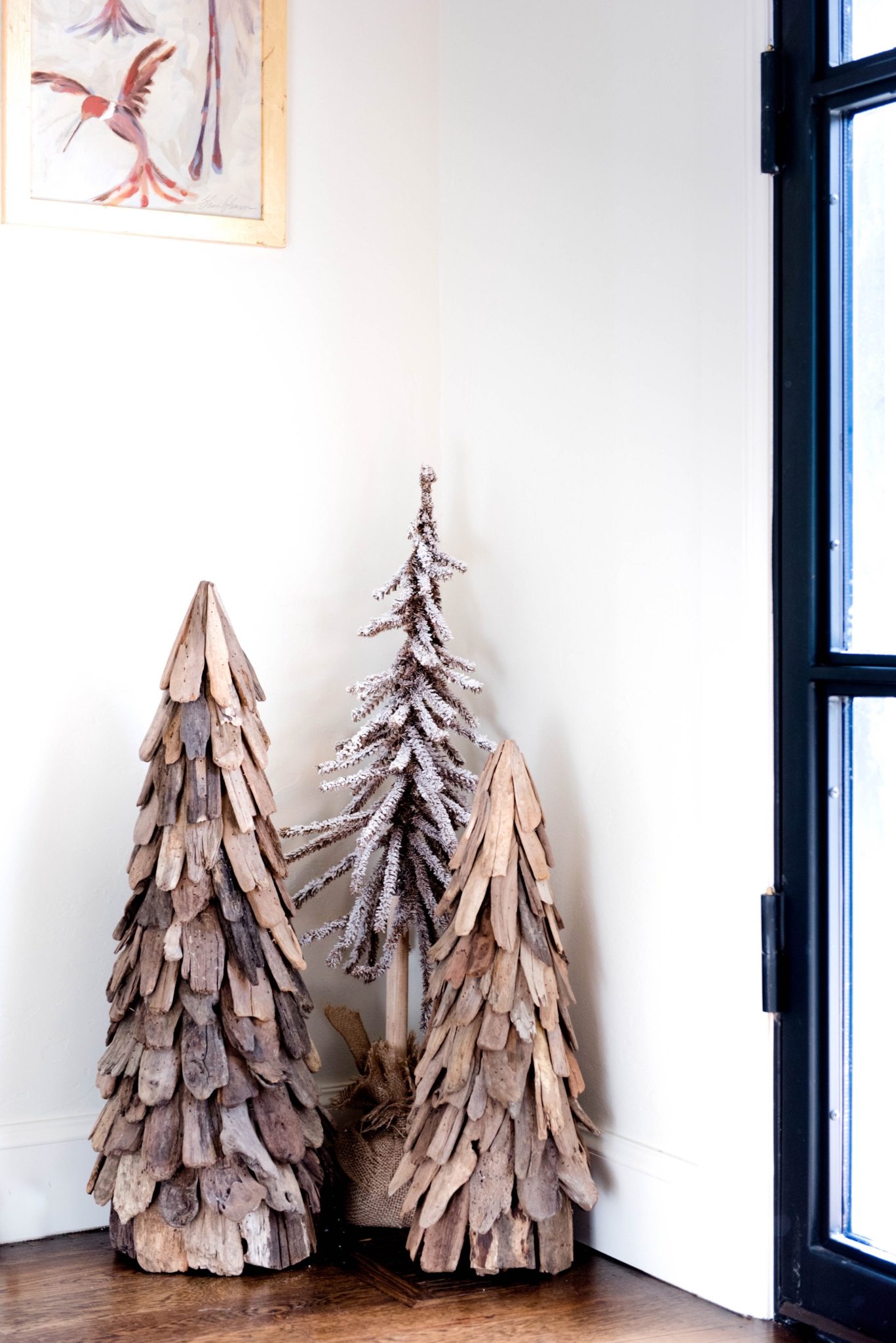 Looks like someone was trying to sneak a bite!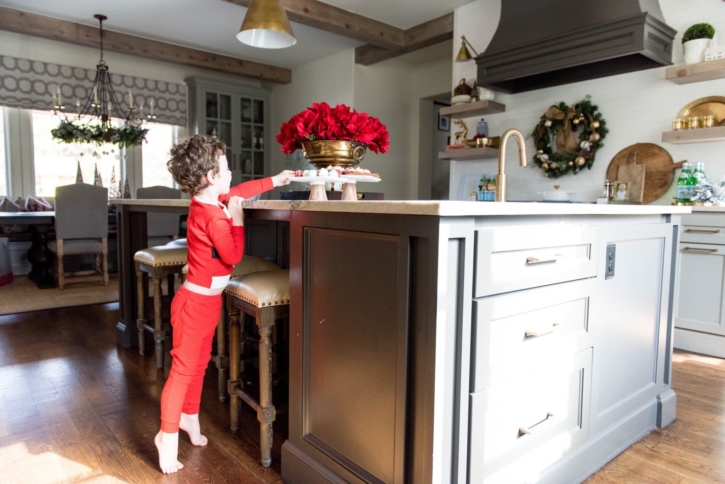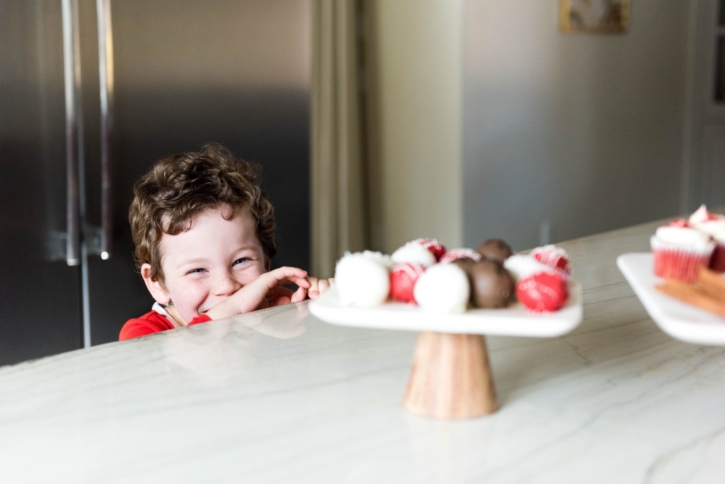 GET THE LOOK (KITCHEN)


Our dining area is right in the kitchen. We decided not to do a formal dining room so we made this space extra-large to accommodate a nice sized table and a built-in bench for lots of people to gather around. And that gives a spot to place pretty throw pillows on! In this space, I added a festive table runner and placed varying sizes of cone trees around. I also tied some silver and gold ornaments on my chandelier and placed a pretty flocked garland around the bottom of the light to add some color and texture.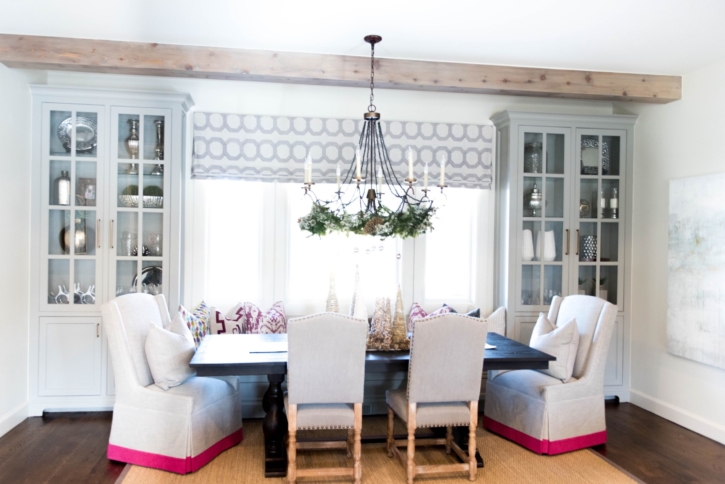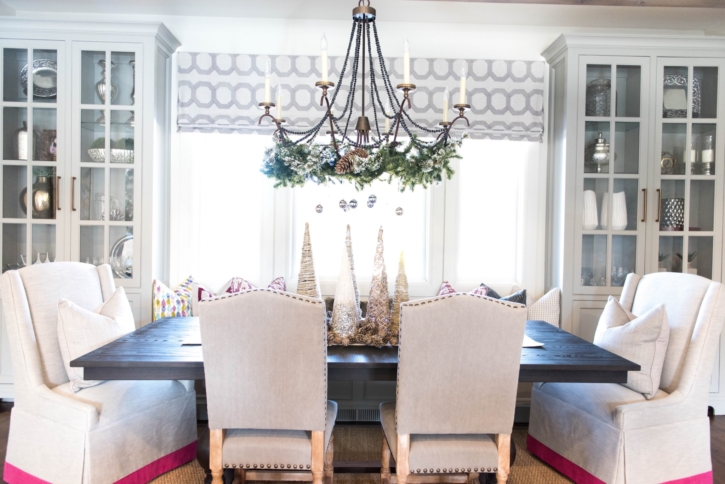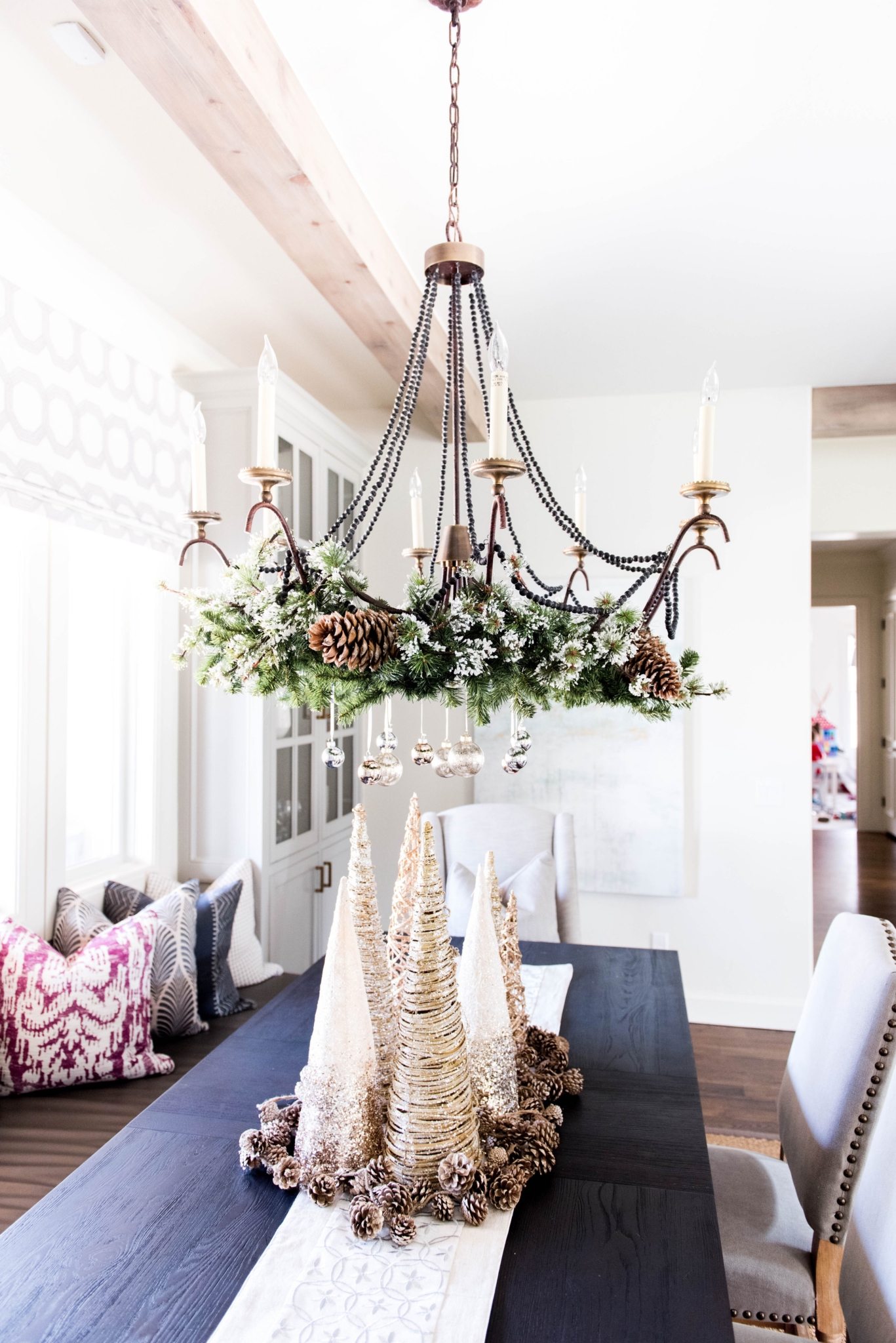 GET THE LOOK (DINING AREA)


Right off the dining area is our staircase, which leads to our children's bedrooms. You'll notice our Elf, Terry, made an appearance for the tour! He is sitting on the edge of their window into their little playhouse under the stairs. It has a such dutch door too, which I thought was the cutest touch when we were building.  The black iron railing has a faux spruce garland on it, along with some ribbon and gold sphere garland. Super cute and simple against the black and white gallery wall.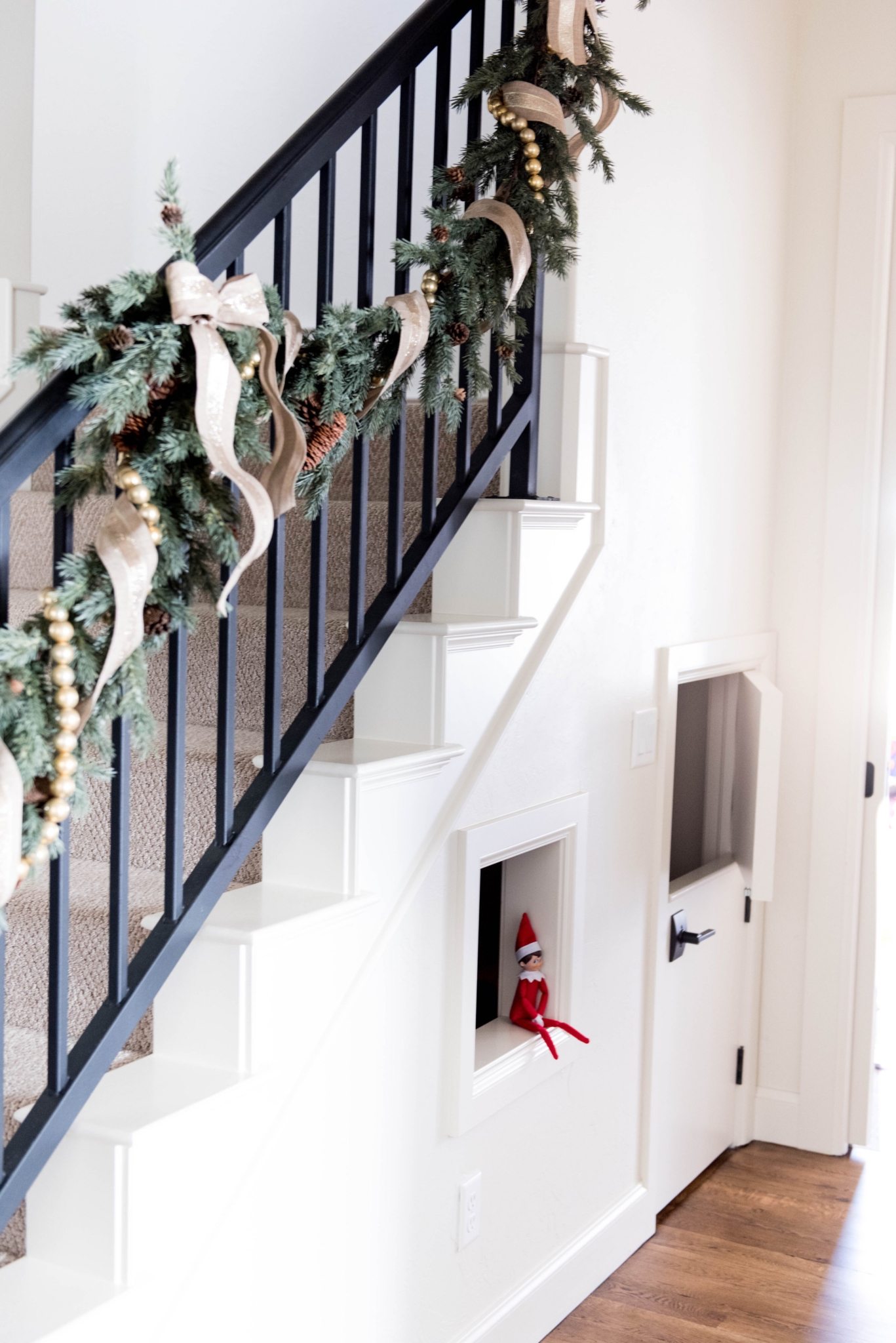 GET THE LOOK (STAIRS)


And this concludes my Christmas home tour! I hope you enjoyed it. Please let me know if you did by leaving a comment! I would truly appreciate it. Please feel free to email me or message me anytime with questions. I appreciate you stopping by so much and I hope you'll stick around and come back to visit. Thanks so much and have a very Merry Christmas! And don't forget to visit the next home tour…Kim and Lacey of Styled with Lace have such great taste and their tour will not disappoint. Below is a list of all of the gorgeous homes in the tour…they are all showstoppers you will not want to miss!
She Leaves A Little Sparkle
Edith & Evelyn Vintage
Citrine Living
Styled With Lace
El Peterson Design
Paint The World White
*ALL PHOTOGRAPHY TAKEN BY KAYLEN GREGORY PHOTOGRAPHY
*Some affiliate links were used for items included in this post. Thank you for supporting these retailers and making this blog possible.