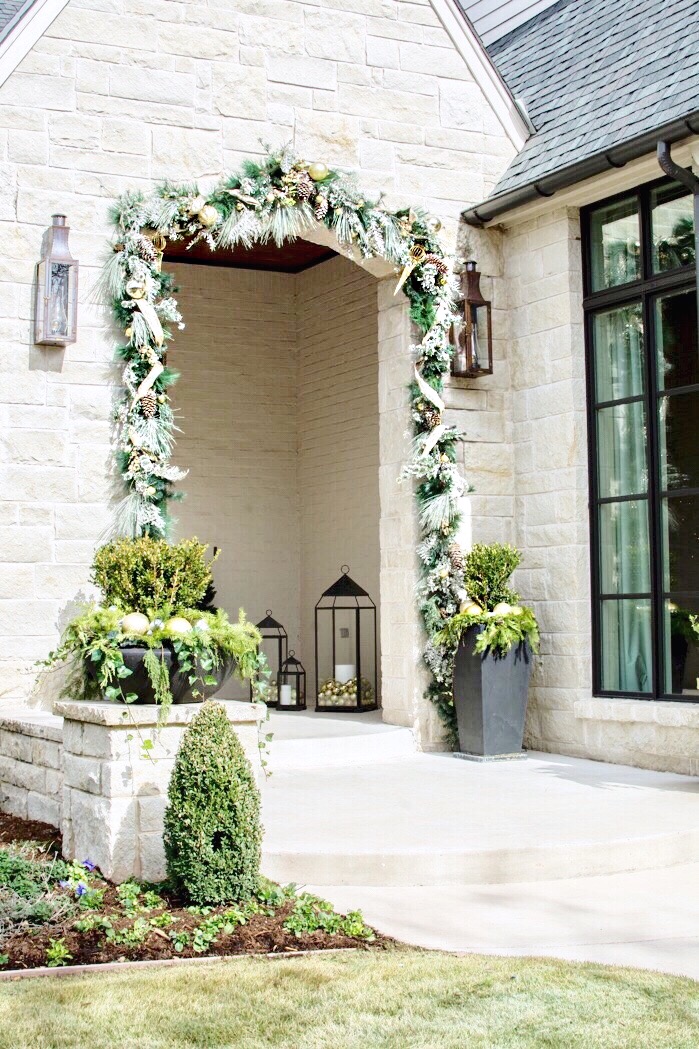 HI everyone! Welcome to my Christmas Home tour 2017. My name is Ashley and I live in Oklahoma City if this is your first time visiting my blog. If you are coming from Carissa's tour (CCandMikeCreative), welcome! She is a fellow Oklahoman and I LOVE her and her style. She is so talented, as are all of the ladies that are included in this tour. You can find me on Instagram @curlsandcashmere where I post daily.
Let's begin the Christmas tour at my front porch/entryway…My sweet hubbie hung the garlands for me (with the help of me and a friend) and Adorn Planters created the holiday arrangements in my black pots. I absolutely love them! The ornaments in the pots match some of the ornaments in the garland, so it just looks so nicely done. I really want to keep this up all year long! I placed my trio of bronze lanterns on my front porch…I decorate with them year round. This year I have candles in them with an array of shatterproof ornaments.
Shop the Look-Front Porch
For my Christmas Home tour, I kept things pretty neutral, which is similar to what I did last year (check out 2016 tour if you would like). I tend to love a white, bright aesthetic, so I like to keep my holiday decor in the same realm, with a few pops of red sprinkled throughout, even though our 3 children would love for the house to be decked out with Santa's, candy canes and more! They do have fun trees in each of their rooms and a playroom tree as well.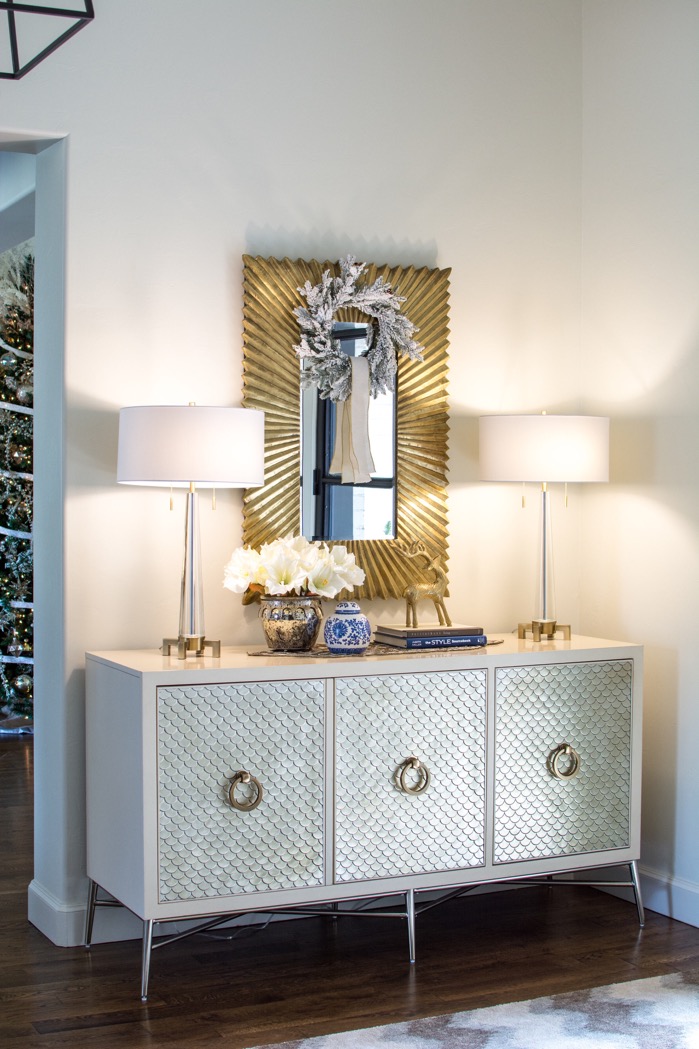 If you walked into my entryway, you can see I added just a few holiday touches. I hung a flocked wreath from my brass starburst mirror and added some amaryllis bundles to my mercury glass vase. I stacked some more style books and played a brass reindeer on top. I left my cute blue and white jar for a touch of blue (my favorite color). Not pictured is a woven basket with holiday pillows and a birch faux tree like this in the corner of my entry.
Shop the Look-Entryway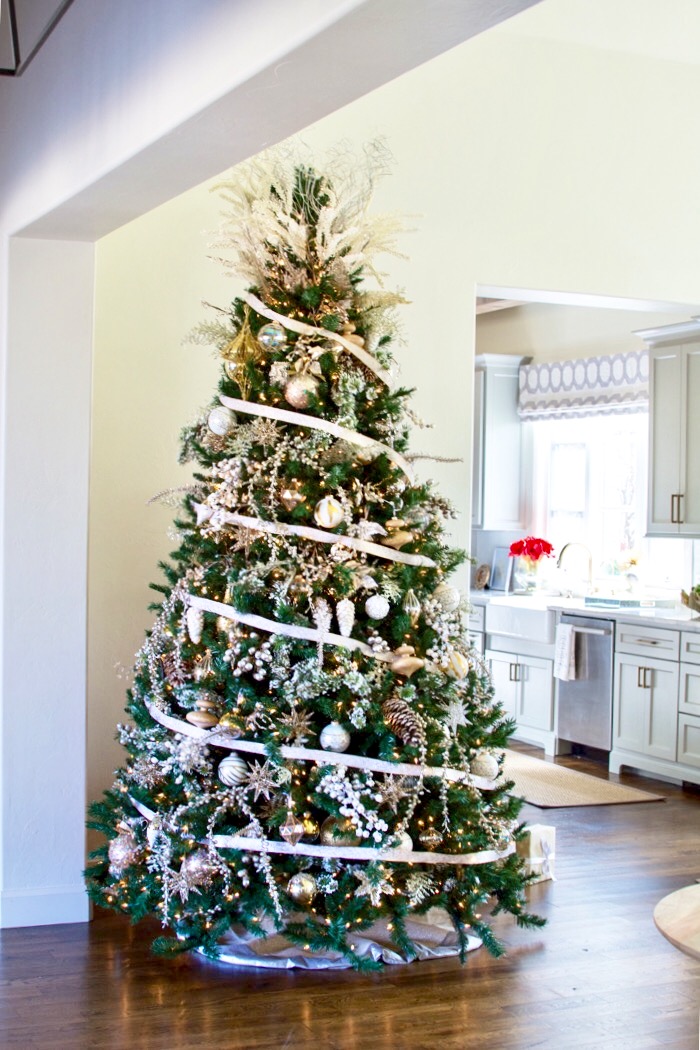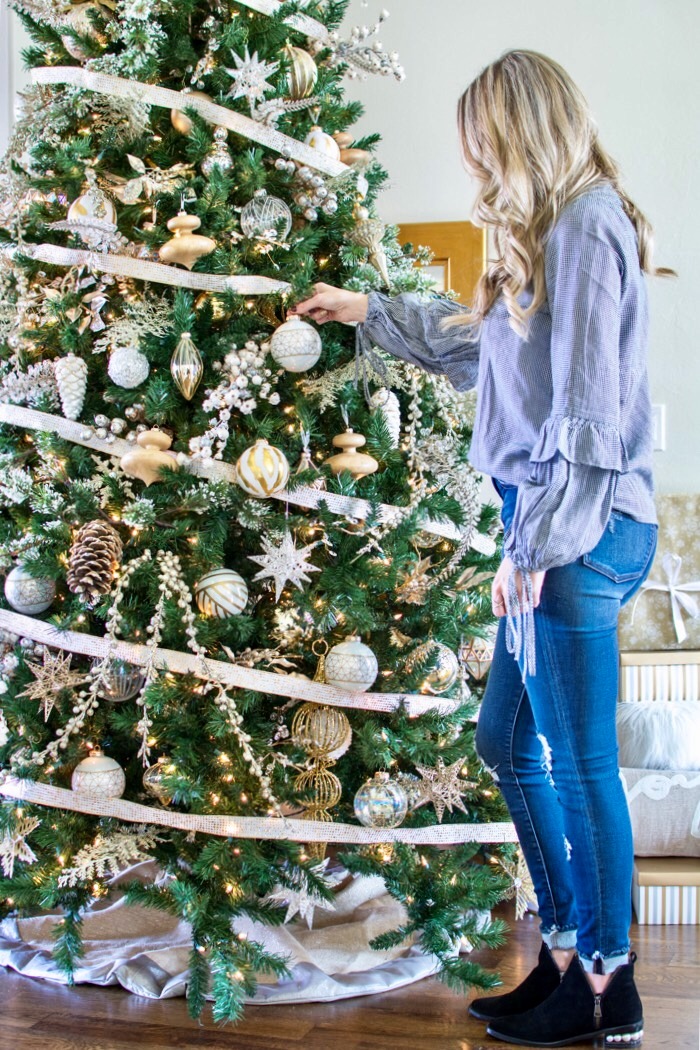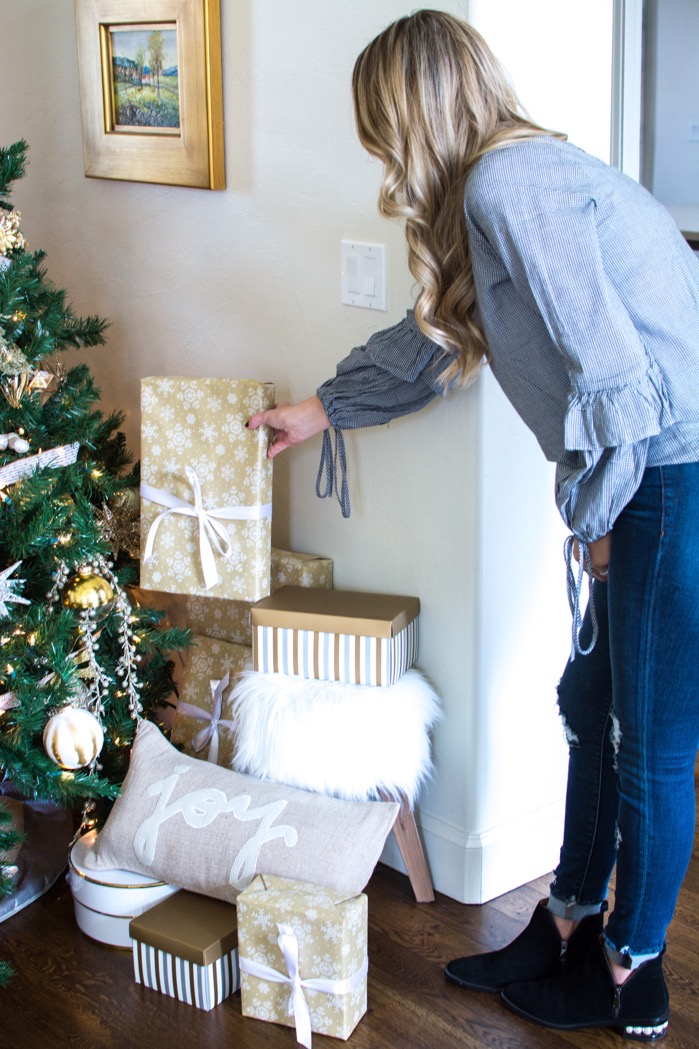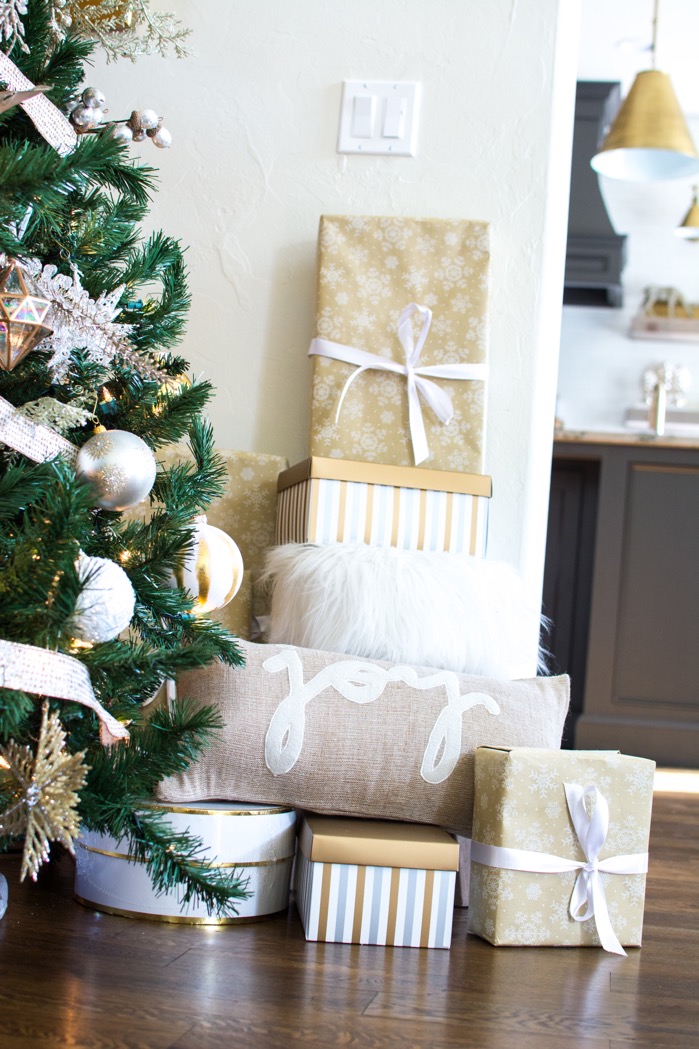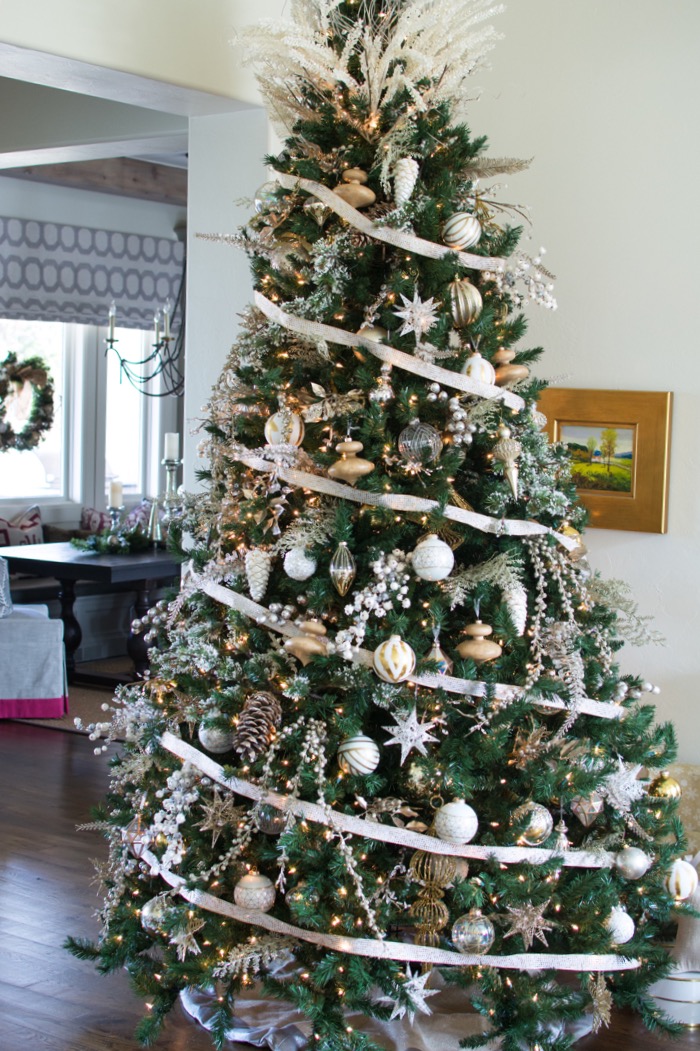 Now we'll walk into the living area. I kept my 10 foot artificial tree in my living room this year, but added lots of new gorgeous white, metallic and glass ornaments from Kat & Annie. I also added in some new sprays throughout the tree, which really add to the tree decor. I also did a new ribbon around the tree from Target. I like ribbon on the tree and every year I do something different with it. Sometimes it's wrapped 360 degrees, sometimes its tucked in various places, and this year I wrapped it at an angle. It is a thinner ribbon than I have ever done, but I like it because it allows the ornaments to shine and not be hidden. Last year, I used this Merry Christmas paper wrapped around my tree, and it was so cute. I like to add some wrapped gifts around my tree with some holiday pillows. I kept the tree topper the same and have used it for a few years now. Why change it if you still  love it?
Shop the Look-Christmas Tree
Over by my fireplace I added new garlands to my mantle. I kept my mantle fairly simple with just the cream monogrammed stockings and the natural looking garlands resting on top. I added 2 trees for a bit of sparkle and my fave brass lantern to the hearth. I filled it with golden pinecones this year. I wanted to add in more eucalyptus sprays like these to the garlands, but never got the chance. There is always next year I guess!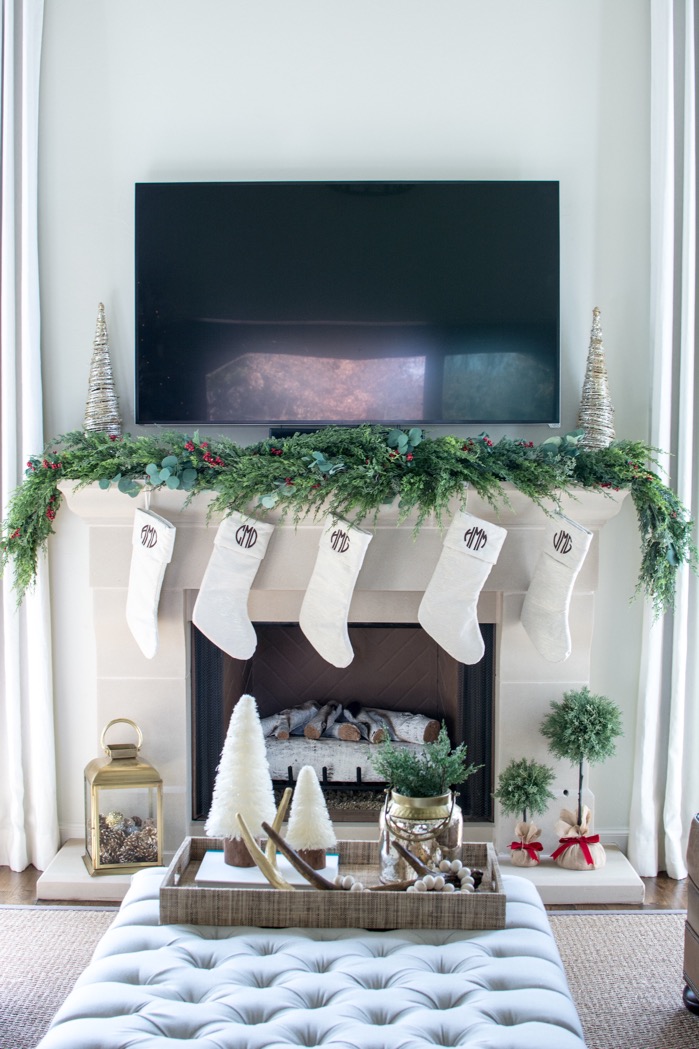 On my coffee table tray,  I added adorable cream trees along with a mercury glass lantern filled with natural greenery. I love these cream rosary beads and keep them out all year. They are weaved throughout my gilded antlers. On the gallery wall, I hung a simple wreath. I added some cute pre-lit trees similar to these on the sofa table and some sparkling reindeer. For a bit more glam, I placed one of these type of starburst ornaments on my table with some stacked decorating books. I really want these ornaments all over my tree next year!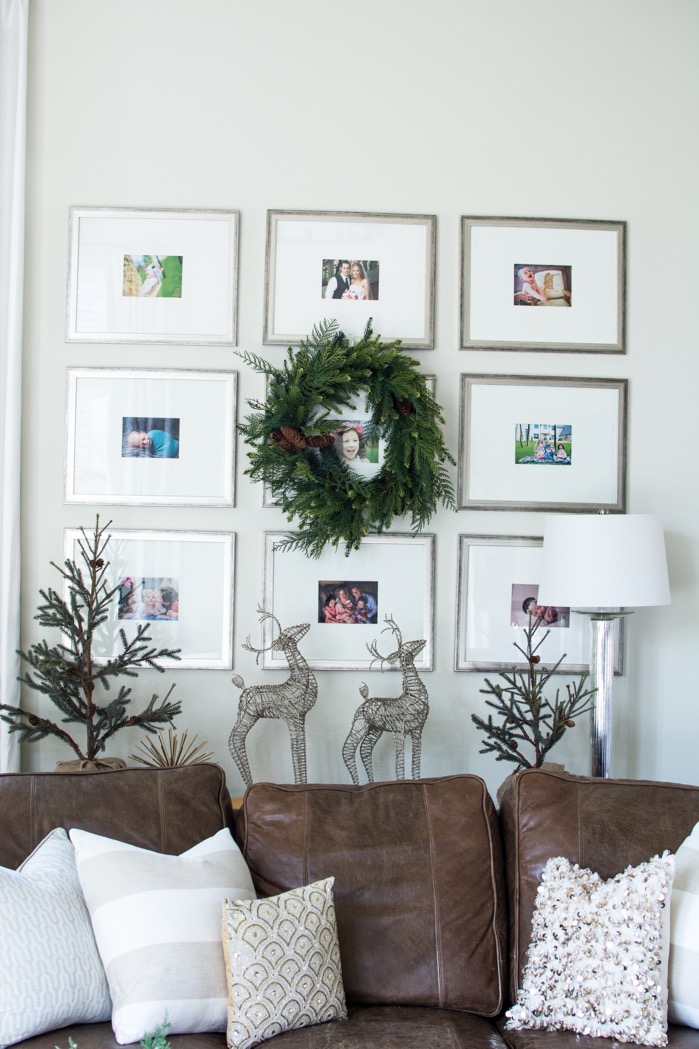 On my sofas and chair,  I mixed in some of my current custom pillows with holiday pillows. It's always fun to add a little sparkle during Christmas time, so I have a variety of cream, gold and silver beaded/sequin pillows that I use every year and just move them around the house! I always have to have this cozy faux fur throw out as well once winter rolls around. It adds such a nice texture.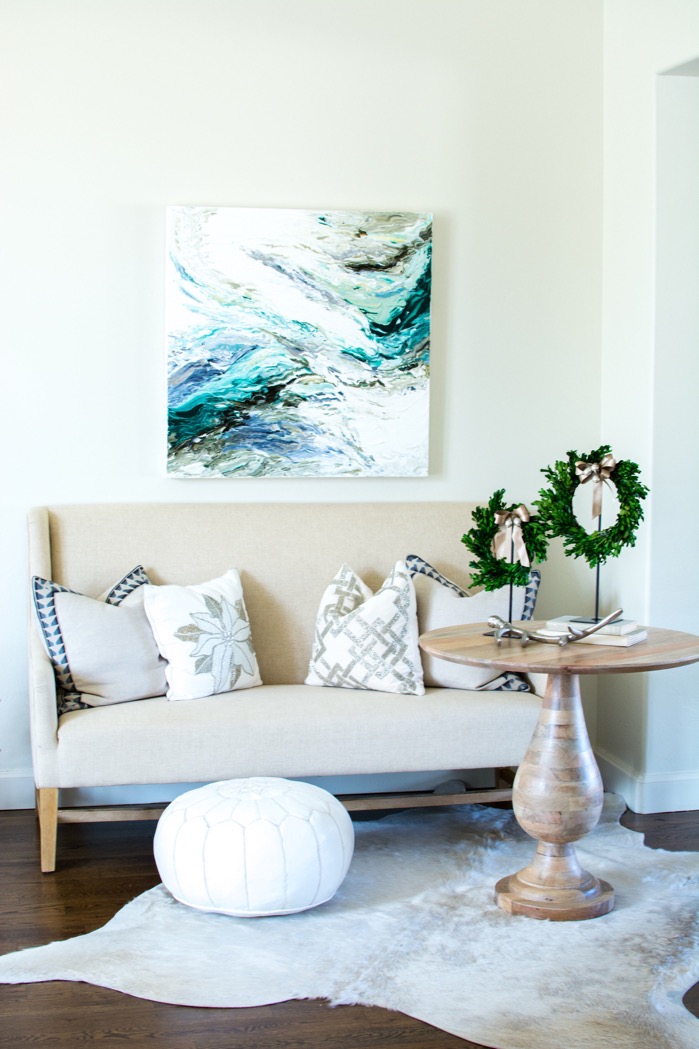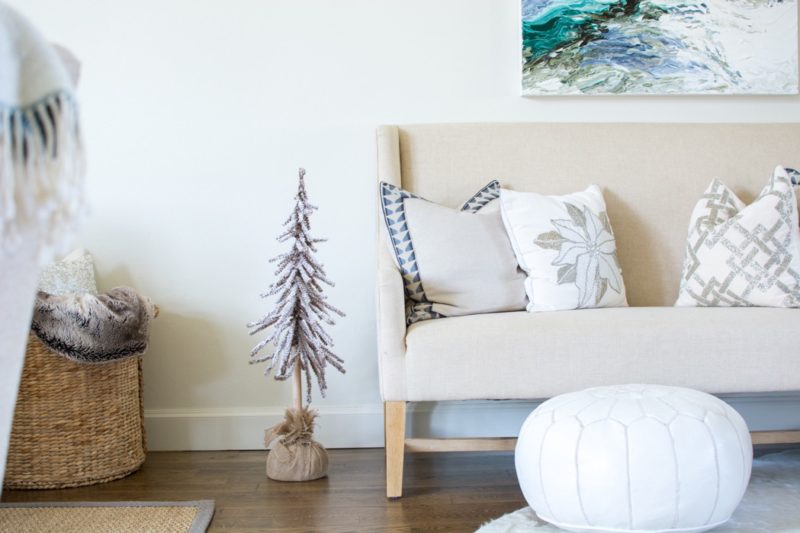 Over on the banquette in my living area, I added more holiday glam pillows with 2 simple wreaths and some silver antlers. I like decorating with antlers because you can have them out all fall and winter. I have a cute 3ft. flocked tree next to the bench from Homegoods.
Shop the Look–Living Area 
If you turn around in our living room, we have a large glass slider that leads to our outdoor living area. I have an outdoor console table with a large Ballard Designs mirror hung. I walk by this table everyday and decided to add some simple holiday decor to the table. I love the new gilded branch garlands I picked up and weaved one through with some other natural looking elements like pinecones, boxwood stems, and more.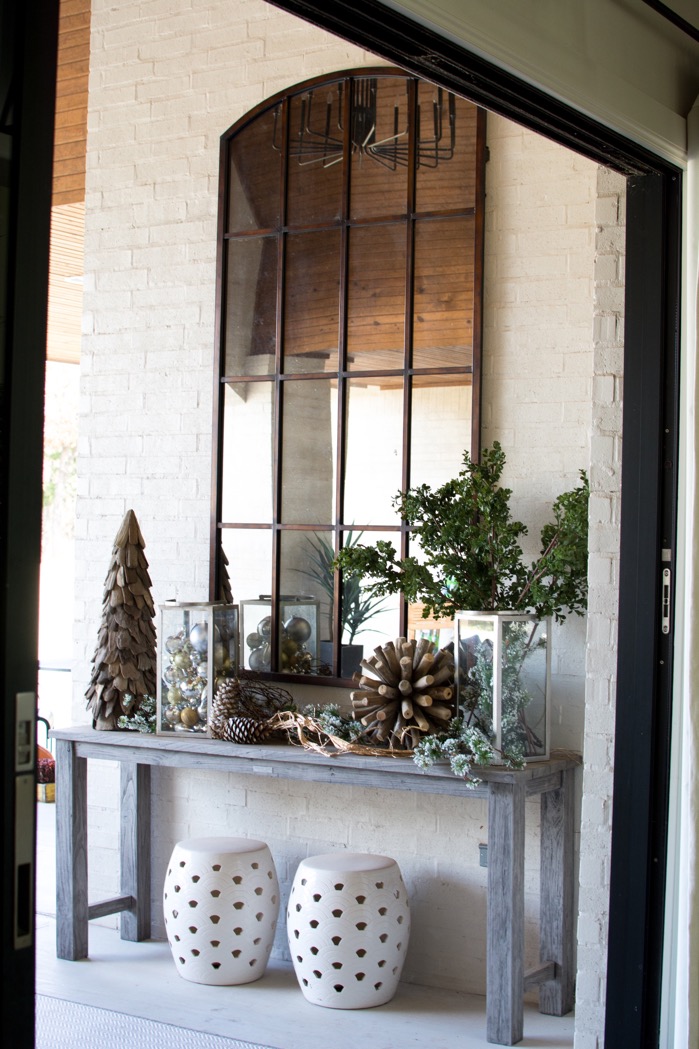 Now onto my favorite room in the house, the kitchen and dining area! I placed a variety of decorative trees on my island.I also wrapped wire lights through the trees. I hung a wreath with a command hook above my stove. I added some simple decor to my open shelving. Over by the sink, I have a pop of red with some floral stems in a vase.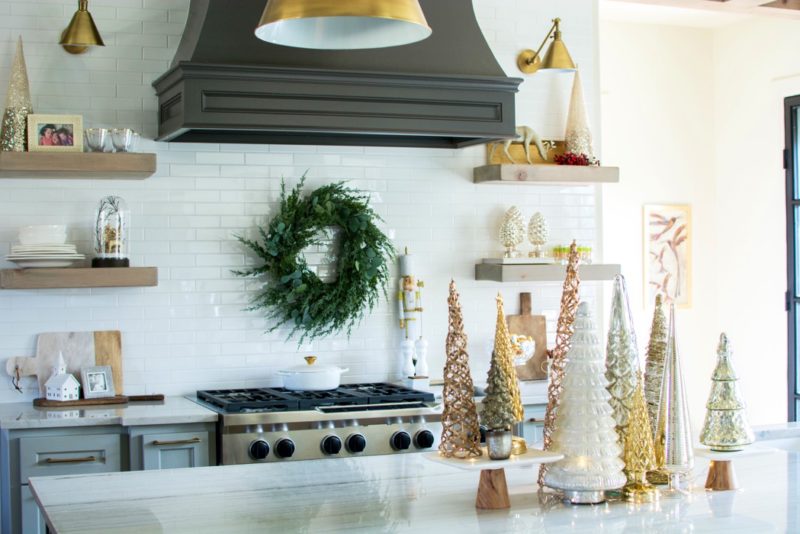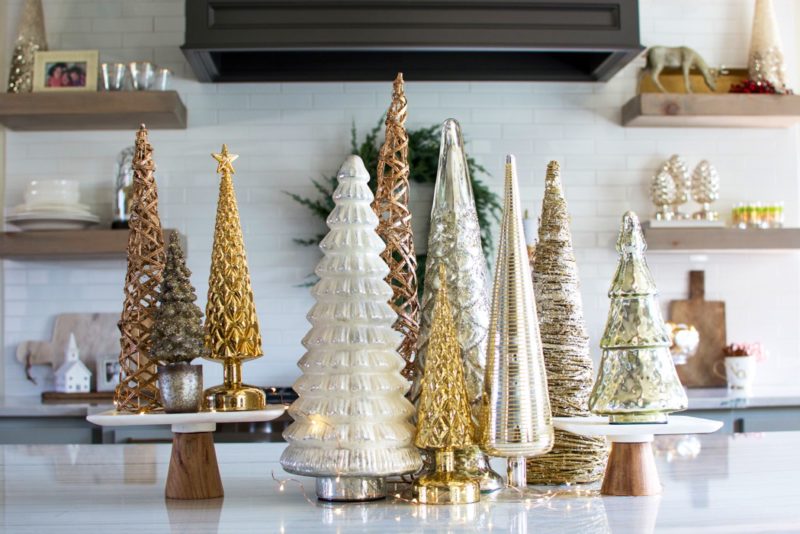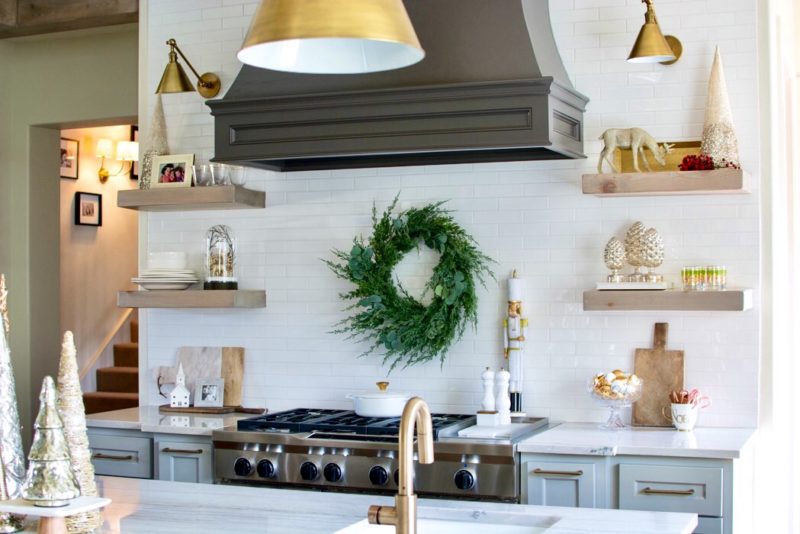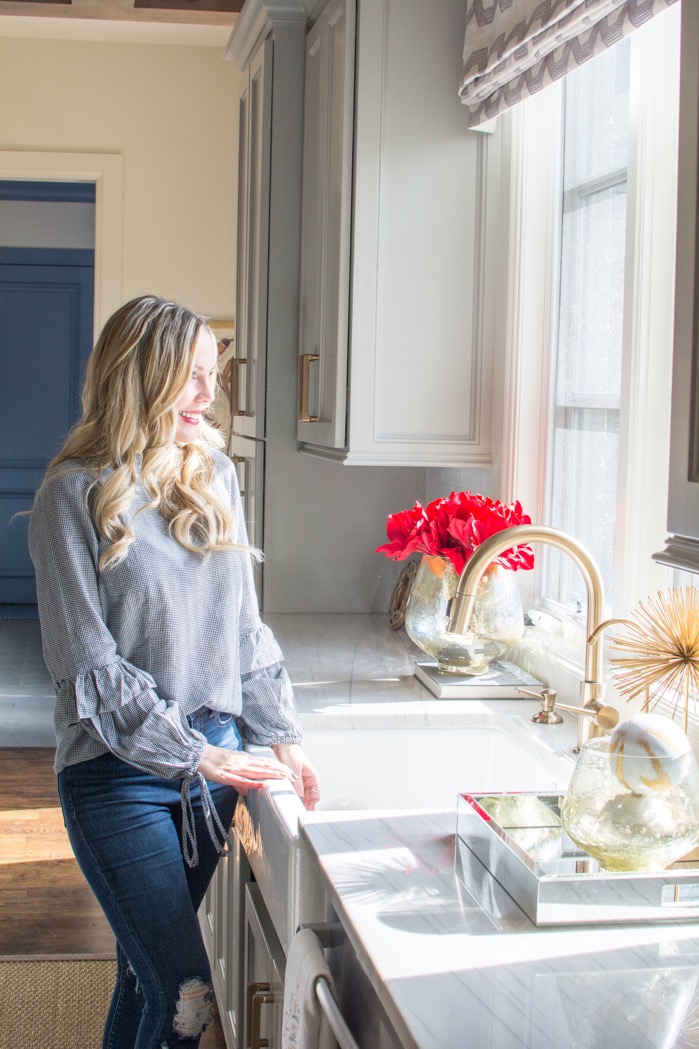 Ashley's Outfit: Black & White Gingham top//High-Waisted Jeans//Similar Pearl booties//Lipsense All-Day Lipcolor
 Shop the Look-Kitchen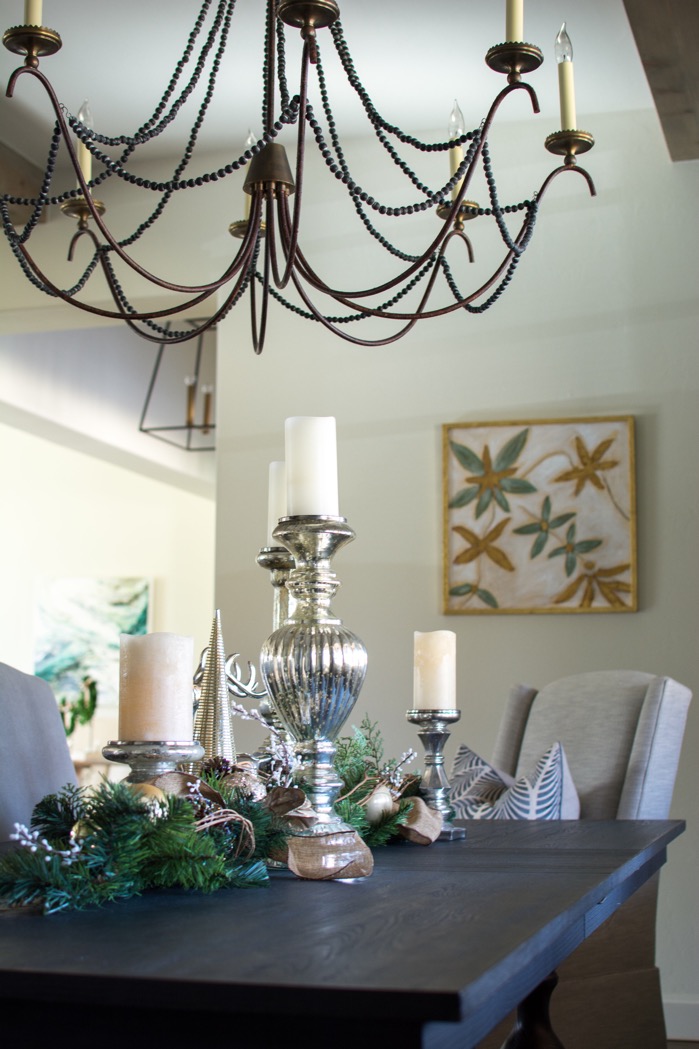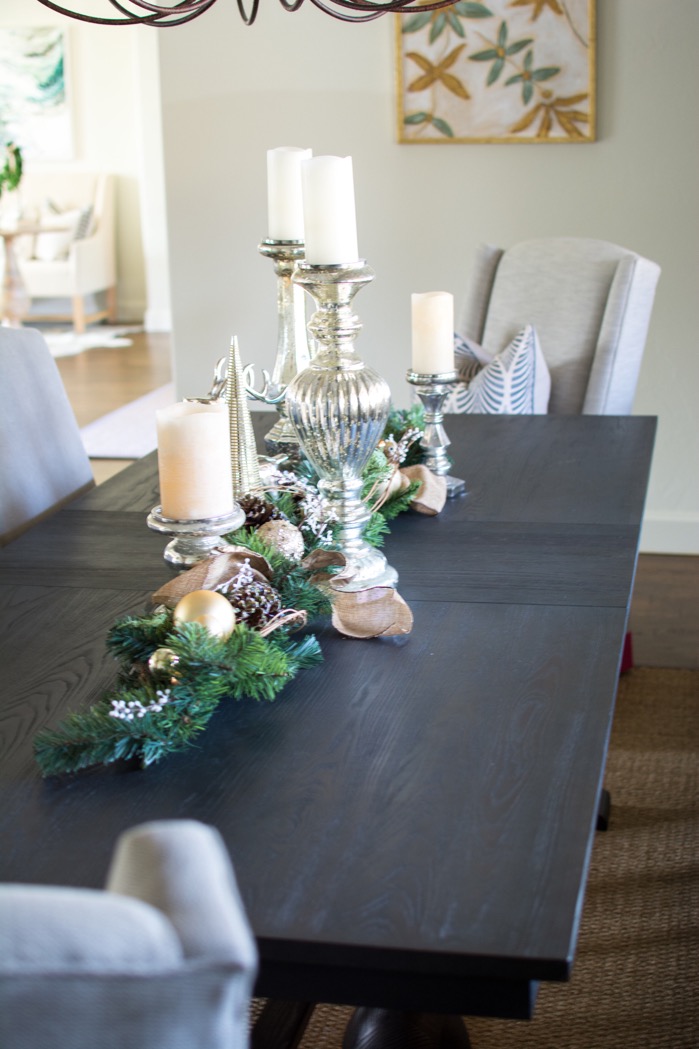 Last stop on my Christmas home our 2017 is our dining area. We did a large nook in our kitchen for our dining table. It is technically our formal dining area. On my tablscape this year, I simply placed decorative garland on the table and added in mercury glass candle holders of various shapes and sizes. I placed a sliver reindeer and 2 metallic trees in the mix, and I was done. I also hung a wreath from our bank of windows overlooking the backyard. (not pictured).
Shop the Look–Dining Area 
I hope you have thoroughly enjoyed my Christmas Home tour 2017! I put my heart and soul (and tons of hardwork) into getting my home holiday ready and I hope that comes across the screen. Next up on the holiday tour is Erica Cook of MOTH Design.  I have admired her work for quite awhile, so I cannot wait to see what her holiday tour will bring.
For a complete list of ladies…see below. I would highly recommend getting a fresh cup of coffee and continuing on for some major talent and inspiration.
And myself, Ashley of Curls and Cashmere
As always, thank you so much for stopping by and please reach out with any questions anytime!