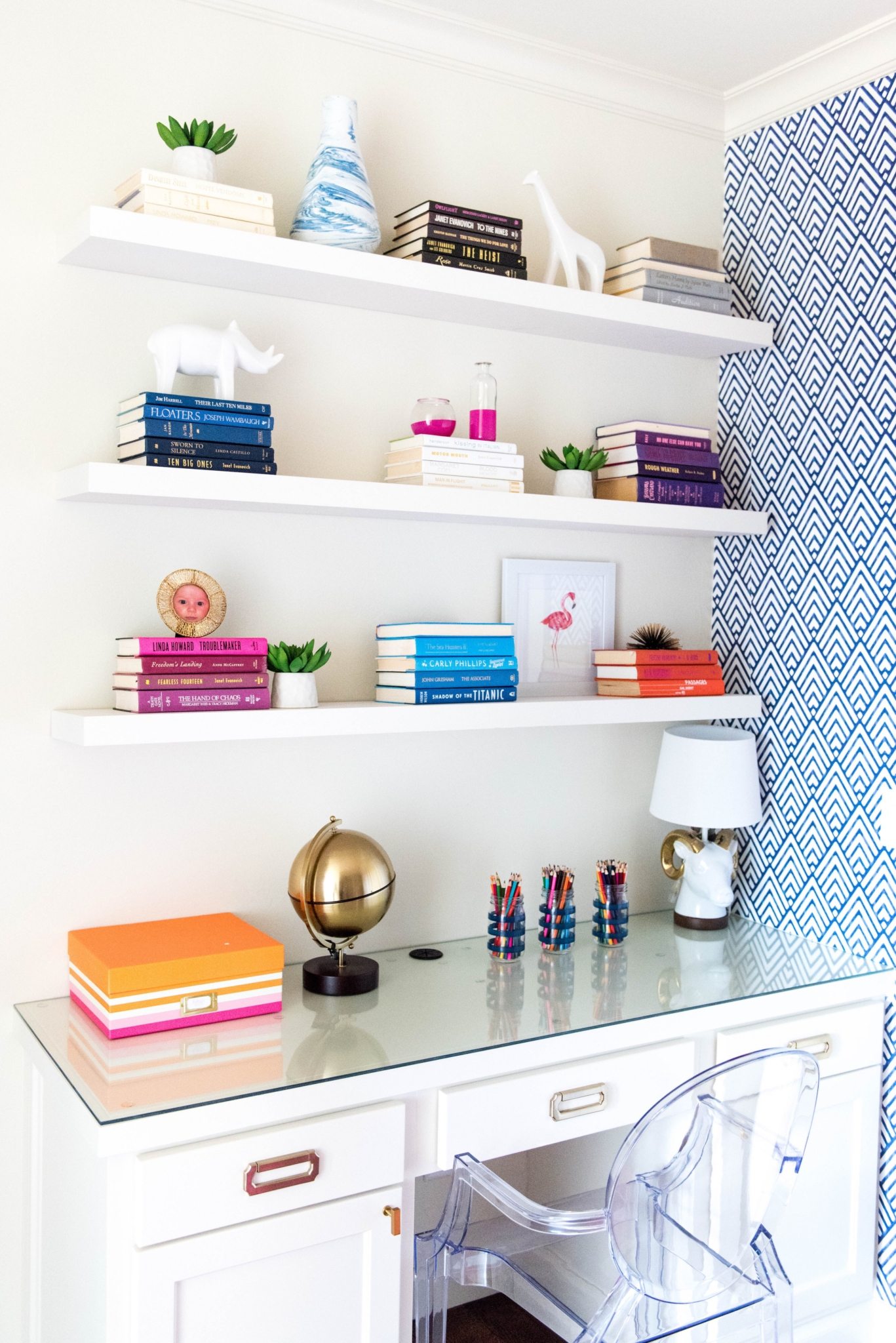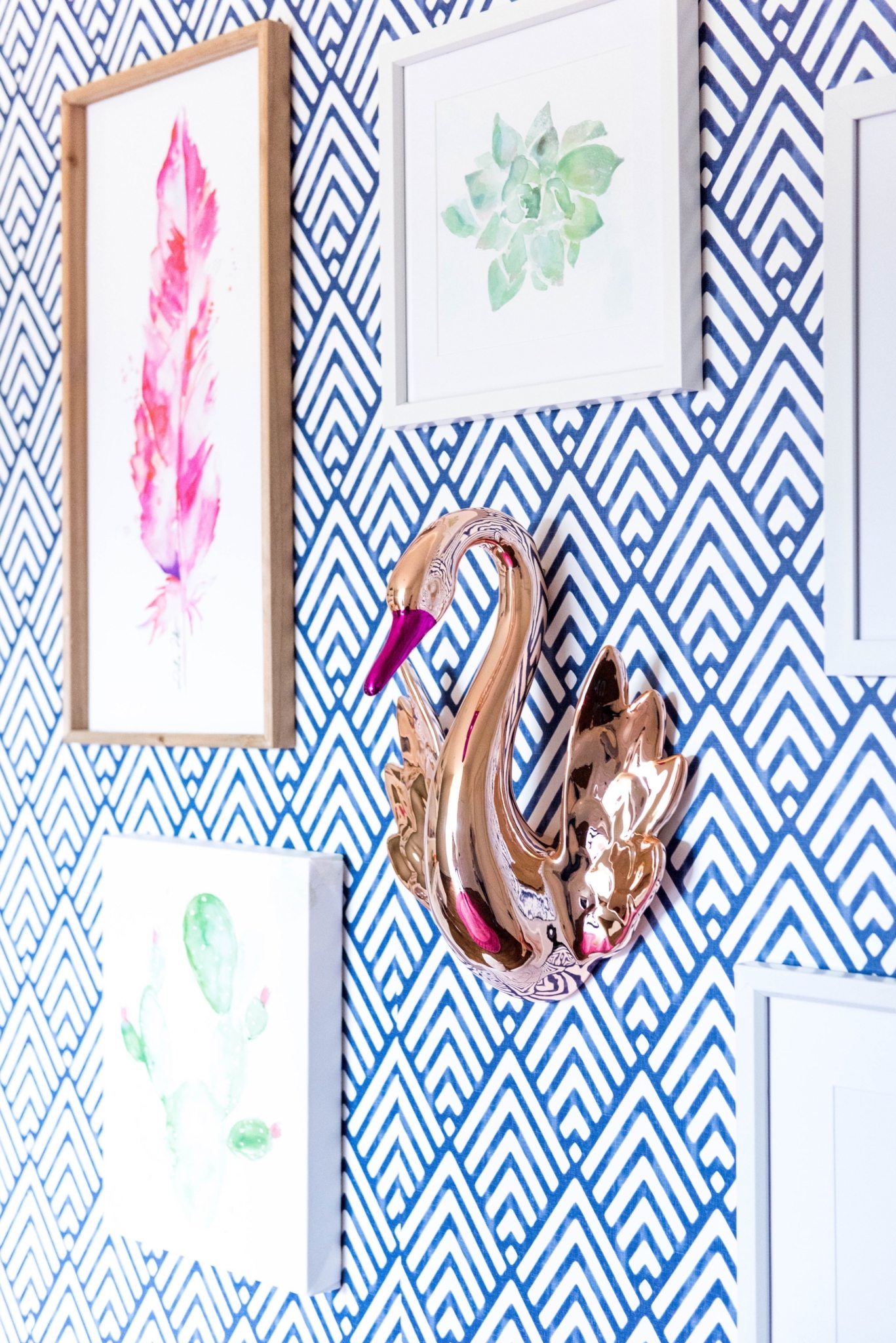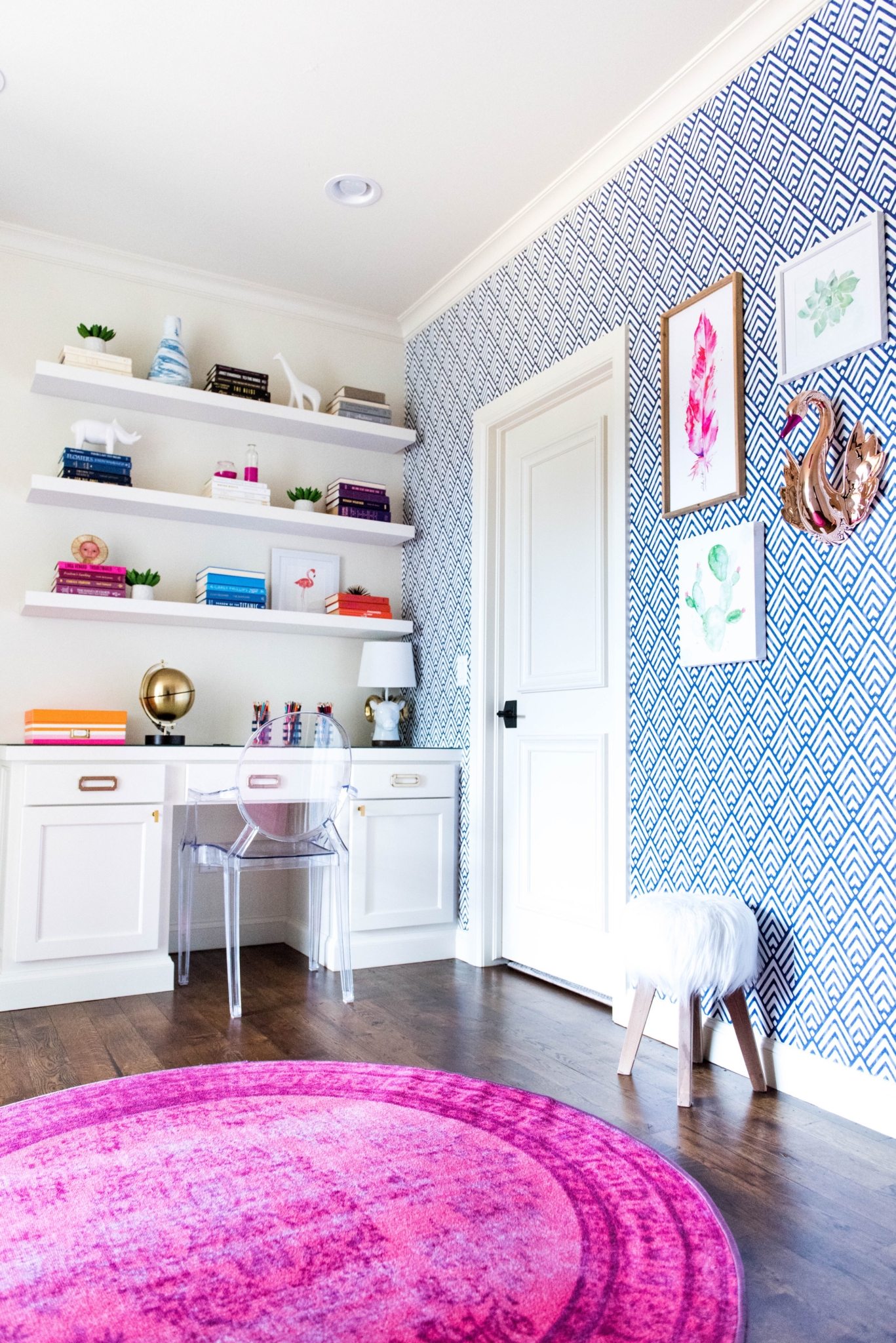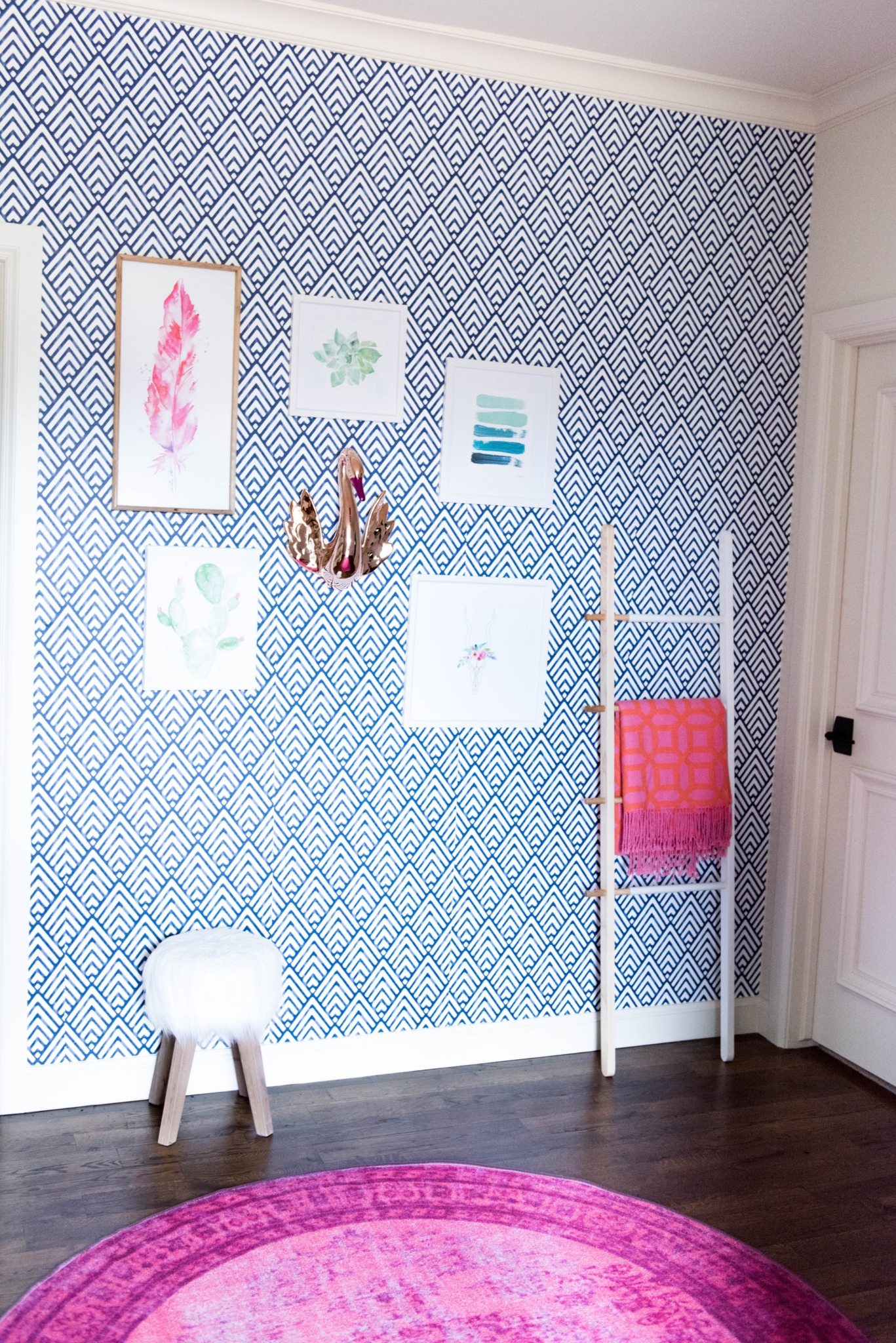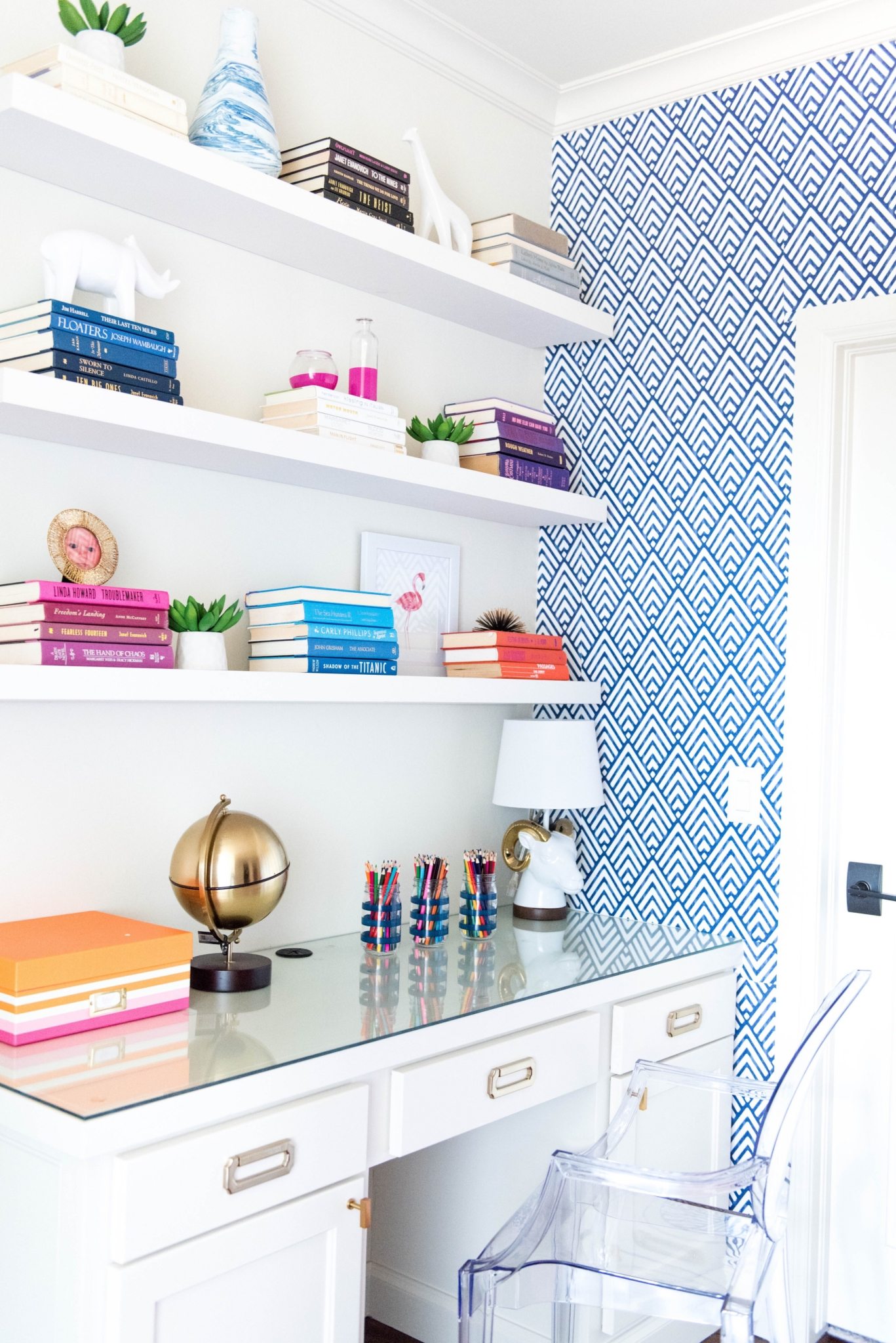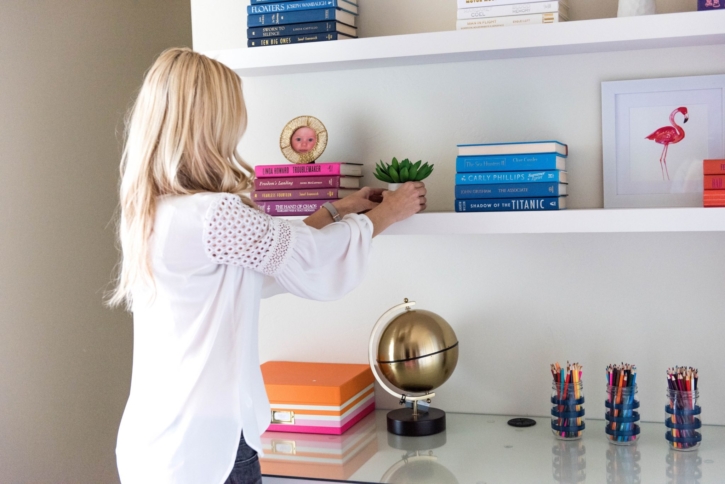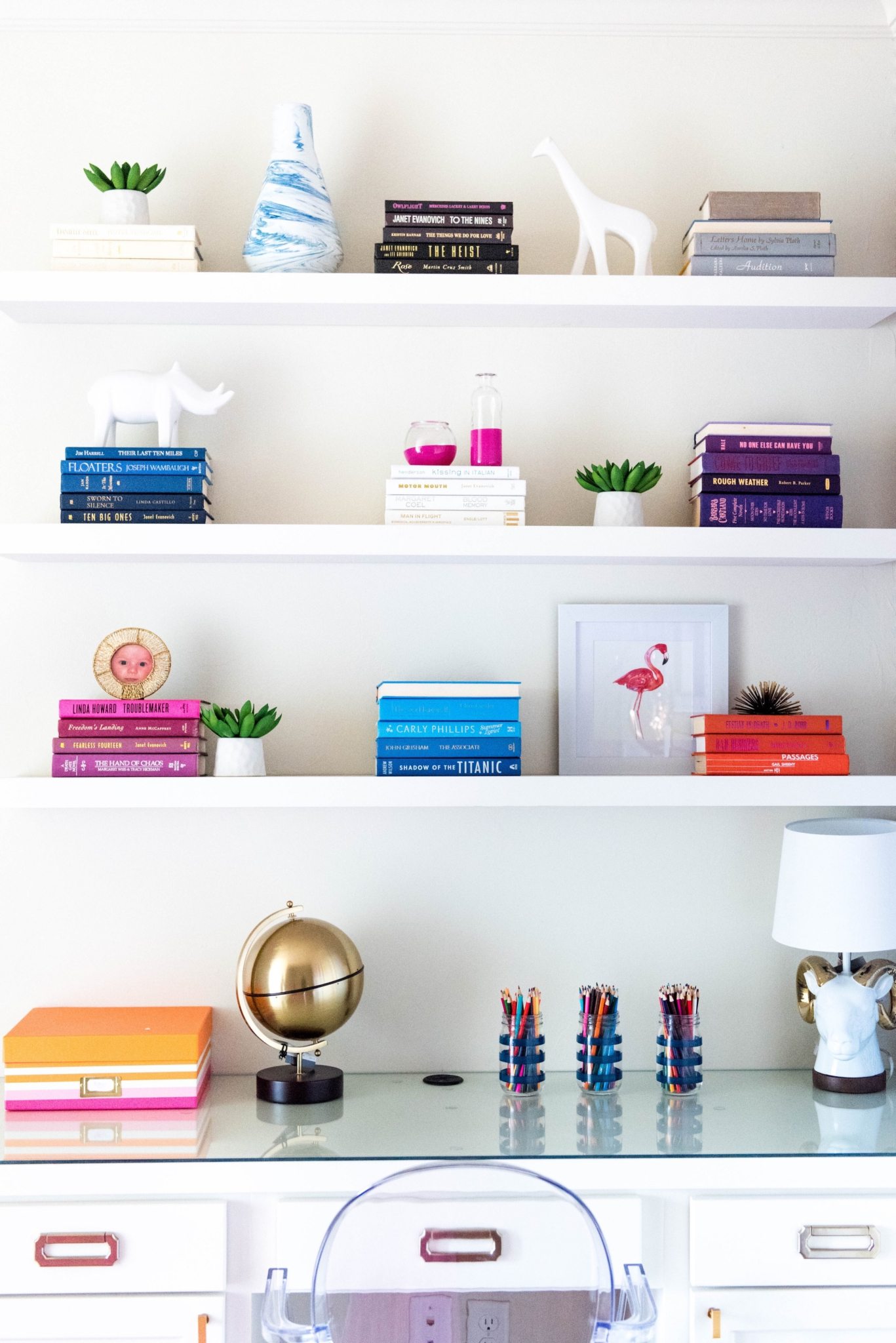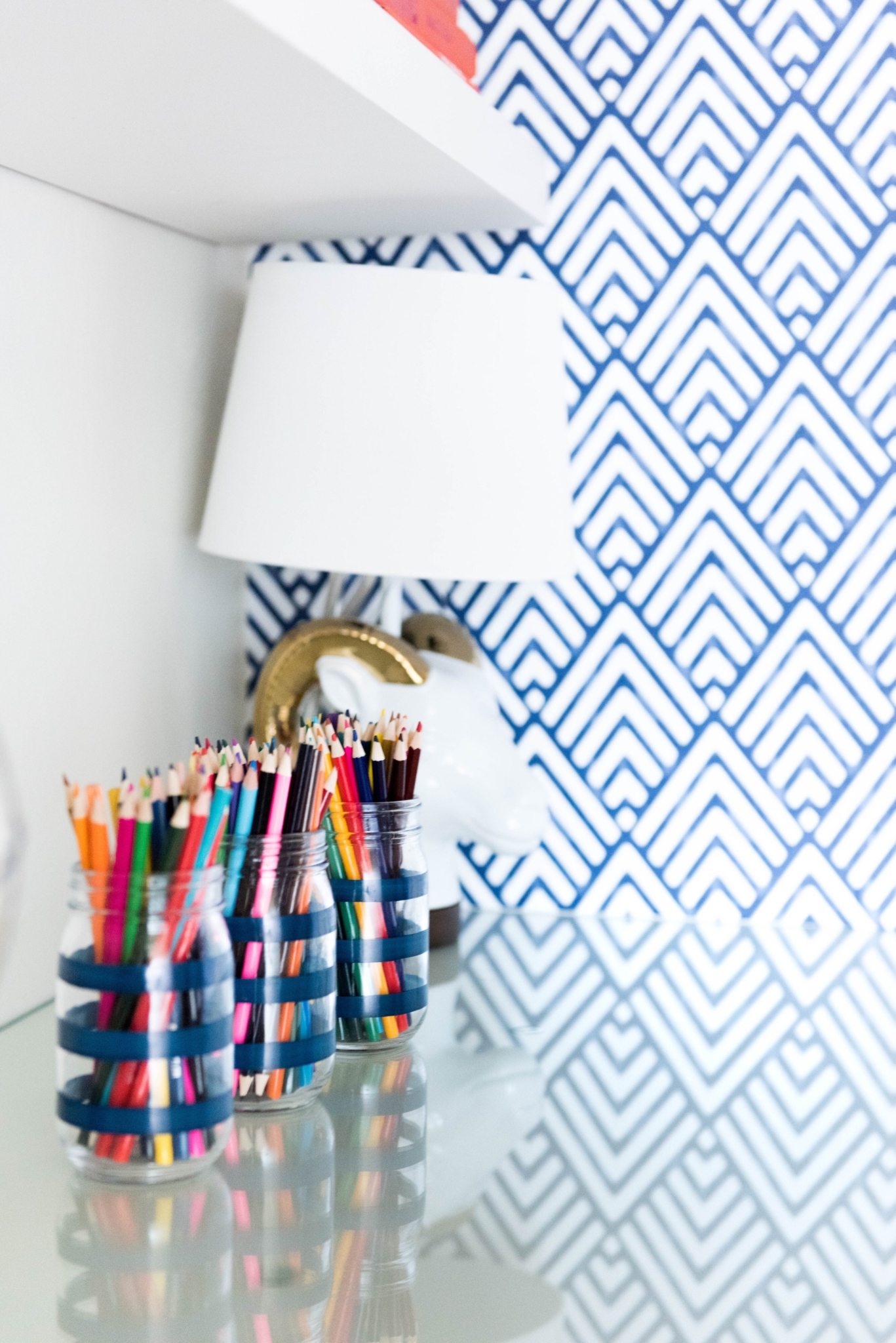 Hello and thanks for stopping by! I have been working on this room for the past several months and I could not be more pleased with how it turned out! What got the ball rolling was the blue arrowhead peel and stick wallpaper from Wallpops. I had been thinking about wallpapering upstairs since we moved in, but was unsure if I wanted something so permanent. So I had left the walls white and had not done any decorating at that point. This upstairs area is basically a small common area outside of our 3 kids' bedrooms…It has a built-in desk and that was it. I wanted to give the space some character and have it be a fun area since its kid's only upstairs! I had to be careful since we have 2 girls and 1 boy, so I tried to keep it somewhat gender neutral.
Once the wallpaper came in, I got to work. I enlisted a friend's help and I would definitely recommend having someone help you if you decide to try this. I have never done any sort of wallpaper before or even painting for that matter, so I was very much an amature. Wallpops sent a smoothing tool and a razor blade and that is all you need besides a ladder. My walls have a light texture on it, but I did not want to remove it since I may tire of this someday and want to remove it and have my walls look untouched. The pattern of my wallpaper is busy that you cannot really tell that is has a light texture behind it. It took us a few hours and we were done. The space was instantly transformed!
After the wallpaper was done, I knew I needed a rug to warm up the space. I had been seeing so many pretty fuchsia rugs on Instagram and was dying to have one in my home somewhere. Since the wallpaper was blue, I thought the girls wouldn't mind a little pop of pink. I immediately went to Rugs USA's website as I had been hearing how great their selection is. I found the Windsor Overdyed Grove rug and knew it was perfect! The fuchsia color is so pretty and the rug is to die for! The price is fantastic too at $105 for my round size. I was very impressed to say the least.
Next, I needed to hang something above the desk. I thought about a big piece of art or mirror, but then thought since the wallpaper has a busy pattern, I should do something more simple like floating, modern shelves. I found these 60″ floating shelves that were almost the exact width of the built-in desk. My husband hung them and he was really surprised of their quality and the nice hanging hardware that came with them. I almost decided to have our trim carpenter build some shelves, but I am so glad I didn't because these look just as good for SO much less. These shelves come in different sizes and colors too. I decided to put a variety of colored used books on the open shelving (I linked similar colored used books below) and place them in a ombre pattern. Absolutely love how it turned out. Added some other small decor items and the shelves were finished. This is the spot I had bought the ghost chair for and I love how modern it looks. I like that its clear and isn't a distraction since the wallpaper has a dominant pattern. Lastly, I added some affordable brass hardware to the desk. You can never have enough brass in your home!
On the wallpaper accent wall, I went to Hobby Lobby and bought some prints and hung those. I had bought the rose gold swan bust with the fuchsia beak, and knew it had to go on the wall too. Added a faux fur stool like this one , and the Umbra Hub ladder to give the wall a little more dimension. And my space was complete! The kids' love it and think it's so cool they have their own books on shelves and such fun wallpaper unlike any other area in our house. And I love it because I can remove this wallpaper at any time with no damage to my wall. Anyone that comes over tells me now that this area is their favorite of the house! Please let me know what you think and have a great week! I've linked like items below so you can get the same look! Follow me on Instagram to stay in touch with my daily posts!
TO GET THE LOOK:

TO GET THE OMBRE USED BOOK LOOK:

*Some of the items in this post were sponsored, some were purchased by me. All options are my own, as always. Thank you for supporting these retailers that make this blog possible.