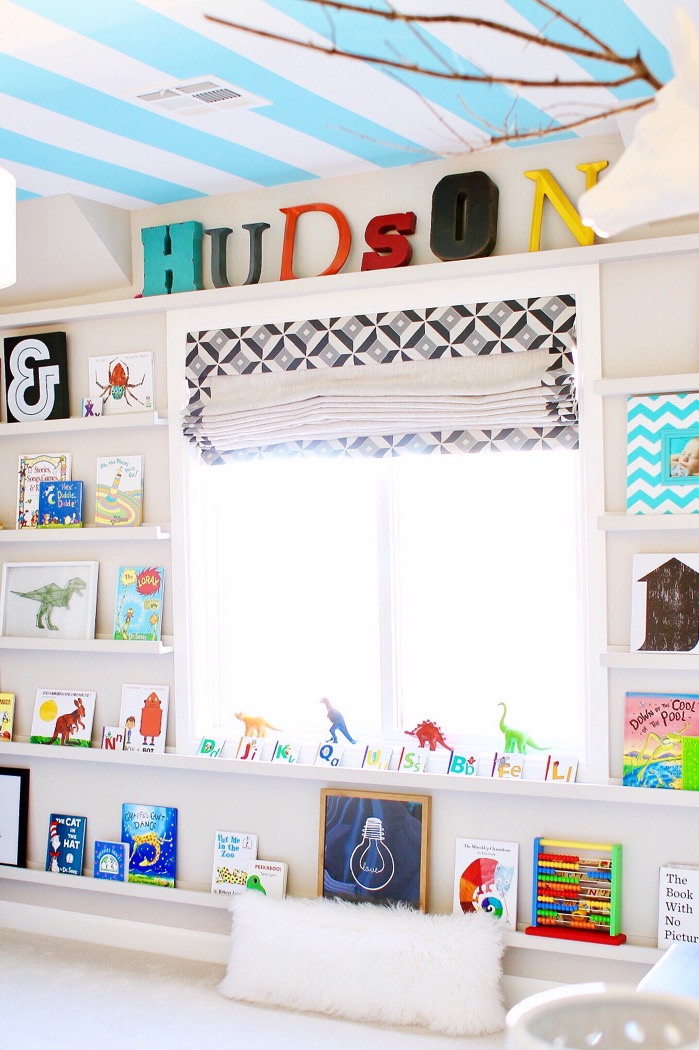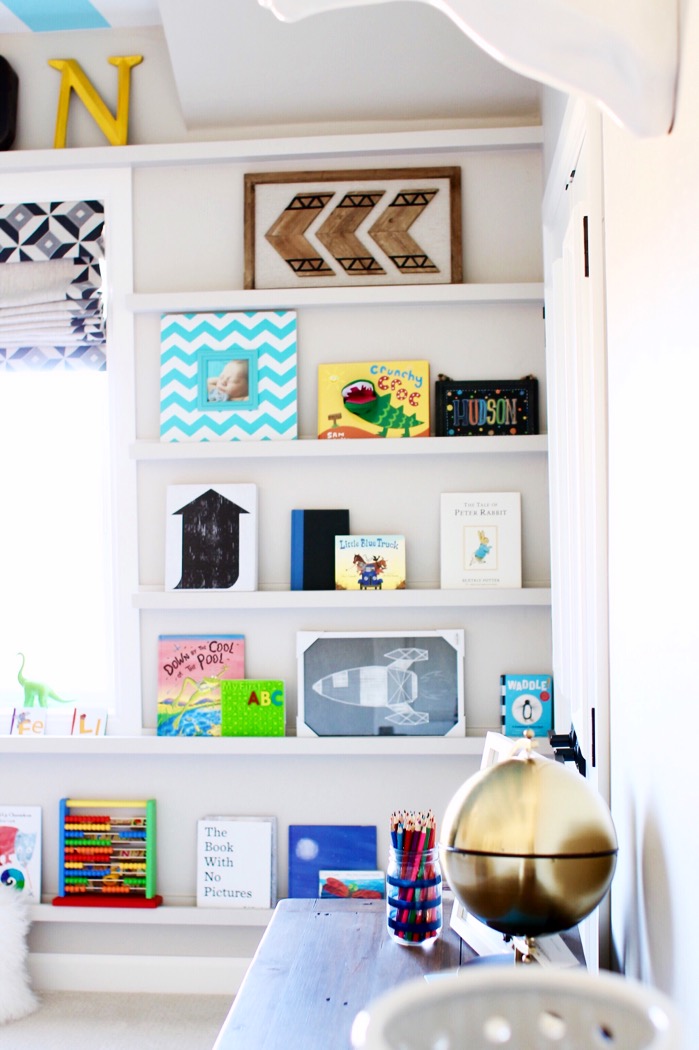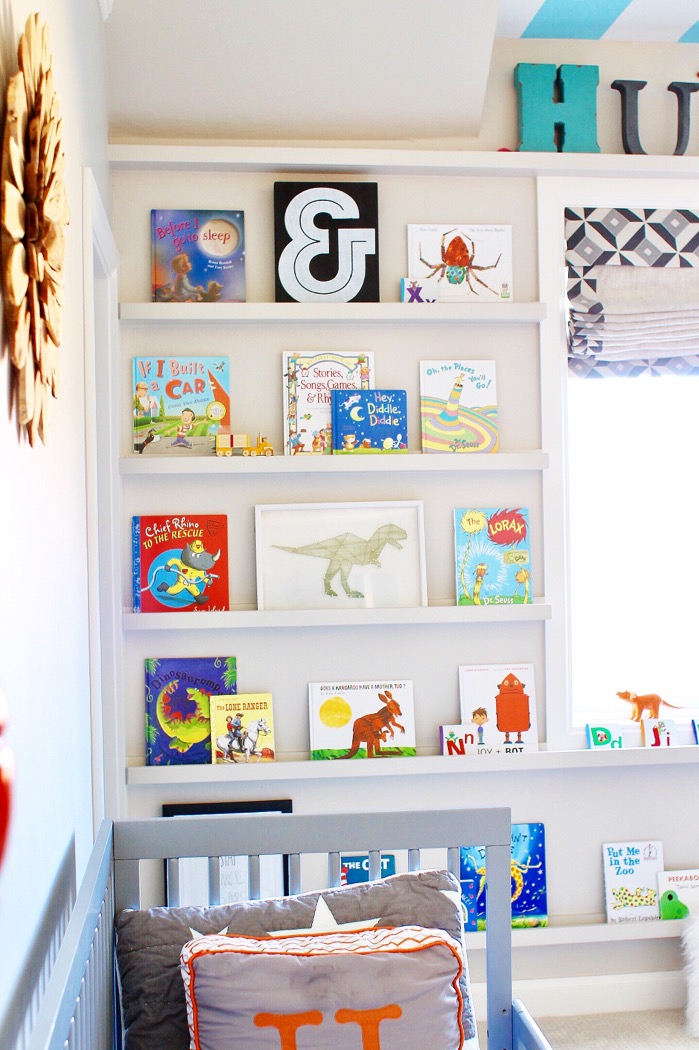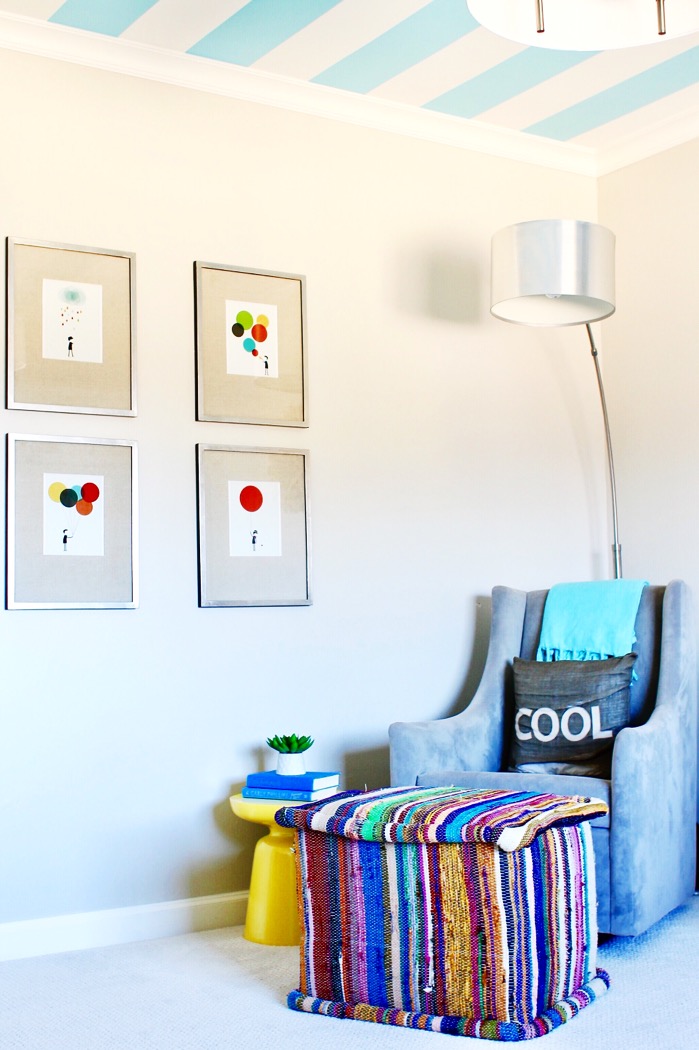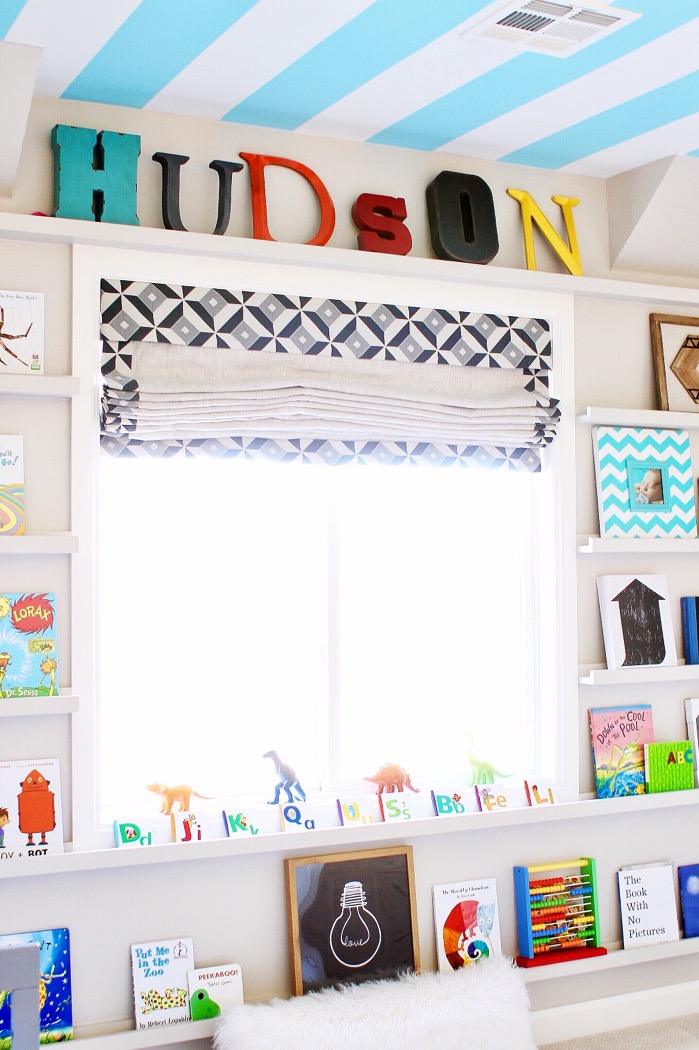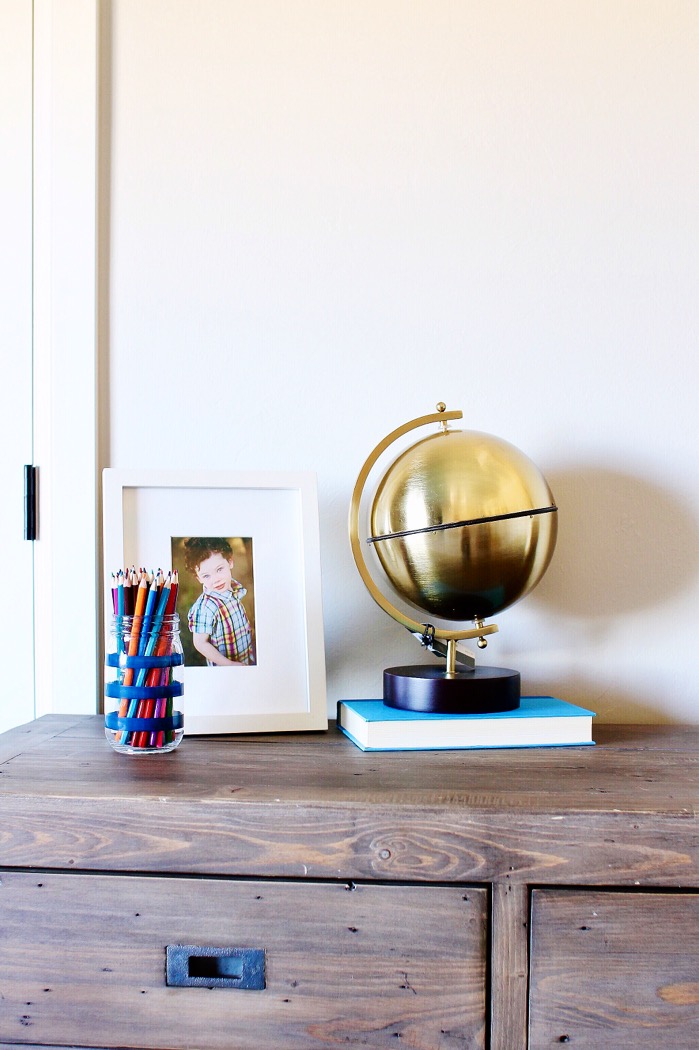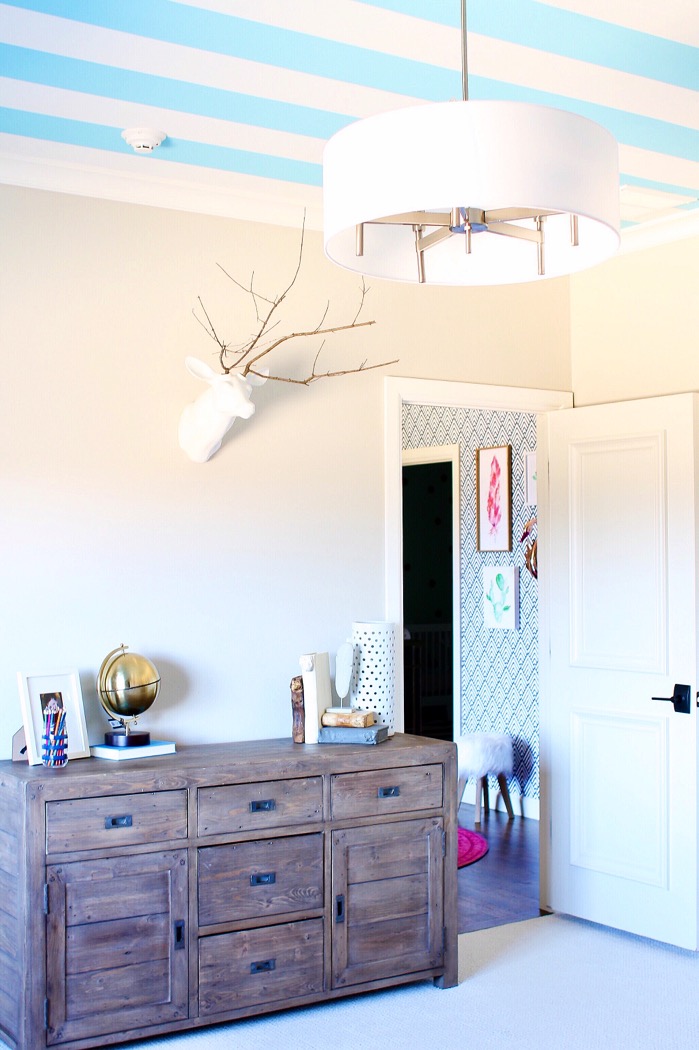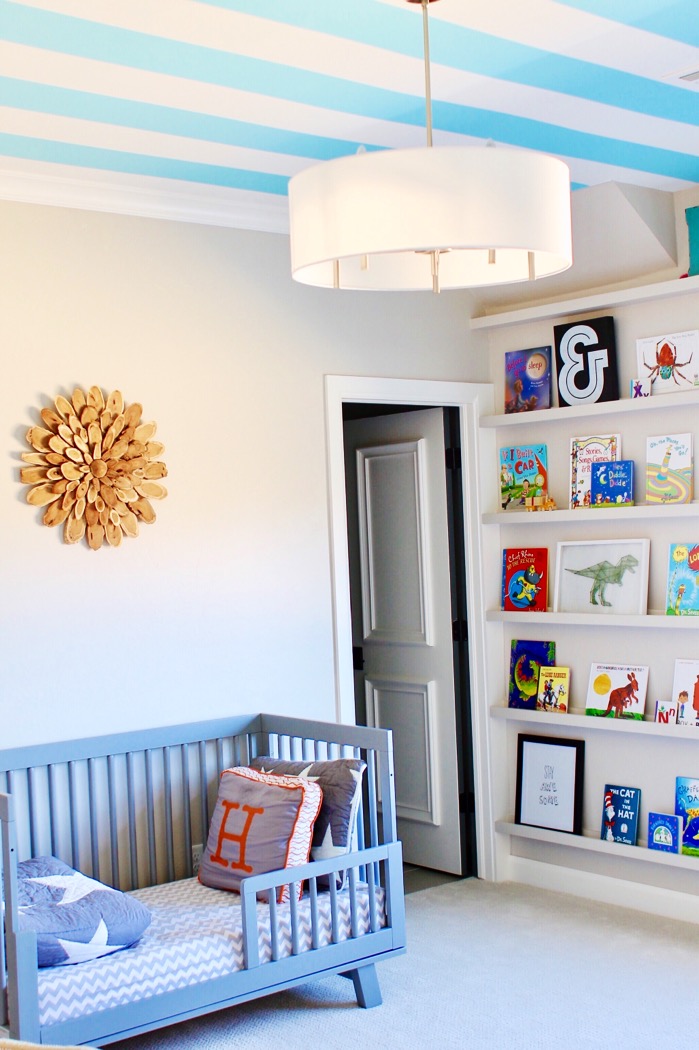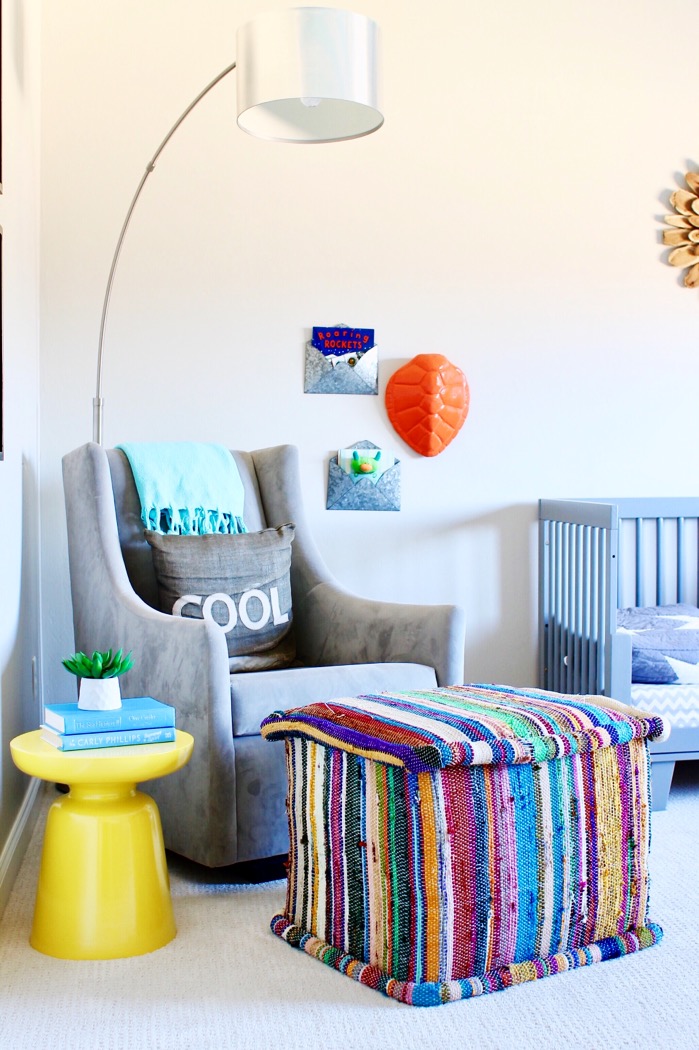 SHOP HUDSON'S ROOM HERE…
When planning my little boy's room, I was a little overwhelmed with how many modern bedroom ideas for boys there were. I knew I wanted it to be a little more modern and have lots of color. Something I always keep in mind is to design it so that it will grow well with them as they get older and not be too babyish. Several of his room ideas came from good ole'
Pinterest
and I did have help styling this room from some local decorators, So Love It Design. Funny idea is that when he was born we didn't live in our current home, so his old room was exactly the same. When we were building this home, I decided to do the same stripes, paint, shelving, lighting, etc. because I love it that much!  I chose to offer a tour of his room first because I desperately need to buy him a big boy bed, but just haven't found the perfect one yet, so his will most likely be changed soon and then I can do an update for everyone. Now, let's get to the details of his modern bedroom…
His ceiling stripes are one of my fave parts of his room. I love stripes in my home and fashion (just like this post), and I thought it was very unique to have them on the ceiling. When he was a baby, I thought it was great stimulation for him as he laid in his crib too. The stripe colors are SW Cloudless (BLUE) and the white is SW Pure White. His wall color is a very light grey..SW Worldly Grey. I did not paint these stripes, our painter did! I would not even attempt it! I just told him the approximate width I wanted the stripes and then he did the measurements so that they would be equal across the ceiling. I believe they are approx 10″ wide.
The built-in book shelves are another one of my favorite features of his room. We had our trim carpenter build these floating shelves in this house and our last home. (If you've read my Upstairs Kid's area reveal, you know I used these store-bought floating shelves that are great and well made too.) They mainly hold books and a few various framed decor items and you can see his name spelled across the top of them. These letters were bought from various places like Hobby Lobby and Etsy.  I think the girls at So Love It also spray painted a few of the letters to give them more of a fun pop. When we moved in to our current home, I was a sleep deprived new mom for the 3rd time and I cannot remember!  The letters offer such a playful element along with the various children' books displayed. For all of the children's books , I went to stores like TJ Maxx and Homegoods and bought tons of bright, colorful books. At my baby shower for him, the sweet hostesses asked each guest to bring a book to help fill up his little library. That helped fill the shelves immediately. It was nice, because I didn't need much art or prints in his room, because all of the book covers offer great patterns, pictures and colors. I feel that these book shelves have definitely helped foster his love of reading. Even my girls will come in his room and play library.  As he gets older, I will add more framed pictures, trophies and whatever else he likes at the time. His window treatment was custom-made locally. I love the look of a modern roman shade in a boy's room, but our window was too wide, so we had one made. One tip I have for kid's rooms…MAKE SURE YOU USE BLACKOUT LINERS with whatever type of drapery you use. I want their rooms to be pitch black so nap times go as smoothly as possible and they don't wake up at the crack of dawn either once the sun rises.
When choosing his chair, I knew I wanted a grey glider with modern, clean lines. The one we chose from West Elm fit the bill perfectly. It's full-sized, so could be used anywhere in our home. It is super comfy too. I'm hoping once I get him a queen sized bed that it will still fit in this room. We love reading books at night together in this chair. His yellow side table is also from West Elm. I don't think they sell yellow anymore, but they do offer this in other colors. I can see why the side table is one of West Elm's best-selling items ever. It is indestructible for one and comes in several cool colors. The turquoise pom-pom throw is another great pop that ties in the color of his stripes on the ceiling. And I can't forget the ottoman! It was a custom piece made locally in OKC. I have found this one that is so much cheaper and looks so close to it. This ottoman/pouf would be super cute in a kid's playroom too. The COOL pillow was locally bought, but I found one online that is similar!  The four adorable framed prints next to his chair are still available here. They are so cute and I love that they are nothing you will see at any local stores or catalogs. I used these matted frames in a galvanized metal color to keep them boyish.
His grey crib was my first purchase for his room once we found out we were expecting a boy. At the time, modern wasn't as popular as it is now, so I was excited to do something different. The clean, streamlined look of his crib is what sold me. And it converts to a toddler bed, which is what it is now. The price is amazing too. I loved it so much, we bought the white version for my youngest daughter's room. Any recommendations for a cool, queen sized headboard for a boy? Please leave them in the comments below. My poor boy is going to grow out of this bed any second!  I've got some simple grey bedding with white stars from Target on right now, once I get him the bigger bed, I may be updating it. Land of Nod has so many cute bedding options for kids, that may be where I go.
His white drum shade pendant is the main lighting feature in the room.  His chrome arc lamp behind his chair is another fun element that will grow well with him. This is the light we turn on at night when we are reading bedtime stories. And lastly, you will notice his distressed wood console table. That was bought locally, but I found a super similar look here. I have just a few books, frames  and this brass globe atop his table. And one of my fave wall decor pieces in his room hangs above his console table. The white ceramic deer head! I love that you put real branches in the two small holes next to the deer ears. I highly recommend it.
I hope you have gathered some fabulous modern bedroom ideas for boys now or to use in the future if you don't have any children yet. Feel free to pin these images to your own Pinterest boards for future use (Just HOVER over each image and you'll notice the Pintest button in the top left corner)! Please let me know what questions you have for me and have a great week.
MORE MODERN BEDROOM IDEAS FOR BOYS