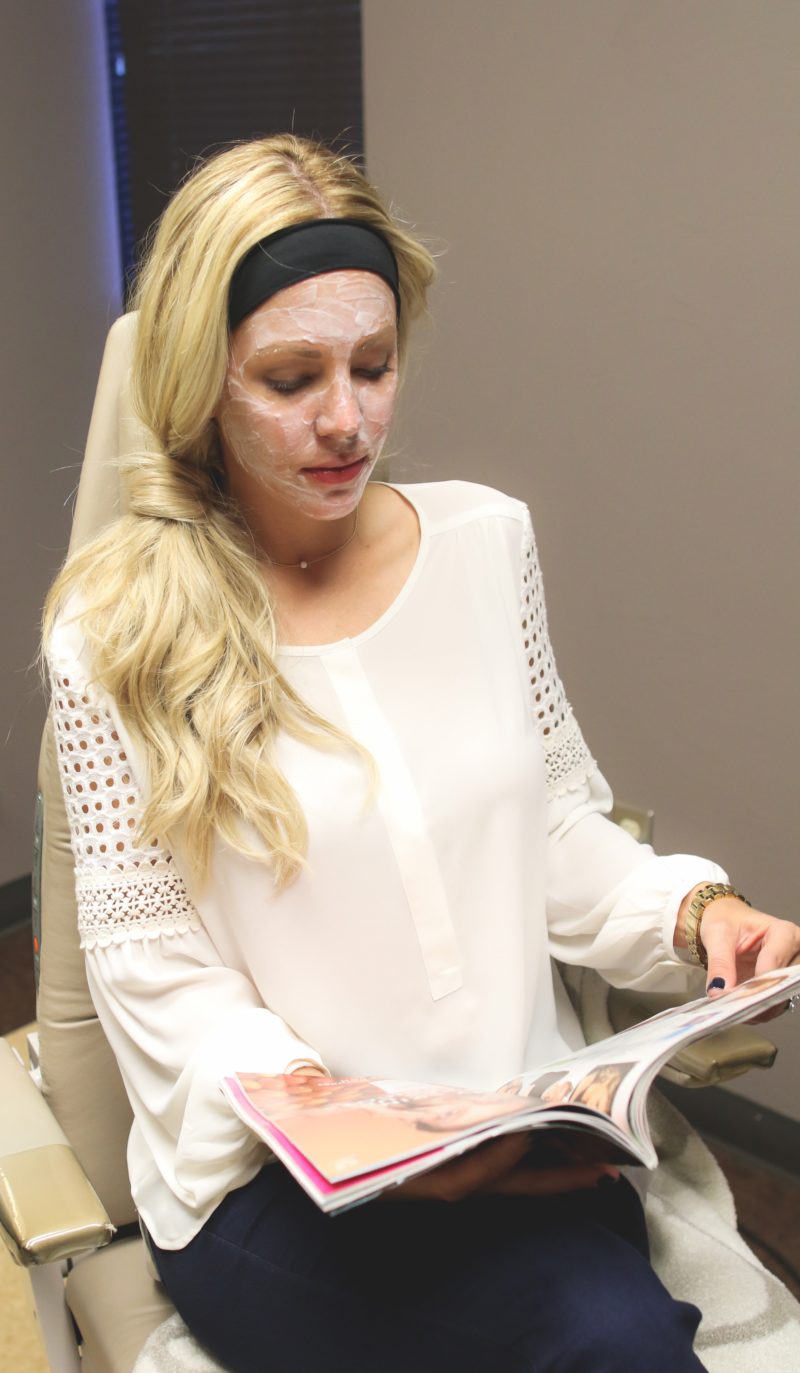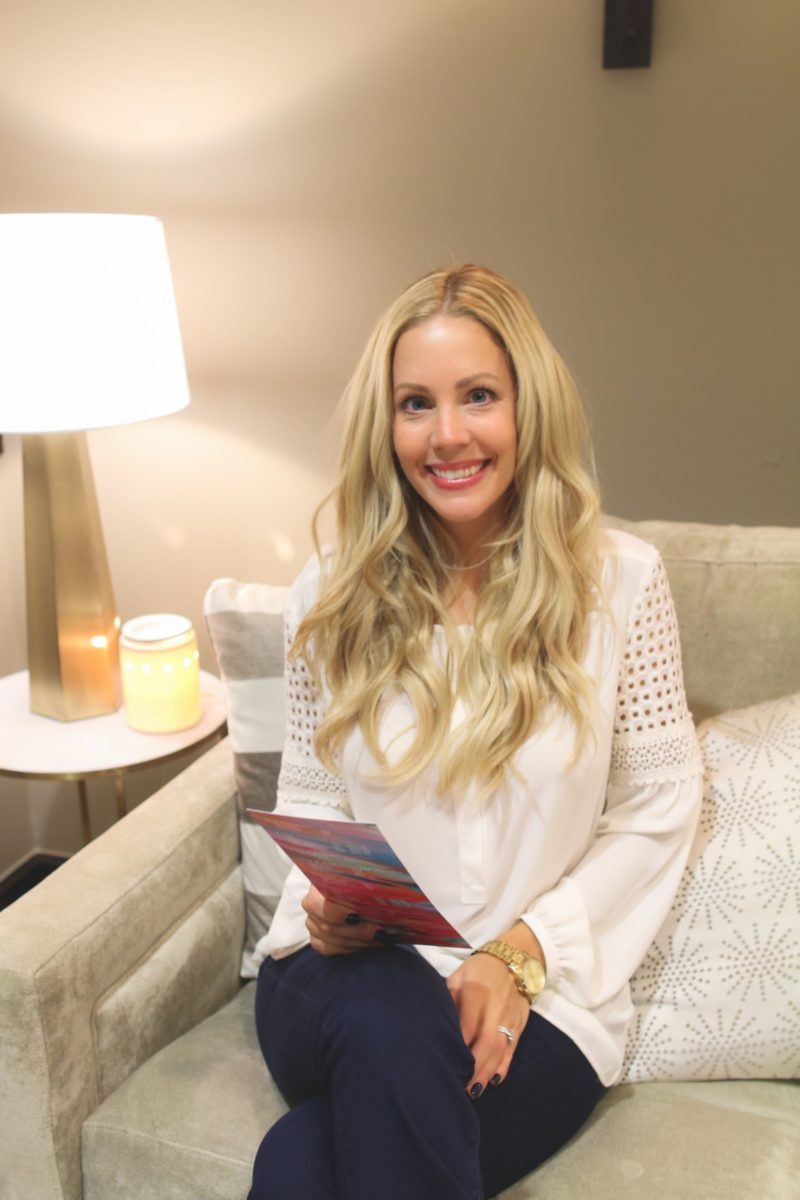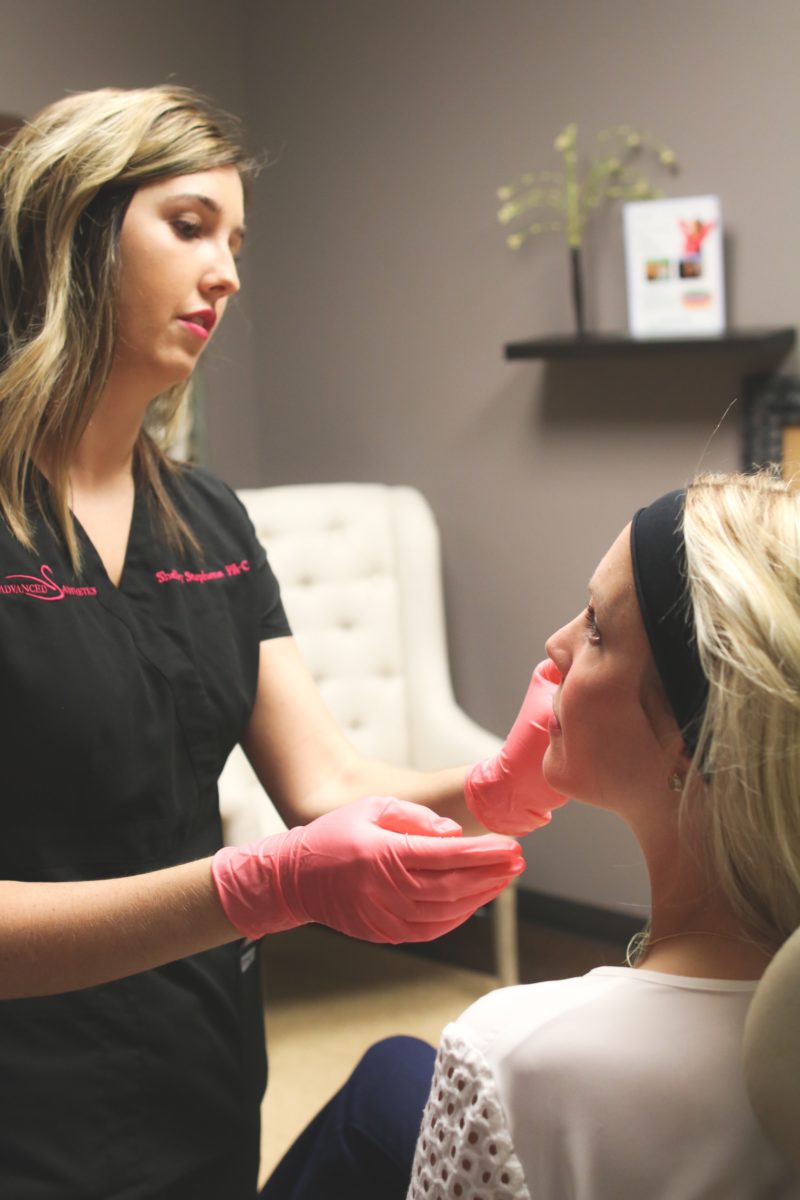 HAPPY HALLOWEEN! I love this time of year with my family, even though Halloween signals to me that the holiday craziness is about to begin and I need to get organized or the season will swallow me whole. We are going to spend the evening trick or treating with 2 of my oldest girlfriends from high school and their families. It is always so much fun and the kids have a blast. I cannot wait for Vivian to get to experience going door to door and trick or treating. Last year she had just turned one and sat in the stroller most of the night. This year she will be running with the big kids trying to keep up with her Elsa wig flowing in the wind!
One thing I always like to do before the holiday season is get a special cosmetic treatment done to my face called a Fotofacial skincare treatment. It is a term for a skin treatment that uses light-based technology, primarily for boosting collagen, treating brown spots, and diminishing broken capillaries. In other words, it is the BOMB! I don't do much to my face (yet), but out of the other treatments I have tried, this one is my favorite. I did use a tanning bed (gasp) as a teenager and early college years, but decided in my junior year of college I would stop using them and start protecting my skin on a daily basis with SPF and a hat, etc. I knew I would regret all of the damage as I got older and I am so glad I stopped when I did. However, I did get some sun damage in terms of brown spots, broken capillaries and etc…some you could see and some that was hiding below the surface. After my third child was born and I had finally stopped nursing (I nurse for well after 12 months for those that don't know me), and I was ready to start tackling the sun damage.
I knew exactly where I would be going to begin treatments. Advanced Aesthetics in Oklahoma City is the go-to medical spa in the metro area. Advanced Aesthetics opened its doors in 1997 under the Medical Direction of Michael Elder, M.D. Dr. Elder is nationally recognized as an expert in the usage of non-surgical laser treatments. They offer all types of treatments and procedures ranging from Botox to Fraxel to HydrafacialMD and more. If you are in the OKC area, I would definitely schedule a consult. You will love the all- female staff there and I always feel very comfortable talking with the medical professionals about any cosmetic issues or concerns I have.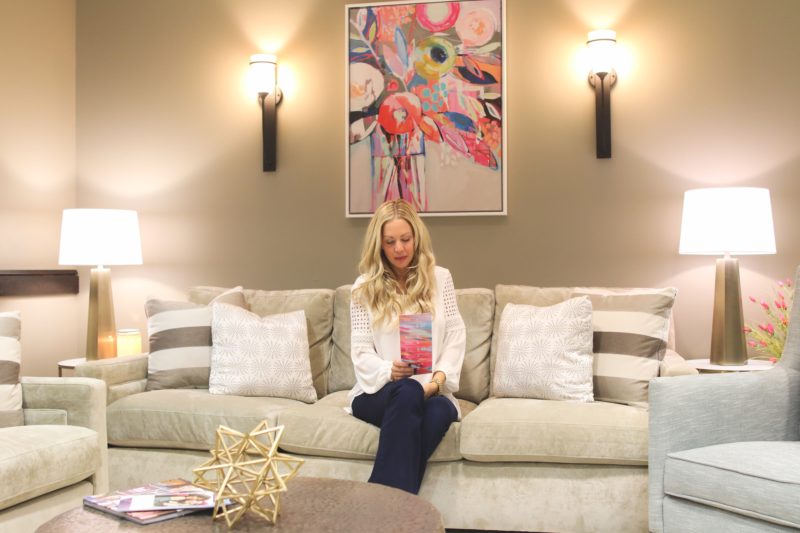 I started the morning looking over the menu in the comfortable and stylish waiting area on the day of my procedure. I then had my consult to make sure I was a good candidate for a Fotofacial. After the staff looked over my skin they determined I would definitely benefit from the treatment and had some noticeable sun damage and spots that had accumulated over the years. I wanted them gone and couldn't wait to get started. You do need to be aware that you will have redness and possible swelling after this procedure for a few days, and brown spots will come to the surface and slowly peel off over the next week or so. I chose a week I didn't have much going on and just wore a hat around town until the brown wasn't so noticeable. It sounds weird but it is actually the most gratifying part of the treatment! To see all of the sun damage come up or pepper as the professionals call it, and then peel off feels like you are almost getting new skin. After the peeling is over, you are left with luminous, glowing skin. Depending on how serious your damage is, you may require another Fotofacial to get the results you are after.
Here I am getting my initial consult by Shelby, one of their PA-C's.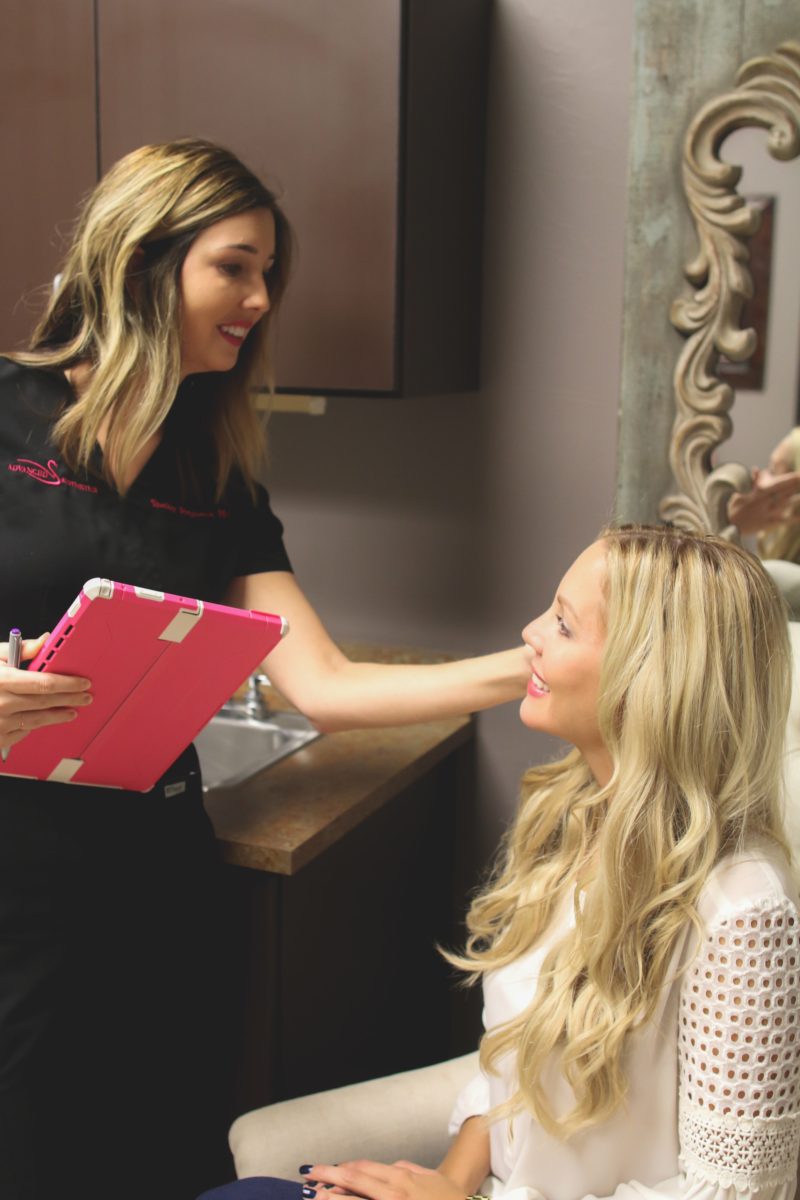 Now she is prepping and cleansing my face to remove all makeup and oil.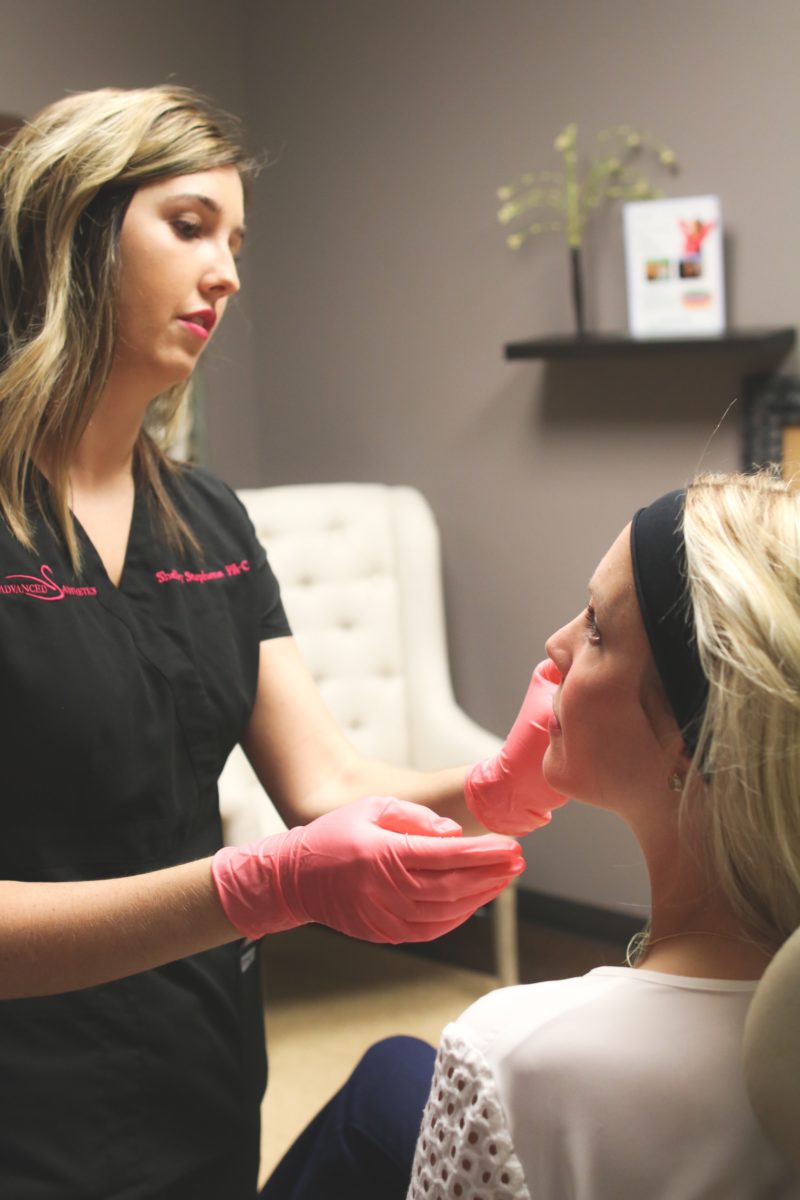 Shelby then applied the numbing agent and I am left to numb for about an hour and relax. Trust me, you want to be a little numb for this.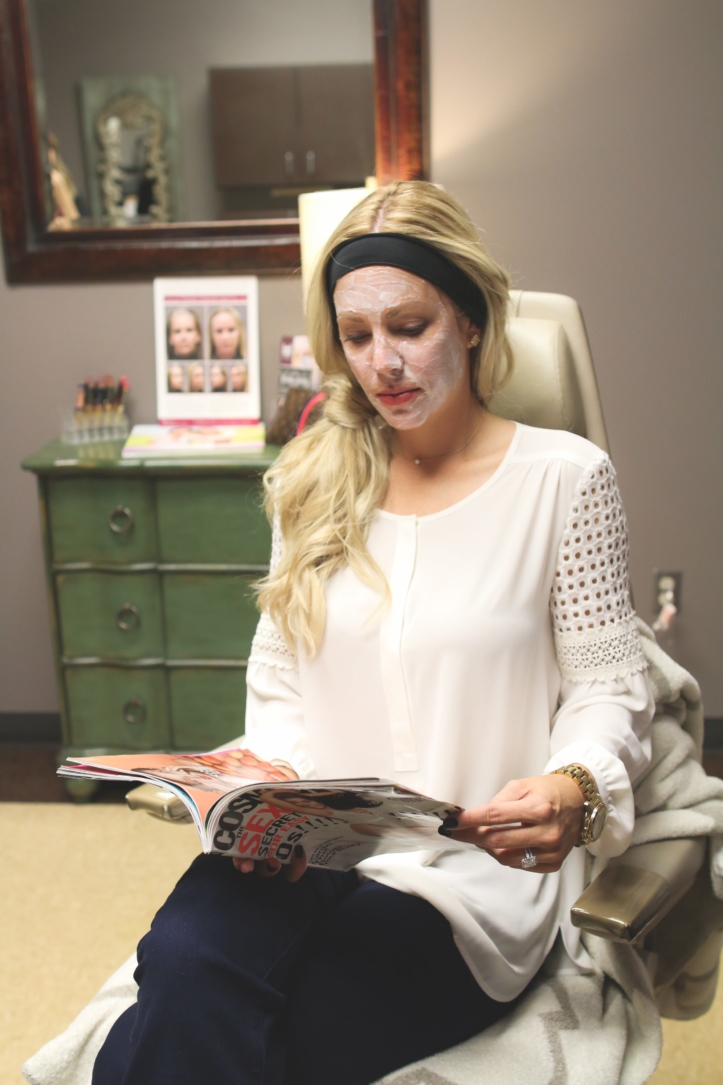 Finally, Lindsey the other PA-C at Advanced is doing the actual treatment to my face. The numbing agent really helps. I would describe it as a hot rubber band snapping your face. The entire procedure once started only takes about 15 minutes. Then she applies sunscreen (my absolute fave) and I am on my way. In my experience, the peppering comes in the first day or two and then remains for about a week. My face was only red a day or so. I got a little swelling underneath my eyes for a few days. After the peppering peels off, I was so pleased. My skin looked so clear and smooth. I am in love with this treatment.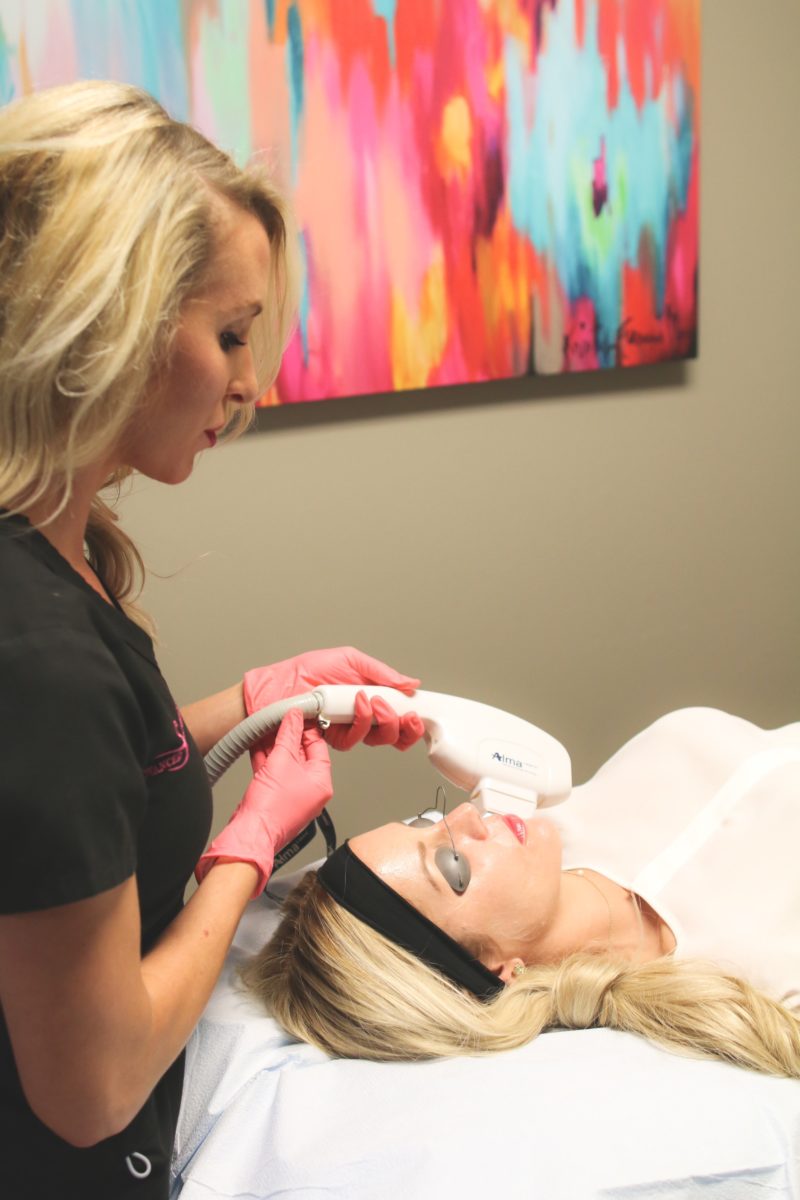 Please reach out to me with any questions regarding a fotofacial skincare treatment. Advanced Aesthetics is located near Mercy hospital in OKC.  You can find them on Facebook, Instagram or their website to find out more information. Give them a call and tell them Ashley from Curls and Cashmere sent you! Have a great week and please always feel free to reach out to me with questions or concerns. Please take a moment to subscribe to my blog site. You will be the first to know when new posts are live and I will never spam you!
Advanced Aesthetics
14001 McAuley Blvd.,Suite 150
Oklahoma City, Oklahoma, 73134
405 . 751 . 3424
Thank you to Advanced Aesthetics for sponsoring this post. However, all opinions are my own as always. Please consult a medial professional to see if the treatments mentioned are suitable for you.