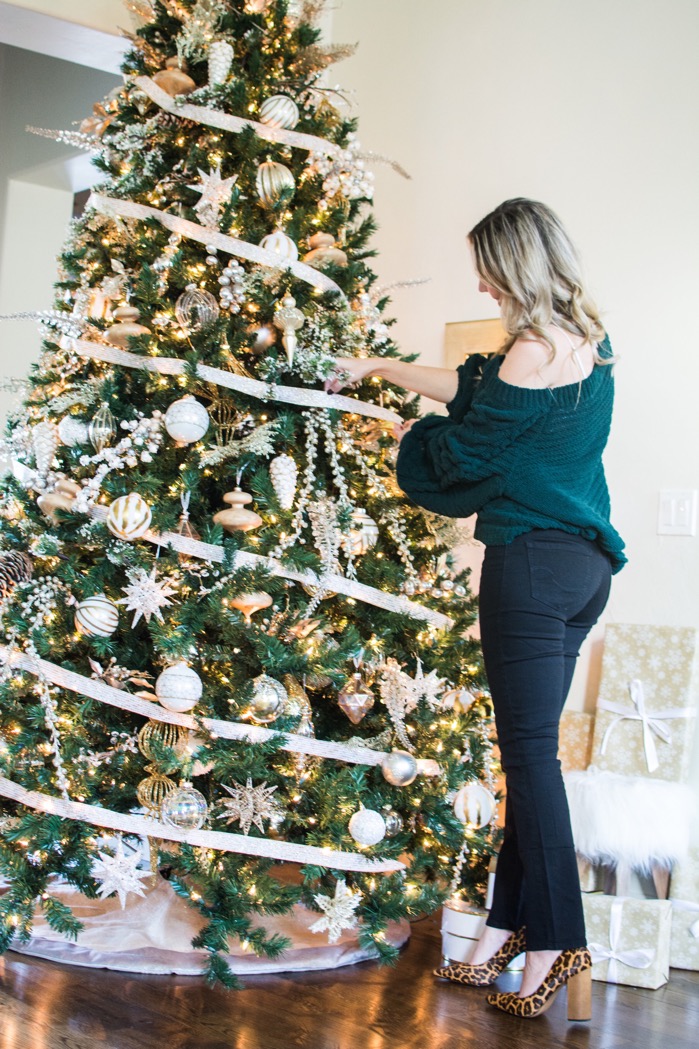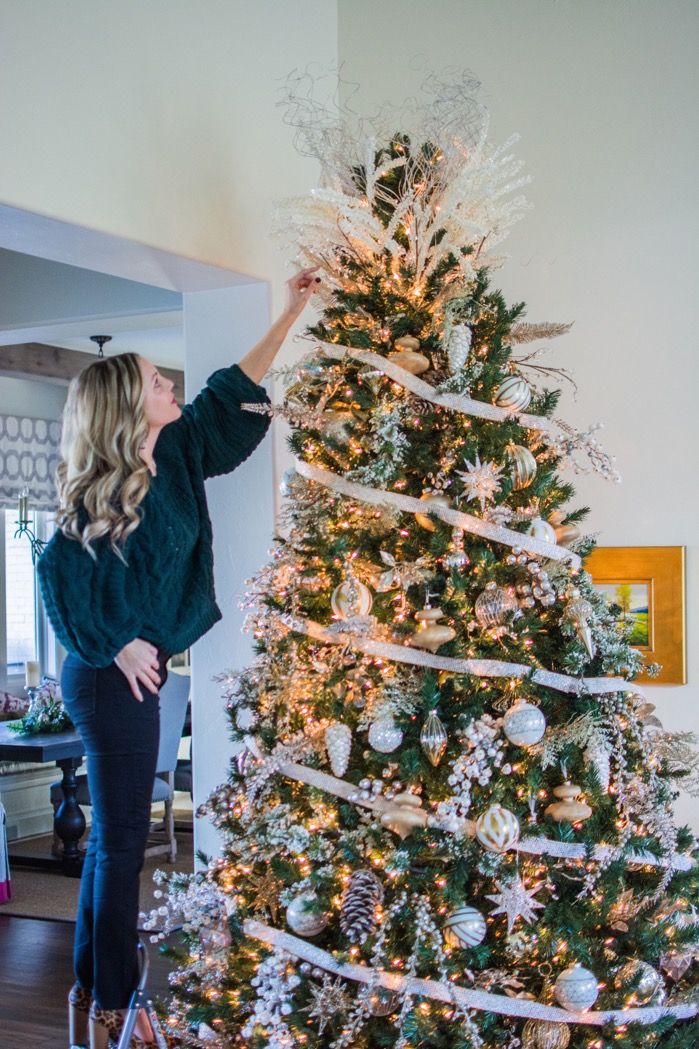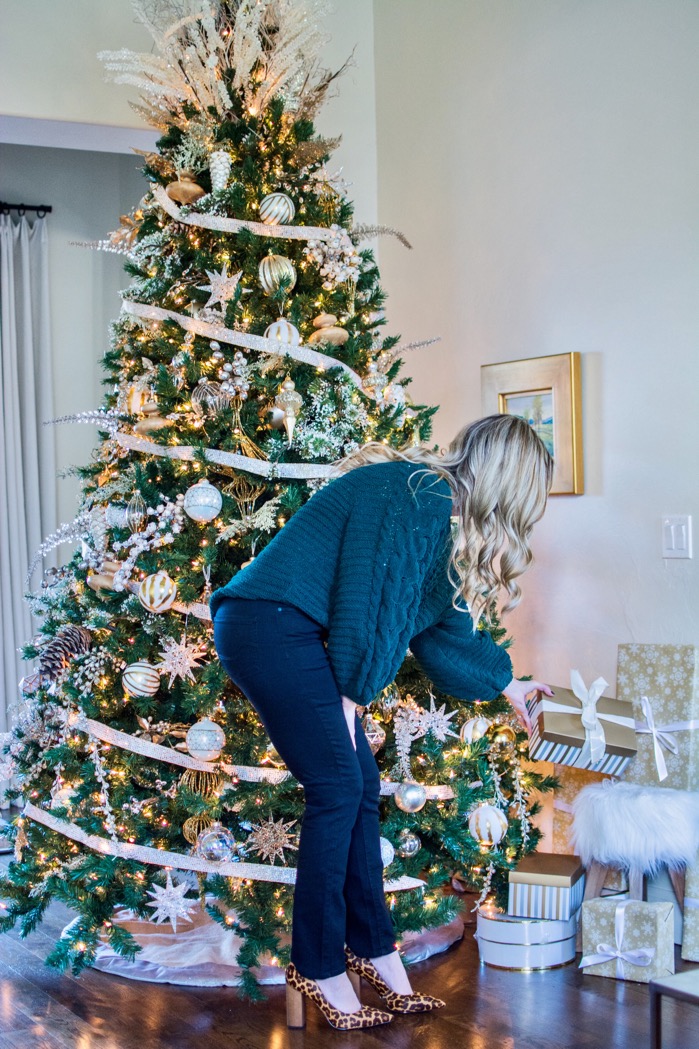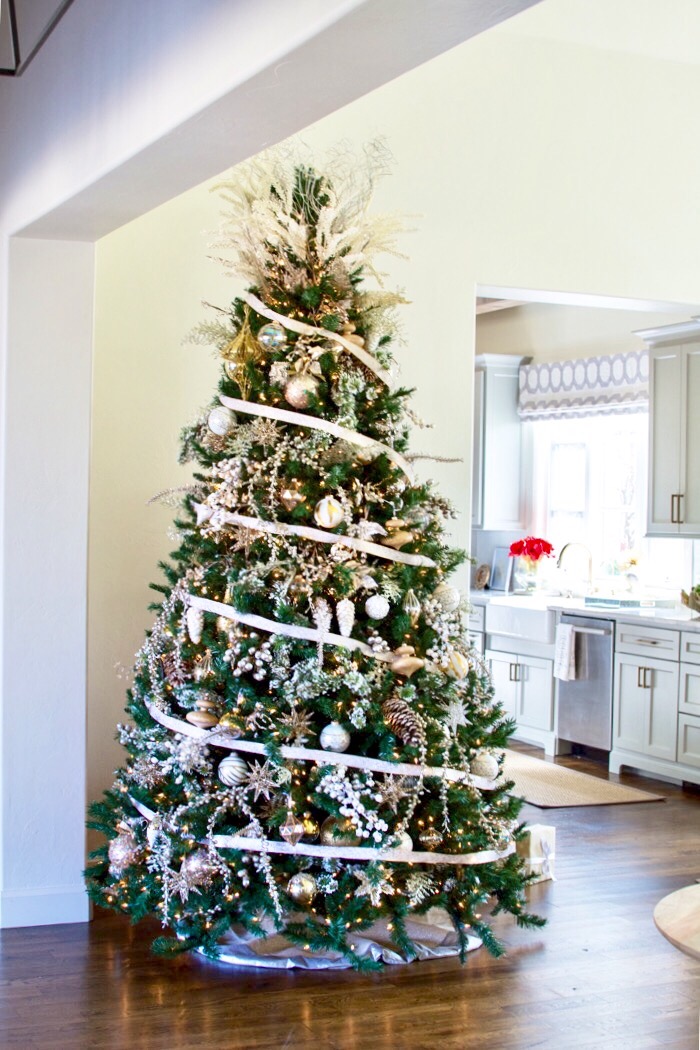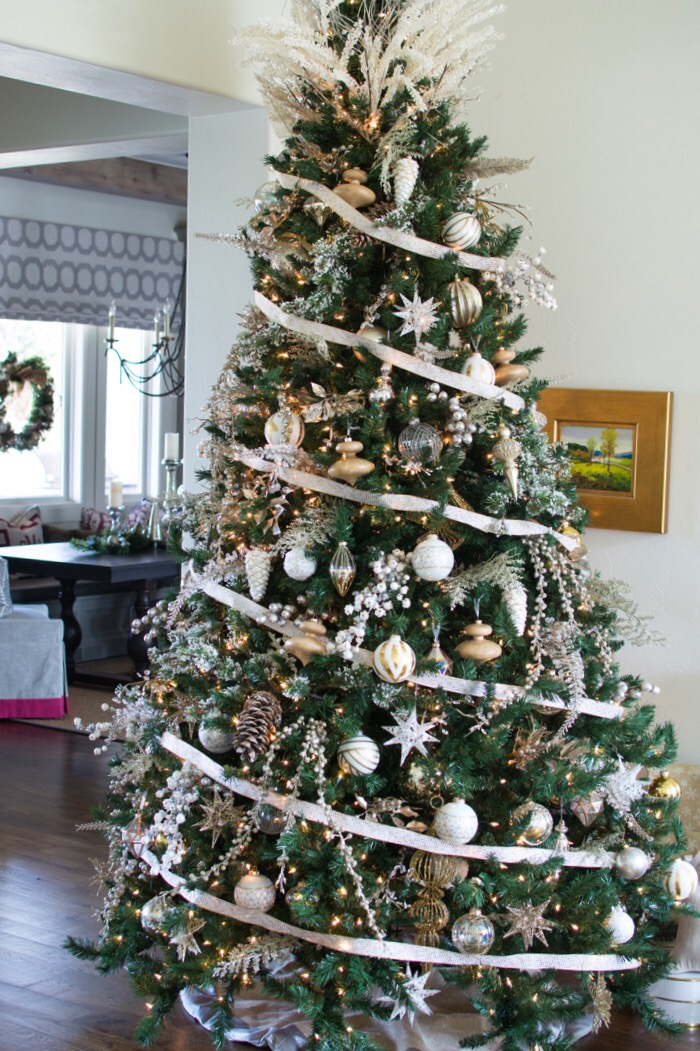 Hi ladies! I wanted to share my top tips that I have learned over the years on how to decorate your Christmas tree (you can see last year's tree here). It is simple, but these tips will help you decorate like a pro year after year. While decorating my home and tree, I wore my Signature by Levi Strauss & Co.™ High-Rise Slim jeans. The denim is super stretchy, but they keep their shape all day, which is essential during the craziness of the holidays. I also have partnered with them to help host an amazing giveaway opportunity from the little elves at Signature by Levi Strauss & Co.™. I hand-picked the seasonal items for the giveaway to help one lucky reader bring a little holiday cheer into their own home this season (look for that info at the end of the post). Now let's get to decorating….
Always fluff the tree (assuming it is artificial). I know this part is horrible and scratches up your hands, but it is crucial to a nice, full looking tree. You don't want too many large holes in the tree, so start fluffing. Consider if some of the tree is against a wall or if the entire tree will be visible.
I am assuming the tree is pre-lit. It makes lighting and decorating the tree so much easier, especially if you like large trees like I do. Sometimes, I have had to add new lights when a branch of pre-lit lights have went out. I know (pre-lit trees are not perfect)… just arrange them and plug them in to make sure they look somewhat even. Now your lights are on and your tree is fluffed!
Everyone has a certain way they go about this, but hear me out. Think of the tree as three-dimensional. You don't want all of the ornaments on the outside of the tree. You want them placed inside the branches as well as outside so it's more 3-d. I personally have large, oversized balls that I start placing first. They go inside the tree to help fill large holes. Then I use smaller balls and fill the rest of the large holes. Wait on your nice ornaments.
Next I use greenery stems, picks and sprays. I have a 10ft tree currently, so I would say I have 5-8 or so various types of stems (on my current tree think lots of white, metallic and gold stems) that add a lot of character and depth to your tree. I have 6-8 stems per type of stem, so 40ish in all covering the tree.  Place them in the tree in empty spots and randomly around, from top to bottom. These white pinecone picks are really pretty in person. That really takes the tree up a notch and makes it look like a designer tree. Tip: I have a traditional green tree…I love the flocked look, so last year I cut apart flocked garlands and used them as stems to add the look of more flocked branches to my tree. Totally worked and looked great!
Now use your ribbon. There are several ways to do this…you can drape it vertically from the top in sections, you can wrap the tree 360 degrees or you can use just various sizes of cut ribbon and weave them where you see fit. I personally like all 3 ways…lately I have been wrapping my tree 360 degrees. I used ribbon and this fun scripted paperlast year wrapped around my tree…it was such a cute, festive touch.
Now get your nice ornaments out. I recommend having some oversized, large ornaments if you have a taller tree like mine. Smaller ornaments get lost easily on a big tree and you need some stand out ornaments that will make a statement. I say 6-8 ornaments per style…maybe 5 styles. So again, 6-8 of each of the 5 styles. You want the tree to look and feel cohesive, that is why I am suggesting you get a grouping of the same statement ornaments and greenery stems so it isn't just a random mess of stuff. I used these star ornaments last year in gold and white and love how they make a statement.
Start placing the ornaments. See why I like to wait for the nice ornaments? Because once you place the stems, ribbon and inexpensive balls, a lot of space is taken up and those statements ornaments would have been covered up. You want them to stand out and shine! I am loving these starburst ornaments. My tree this year is covered withthese gorgeous ornaments. Don't place the same ornaments too close together, try to space them out and don't forget the top of the tree.
Now for a huge tip I learned years ago from one of my oldest friends…use lots of nice tall stems and floral wire and create a tree topper from that. I love a big grouping of stems to give you some height wired to the top of your tree. Leave them wired on and store them still on the top section of your tree. It is genius and a tip I use year after year! I place my top section of the tree in a plastic tub with the topper still wired on so I don't have to worry about redoing it the following year. Now, some of you may want to redo it, but I like to keep it the same for a bit.
Add a tree skirt to complete the look. You want to cover up the unattractive stand. There are so many gorgeous tree skirts out there or try the latest trend, which is a tree collar like this one. This is definitely something I will be trying next year.
Lastly, if you are really motivated, you can always hand wrap various giftboxes and use them as gorgeous gift decor for under the tree. I always try to choose a nice wrapping paper that matches my tree and decor.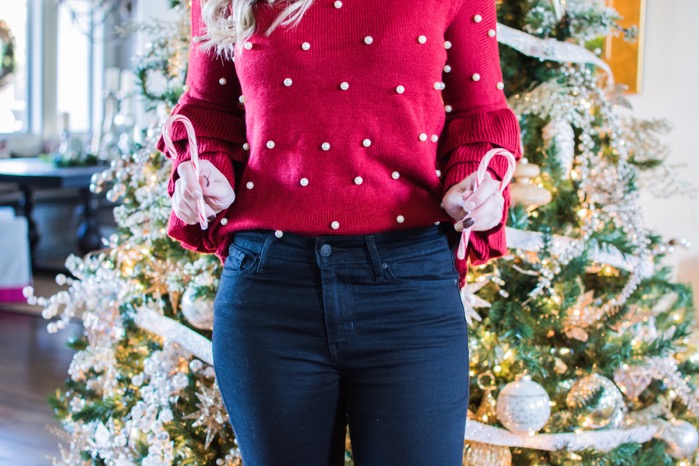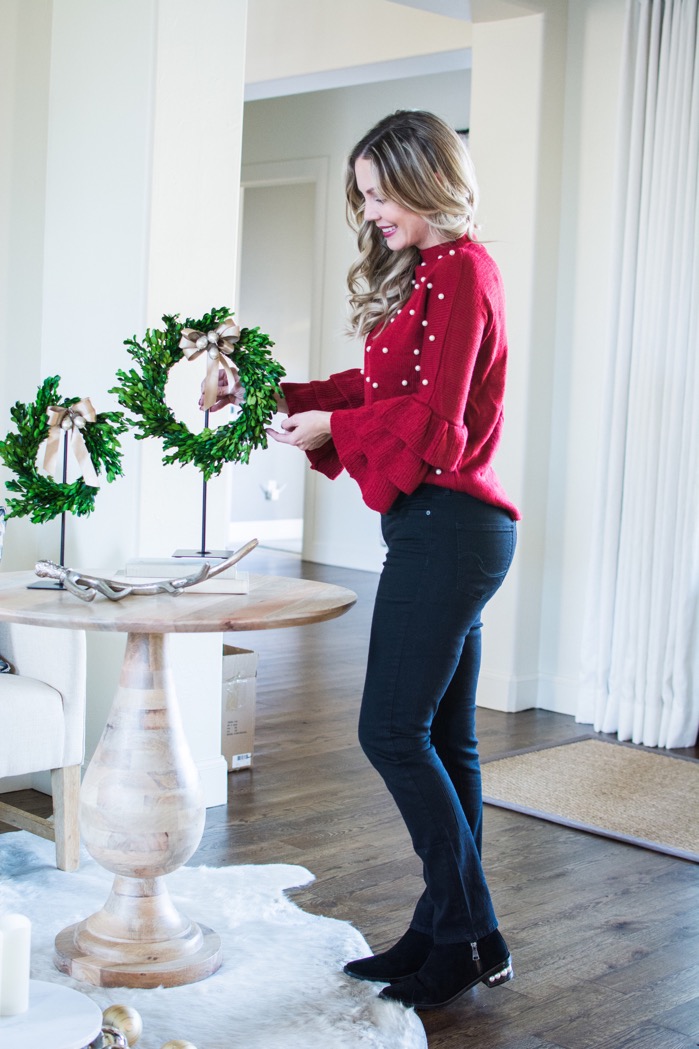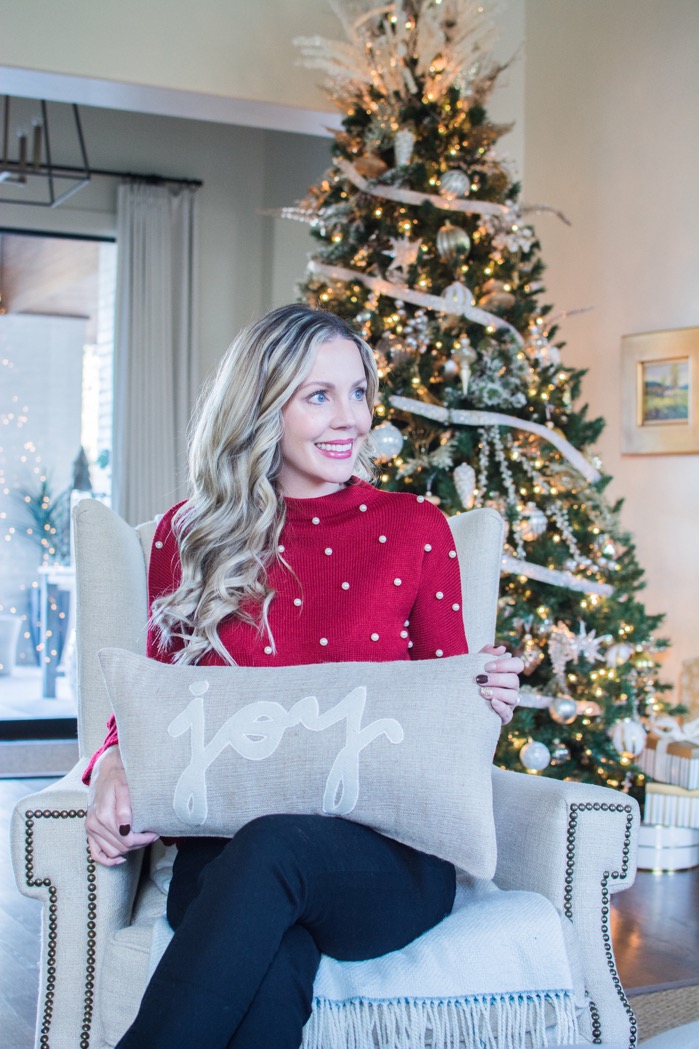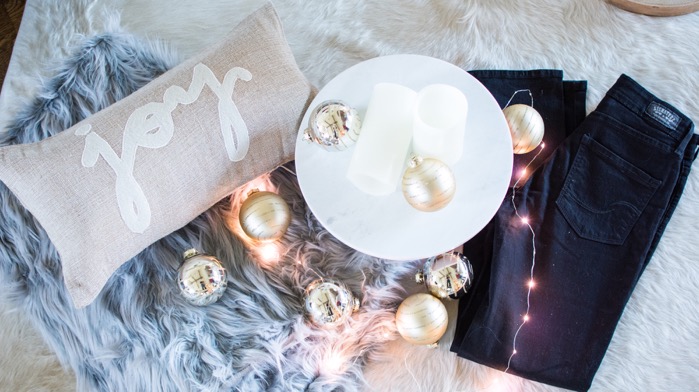 While I styled my home for Christmas, I wore my High-Rise Slim jeans. The black color is so slimming and can be styled with several festive holiday looks like the chunky hunter green sweater I wore with my uber-chic leopard heels. I also love dressing them up by pairing with a red pearl bell sleeved sweater and black pearl boots. With these black jeans, the styling possibilities are endless! Sold at Walmart and Walmart.com, the price of the Signature denim is affordable, so you will have plenty of funds left over for all the holiday decorating and gift giving your heart desires!
You don't want to miss the Signature by Levi Strauss & Co.™ Win Her Wishlist Giveaway running Dec. 11th through Dec. 15th. Like I mentioned above, I hand-picked the cutest items for one lucky reader (see the giveaway items in image above). From a luxurious faux fur throw, the Joy pillow I am holding above, and more on-trend seasonal decor items, it's an amazing giveaway! Just go to the Signature Jeans Instagram page to enter. Thank you so much for reading and I hope my tips on how to decorate your Christmas tree help you come decorating time. Happy Holidays!