.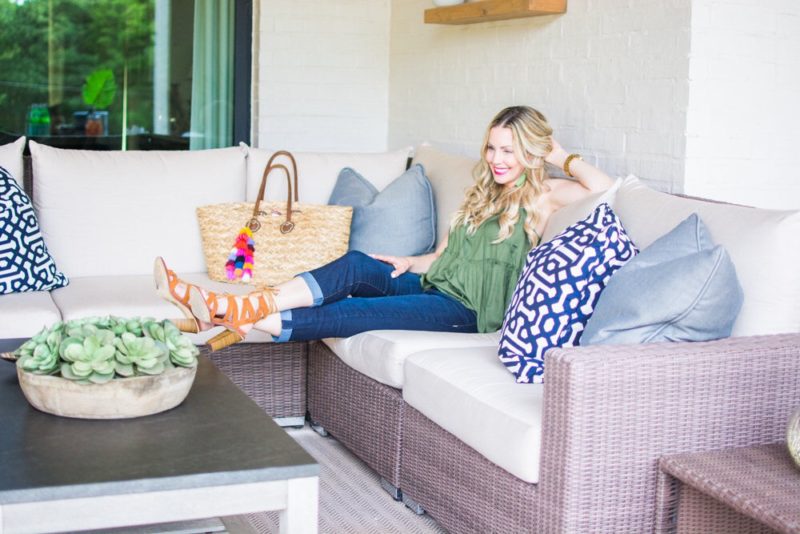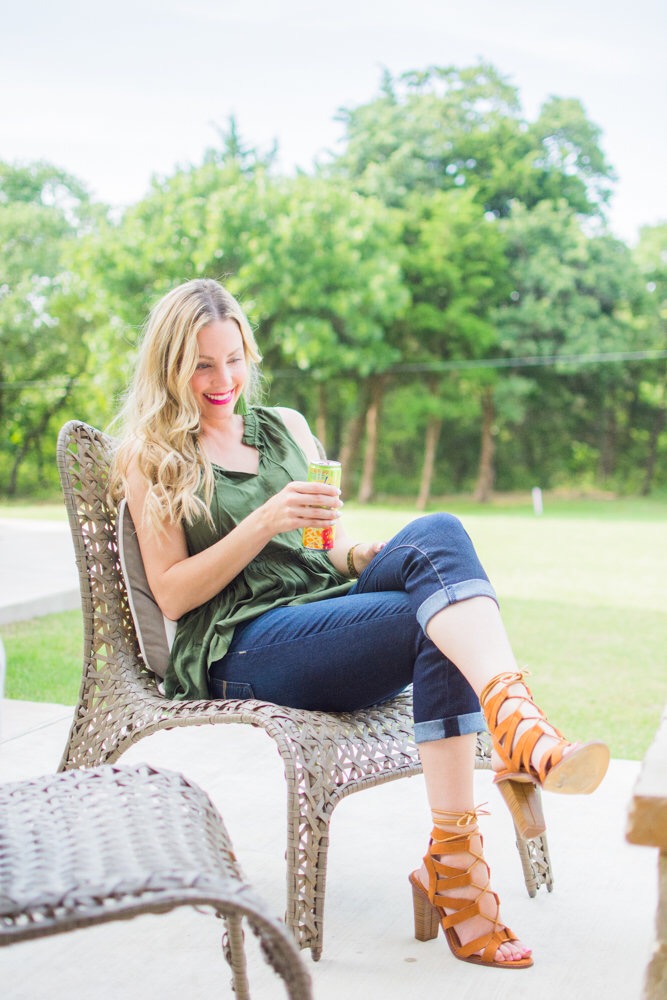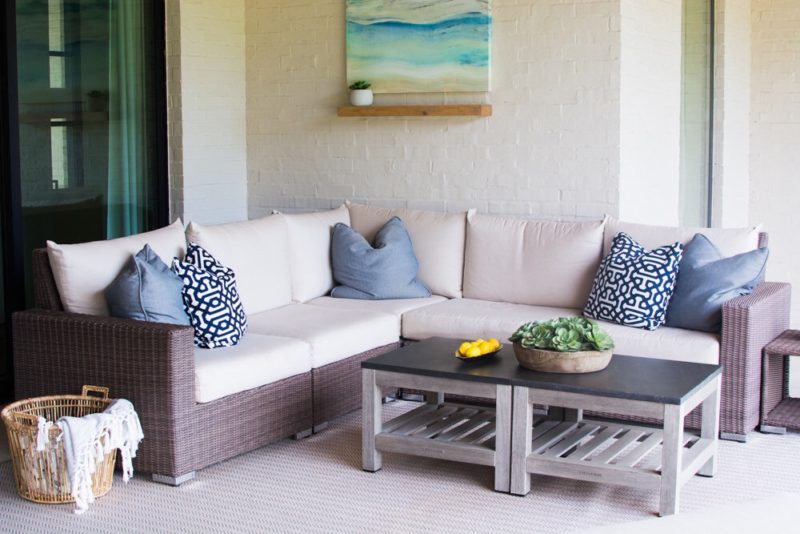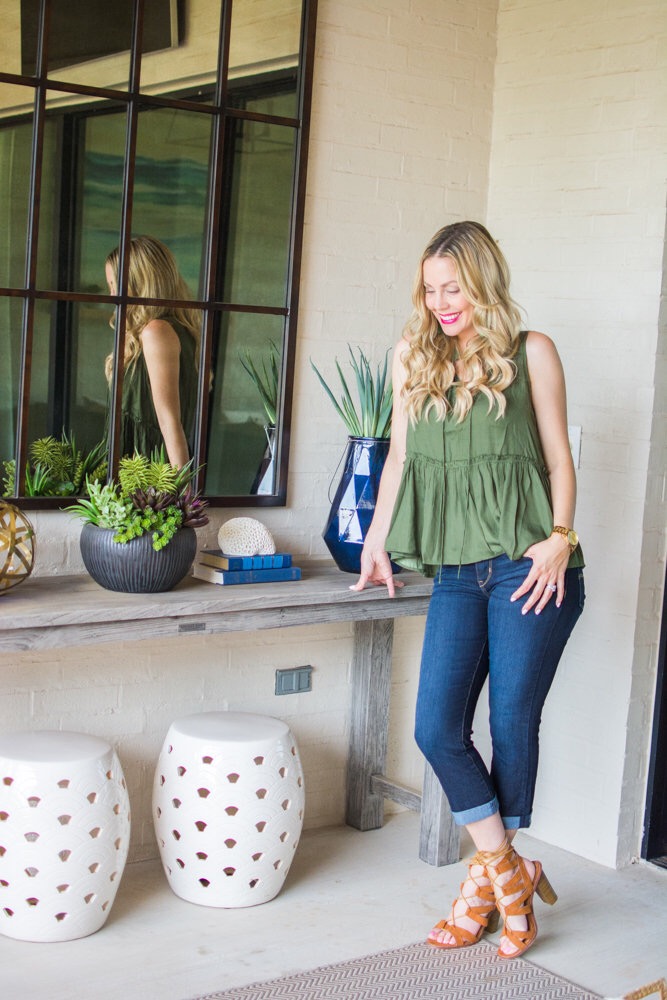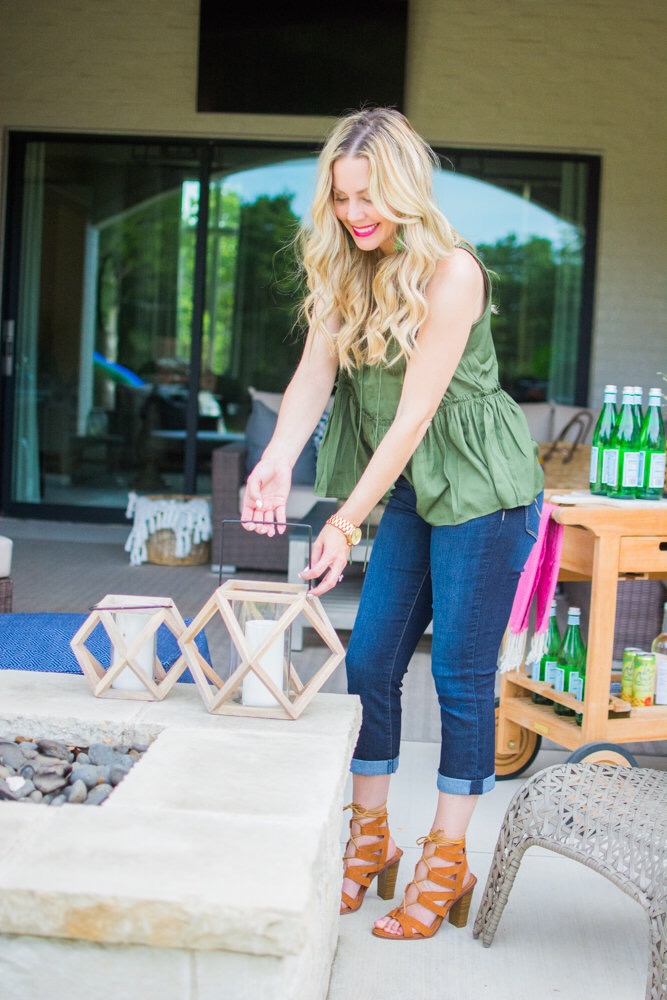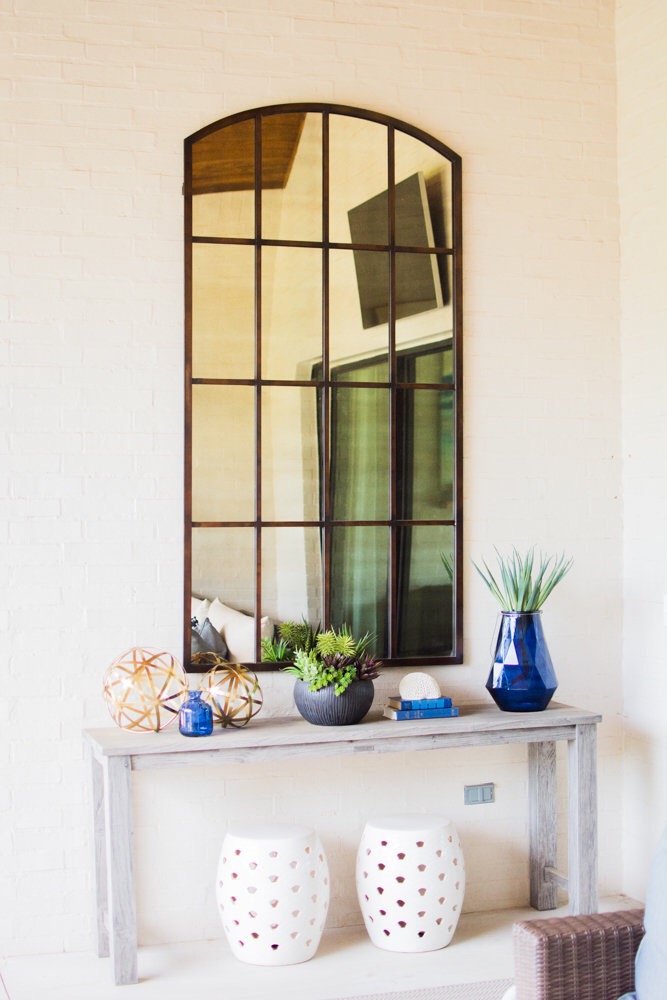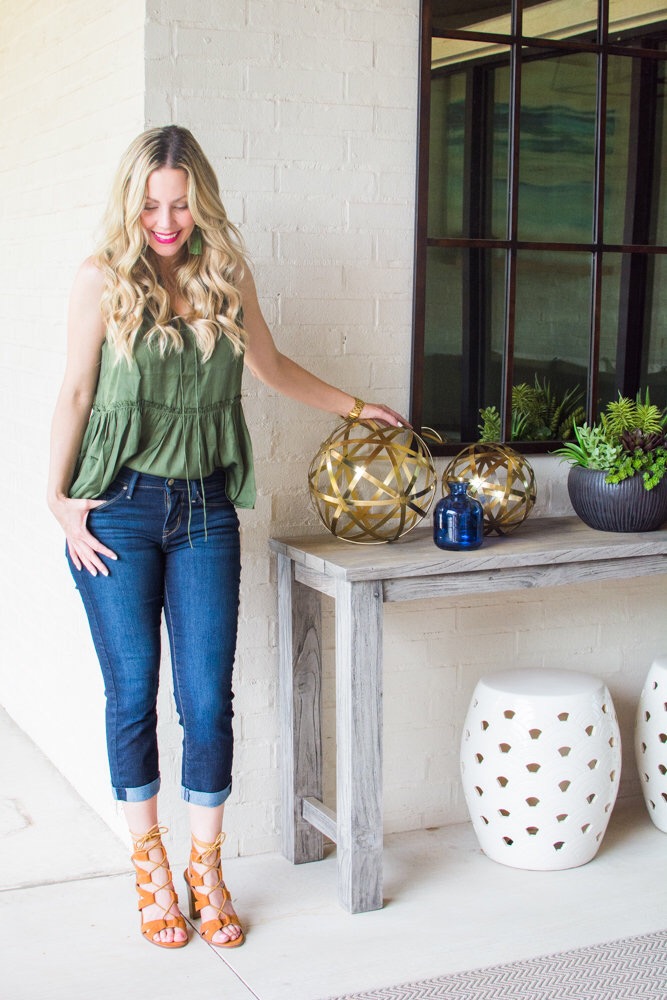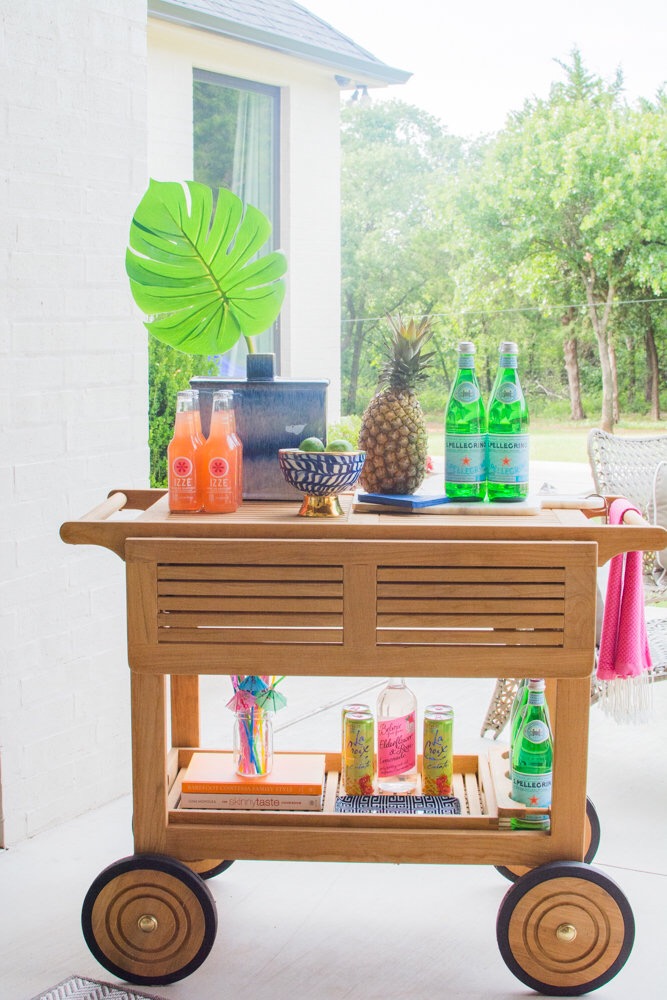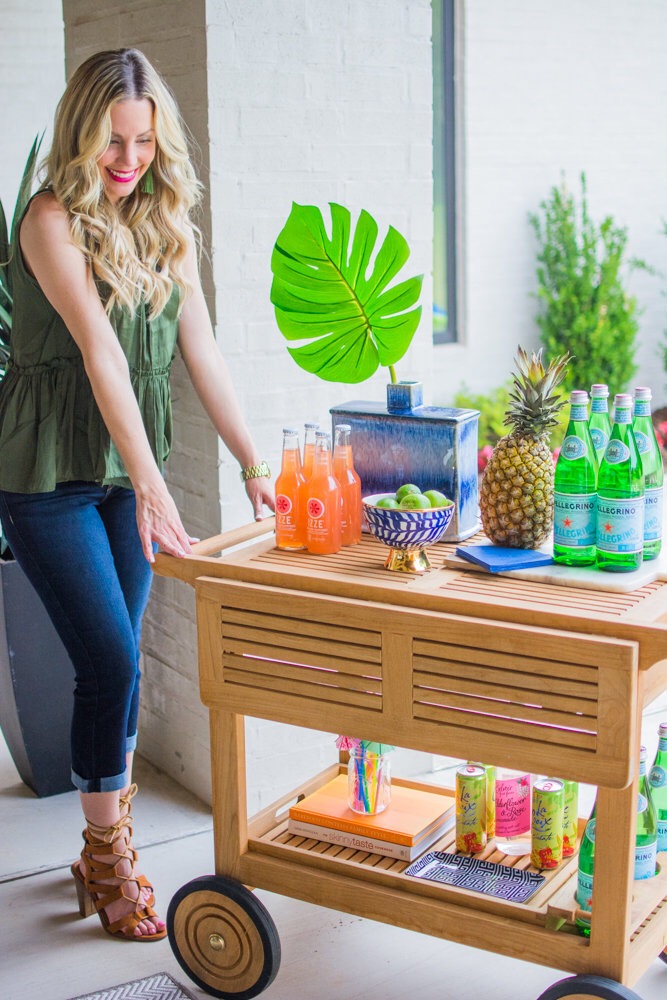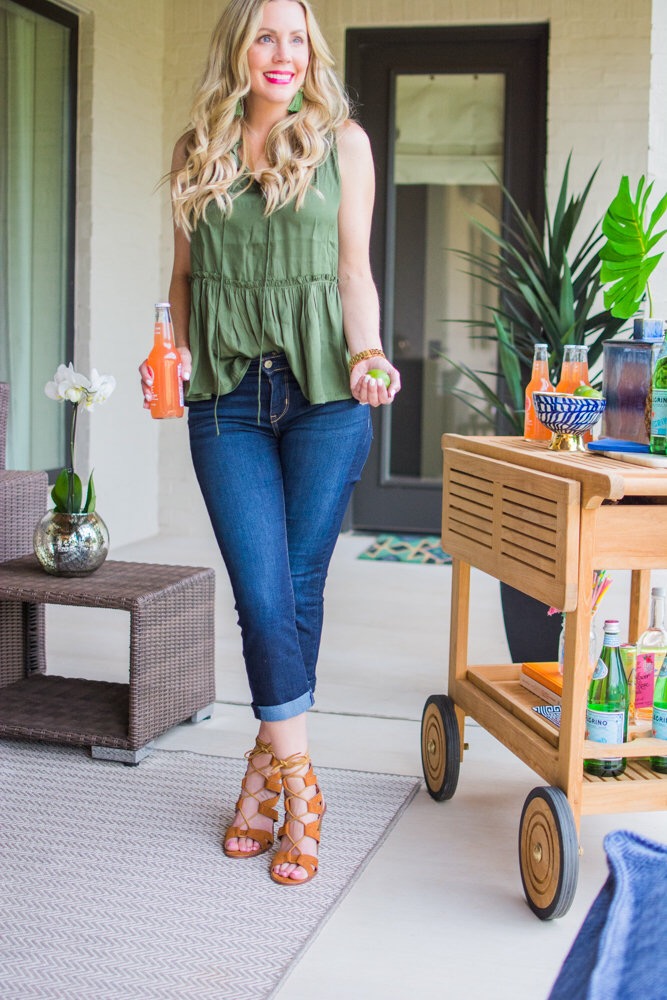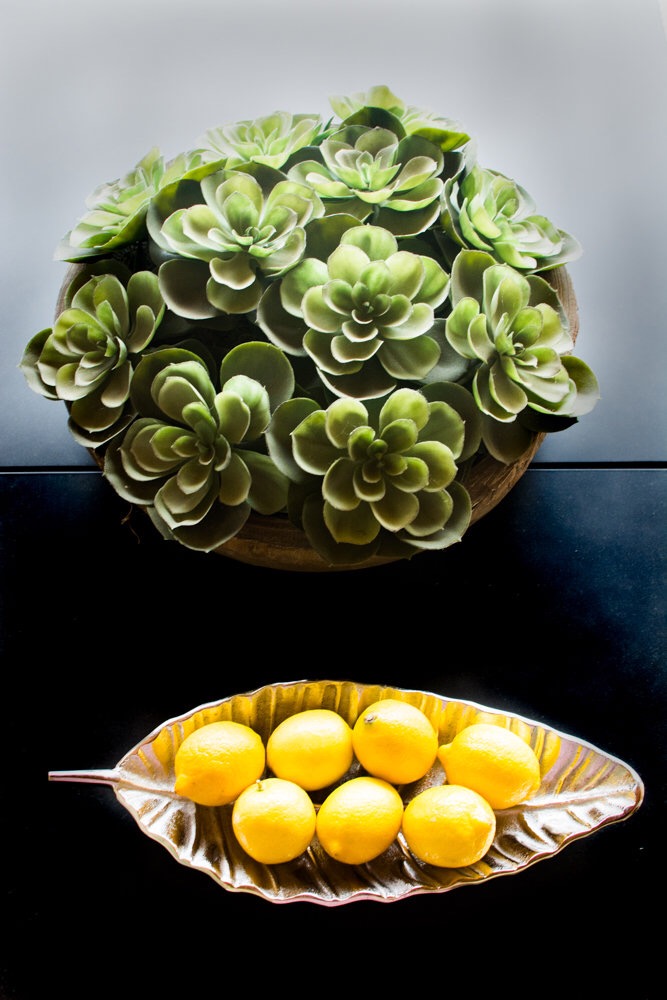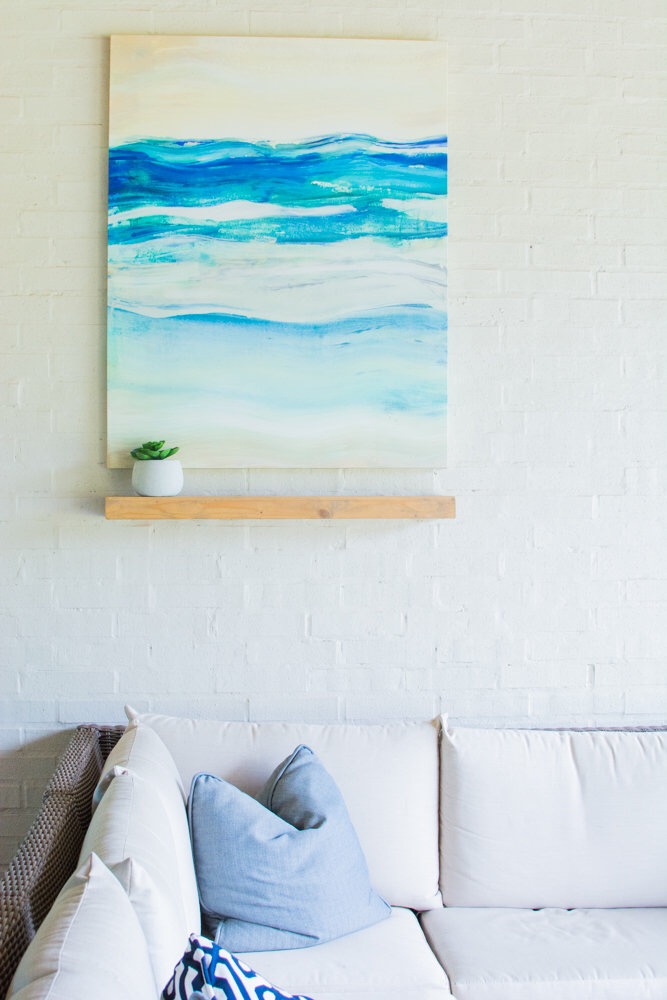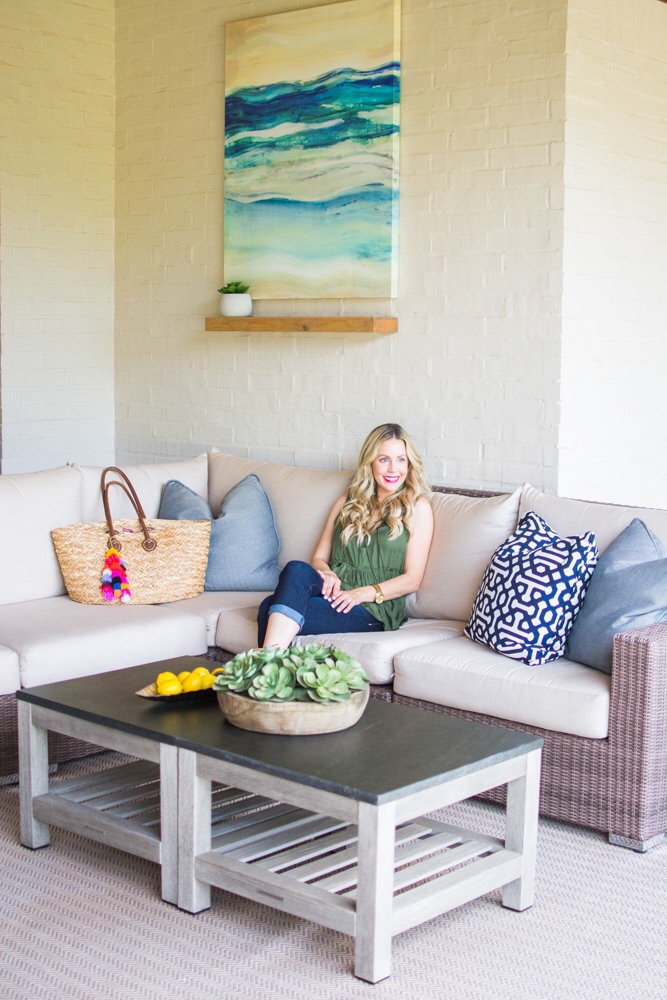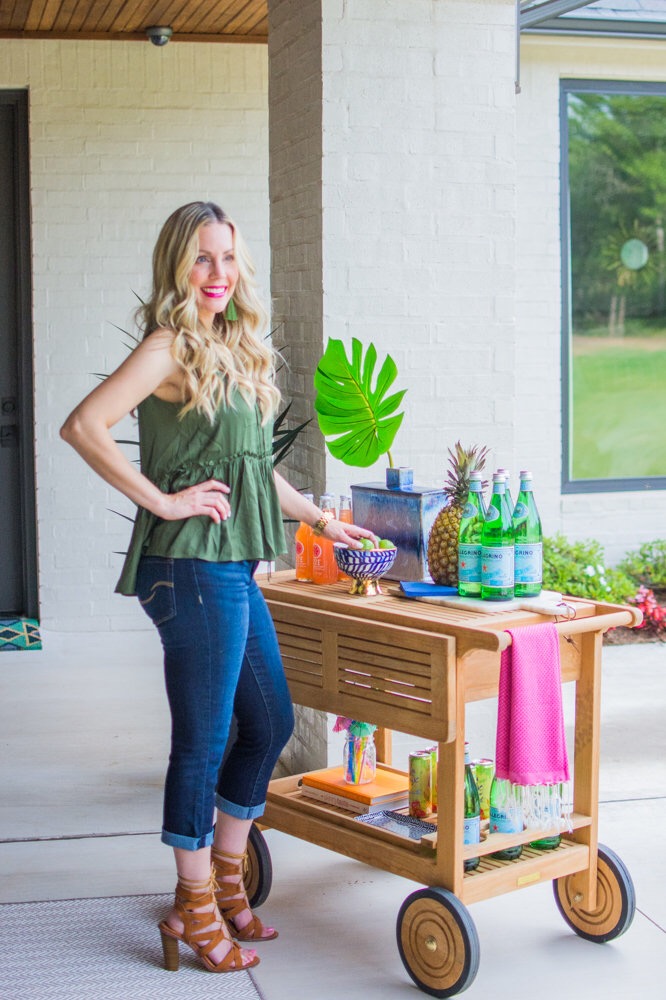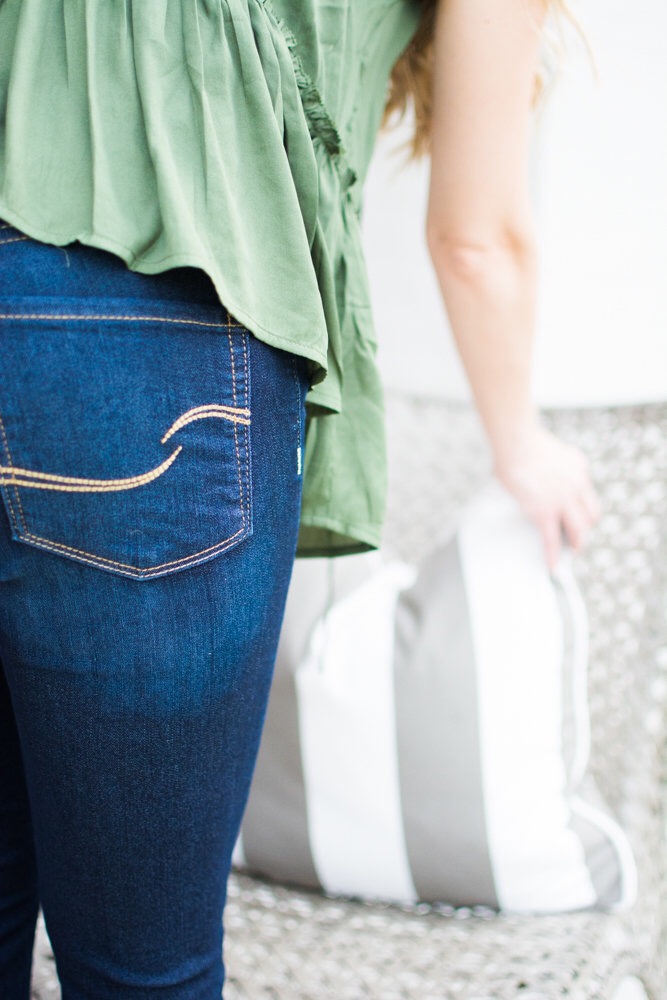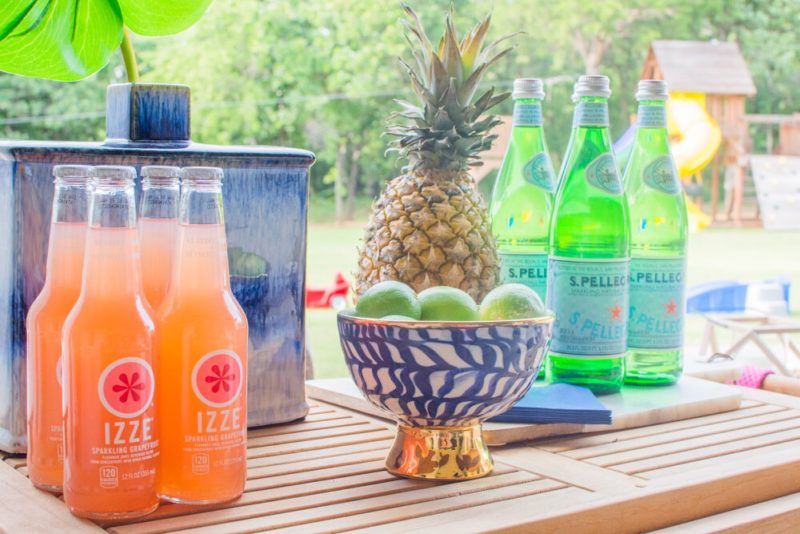 Hi everyone! The weather has been so enjoyable in Oklahoma the past few weeks and this has let us spend so much time in our outdoor living area. Since the weather is warming up, I thought it'd be a great time to discuss a few simple tips to refresh your outdoor space, whether you are entertaining friends or family, or just want to relax. And, given the summer season, it only felt suiting to refresh my denim as well. For those of you wondering what I'm wearing, they're the Modern Capri jeans by Signature by Levi & Strauss & Co.™. Keep reading for more info on where to buy them below!
 I had a goal when decorating the outdoor space (The Pankonien Group sourced a few things for us). I wanted it to feel like a living space, but in fabrics and materials that will withstand the outdoors. We have a large vaulted ceiling outside, so this allows for lots of shade, cover and protection from the elements. Even if you do not have a large covered area, these tips can still apply to your space.
 Outdoor Pillows//Outdoor pillows are a must for an outdoor refresh. This is of course assuming you have an outdoor sofa or chairs. We love our comfy sectional and I consider outdoor seating a must-have. For the pillows, I like to buy a little nicer quality (think from Pottery Barn), because I like a larger scale pillow. If you have a small outdoor area, a small scale won't matter. But if you have a large area, you need larger pillows… think 20-24″ in size. Pottery Barn has a great selection every year in classic patterns and some that are a little trendy too. They are heavy as well, so they won't blow away in the strong Oklahoma wind. I have a few different patterns in my outdoor area…ikat, stripes and a solid. Of course, blue is my color of choice.
 Variety of Outdoor Lanterns//If you don't have an assortment of outdoor lanterns, this is the perfect way to refresh your space. I like to put outdoor candles in mine and sometimes with my larger lanterns, I will arrange faux succulents and greenery in them to make them more interesting for summer. At night with the candles on, it gives such a nice ambience that you cannot beat. They can also be the perfect holder to place some palm leaves, etc. to freshen things up a bit for summer. In the winter, I will decorate accordingly with the lanterns and put pinecones or ornaments in them.
Bar Cart//A bar cart is such a fun and festive way to refresh your space. You can keep some decor staples on it (think hostessing books, bar tools, sparkling water and more) during the season, and then before hosting a get together, place cold drinks, fresh lemons and limes, an ice bucket and more. It's a great way to free up a dining table for eating space rather than having drinks and more in the way. And they are just fun! I decorated mine with a gorgeous blue and white vase with a palm leaf in it, lots of colorful drink options, fun straws and more. This is another piece that could be decorated year round… think hot cocoa bar in the winter or for the holidays have a few small Christmas trees on it with birch logs and ornaments.
 Succulents//You knew I was going to have to bring up succulents! They are such a staple for me lately when decorating (remember this post about how to make your own succulent arrangement). I love the pop of green they offer while still being more modern than traditional arrangements. I have them placed on my outdoor console table, my outdoor coffee table , the bar cart and more. All of mine are faux outside and have done really well throughout the winter. Even my outdoor pots have faux agave plants in them! These are something that the Pankonien Group suggested so I don't have to worry about them draining on my rug or having to move them indoors for the winter. Having one less thing to worry about is always a plus for me!
 Since I have been busy refreshing my outdoor space, I also recently refreshed my denim as we head into the warmer months. The Signature by Levi & Strauss & Co.™ jeans I wore while refreshing my outdoor space look and feel simply amazing – and offer a level of stretch and comfort unique to my denim wardrobe. As I mentioned, they are made of super stretchy denim and keep their shape all day, which is so nice especially when spending time with my kids, relaxing at home and entertaining friends and family! Here, I am wearing the Modern Capri jeans, which feature a mid-rise slim fit, a 1″cuff at the bottom and are available for just $17.94 at Walmart and Walmart.com. They're perfect for summer, especially paired with sandals, wedges or cute sneakers. Add a flowy top like the one I am wearing and a pair of statement earrings and these jeans can accompany you to any summer outing. They can be dressed up or down for any occasion and are available in several different washes!  I hope you have enjoyed my tips to refresh your outdoor space (and your wardrobe!). Please let me know if you have any questions or feel free to send me a pic of your outdoor space. I would love to take a look!
Photography: Chelsi Dennis Photography
*Thank you to Signature by Levi & Strauss & Co.™ for sponsoring this post.