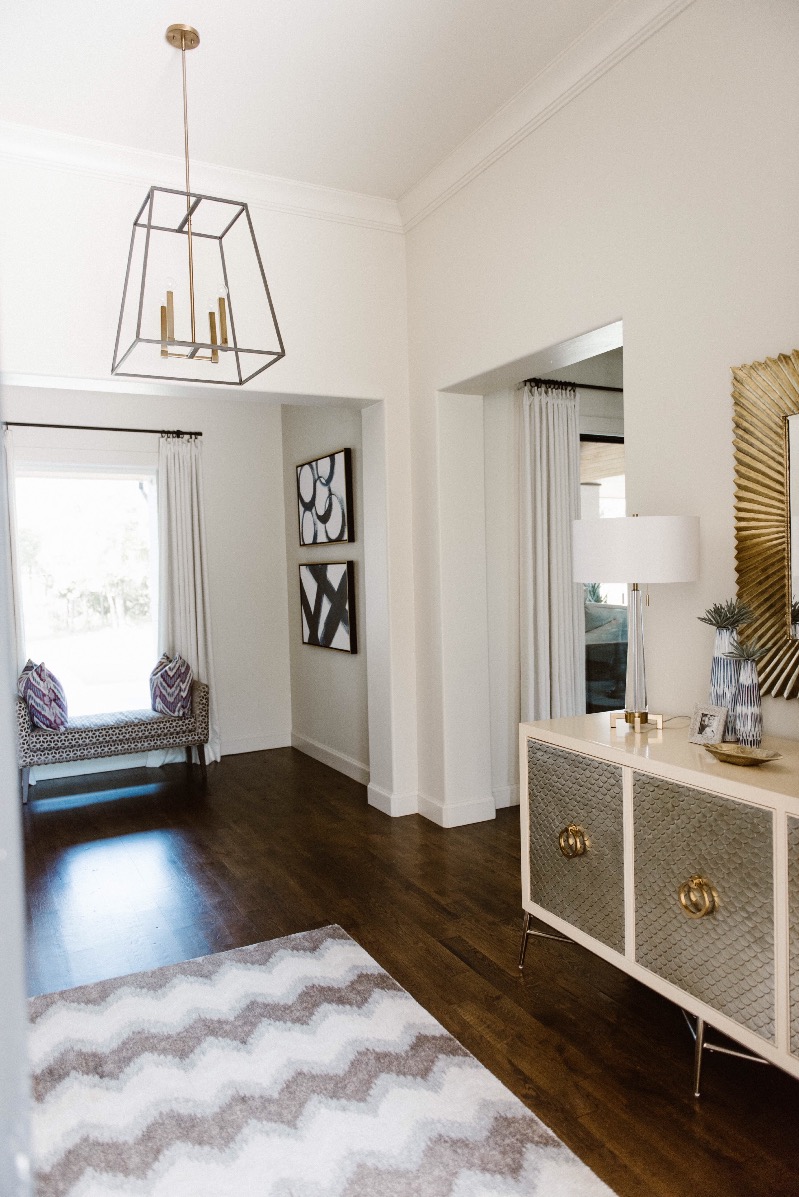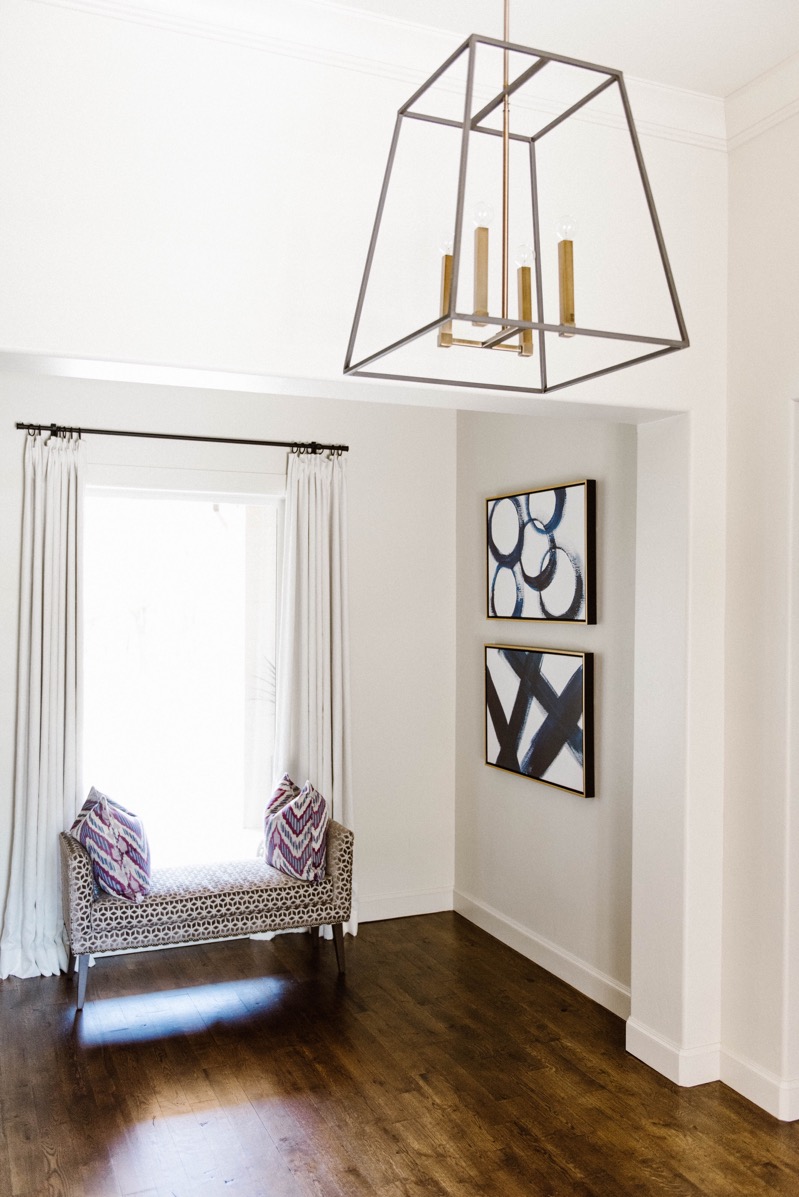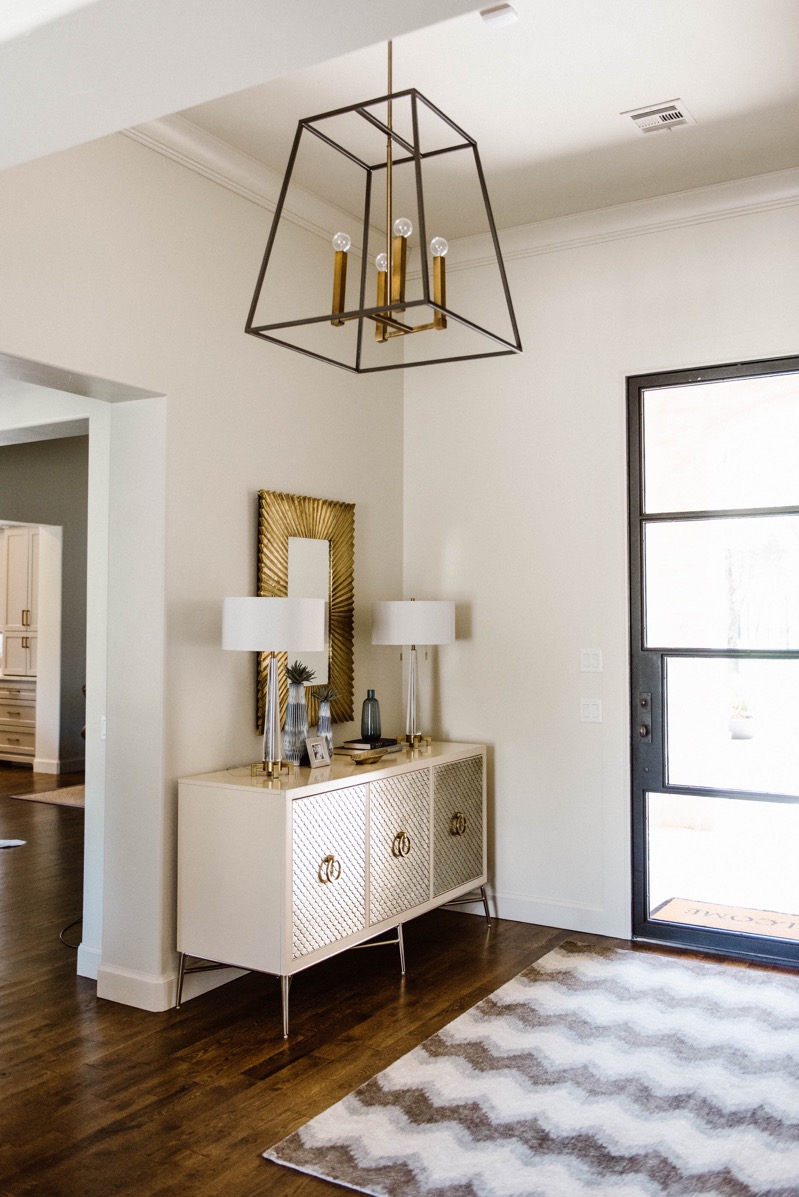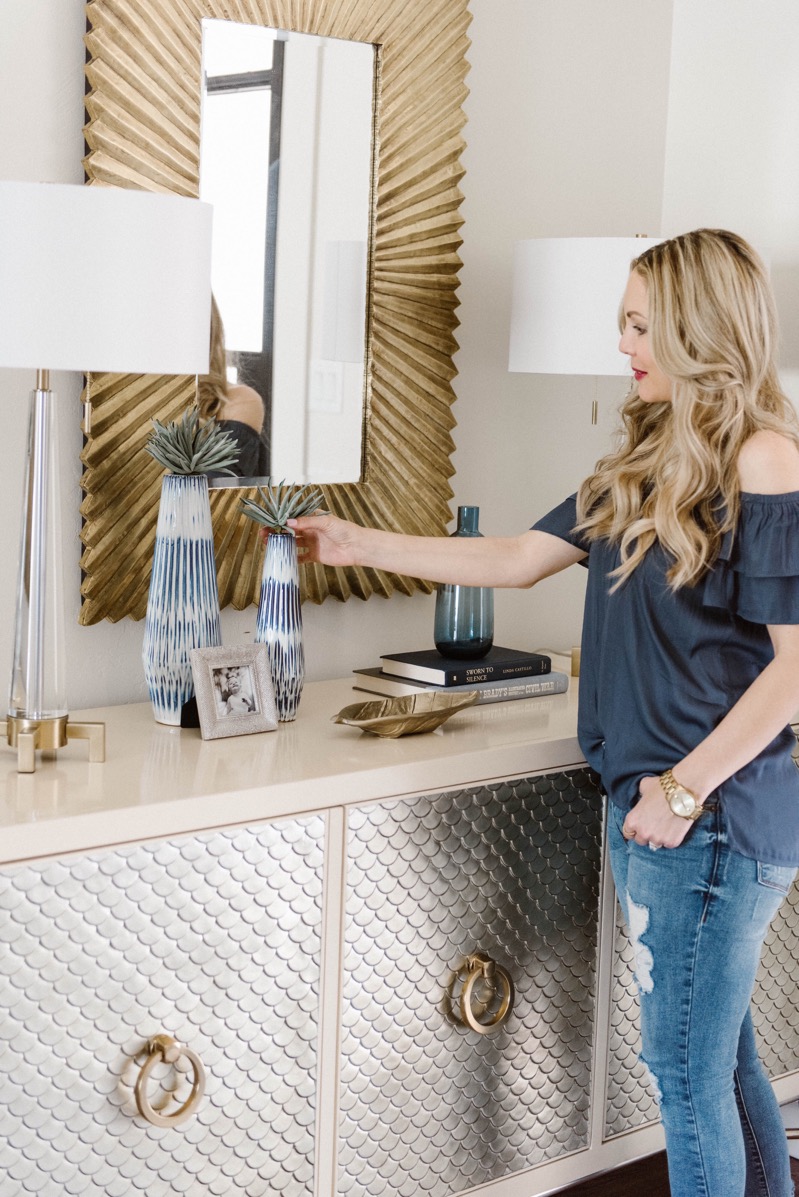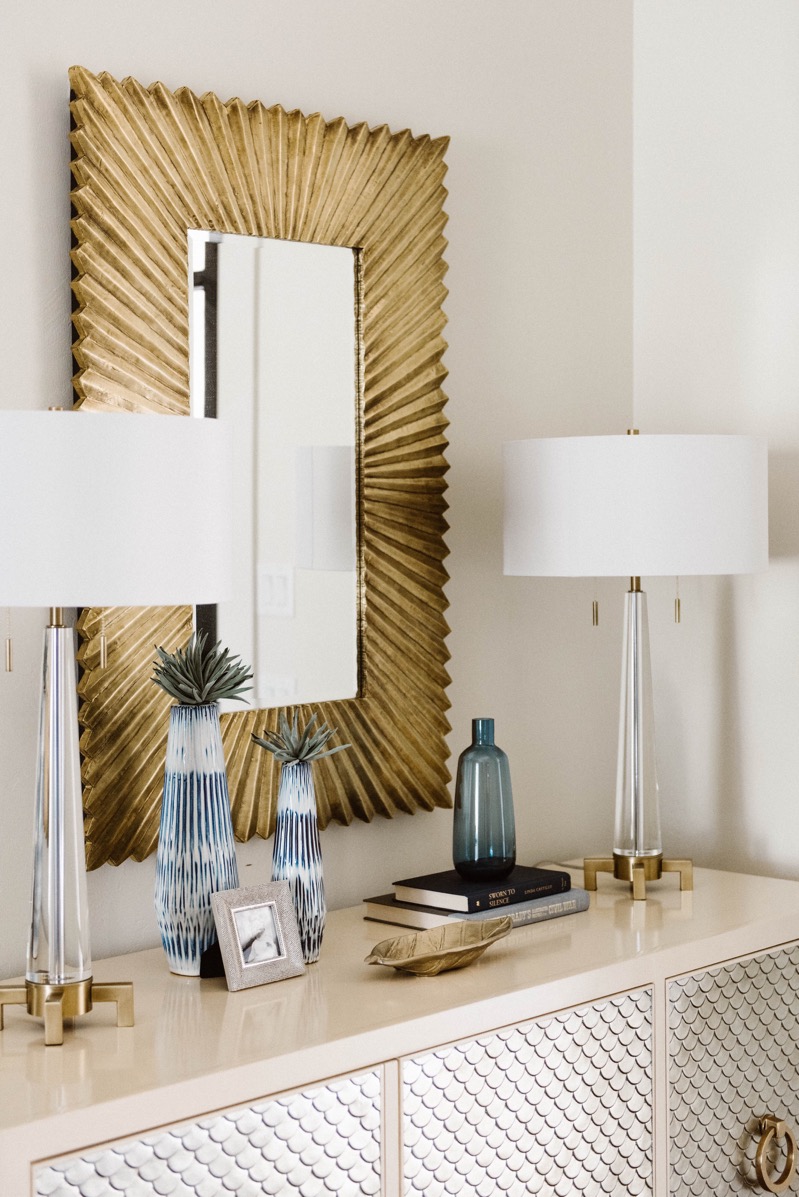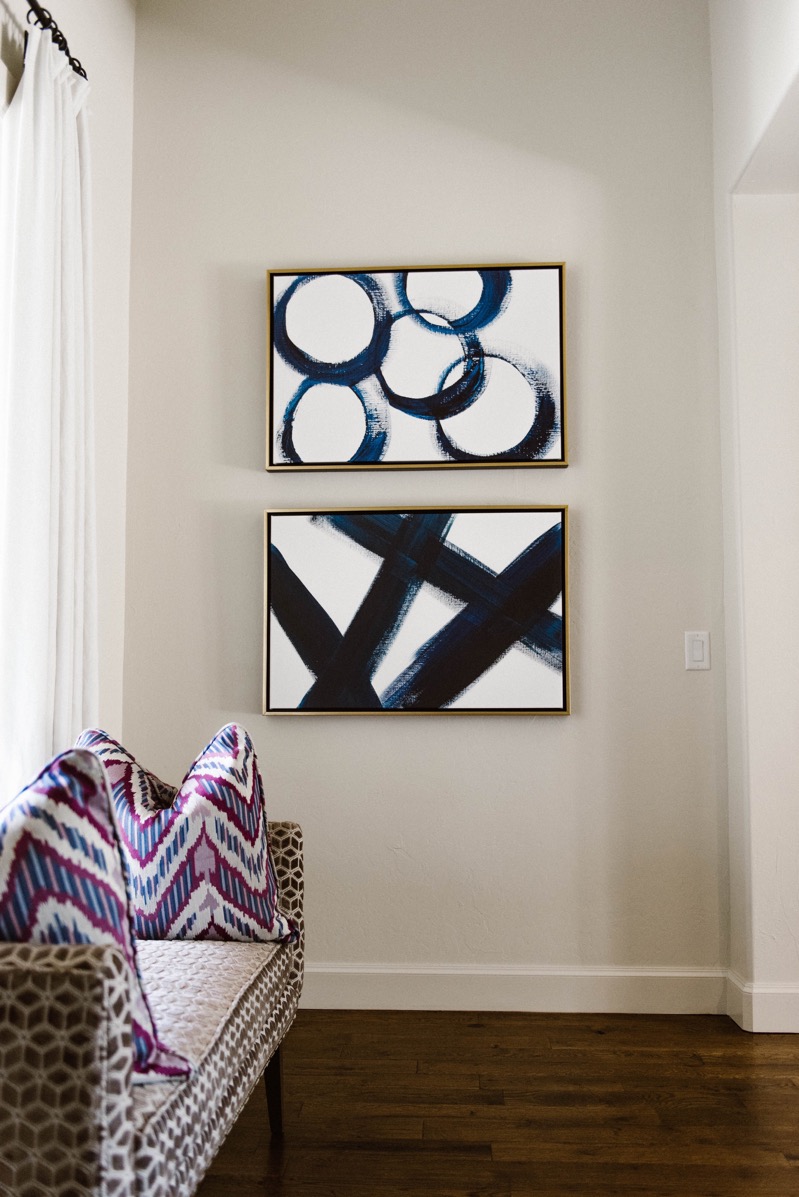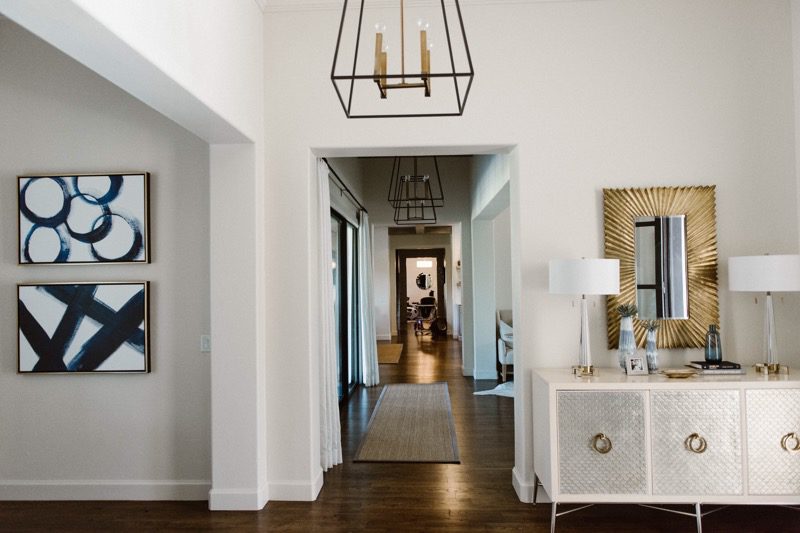 Hello everyone! How is your summer going? Ours is as busy as ever..I am trying to wrap up a few projects before we leave on vacation soon. I decided to update my entryway for summertime. I recently got a new console table (check out this post to see it) a few months ago and that inspired me to change out everything because sometimes, that's just how I do things! Today I want to share some entryway decor ideas to inspire you for your own entryway. I am most excited to show you the new artwork in my entry area made by Christie Adelle. Her work is amazing and I couldn't be more thrilled to have some hanging in my home. Here are 5 key elements to consider for entryway decor ideas.
Chic lighting// This goes for lamps and ceiling lights. They create the ambience of the room and set the mood.  I am in love with my new acrylic and brass lamps (I found them here for way less than what I paid) sitting on my console table. So sleek and chic, I did 2 on the console table to keep the symmetry. My hanging lantern is such a statement piece. It's oversized because our ceiling height in that area is 12ft. It is a dark bronze and has some brass accents. I loved it so much when building our home, I added 2 to our gallery as well for a dramatic effect. This brass lantern is very similar and would make a great option as well.
Stylish Rug//I love wood floors but always add a rug to them to warm up the area and not have everything so hard if that makes sense. A larger rug is a must for an entryway. It is very welcoming and a place for guests to wipe their feet. Our rug has muted tones and is from Pottery Barn (but not for sale anymore).I love the pattern of it and the fact that it can go with anything, no matter how many times I change out the decor. You know I am a fan of seagrass and sisal rugs too and have them all over my house. Just know that seagrass isn't soft, but it looks really good. At our old home, we had a round rug which filled the entryway space nicely.
Cool Artwork//I had so much fun choosing the artwork for the entryway. Artwork pulls the look together and can make a nice pop of color if you choose to do so.  Christie has SO many appealing prints and canvases, it was hard to choose. I went with 2 stacked prints because I don't really have stacked art in any other area's of my home and that way I get to have 2 of her pieces!  They fit the wall really nicely. They great thing is Christie had me send images of my wall with measurements, and made the pieces fit accordingly. So they are literally perfect for us. I went with her navy brushstroke and the stir print in navy, both with a brass frame.
Statement Mirror// I have said this before and I will say it again, a mirror is a must for me in the entryway. It gives great light next to the front door and a place for guests to refresh before coming in your home. I added a new brass mirror and couldn't be happier with it. It has dramatic details that flow nicely with the details on the console table. For the size and detail, I think it's a great price. In my home I also have a few lower priced mirrors from Hobby Lobby that are very pretty, but I needed something larger and really wanted a sunburst type look that I couldn't find anywhere locally. This brass sunburst mirror is a great option as well and its gorgeous!
Elegant Bench//If you have a spot for cute bench in your entryway, do it! It can be a great focal point or a place to guests to leave their purses and more. You can go either neutral, or make it a statement piece with a fun pattern. I got mine from Ballard Designs and The Pankonien Group helped source the custom fabric for me. Did you know you can send in your choice of fabric for most Ballard Design pieces? It is an easy way to customize your furniture. I may also add a nice faux fiddle leaf fig next to the bench to complete the space. Add some cute pillows and a throw on the bench and the space is complete.

I hope you have found my entryway decor ideas to be helpful today. Please
subscribe
to my blog so you never miss a post or new home update. Have a great week!