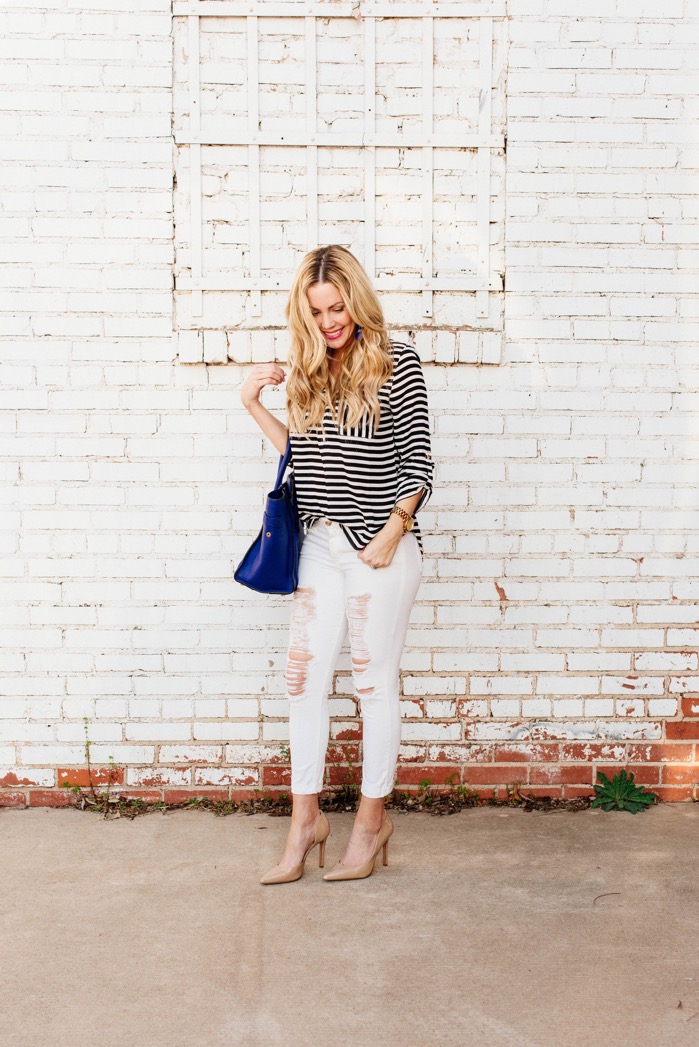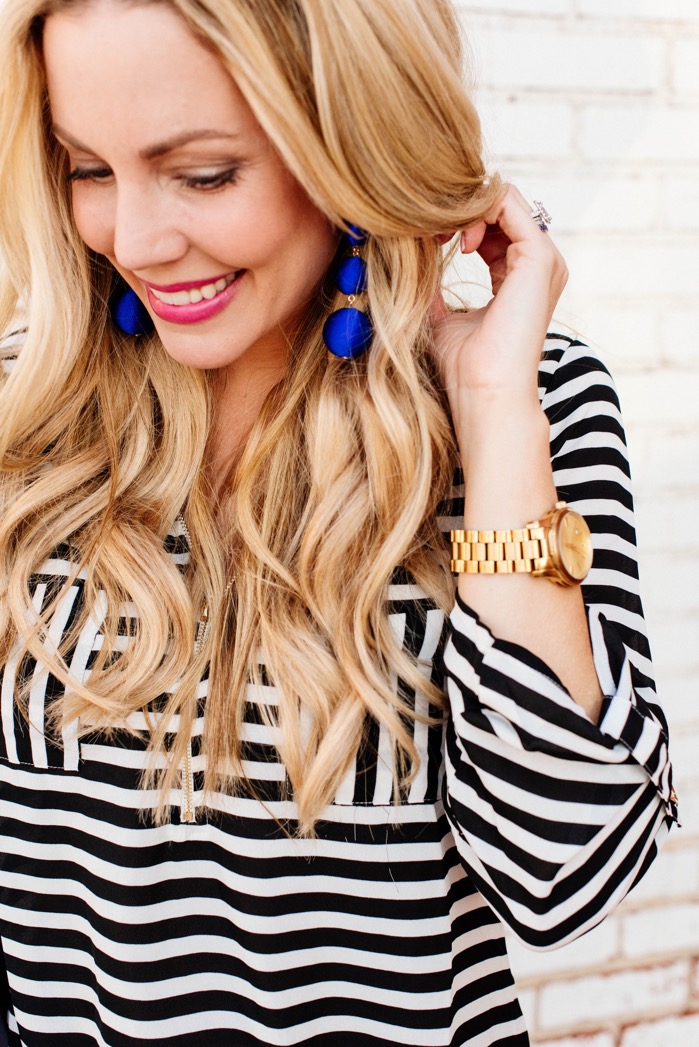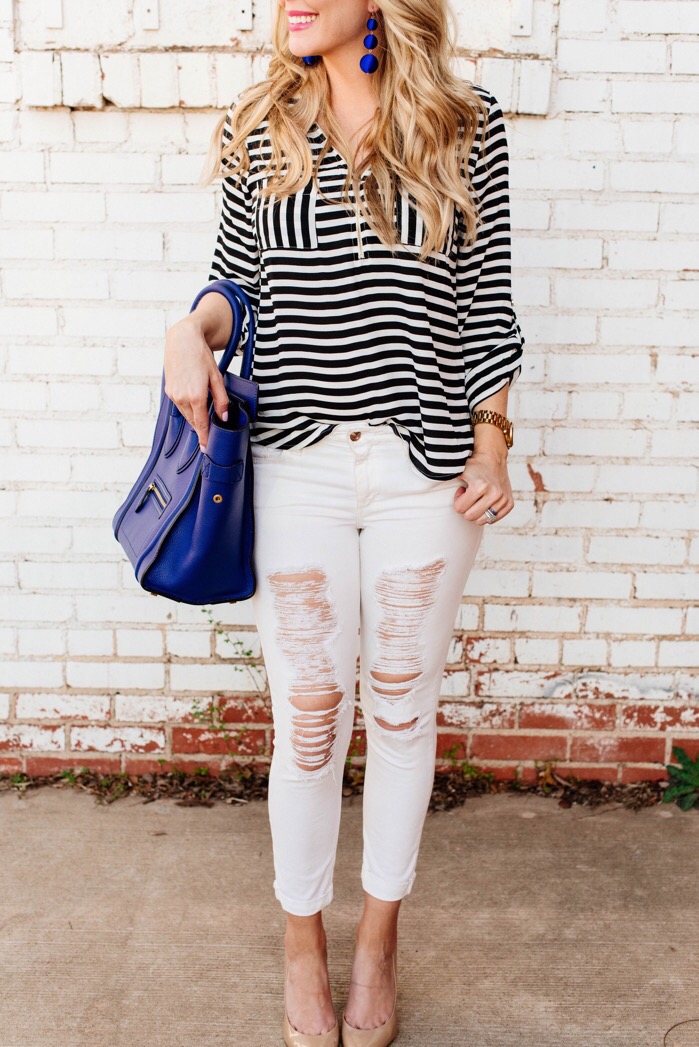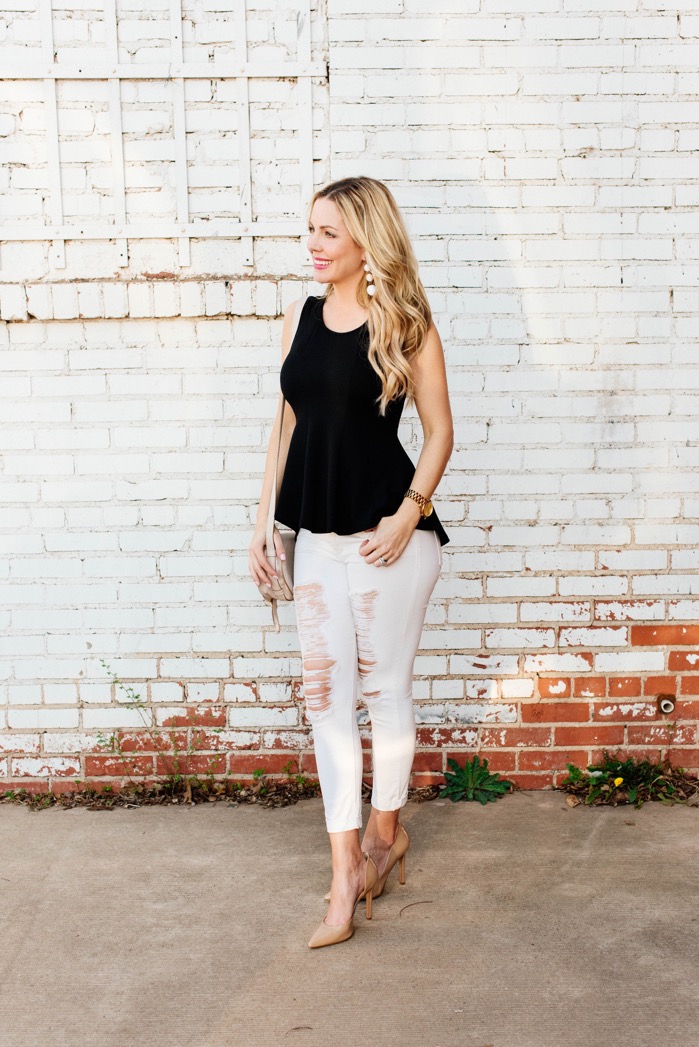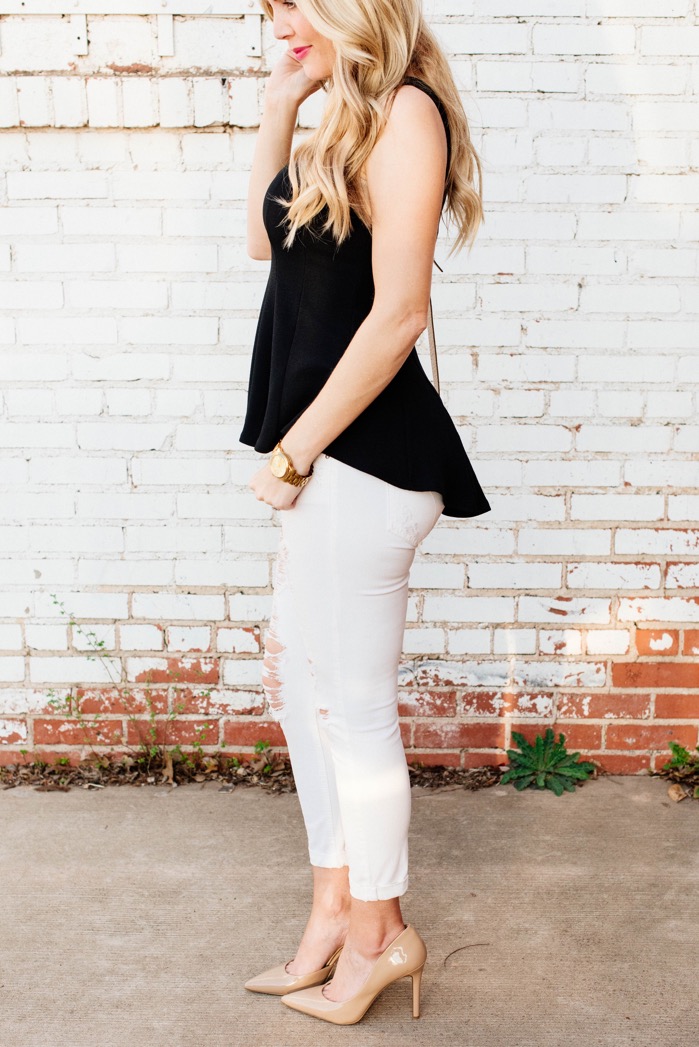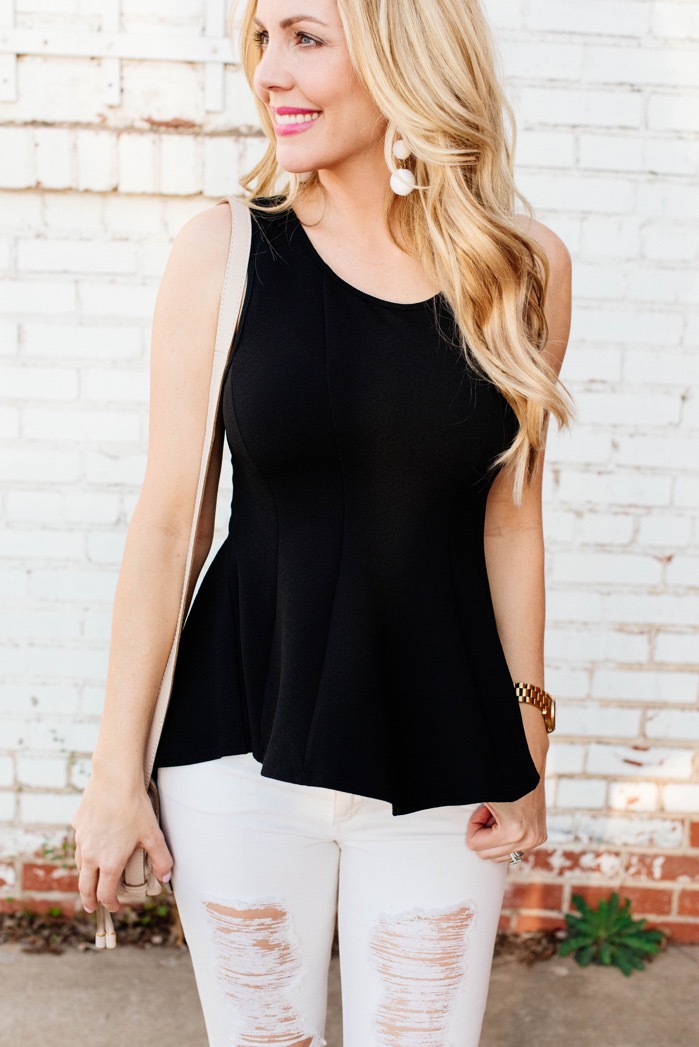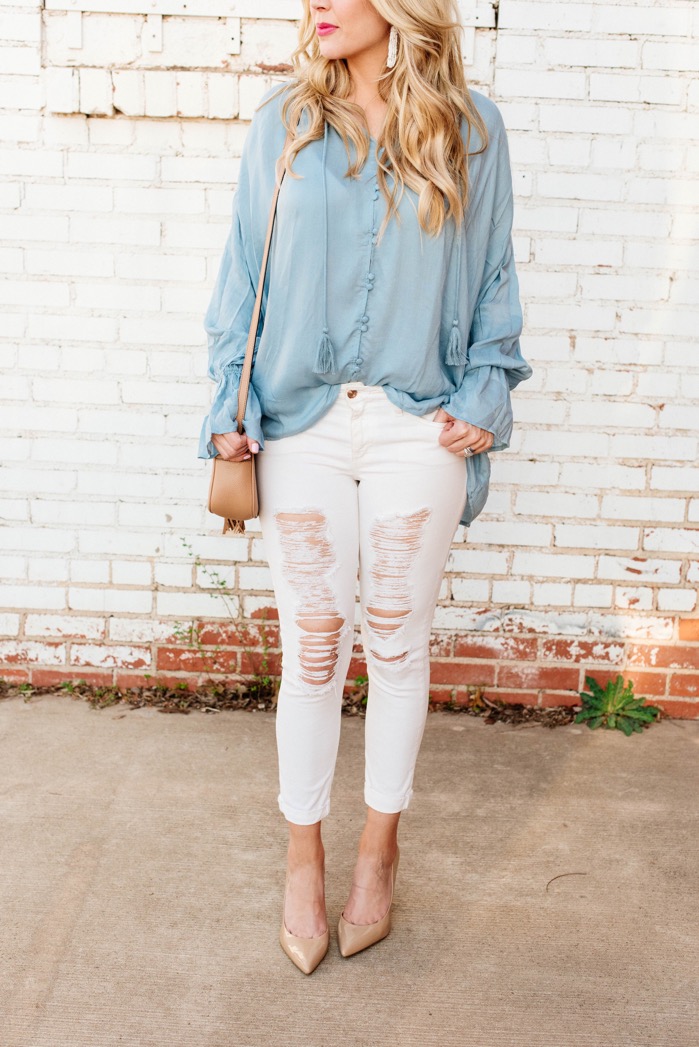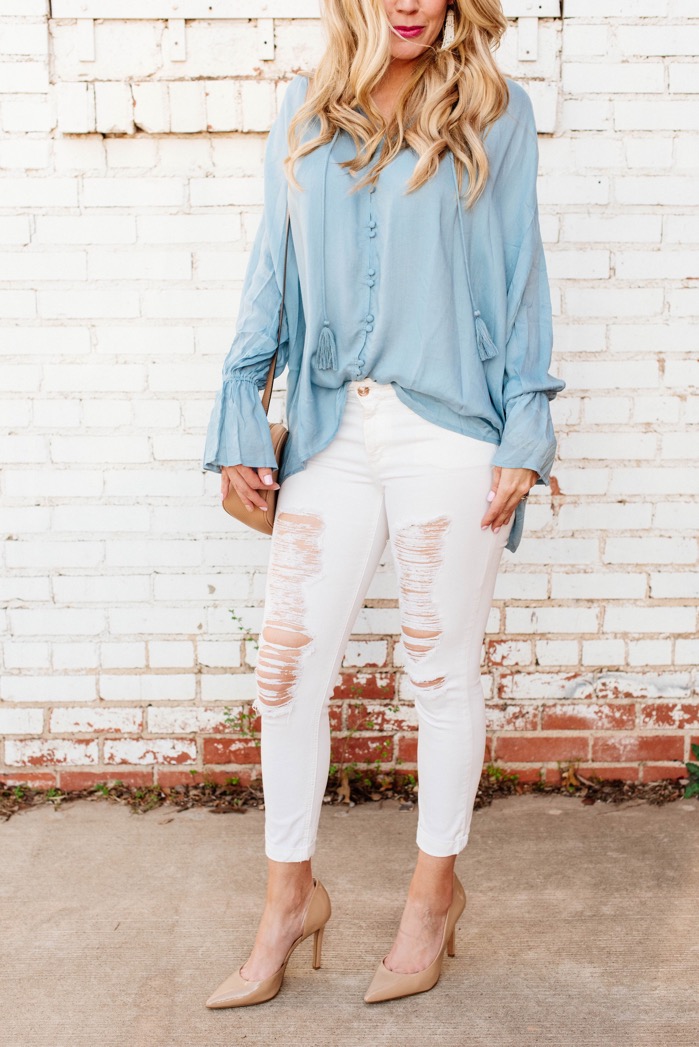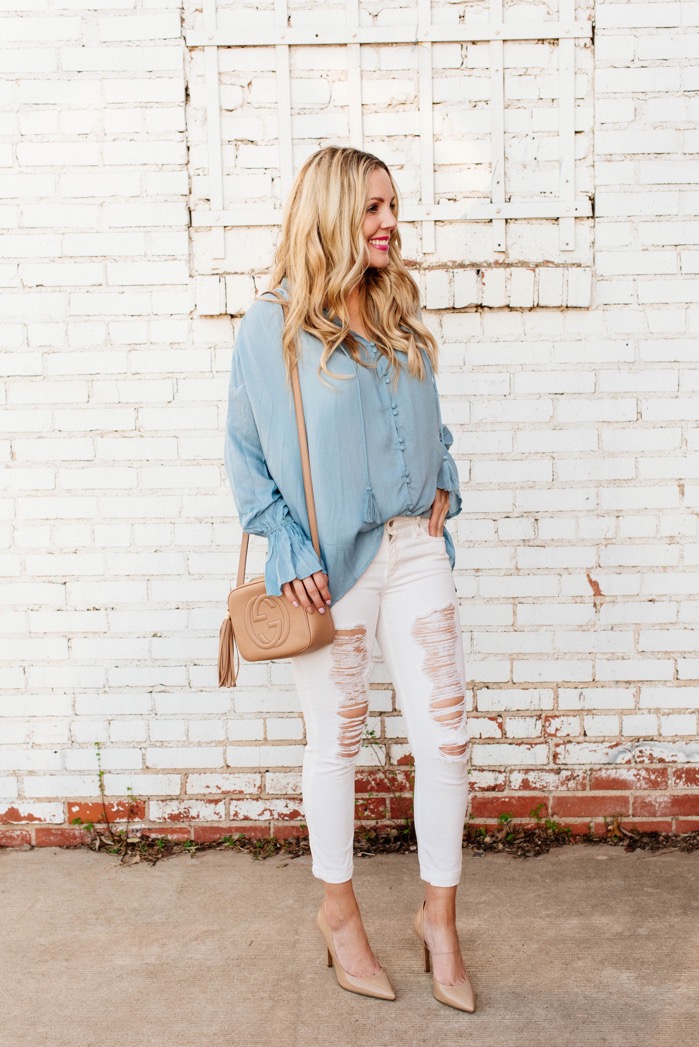 GET THE LOOK… WHITE JEANS
GET THE LOOK…TOPS and JEWELRY
Hi everyone! It's Spring Break in our neck of the woods..what are y'all up to this week? Did you enjoy seeing my little boy's room tour last week? I will post my girl's rooms soon! We will be hanging in town this week and enjoying a break from our usual busy schedule.
I wanted to introduce you to a new online boutique based out OKC. It's called Thread+Vine…on Instagram as @thread.vine. They are carrying some of my fave trends right now for spring and summer and they give a portion back of their sales to charity. Cannot beat that. If you've been following me awhile, you know I love white denim all year round.  Today I wanted to share with you 3 ways to wear white jeans for Spring. White denim is a must have for warmer months..they really help to lighten and brighten up outfits for the season. These looks will easily transition into summer too.
First I have this black and white striped top paired with white distressed jeans and nude patent heels. You know I love black and white because you can wear it with anything and can easily mix in some pops color, which screams spring to me. This would easily go well with colored denim too, which are all the rage right now. I've paired the top with these best-selling blue earrings and my cobalt blue bag. A chunky colored necklace would be another cute option if I didn't want to wear the blue.                                                                   TIP: When adding in color, just one or two pieces is enough so you don't go overboard and end up looking like a clown!
The next look I have styled is this black classic peplum top, which is a steal at $30! Tops like these never go out of style because they have such a classic silhouette. I like to buy about 75% classic, timeless looks, so they can stay in my closet year after year. And then the other 25% I look for all the latest trends of the season and have fun with them, but once they are done, I donate or sell on poshmark.  Since the top is black, the sky is the limit as far as pairing options. I really like how it is longer in the back also. I have paired it with my fave white denim, nude heels and these white statement earrings. You could throw a blazer over this top for work too. Since I kept everything very neutral, I added a pop of color with my go-to shade of MAC lipstick for spring and summer…Candy Yum Yum. If you need a fun pink lipstick, this is it. I cannot tell you how many emails I get asking me about this shade of pink.
The last look of my 3 ways to wear white jeans for spring, I paired my denim with this fun blue tassle top. Love the tassle details on this top and love the boho feel it has. The trumpet sleeve is a cute touch too. Paired again with nude heels and white earrings for spring, this look is effortless. I love tying in the white denim with white jewelry, so that is why I have several different pairs of white earrings and white necklaces I keep on rotation all summer long… It's an easy way to bring in white and pull together the look.
A few last things to think about when wearing white jeans for spring…
Do you want distressed (These distressed jeans are a steal and fit me so well) or non-distressed denim?  I have both and wear them for different occasions. Obviously consider church or work requirements or if you just aren't comfortable with holes, choose some without holes. Either way, they will look stylish. I choose a skinny cropped fit 99% of the time for all of my denim no matter what the color because that fits my body type best. The other 1% of the time I will choose flares or slouchy boyfriend jeans. If you follow me on Instagram, you have seen me wearing my newest white fringe denim as well. They are on sale for $58, and are such a fun take on the trend.
Consider your shoes. I typically will wear neutral wedges or heels in the spring or if I am super casual, Tory Burch flip-flops or sandals. I like nude and tan-colored shoes the best for spring just because you can wear them with any color and they look great.. Sneakers like these New Balance or these white Converse also look really cute paired with white denim and are perfect when you are out with you kids at the zoo or theme parks, etc., but want comfy walking shoes this summer.
Consider wearing an all white monocramatic outfit for Spring. It looks very stylish and chic to me paired with a crisp white ruffle tee or feminine, off the shoulder white top. I like pairing all white with turquoise jewelry in the spring/summer. If a monochromatic look is not your thing, I personally think almost every color goes with white denim. For spring, think blue, hot pink, yellow, chambray, and the list goes on. Floral prints look gorgeous as well.
I hope you have enjoyed my tips for 3 ways to wear white jeans for Spring! Please tag me on Instagram if you decide to try out the trend so I can see! I would love to get your take on it. As always, please subscribe to my blog on my sidebar so you will be the first to get the latest posts. Thank you so much.

Recent Posts:Modern Bedroom Ideas for Boys      Must Have Hair Tools I Use      How To Decorate a Console Table
Thanks to Thread and Vine for providing the blouses for this post. All opinions are my own, as always.Affialite links are used in this post.All Images by Kaylen Gregory Photography