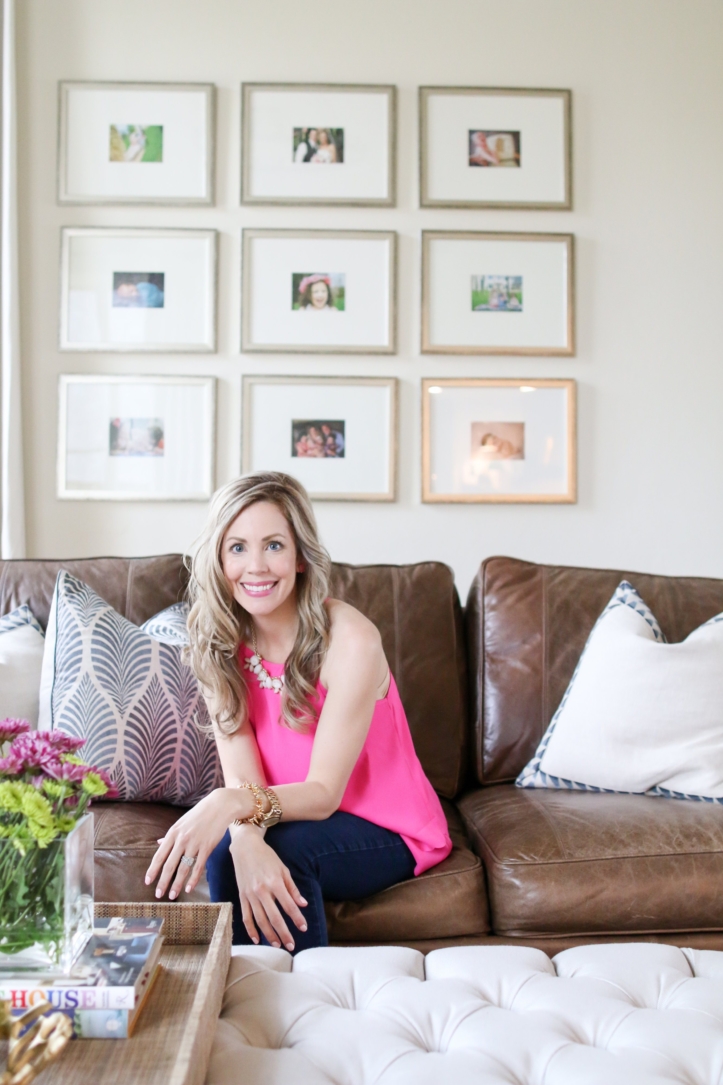 Hello, I am SO excited to be publishing my first post! I thought this day would never come! It's been a LONG few months getting this site ready for the world to see. I hope you all love it as much as I do! I thought it would be fun to get a little more acquainted and share 10 fun facts about myself that you may not have guessed….
I LOVE Mexican food. Like for breakfast, lunch and dinner. I blame it on my mother as she has a passion for it as well and so we would go out to eat every week to get yummy chips and queso and the list goes on when I was growing up.  My poor husband has learned to love it and deal with my addiction. All of my kids love it too and I assume it's because I ate SO much of it when I was pregnant with each of them.
I played soccer for 13 years. I played until I was a high school senior and then decided I wanted to just go to college and have fun and join a sorority (Pi Phi, if anyone is wondering at OU). I was done at that point, but am so thankful I played for so long and pushed my body. It's amazing the muscle memory I still retain from playing soccer and training my body from so long ago! I can imagine the disappointment my parents must have felt when I turned down scholarship money to go be a sorority girl. But they were and are my biggest supporters. I hope my kids enjoy it as much as I did.
My husband and I started dating a week after I graduated high school. And have been together ever since! We had known each other a few months before we started dating and were just friends at that point, but once I returned home from my senior graduation trip, the romancing began and I was smitten. What got me in the beginning were his polite manners, like opening the door for me and etc. I am trying to instill these manners in my son now. We just celebrated our 12th anniversary!
I am a very shy and private person. It's still crazy to me that I am working my ass off too become a blogger and share my life here and on social media. I literally never posted on social media before even in my personal life, so this is a whole new world to me. I am loving all of the relationships that I have made thus far and am so thankful I am taking this plunge. My reason for doing this is I want something for myself that is my own, apart from my husband and kids. I kept thinking about this for so long and now that my baby is getting a little more independent, I decided to go for it.
I was voted "Best Dressed and "Best Hair" in high school! It makes perfect sense why I want to share my style and beauty tips with the world!:) Haha! I've been working it since my younger days! There was nothing more exciting to me back then than planning my outfits for school. Even in elementary school, my mom would take me and my sisters shopping for school clothes and I had a definite opinion. I think I got it from my older sister. She always had great style and would let me borrow all of her clothes and bags.
This leads into my next fact. My hair is very naturally curly. My husband's hair is super curly as well. 2 of our 3 kids have tons of curls. So that is where my blog name originated from. When I was thinking of something that describes me and my life..I immediately thought Curls! And I have a love for the finer things in life, so cashmere was a natural fit.;)
The first thing I do in the morning is walk straight to my coffee maker. I love it and need it. I go to bed at night excited for coffee the next morning. There is something so cozy about drinking a hot cup of coffee. I have to use my fave Pottery Barn mugs too. It's just not the same if I don't. And then after I leave me house in the morning, I make a run for a latte at Starbucks. I have a problem.
I am constantly restyling my home! I can walk by something and decide in that instant, I want to rearrange the mantel or my shelves or etc. I think it is relaxing to me much the same way organizing is. There is something to be said for that feeling of accomplishment, and some days all I may get accomplished is restyling some odd or end in my home!
My family calls me the "Crockpot Queen!" I am not that great of a cook, but thank the lord we have 3 slow cookers that I use constantly. I love getting dinner cooking during nap time, and so this is perfect for me to put in some kind of meat main dish and then throw together a salad and some veggies and, voila…dinner is done!
I will always want another baby. If my husband is reading, stop now! There is just something so sweet about a the excitement of a new baby, and then the baby comes and its pure heaven. I have been blessed with easy pregnancies and nursing was second nature to me, so there is nothing I have loved more than going to the hospital and coming home with a precious new bundle. Three is where we are stopping, but I worry and wonder all the time if there is one more baby waiting for us.
That wraps up getting to know me a little better! I hope you take time to comment and always reach out to me if you have any questions or just want to chat or share your thoughts. I would love to get to know some of you better. Also, please take a minute and subscribe to my email list…It will only send an email if a new post is up. Thank you so much for stopping by and have a great day!